The outdoor space of a home or a tourist or restaurant facility is one of the most precious options to make these locations exclusive. A refined outdoor area will complement and emphasize the beauty of any building, residence or otherwise, increasing its use and aesthetic value, and will complete the design, making the whole environment more refined, elegant, and trendy.
However, for this to happen, it is necessary to create a bespoke luxury outdoor project, developed to allow the different spaces, indoors and outdoors, to communicate not only with the surrounding nature but also with each other.
How can we turn an outdoor space into a continuation of the indoors?
Choosing the right outdoor furniture is the first step to creating an organic, glamorous, and high-class space.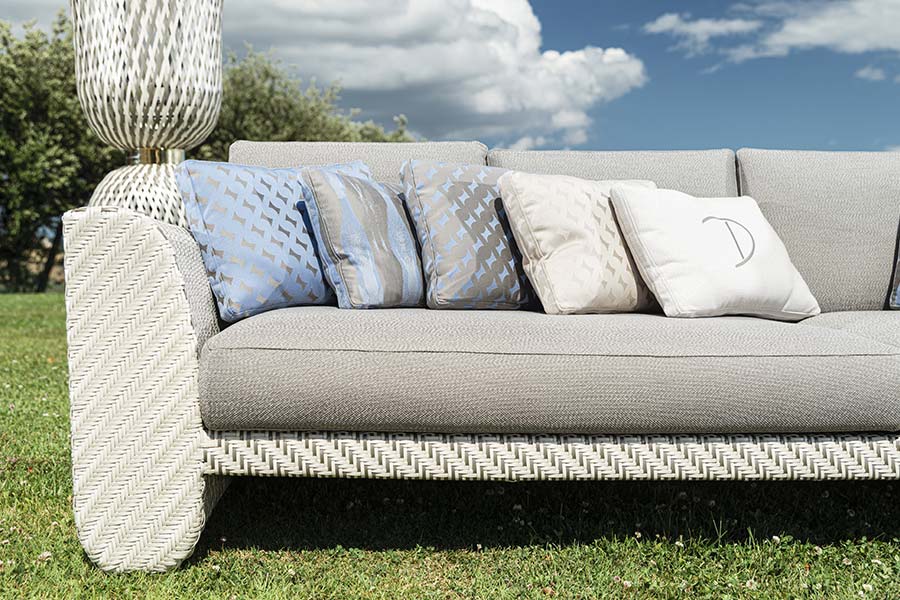 Outdoor furniture design: consider concept and style
The first step in designing modern outdoor areas is to analyze the style of furniture and the concept of the structure to which the outdoor space belongs.
Generally, a well-finished interior design project finds a key of inspiration and has its own stylistic codes.
Therefore, the furnishings used will always be characterized by clear distinctive features.
For this reason, it is necessary to select outdoor furniture in line with the interior furnishing elements in style, shape, and volume, to make sure you stick to décor's original concept.
Too great a difference in style between the two spaces would create a detachment and the environment would lose its value, aesthetics, and elegance.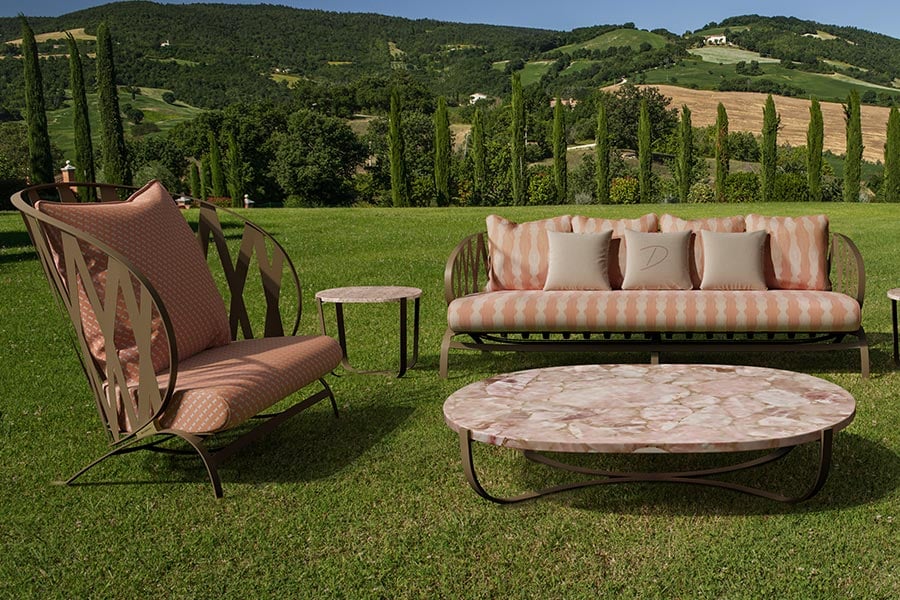 The importance of the flooring
In addition to the furnishings, look at the coverings and the type of flooring used indoors.
Matching your outdoor flooring with your indoor flooring will immediately give a sense of spatial continuity and cleanliness, and will give the illusion of being in larger, more comfortable, and relaxing spaces.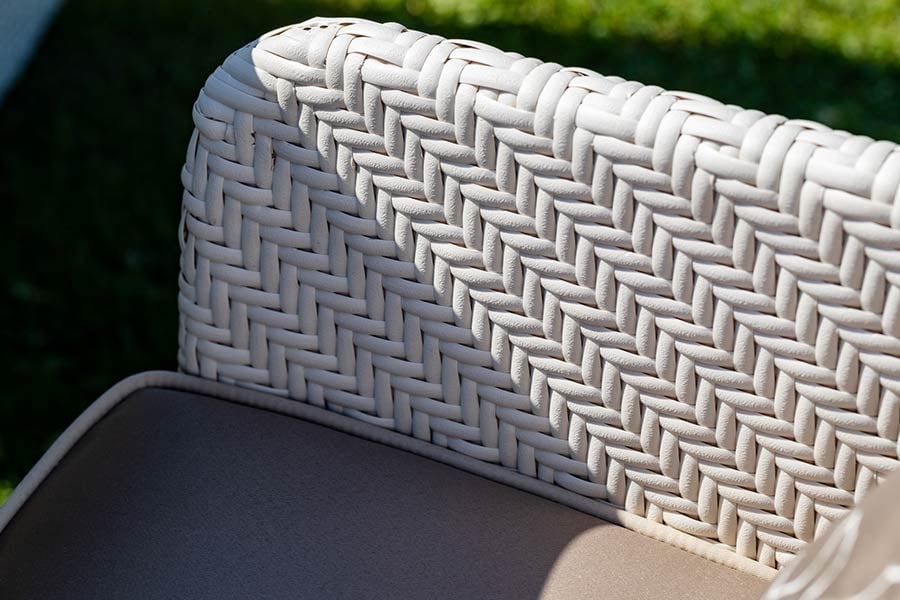 Luxury outdoor furniture: high-quality synthetic and natural materials
Choosing the right materials for your modern outdoor furniture design is essential to make your outdoor environment a true extra room.
The parameters to consider are:
Type of material (natural, artificial)
Quality of the material based on use (durability, resistance to wear, atmospheric agents, and light)
Shapes, colors, and textures (color palette, finishes, any patterns)
Again it is necessary to:
Analyze the choices made during the construction and furnishing of the interiors of the reference structure
Bring together the client's wishes and needs and the use of the outdoor space you are decorating
The best luxury outdoor furniture will be able to combine the best quality materials with excellent aesthetic characteristics, outlined in different styles and designs, to satisfy different tastes and uses.
DFN, a leading company in the design of high-end outdoor areas and the creation of Italian luxury outdoor furniture, offers different types of natural and synthetic materials, all of great value and selected for their aesthetic qualities and technical properties.
Available in a wide range of colors, DFN materials are the basis for the production of bespoke and made-to-measure furniture elements: seating, furniture, decorative objects, and coverings.
Synthetic materials
Synthetic rattan, ceramic marble, and stain and water repellent yarns.
High-quality synthetic rattan can faithfully reproduce the appearance of its natural counterparts.
This also happens in the case of ceramic marble, for example, porcelain stoneware, which today faithfully reproduces natural marble with the added advantage of resistance to damage due to wear, UV rays, and atmospheric agents.
If marble is present or even central to the interior furnishings under analysis, using its artificial version will allow you to achieve the same look, but without the maintenance difficulties of the material found in nature.
As for synthetic yarns, DFN's textiles are made to the highest quality standards to withstand all the typical outdoor stressors: the sun, humidity, temperature variations, rain, and snow, and are always extremely durable and easy to clean. Moreover, they reproduce the characteristics of natural materials.
In the selection proposed by DFN, it is possible to find satin as well as velvet or refined Alcantara for the outdoors.
These high-performance fabrics are created with the aim of furnishing and finishing modern luxury outdoor furniture and environments efficiently, without compromising on the space's appearance and design.
Therefore, they can be selected with confidence to make sofas, poufs, and armchairs intended for outdoor use and subjected to many meteorological stresses.
Natural materials
Natural rattan, natural marble, and fine linen and cotton yarns.
These natural materials are suitable for different productions: furnishing details, seating, curtains, refined and delicate coverings for cushions, sofas, and armchairs, and for the manufacturing of table linen.
Considering that there are artificial versions, which are more resistant and require less care and maintenance, our advice is to keep the use of natural materials to a minimum, to prevent your luxury outdoor furniture from deteriorating relatively quickly.
Using natural materials could lead to an unpleasant enviroment, making it unliveable and aesthetically unappealing.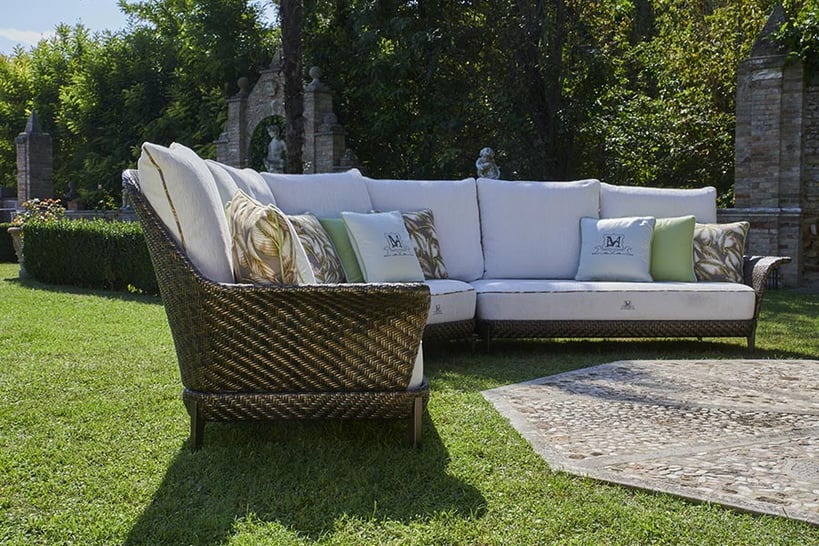 Choose your color palette
Only mentioned in the previous paragraph, the selection of the color palette you want to use for your outdoor décor is very important to unite indoor and outdoor areas into a single organic and cohesive environment.
Get inspired by the surrounding nature and naturally by the colors of the furniture chosen for the structure's internal rooms.
For the furniture's materials, used in greater quantities, it is a good idea to remain faithful to the colors of the interior furnishings.
However, for decorative details, small objects such as vases for flowers, and textile products such as cushions, rugs, and curtains, you can opt for the inclusion of a pop of color.
These will revive and give a stronger identity to your outdoor space, without deviating too much from your theme and style.
Finishes and textures: give volume and movement to the space
A particularly useful option if you do not want to dare with bolder colors and/or combinations is to combine different textures and finishes.
In fact, you can select materials and fabrics that are consistent with your color palette, but that have slightly different textures and finishes: this variety will give movement to the space.
Damask fabrics or perfectly smooth and silky fabrics, heavier and more rigid fabrics, with more visible ribs or soft eco-leather, glossy or mirrored marble and glass and satin resins, matte, brushed, sandblasted stones: combine the finishes to shape the environment in maximum refinement, without going outside your color scheme.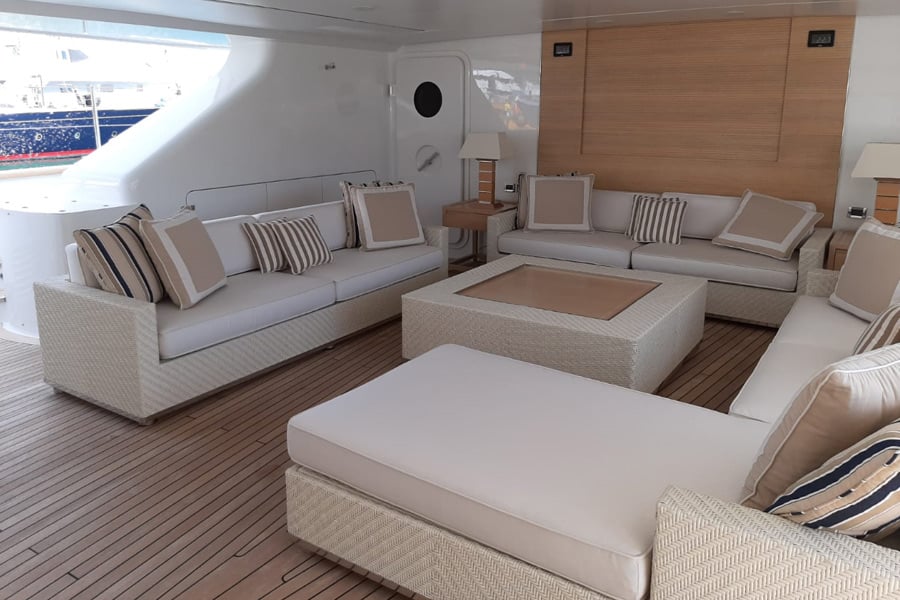 Tie the space to the lighting
Designing an organic and coherent lighting concept that allows indoor spaces to communicate with the outdoors means visually expanding the space, making it a single entity.
Choose outdoor lights with similar temperatures, albeit of varying intensities depending on the use of each environment.
Arrange spotlights, floor lamps, fairy lights, and decorative lamps, proposing the same objects, in similar quality and design, indoors and outdoors.
This continuity will give life to a luxurious, airy, and pleasant space, and will give character to the environment, which, once well lit, will keep its charm intact at any time of day.
The outdoors: an extra room at your place
The outdoor spaces can be transformed into a true additional room of the house or structure to which they belong.
Use your outdoors as a lounge, recreation area, sports room, or design a luxurious outdoor kitchen.
The stylistic choices of furniture are not just details; they represent the character and style of the environment and suggest uses and methods of use.
That is why it is worth developing outdoor furniture design ideas where the client, the people who will use the space, and the characteristics of the surrounding natural and architectural environment are central.