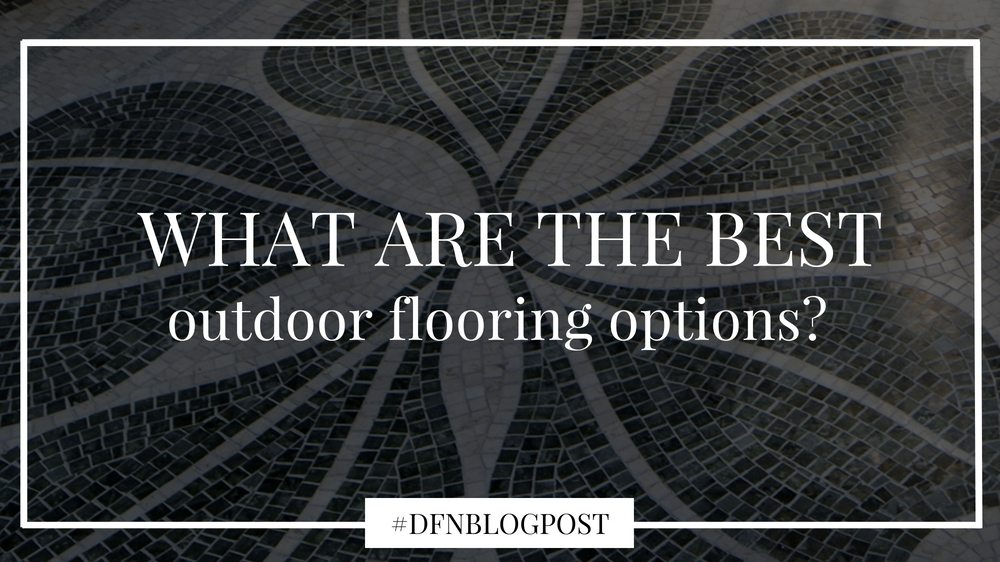 Flooring is not just for the indoors. Selecting the best flooring for patios, gardens, and other outdoor areas you might come across in your work is crucial to finish off your design so it looks coherent. Also, you can make or break the overall feel of your design by choosing one material, colour and / or pattern over the other – so make sure to carefully address every detail in order to create an environment that looks well thought, luxurious and that is attractive and inviting to the guests.
However, to make the right decision, you need to go beyond just aesthetics and should evaluate the technical details.
There is plenty of options to choose from, each more suitable for a different type of facility, a different target and different styles and moods.
So, today, we are going to focus on the best outdoor flooring options, considering and evaluating a lot of factors, such as the resistance to high and low temperatures and to other weather elements, durability, cost, maintenance and safety.
Moreover, even if the technical aspects of outdoor flooring are fundamental to making the right choice, we also need an option that is visually appealing for your clients since they will spend a lot of time in the patio or in the garden during the summer months.
Our goal is to give you an overview of the most popular types of outdoor flooring, considering both the benefits and drawbacks, but also the specific needs of your customers.
Classy, classic – timeless
Wooden tiles for outdoor floor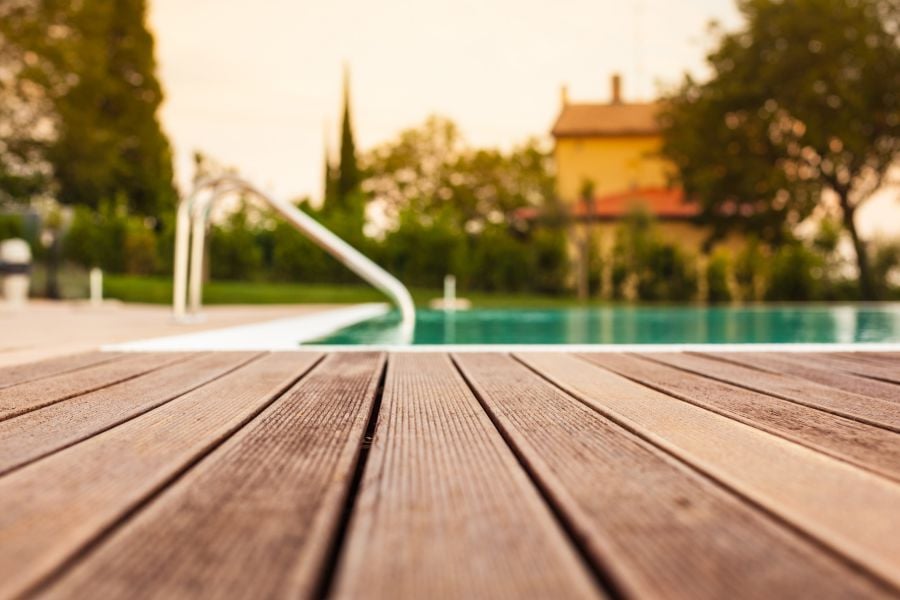 Wooden tiles come in the widest variety of styles – not only when it comes to the shape of the tiles themselves, but wood species are different in colour, finish, weight, price point. Solid wood is not only very resistant, but also extremely long lasting in time, and many times it can look better when aged. It is important to remember however, that to keep wood healthy a certain degree of maintenance is needed.
Polishing, re-sanding and re-waxing tiles for example are activities that will help wood aging gracefully and will keep parasites at bay. Installing and treating natural wood can prove very costly, not only money-wise but in terms of time, too, so if it is the look of wood you are looking for, you can opt for composite wood decking.
Composite wood can look very convincing and super realistic nowadays, thanks to the newest, very advanced production technologies available today. Composite, manmade wood does not need any type or special care or maintenance, making it easier to look after in the long run.
Remember that being a natural material, natural wood will feel better to the touch and will release warmth quicker – while composite will stay hotter for longer after heating up. Also, natural wood is a generally more luxurious material – so depending on the budget you have for your project, if you have the possibility, going with solid wood will give your design that little bit of character and that much extra value your clients and guests will thank you for.
Among available, for this 2018 wood is very sought after – as it can be chosen in colours and finishes that look (and are!) very luxurious, while still fitting just right with the natural vibes that are so on trend for this year.
Porcelain and ceramic tiles
Elegant, timeless, classic. Porcelain has that beautiful, clean yet decadent feel that can make any outdoor look richer and more opulent. It can even "imitate" natural stone, all while keeping refined and sophisticated. Porcelain tiles can come in plenty of finishes: matte or unglazed; glazed; polished, double charged, full body, textured – so any mood you want to give the outdoor area you are working on, you can for sure find one that will work fine with the idea you have in mind.
When compared to stone, tiles can be even more durable. Because they are manmade, they will not have the hidden weak points naturally sourced material often has – check on the PEI rating of your tiles to know just how durable the tiles you eyed and deem right for your design are.
Tiles are very easy to keep clean and maintain, but they can be a little sensitive to exposure to harsh weather conditions such as sun/heat and to wind/rain/cold depending on the material itself.
Another thing to keep in mind is that tiles can get quite slippery – so depending on the users that will enjoy the area you are decorating and on whether the floor will be wet a lot (for instance, if there is a pool or an irrigation system nearby), you might want to opt out of ceramic tiles so as to avoid any hazard.
Marble mosaics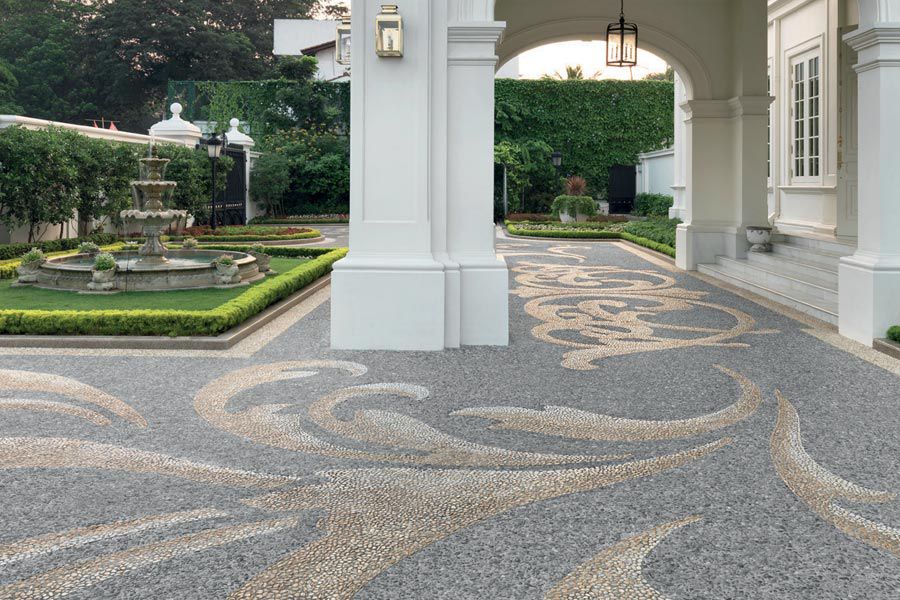 Marble tile flooring is a flooring as timeless and as luxurious as it gets. At the same time, it has a wonderfully modern look to it, sleek elegant, and if well installed and well cared for, it can last homeowners a lifetime.
Maintenance is very easy: marble can be cleaned with a damp mop (and disinfectants in case the area you are installing the flooring in will be used barefoot a lot, for example), and to keep the stone looking new, it can be polished.
Choosing marble tile flooring is a smart option if you want to be able to personalize your outdoors, as marble comes in a huge variety of shades and tones and thanks to the tile system, you can create mosaics that simply take advantage of the colour of the natural stone, or you can create patterns, images and so on, making the marble look from classic and understated to unique and surprising.
To make your flooring safe and even more resistant for outdoor use, you must check the slip resistance of the particular stone you chose, and make sure it is unglazed and frost-proof. Also, moisture absorption rate should be less than 1%.
Outdoor carpet
On the market you can find carpets that are specially made for outdoors. These look a lot like office carpets with their short bristles. Of course, being harder to maintain and keep clean, this kind of flooring is best suited for areas that are covered by a shading system of some sort – pergolas, umbrellas, sails, just to give you a few examples – or for porches for example, and other outdoor spaces that are mostly covered and shielded from harsh weather, sun, rain, and so on.
You can use outdoor carpets alongside with other types of flooring, too. For example, you can add carpets on some areas on a full concrete or brick flooring (which you can read about in the next paragraphs!), you can mix and match colours, designs and shapes, creating personalized, luxurious and unique environments that will allow you to really achieve the best outdoor flooring option for the style and mood required for the job.
The versatility of use and installation of outdoor carpets make them one of the best outdoor flooring options available when it comes to designs that require imagination and where you can customize and personalize quite a bit.
The deal of a lifetime!
Follow the yellow brick road...
With bricks, you can experiment with patterns with the shape of the bricks themselves. This proves to be a very good option for outdoors that can take a good degree of personalization and that your clients may want to customize personally with you, so as to create a very unique, never-before-seen environment.
Added bonus with bricks, is that you can actually build structures with them (little cabins, fireplaces and so on...) which makes for very harmonious landscape designs.
Bricks are extremely durable (and hard! So care with children using the area is strongly advised) and if properly installed, they will prove extremely effective in term of cost and time, as they will need little to no maintenance to keep in shape!
A brick flooring is also among the safest in terms of slipperiness – but be careful if you want to set it in very hot climates, as it will retain a lot of heat, making it a little uncomfortable for users especially in the warmest times of the year and day.
Natural stone
Natural stone is one of the best flooring options for an outdoor patio due to its beautiful, natural and as durable characteristics.
First of all, natural stone is available in various colours and this can create a visual appeal to your clients' home. Moreover, this material is best for patios because it is easy to maintain and extremely durable. Another advantage of natural stone is that it is an environmentally friendly and visually pleasing outdoor flooring material.
The best part of the stone is that being a natural material, it gives a unique layout and style to your clients' outdoor spaces, Both polished and unpolished stone.
Among the most common types of stone used for outdoor flooring we can find:
Granite: This material is very versatile, as it comes in a variety of colours and textures and it is highly recommended for warm areas, due to its resistance to heat.
Sandstone: This material is highly recommended for the coldest places, as it not affected by ice, and if well-maintained it can last a lifetime.
Slate: It has a grey tone, which ranges from lighter shades to almost black, giving a unique look to an outdoor space. It's an aesthetic option that is also very durable and water resistant.
Hard as concrete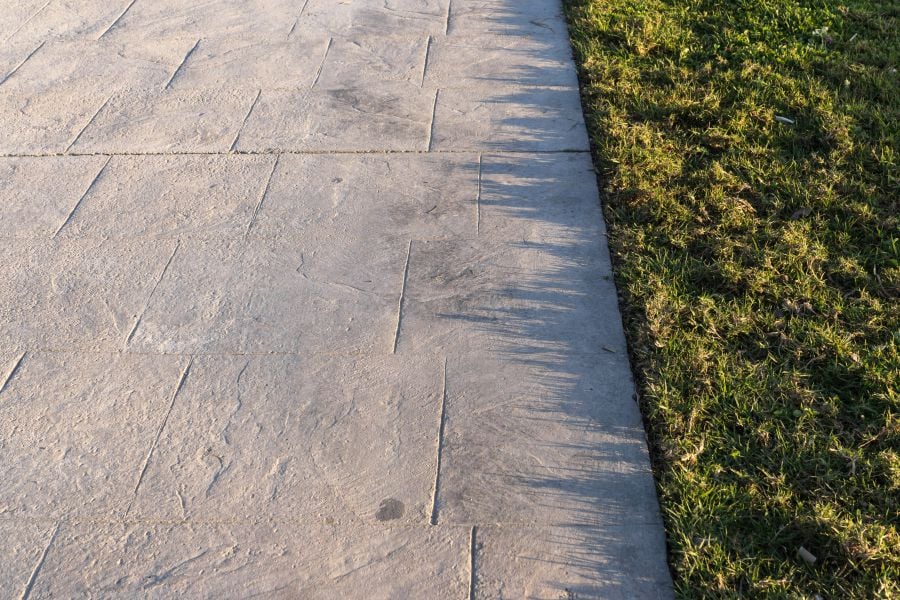 Very easy to maintain and super durable – this is a type of flooring that will last you a lifetime!
You can create patterns on it which make it a pretty good material for unique designs and personalization, this can serve as a very good base for customized coatings and to set important pieces of furniture and other decorative elements such as complements and botanic elements for example, as it will not set you back in your budget.
One drawback of concrete is it is not easy to keep clean, so it will not prove a very good option if the area you want to floor with it will have guests walking on it barefoot.
Child-friendly outdoor flooring options
Rubber flooring for safe playing!
Shock absorbing and slip resistant (even more when wet!), this very durable flooring is perfect for areas where a lot of children will walk and play on. Also, which is another very useful feature for children friendly environments, rubber floorings are extremely easy to maintain and keep clean. Often used for gyms and playgrounds, rubber flooring can be installed in two ways:

You can buy rolls of material (a continuous sheet) you can install.
You can source rubber pavers in different shapes and sizes that can sometimes even mimic stone or wood, for a more refined look – although there are not perfectly convincing dupes on the market made out of this material yet.
Artificial grass
Perfect for areas where people are going to walk barefoot a lot for example, soft, hypoallergenic artificial grass is a great option to decorate a space that will be used and enjoyed by people of all ages – from children up to the elderly. Artificial grass, can be perfect to serve as setting for a children's playground area for example, as well as to set chairs and chaises-longues around a swimming pool – it can also look super neat for evening and night parties, and even pets will love roaming around such a type of flooring.
Nowadays, there are products available on the market to make sure the material does not retain too much heat, hence making it suitable for all areas and all users without a problem.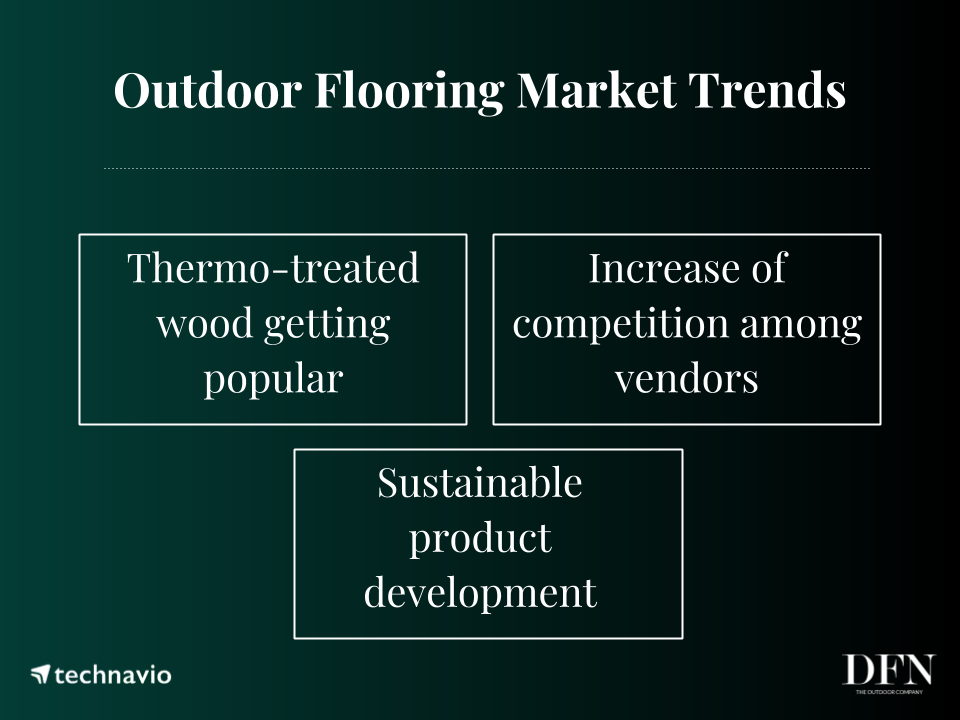 In summary...

There is no best outdoor flooring option that always wins over the others – as always with designing spaces, your clients, the job and task, the landscape and area at hand, the reference building / facility and the target of users will each time require a different thinking behind the choice you will make.
Of course once the budget is clear, you can play with the options available, which there are plenty of, so as to create, thanks to your professionalism, know-how, and of course, taste, the best, most luxurious looking and most appealing outdoor space possible.