With the warm season upon us, it is only natural to start thinking of how to make the outdoor of our homes more beautiful and enjoyable. Porches, patios, balconies and terraces, gardens and orchards (one of the main trends for both indoor and outdoor design this year): colours and shapes, size, materials we choose to decorate them can change their appearance, feel and mood. Picking the right combinations is crucial to make our luxury outdoor space the best it can be for the people who live it everyday.

Selecting luxury outdoor furniture is a matter of design – so, planning carefully and taking different parameters into account to pick the furniture that is best suited for what we want and what works with our lifestyle is a must, and very far from just buying off a catalogue the items of furniture we find beautiful.

A luxury outdoor space can provide a comfortable and leisurely escape that can also double as an entertainment space. Today many backyards have become the place to host guests rather than the standard dining room (see also the trend of outdoor kitchens).
Here is a checklist to serve you as an outdoor furniture buying guide, helping you go through the process of picking your new luxury outdoor furniture mindfully and without leaving anything to chance.
Before picking your luxury outdoor furniture
1. A little piece of heaven
What kind of space is the space we need to decorate?
Furnishing a patio, a garden, a terrace or an orchard is definitely not the same, starting from the main difference that comes to mind: size.
The biggest trend in outdoor space as it being an extension of your home. Your outdoor space should be as comfy and well planned as your interior.
The floor area available can change greatly, so it is of paramount importance to learn the square footage and the peculiarities of the space at hand.
For instance, are there declivities on the ground? Are there stairs, artificial flooring? Where does the area face?

Once understood what the specificities of the location are, we can start thinking of how to take advantage of its strengths, and of how to turn its weak points into opportunities.
2. A good book in the sun or cocktails with friend?
Next, we can ask ourselves (or the client) what will be the use for the site.
Who is going to consistently use it?

Is it a single person, a small or a big family, a group of friend?

Will the owners invite friends or host parties often?

Is the area going to be used for relaxing and enjoying the good weather during the day and the evening only or are there going to be parties held at night?

Is there an orchard or a garden, are there flowers and plants?
Also, thinking of the age and capabilities (mobility and cognitive problems for example) of the users is important in order to select furnishings that will prove usable and comfortable for everyone to enjoy their time outside.
Answering these questions will help us determine which items of furniture are needed (tables, chairs, sofas, lights, flat surfaces, storing solutions…), and in what number and size.
3. Weather conditions
Weather conditions certainly affect the choice of furniture for the outdoor, and not only for choosing the materials. In fact, if the area where the house is built experiences substantial changes in humidity levels, temperature, light exposure and so on, the need to find a solution to store the items of furniture indoor during the more problematic months is clear.
Remember that the longevity of furinshings does not only depend on how we use them, but also on how we care for them in the long run!
4. Brunch on a bench
Another way we can ensure our furniture stands the test of time, is loving it! Using the items throughout the whole year means they will not lay vacant for long periods of time, which could lead to decay of the materials and irreversible deterioration of the furnishing and its parts.

To prevent this from happening, we can first challenge ourselves to find pieces that can serve more than one purpose so a sto continuously use them: for instance, tables that can be extended in length to accommodate more guests; benches that can be set on a lower or higher height so they can be used as flat surfaces for food and drinks during parties! This second option is particularly fun, as freeing up the space in the centre area of the location will give more room for guests to move freely!
Multi-purpose items are particularly useful when we are decorating a smaller space.

Another "trick" to keep using furniture throughout the year is to find items that can work indoor as well as outdoor.
Doing this will also give us the chance to store the pieces inside without having to allocate a specific storage room when the weather is not good enough to enjoy our outdoor décor outside.
A good starting point to find luxury furniture that can work this way is to keep the indoor style and décor in mind when picking our outdoor pieces, so they will not look "out of place" when setting inside of the house.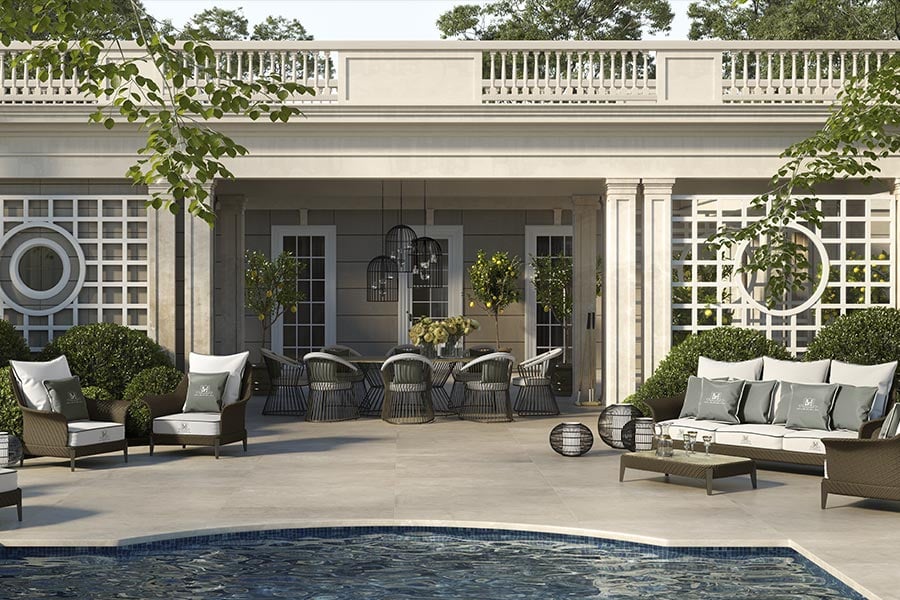 Discover the key to choosing luxury outdoor furniture: know what you are getting
Get your money's worth
Furniture pieces, including garden sets, dining tables, sofas and loungers, act as the bones of impressive luxury outdoor spaces. They're investment pieces that last generations so a fail-safe technique is to choose something timeless that you'll love forever.
Today, many different materials are available for luxury outdoor furniture, so which kind should you pick?
Paying attention to the quality of design, structure, materials and technology is a smart move to make sure we are paying for quality, which means the furniture we buy will be an investment and stand the test of time instead of just being exciting news at the beginning.

Once you figure out exactly what you need, then think about what materials make the most sense.
It is worth mentioning that when talking about quality, what is "good quality" partially depends on the parameters mentioned above (different materials will react differently depending on the weather; some are best suited for children to use and be around and some, less so, and so on…).
Comfort vs Design: in the luxury outdoor furniture you must get the best of both worlds
Balancing the two aspects can be tricky, but it is advised so to succeed in organizing a striking yet functional, efficient space that can be lived and enjoyed without it getting straining or requiring any effort.
No element of surprise, ostentatious technological innovation or flamboyant looks will ever make up for an uncomfortable, difficult to use and overall irritating décor, that will certainly, sadly end up unused or at least, not used enough.
See, Touch, Try
After having done research on what is available on the market, it can be a good idea to visit the showroom and see the pieces of furniture we think we like and want to add to our outdoor in person.
By seeing the items in person, we will be able to try them out, check for comfort, see the true colours, touch the materials and imagine the items arranged together in the intended area.
Colour and shape
At this point, we can start organizing the layout of our outdoor area and arrange the selected items of furniture so the space acquires the mood and feel we want.
"The solution often turns out more beautiful than the puzzle"
R. Dawkins
With any set of furnishings we can choose to create a more modern, airy space, bright and minimal, or a nostalgic, homely space with a warm, vintage vibe, or even a romantic English garden, a fresh, chic Parisian green terrace or a rich, mediterranean orchard with vegetables and fruit trees to frame the space.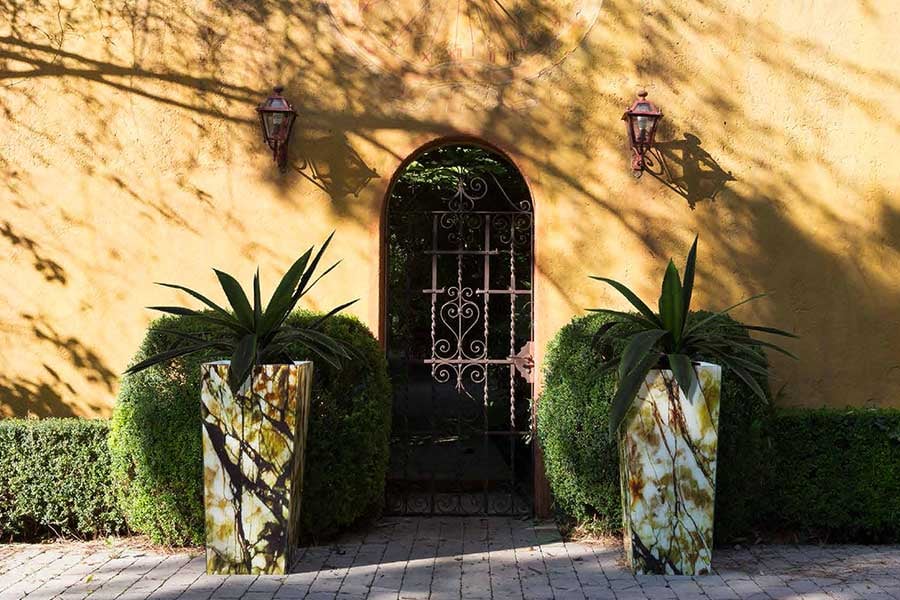 Picking the right colour palette is essential. It will confirm the mood of the place, harmonise it with the environment and the surroundings, and it will give character to the design.
Deciding on a colour palette can be quite a challenge, there are so many to pick from. Trendy or classic is up to you – but a good colour scheme will guarantee it still looking fabulous years on.
"Mere colour can speak to the soul in a thousand different ways"
O. Wilde
From the vivid greens of botanical elements, to the pinks and violets and turquoises among the other highly saturated hues that are so in this year, to the deep, dark, lushous woods and natural shades and earthy tones and of untreated fabrics, by way of all sorts of ethnic and exotic prints, the quirky marbled effects and metallic accents, the colour palettes that are most in vogue in this periods are variegated and it will be hard to choose among them and decide on one only!

Of course, there are plenty of colour schemes to choose from that are more traditional, fool-proof and bullet-proof, that will make our outdoors timeless and elegant yet never boring.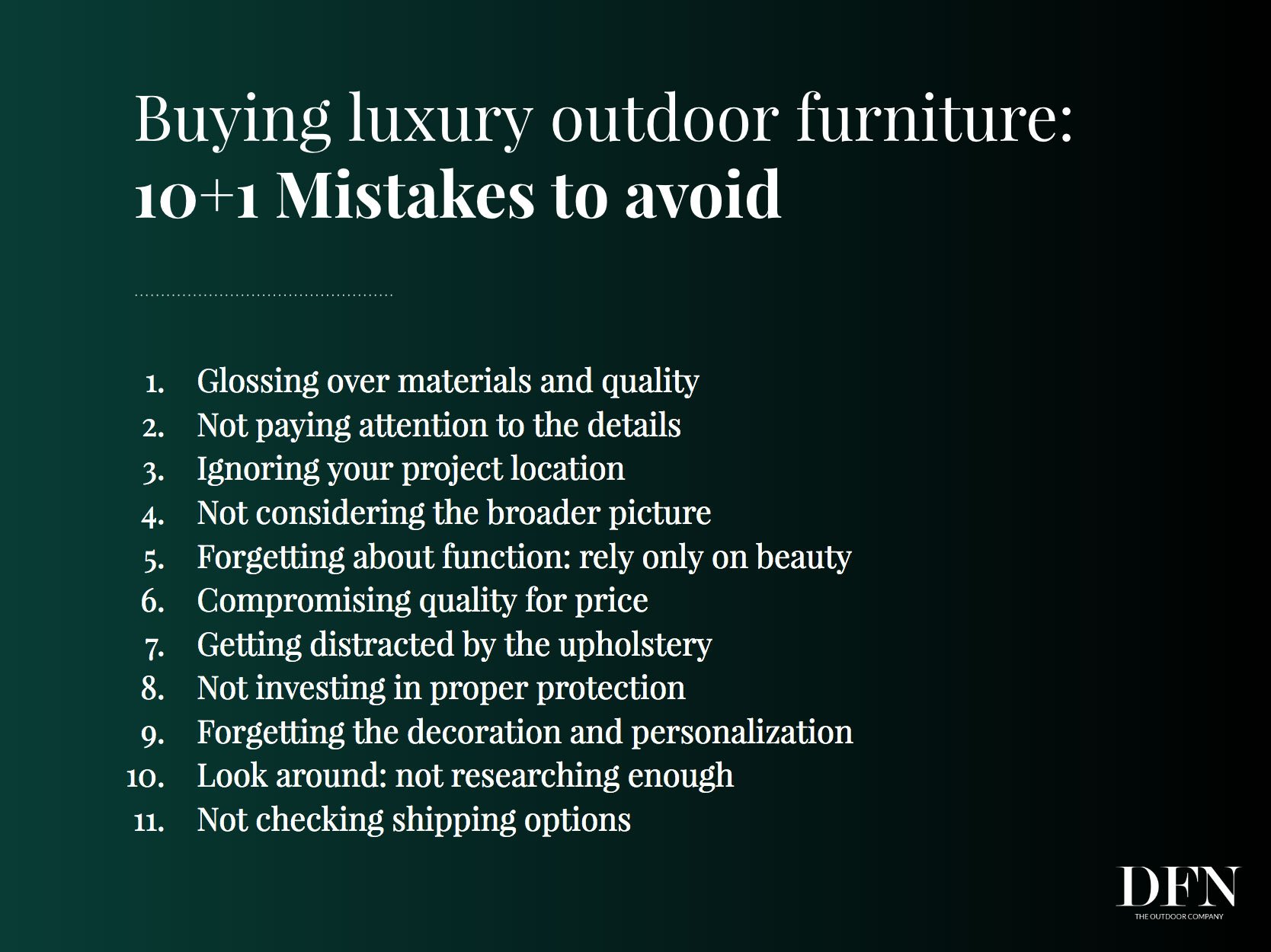 In conclusion
Ok. For an architect choosing outdoor furniture isn't easy.
You need something that combines comfort, low maintenance and not just good looks, but the right kind of good looks.
As with buying investment pieces for your project, choosing luxury outdoor furniture and accessories for your outside space can be a big decision.
Another last question: is the furniture appropriately scaled to the outdoor area where it will be used? Very often today, for an exclusive project, choosing customized outdoor furniture can represent a strategic choice.
Even though rules to selecting the right luxury outdoor furniture are not set in stone, it can prove extremely helpful and very effective to base the process on a clear checklist, so is to not forget to pay attention to any of the key parameters that contribute to making items of outdoor furniture a brilliant work of design.