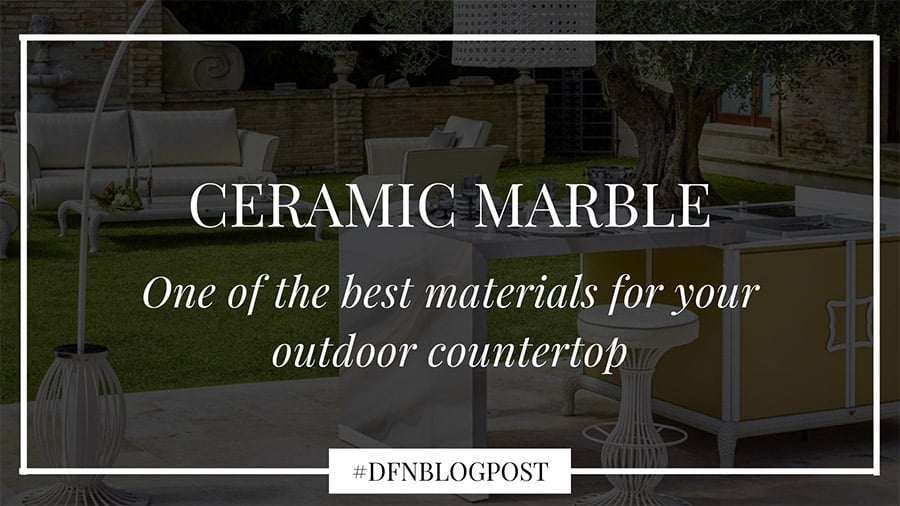 An extra opportunity to be outdoors during the summer, or an area of daily use if installed in geographical areas whose climatic conditions allow it: a high-end luxury outdoor kitchen is a detail that cannot be missing in a modern luxury home.
A space to be decorated with glamorous, original furnishing elements able to connect the kitchen to the nature that surrounds it and to the main building's style—and above all with the highest quality materials.
Choosing fine materials and products with the highest quality standards will guarantee that your kitchen lasts over time.
Not only that: the best materials will also be able to withstand the wear and tear caused by the use of the kitchen, think in particular of the kitchen counter top, the element that is used most.
What materials should you choose for its realization?
Ceramic marble is one of the best materials for your outdoor countertop.
However, naturally, the market offers many options, considering all the natural and artificial materials at your disposal.
Read on to find out why ceramic marble may be just what you need to complete your luxury outdoor kitchen project, and what other construction materials are available to you for the realization of an outdoor countertop.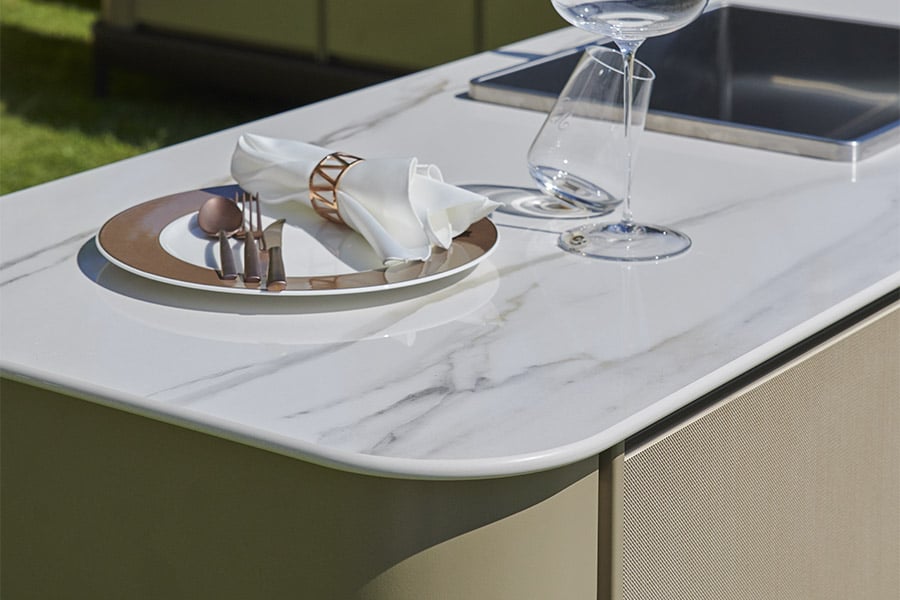 Ceramic marble: luxury meets durability
Ceramic marble is a luxury material, precious but resistant, that combines technical, technological, and aesthetic qualities.
With its appearance completely comparable to natural marble, ceramic marble is a high-end option in appearance and structural characteristics.
Highly durable, robust, and stable, this material is super resistant, even when subjected to strong thermal shocks.
For all these reasons, ceramic marble is particularly suitable for the creation of your new outdoor countertop.
How to clean an outdoor ceramic marble countertop
The cleaning of ceramic marble countertops can be done at any time using a soft cloth soaked in water with the addition of a neutral liquid detergent.
Then just dry it with another cloth, and the worktop will be as good as new.
Practices to avoid for the correct maintenance of a ceramic marble countertop
Despite the extreme resistance of this material, outdoor countertops made in ceramic marble can be damaged through the use of some specific substances, such as products containing waxes, brighteners, and strong acids (hydrofluoric, sulfuric, etc.), are not recommended because they could permanently damage the surface.
As for very acidic liquids, such as coffee, it is good practice to remember to clean any spills or stains immediately with water, in order to avoid staining.
Finally, to avoid scratches, abrasive cloths or metal fiber cloths must be avoided during cleaning, and acutting board should always be placed on the countertop every time ceramic knives are used.
Natural marble: what are the differences with ceramic marble?
If it is the particular, unmistakable, and always unique aspect of marble that you and your client desire, you may be wondering why you prefer ceramic marble to natural marble.
In general, marble, as a natural stone, is more delicate and needs more care and attention to withstand time and bad weather.
If you decide to design your outdoor countertop with DFN, a leading company in the design and manufacturing of furniture elements and outdoor spaces, you can choose between different types of refined natural marble countertops, all treated with silicone wax.
This particular treatment will make your outdoor countertop water-repellent, and therefore more resistant to stains, liquids, and potentially harmful products.
Given the importance of this process, the treatment should be repeated periodically and regularly, depending on the specific climatic conditions of the location where the countertop is installed and its use.
How to clean an outdoor countertop in natural marble
To clean this material, which is particularly subject to stains and opaque rings, we recommend using a soft cloth soaked in water and a neutral detergent.
Avoid detergents with a very low or very high pH because they are too aggressive.
For drying, use a cotton cloth.
Practices to avoid for the correct maintenance of a natural marble countertop
As we have said, natural marble is more delicate than ceramic marble.
Therefore, it is necessary to prevent your outdoor countertop in natural marble from coming into contact with:
Chemical substances
Solvents and solvents for nails
Paints
Detergents that contain ammonia
Brighteners
Indelible pens or ink
Oily soap
Particularly acidic food such as coffee, wine, oil, lemon, tomatoes, and other residues of food
Contact with any of these substances can result in permanent and unrepairable damage if the substance in question is not removed immediately with plenty of water and a soft cloth.
Even with timely cleaning it is possible that some of these substances indelibly mark the countertop, especially if a long time has passed since the last silicone wax treatment.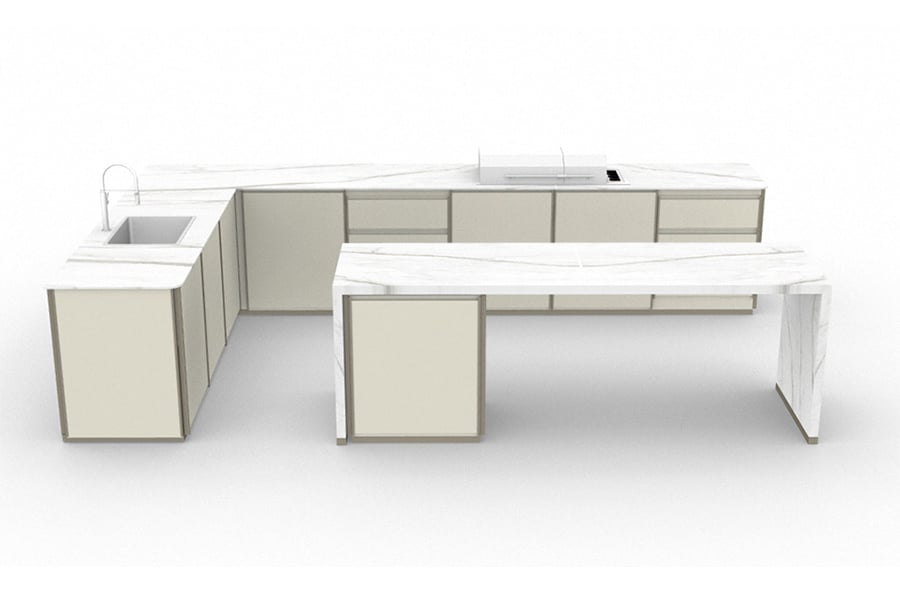 How to choose the most suitable material for your outdoor countertop
The selection of the material for the realization of your outdoor countertop will outline the style of the whole outdoor kitchen, and it is a choice that must be made based on:
the customer's tastes
the climatic conditions of the surrounding environment
how the kitchen will be used (frequency and methods of use, purpose)
Natural materials such as granite, stones, quartzite, for example, are, as we have seen, more delicate and require constant care to maintain their technical and aesthetic characteristics as long as possible.
Appreciated for their modern, minimal, and, indeed, natural look and feel, these materials are suitable only for kitchens that are used less frequently, and installed in natural environments without particular climatic criticalities (very high or very low temperatures, large thermal changes, high volumes of rain, strong wind).
As you can imagine, geographic areas like these are not very common.
For this reason, artificial materials can be a great help in the design and construction of outdoor spaces that can be enjoyed for a long time, without suffering damage, even irreparable, caused by use and atmospheric agents.
Today, very fine synthetic materials are available on the market, made with the highest quality standards and completely comparable to materials existing in nature in terms of appearance and high-end feel.
Marble-finish ceramic is considered one of the best materials for your outdoor countertop, thanks to all the characteristics that we have previously analyzed, and for its high-end look and feel, which make it a glamorous fashion accessory, which will add further value to the outdoor space you are furnishing.