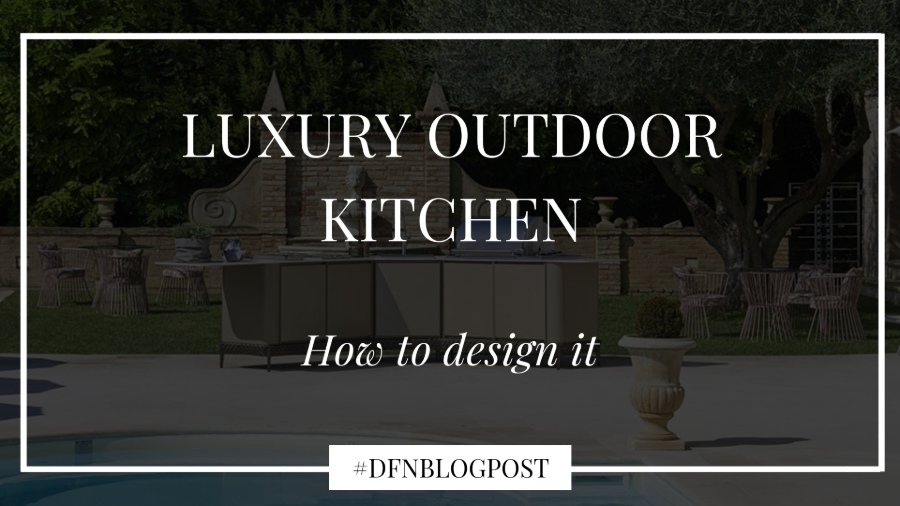 The interest in outdoor living and cooking continues to grow, with more and more people turning their outdoor spaces into extensions of their property.

Designing a space to create a fully functional and luxurious outdoor kitchen, where practicality, technology and aesthetics meet, requires careful planning and design knowledge.
Before designing a luxury outdoor kitchen, it is important to focus on a few key points and considerations regarding the design. The following 7 points will help you make your outdoor kitchen ideal for clients and their needs.


7 things you should consider when designing a luxury outdoor kitchen
First of all, you should speak with the client to learn about their lifestyle, the location and the available space, whether they want a fully functional kitchen or something more basic, their favorite method of cooking outdoors, how many people they will want to host, etc.
On the whole, this will determine the starting point for establishing the connection between the kitchen and the other areas in the outdoor space. It will also contribute to determining the size of the area and its equipment.
More specifically, it is advisable to consider the following aspects:


Let's continue analysing each point.
1. Climate and Environment
The climate and environment in which the property is located significantly affect the design, materials and duration of the outdoor kitchen.
If you live in a region with a mild climate, you will spend much more time in an outdoor kitchen, so you can expect larger dimensions to increase comfort.
Furthermore, if the region is typically subject to rain, it is useful to consider providing a cover. For example, you can opt for a bioclimatic pergola or, if the client wants a more intimate location, a refined conservatory.
The bioclimatic pergola, made of aluminium with the cover in adjustable slats, is resistant and ensures protection from atmospheric agents while providing proper shading and ventilation. On the other hand, a conservatory is a real house in steel and glass that allows all the comforts of a closed environment in full contact with nature.
Of course, every climate has its own problems that require different solutions. Therefore, installing shading systems, gazebos, bioclimatic pergolas or winter gardens is excellent advice to provide shelter from atmospheric agents or too rigid or high temperatures, extending the time of use of the outdoor space and the outdoor kitchen.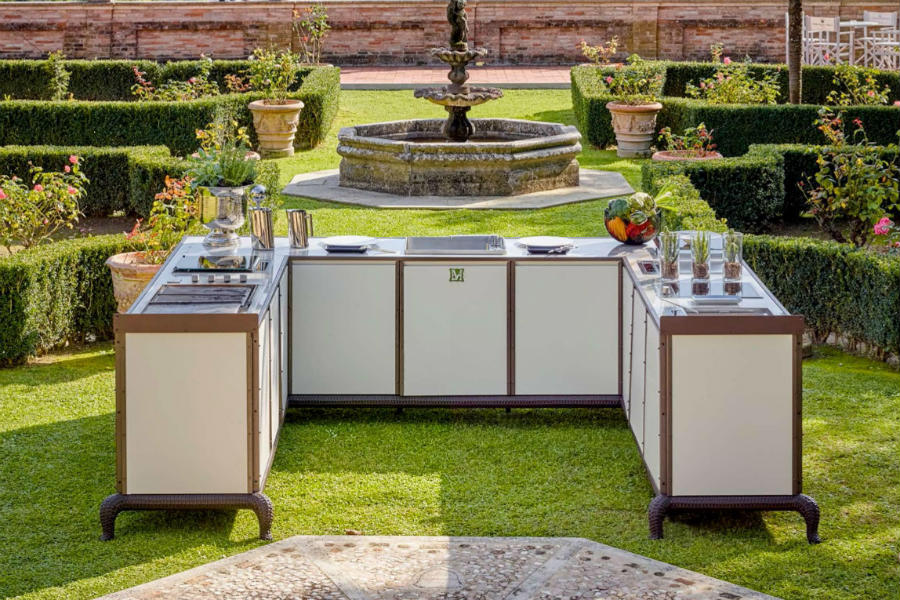 2. Layout
Also, and especially in an outdoor kitchen, it is important to devise a functional and practical layout that can guarantee freedom of movement and maximum fluidity in the preparation of food.
The configuration of the kitchen is one of the central points in outdoor projects. Generally, when planning to design an outdoor luxury kitchen, it is essential to keep in mind that the layout consists of 4 main areas:


Cold areas: occupied by refrigerators, freezers, ice machines


Hot zones: where there are cooking hobs, grills, ovens and stoves, and a work area


Dry areas: include areas dedicated to food preparation and storage


Wet areas: consisting of a sink and surrounding worktop


In addition to paying attention to each area, it is necessary to think about how the various areas will work together and give a unique and elegant look to the kitchen.
The idea of the outdoor kitchen as a great BBQ has now been replaced by rich, functional designer proposals.

3. Appliances
Obviously, appliances increase the value and performance of outdoor kitchens. After defining which appliances to insert, it is necessary to deal with how to adapt them to the design plan, the available space and the interaction between them.
Among the possible cooking and refrigeration tools, we recommend:

Barbecue
In an outdoor kitchen, you can't forget about the barbecue: an ideal cooking tool for outdoor spaces, designed to have a large cooking area. Choose a solution equipped with a protective stainless steel cover. In this way, you can ensure greater protection to the task area in question during periods of inactivity. In addition, the cover allows different types of cooking styles including the use of an oven.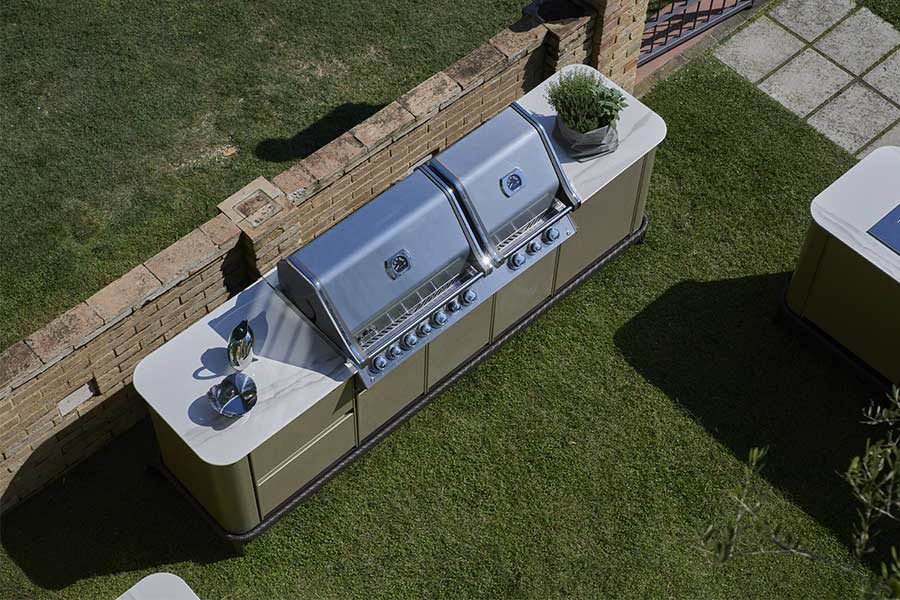 Gas or induction hob
The choice between a gas or induction hob is the client's responsibility and should be based on their style of cooking. On the one hand, the practical and traditional gas hob allows the instant adjustment of the temperature of the burners. On the other hand, the induction hob, with greater energy efficiency as it minimises heat loss, has no open flames and decidedly has a more discreet designer appearance.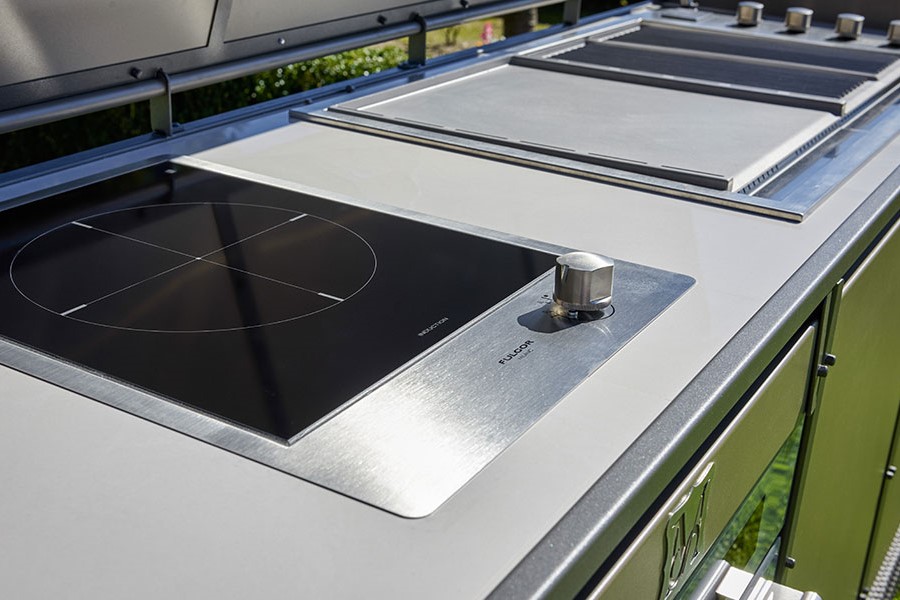 Oven
Another essential element in the kitchen is the oven. To select the best solution, evaluate the functions of the various models, the types of cooking and control systems and the capacity and resistance to high temperatures.


Teppanyaki
To add value to your client's kitchen, equip it with a teppanyaki. It is an oriental cooking tool that is making its way into designer kitchens, and it allows you to grill and cook without fat.


Grill or fryer
The grill and fryer fully reflect the essence of the outdoor lifestyle. That's why they should never be missing in an outdoor kitchen.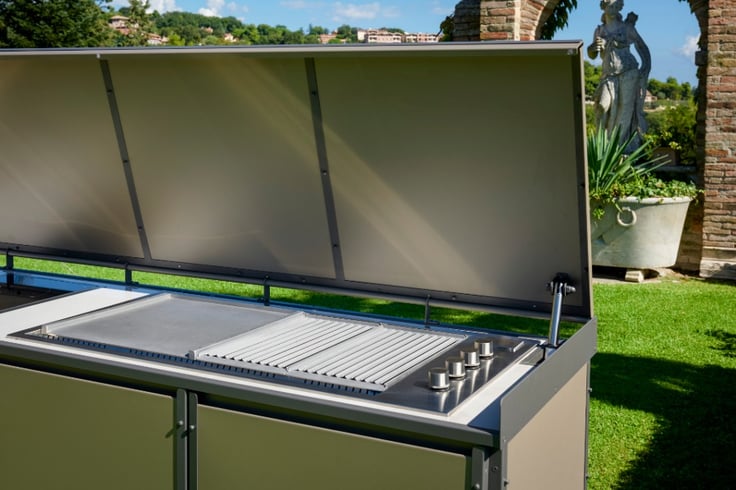 Wine cellar
A wine cellar is a must-have in the kitchen for those who don't want to give up every comfort and luxury, even outdoors. It can be inserted into a drink cabinet equipped with glasses and an ice machine so that you have everything you need to prepare and serve delicious drinks or wines at the right temperature.


Fridge
In an outdoor kitchen, an efficient storage and cooling system cannot be missing. Therefore, it is necessary to equip your client's kitchen with a refrigerator of optimal capacity (visible or hidden behind doors), able to preserve the flavour and freshness of food and drinks.
A trick that we want to suggest is the work triangle, so the sink, hob and refrigerator form an ideal triangle between them.
4. Lighting
In general, the areas used for preparing meals, cooking, cleaning and consumption should be well lit.
Including a light source above the dining area is as functional as an elegant design element.
Lighting is definitely a must for these outdoor spaces, but that's not all: this is where clients can express their creativity and style. The lighting system aims to provide the light needed for everyday use but also adds a touch of character and an ideal atmosphere to the space.
Therefore, ensure that your client's kitchen becomes a convivial and 360° livable area, as well as a highly functional space. Complete the furnishing composition with decorative lamps with a glamorous style.
With the right lighting, it is possible to make different atmospheres that can decorate the kitchen with light differently.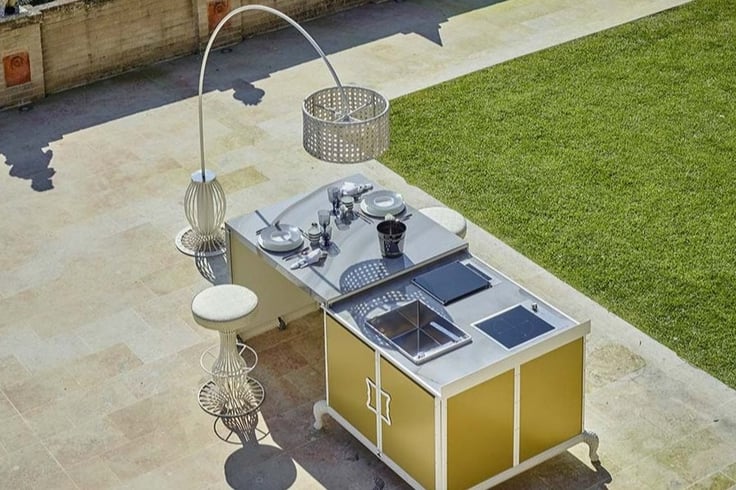 5. Maintenance
An outdoor kitchen is continuously exposed to various atmospheric agents, so even if you don't use it frequently, household appliances and surfaces must be protected to prevent them from accumulating dirt or deteriorating. A custom-made cover should accompany a luxury kitchen.
Luxury outdoor kitchens use high-performance materials that resist the elements. Stainless steel, widely used in outdoor environments, is only one of the available materials. It is precisely in the choice of unusual finishes that an image of luxury and exclusivity is created.

6. Materials
To ensure a high-performance and aesthetically pleasing outdoor kitchen, a robust and durable structure is required, made of high-quality and highly resistant materials for covering kitchen worktops, doors and modules (such as stainless steel and porcelain stoneware), leaving room for customisation in the finishes.
In this regard, we recommend a kitchen made with a steel frame treated for outdoor use and powder coated. This type of treatment, in addition to adding beauty to surfaces, offers a variety of advantages including resistance to atmospheric agents, durability over time and easy maintenance.

7. Paths and atmospheres
For clients with larger spaces, it is a good idea to include some paths to reach the outdoor kitchen. It may be a simple but elegant stone walkway that connects the home with the outdoor area used as a kitchen space to create a focus on the environment.
Installing elements with water, light and fire in the surrounding space is also effective to give the environment a warmer and brighter reflection.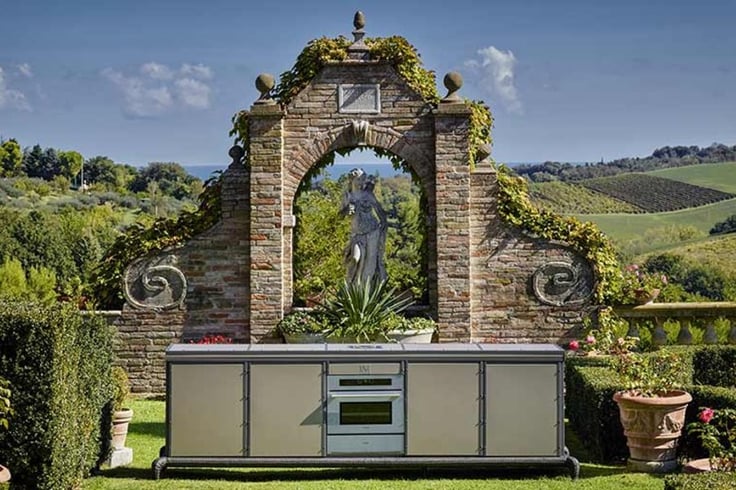 3 mistakes to avoid when designing luxury outdoor kitchens
Now that you know the 7 important factors for designing a luxury outdoor kitchen, knowing which mistakes to avoid to achieve an impeccable result in both technical and aesthetic terms in essential. Precisely:


Work areas that are too small


Poor lighting


Lack of integration between the kitchen and the surrounding environment


1. Work areas that are too small
First of all, it is essential to make sure that you design enough space to prepare, cook, serve and clean. In particular, remember that the cooking and sink areas always need space on the left and right for practicality.

2. Poor lighting
Without ceilings or walls to hang lighting fixtures, effectively lighting an outdoor kitchen can be a challenge. Therefore, you must find a creative and optimal solution to install adequate and sufficient light to illuminate the work and evening entertainment surfaces.

3. Lack of integration between the kitchen and the surrounding environment
The outdoor kitchen and the dining room often share the same area, and their activities are closely related, so an integral connection is needed between them.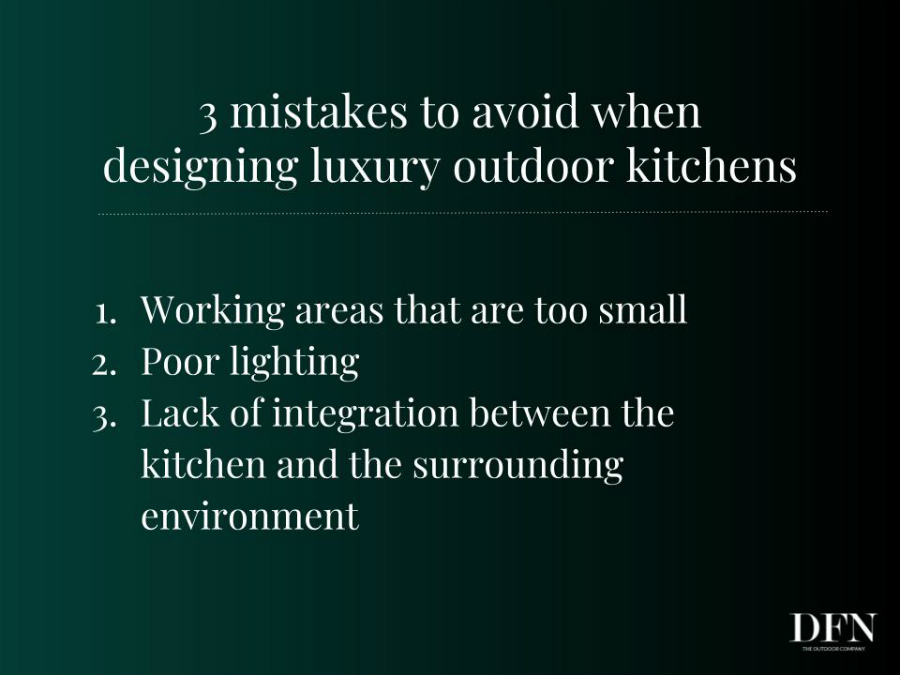 Tips and mistakes to avoid: how to design an elegant and highly functional luxury outdoor kitchen
An outdoor kitchen expands the living space, allowing you to cook, eat and have fun together.
Research, planning, creativity and knowledge are certainly fundamental concepts in the design of an outdoor kitchen, a preparation that, to be impeccable both in a technical and aesthetic sense, requires meticulous care from the first steps.
Follow our advice, and you will get an excellent result and ensure your client a highly functional and livable outdoor area, as well as a unique atmosphere in a sophisticated environment.