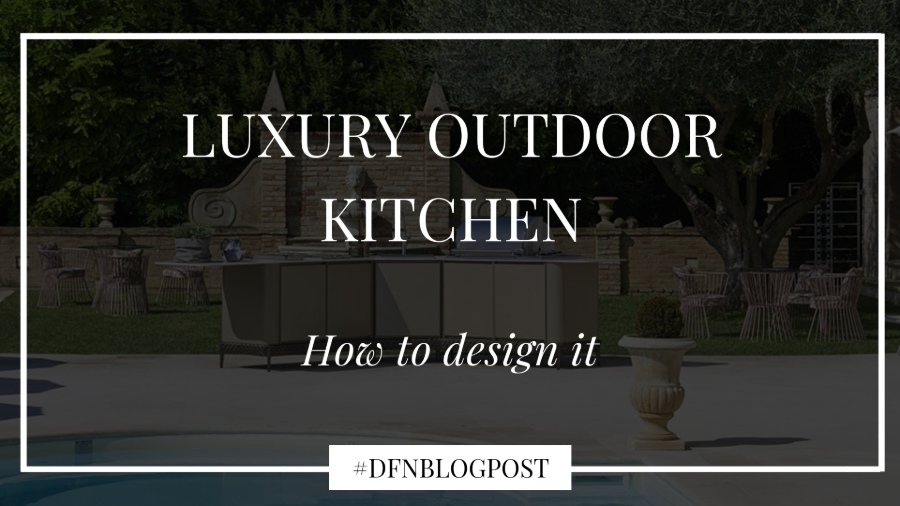 The interest in outdoor living and cooking continues to grow, with an increasing number of people transforming their outdoor spaces into elaborate extensions of their property.
Designing a space to create a fully functional and luxurious outdoor kitchen, where practicality, technology and aesthetics meet, requires serious planning and design knowledge.
Before you design a luxury outdoor kitchen, it is important to focus on the following suggestions and considerations regarding the design, which will help to make the outdoor kitchen ideal for clients and their needs.
It is good to start by chatting with the clients to discover their lifestyle, the space available, if they want a fully functional kitchen or something more basic, their favourite style and outdoor cooking method, how many people they will want to host, etc.
This determines the starting point for establishing the connection between the kitchen and the other external areas and also determining the size of the area and the equipment it will have.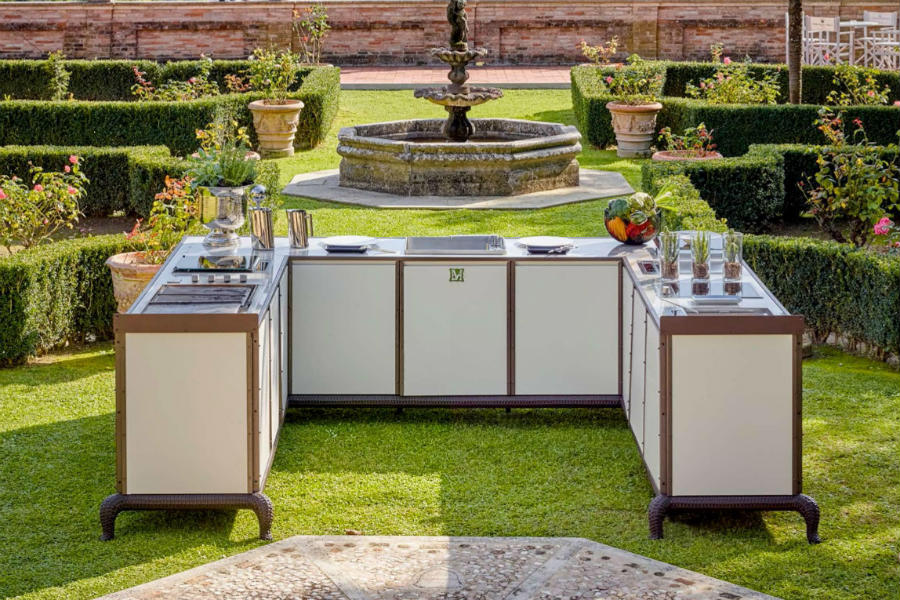 8 steps for designing a luxury outdoor kitchen
1. Climate and Environment
The climate and the environment of the property's location significantly affect the design, materials and durability of the outdoor kitchen.
If you live in a region with a mild climate, you will undoubtedly spend more time in an outdoor kitchen, so you can expect larger dimensions, to increase comfort.
For countries with less favourable weather conditions, the placement is important. You will certainly have to avoid areas that are too windy, warm, shaded or cold. Furthermore, if the region is typically subject to rain, it will be useful to consider placing the kitchen under a cover like a pergola or a winter garden.
Naturally, every climate has its own problems that require different solutions; therefore, installing shading systems, gazebos, bioclimatic pergolas or winter gardens is an excellent way to provide shelter from atmospheric agents or temperatures that are too stiff or high, extending the use of the outdoor space as well as the outdoor kitchen.
2. Layout
Generally, when designing a luxury outdoor kitchen, it is important to keep in mind that the layout consists of 4 main areas:
cold areas: occupied by refrigerators, freezers, ice machines
warm areas: where the cooking hobs, grills, ovens and stoves are located, work area
dry areas: include areas dedicated to food preparation and storage
wet areas: composed of a sink and a surrounding work surface
In addition to paying attention to each area, you need to think about how the various areas will work together and give a unique look to an elegant and functional kitchen.
Rich, functional and design proposals now surpass the idea of the outdoor kitchen intended as a large BBQ.
3. Appliances
Naturally, appliances increase the value of outdoor kitchens.
After understanding which and how many appliances to insert, it is necessary to adapt them to the design plan and the available space, and pay attention to their interaction.
One trick we want to suggest is that of the working triangle, so that the sink, the hob and the refrigerator form an ideal triangle between them.
4. Lighting
In general, the areas used for preparing meals, cooking, cleaning and consumption should be well lit.
Therefore, to include a light source above the dining area is as functional as a design element.
Illumination is definitely a must for these outdoor spaces, but not only; it is here that clients can show off their creativity and style. The lighting system aims to offer the light necessary for everyday use, but also adds a touch of character and an ideal atmosphere to the space.
With the right lighting, it is possible to create different atmospheres that can decorate the kitchen's light differently.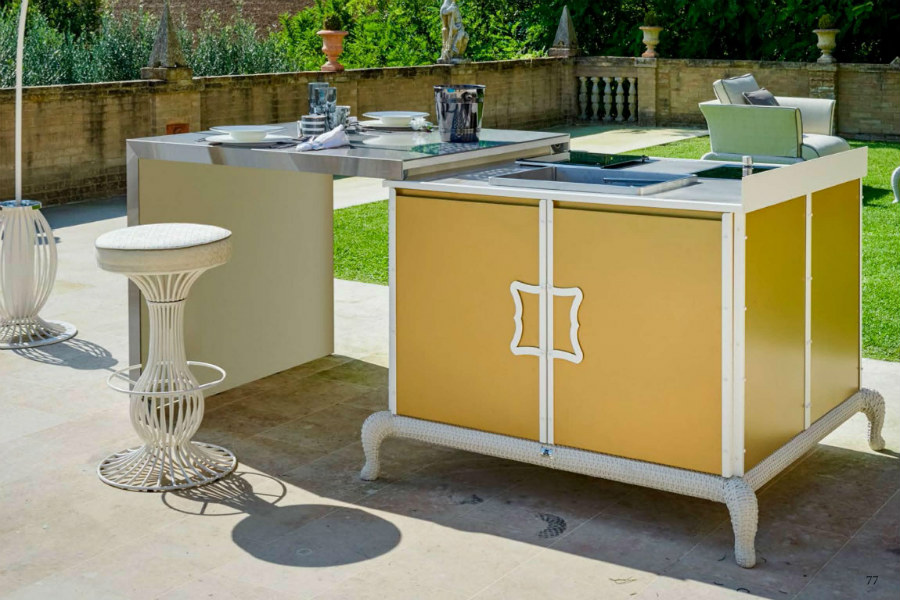 5. Maintenance
An outdoor kitchen is exposed to various atmospheric agents, so even if you do not use it frequently, the appliances and surfaces must be protected to prevent them from accumulating dirt or deteriorating. A luxury kitchen comes with a bespoke cover.
Luxury outdoor kitchens are also made with high-performance materials that withstand the elements. Stainless steel, widely used in outdoor environments, is just one of the possible materials. It is precisely in the choice of unusual finishes that an image of luxury and exclusivity is created.
6. Materials
A common idea of outdoor kitchens is to create them with stonework. Today these are solutions more suited to a country style with a luxurious image. Quality kitchens abandon the idea of masonry and transform into projects with free installations. They use materials such as iron in sophisticated finishes and marble-effect ceramics to give life to elegant proposals that decorate and enhance the environment.
7. Paths and atmospheres
For clients with larger spaces, it is a good idea to include some paths to get to the outdoor kitchen. It can be a simple but elegant stone walkway that connects the house with the outdoor area used as a kitchen space to create a focus on the environment.
Installing elements with water, light and fire in the surrounding space is also effective for giving the environment a warmer and brighter reflection.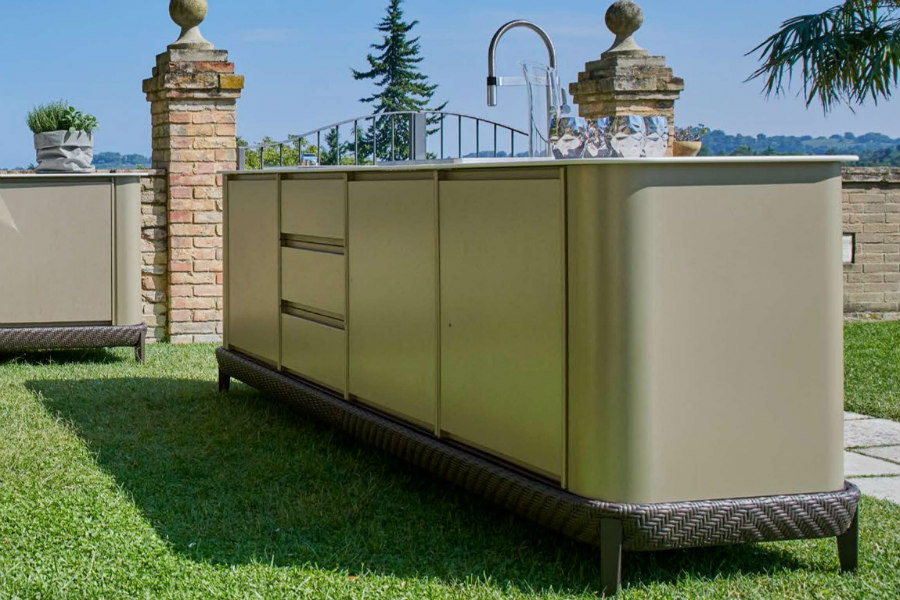 3 mistakes to avoid when designing luxury outdoor kitchens
1. Working areas that are too small
First of all, it is essential to make sure that you plan enough space to prepare, cook, serve and clean. In particular, it is better to remember that the cooking and sink areas always need space to the left and right for practicality.
2. Poor lighting
Without ceilings or walls to set up lighting fixtures, effectively lighting an outdoor kitchen can be a challenge. Therefore, a creative and optimal solution must be found to install adequate and sufficient light to illuminate the work and evening entertainment surfaces.
3. Lack of integration between the kitchen and the surrounding environment
The outdoor kitchen and the dining room often share the same area, and their activities are closely related, so an integral connection is needed between them.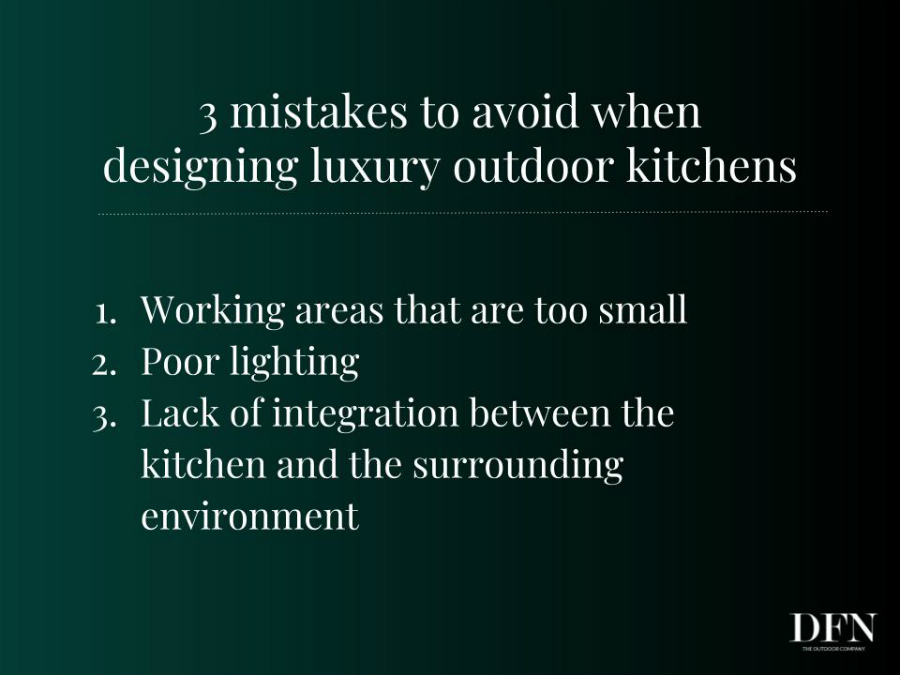 Design an effective and functional luxury outdoor kitchen
An outdoor kitchen definitely expands the living space, allowing you to cook, eat and have fun in company.
Research, planning, creativity and knowledge are fundamental concepts in the design of an outdoor kitchen. However, we would like to specify that this is a different design compared to that of an internal kitchen, due to different technical and aesthetic details.
The climate does not limit an outdoor kitchen: by installing a pergola rather than a Conservatory, the client can enjoy the outdoor space in all weather conditions, thanks to the possibility of including a ventilation or heating system, as needed.
Furthermore, outdoor lighting will not only prolong the possibility of spending more time outdoors but can also create an atmosphere around a sophisticated space.