Everyone wants to spend time in a refined kitchen environment with a solid and well-groomed appearance. No outdoor kitchen spaces are the same. This is because it is possible to choose from a wide range of options to give life to your luxury outdoor kitchen.

When creating unique outdoor kitchen designs, it is necessary to accompany your customer in every design phase, that is, from setting up the layout to choosing the furnishing concept, as well as choosing materials and finishes.
In this article, we will illustrate the key steps for customising the outdoor kitchen you are dealing with in detail.

Outdoor kitchen designs: 5 steps for creating an efficient kitchen area
Below, you will find the 5 steps for creating a customised outdoor kitchen design, able to combine bold design and functionality. In particular:


Let's take a look at each step.

1. Evaluate the location
The first fundamental step in the realisation of all outdoor kitchen designs is to evaluate the location that will host the outdoor kitchen. This will then help you understand which layout to choose to accommodate outdoor spaces and immediately create a sense of order and balance.
Support the practical and technical needs of your customer.
If you want to install your outdoor kitchen in a protected and safe place, you could design a bioclimatic pergola, a veranda or, why not, even an elegant conservatory.
These solutions will fully satisfy the needs of the most demanding customer in terms of protection and durability while leaving room for style.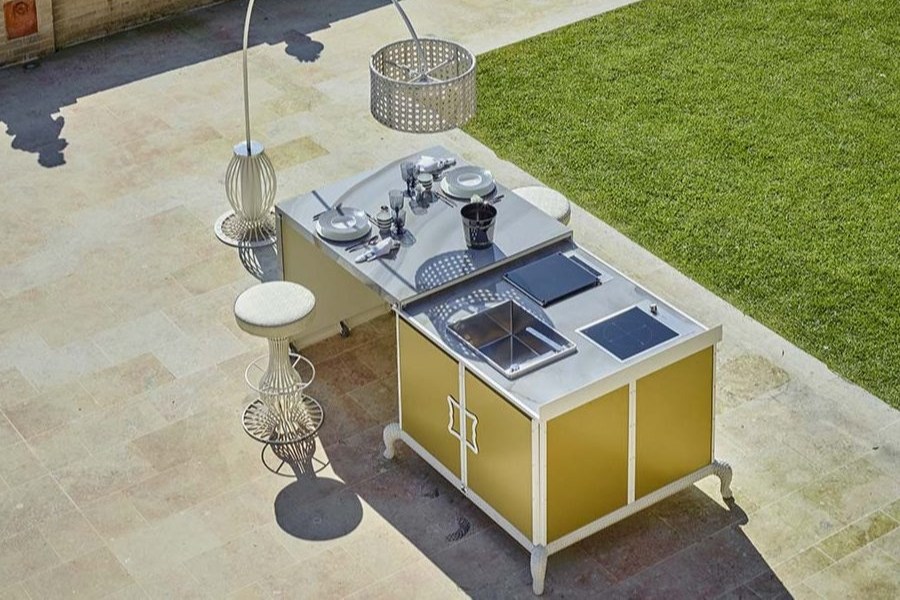 2. Set up the most functional layout
Once you have carefully assessed the location of the outdoor kitchen, it is important to set up a highly functional layout.
For a well-configured, high-performance kitchen area, it is advisable to choose a kitchen that can guarantee freedom of movement, efficiency and comfort in every phase of preparation.
An efficient and organised cooking space presents a highly functional arrangement of the 3 main task areas, set up according to the so-called work triangle, that is:


Hob
Washbasin
Fridge


This functional composition plays a central role in optimising preparation times in the kitchen and determine the degree of its practicality.
But what are outdoor kitchens with a well-designed layout? Among the highest performing we can include:

U-shaped kitchens
U-shaped kitchens fully respect the work triangle principle, thus ensuring maximum comfort during preparation, while ensuring the creation of a livable and welcoming space.

In fact, even in the case of U-shaped kitchens, it is possible to make the entire location more convivial. The three adjoining floors leave a free space in the centre of the area to be set up at the customer's complete discretion.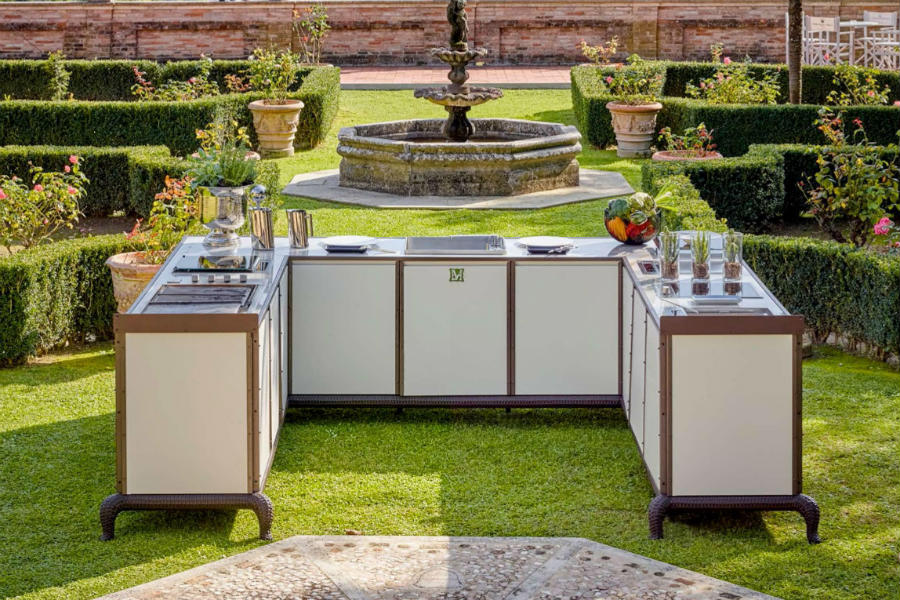 Linear kitchens
Linear kitchens have great structural adaptability to outdoor environments and considerable aesthetic versatility. In terms of functionality, outdoor kitchens with a linear layout are easy to use.

In fact, in addition to ensuring ample freedom of movement and a sequential workflow, they guarantee the optimisation of the preparation phase and leave a wide choice of customisation in furnishing.


These are the characteristics that make linear kitchens very popular.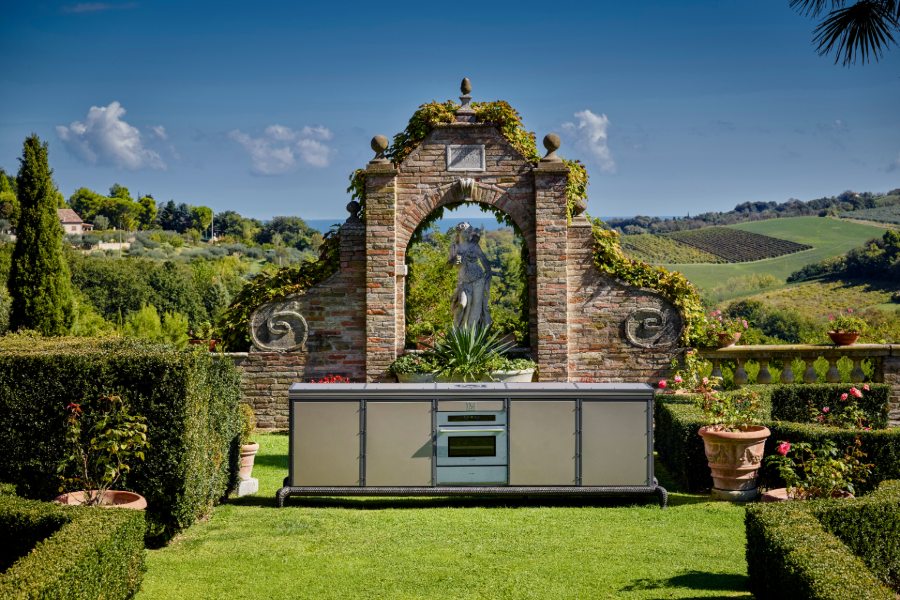 Corner kitchens
Corner kitchens are chosen the most and are the most suitable for outdoor spaces.

Characterised by an extremely versatile and functional layout, this type of outdoor kitchen shows remarkable adaptability to large and medium-sized areas. It also guarantees total comfort, efficiency and ample freedom in furnishing.


Therefore, L-shaped outdoor kitchens, in addition to complying with the work triangle rule, allow you to create a scenario of conviviality outdoors. The two adjoining planes arranged in an angular sense leave a large open space in the centre that can be set up at the customer's complete discretion.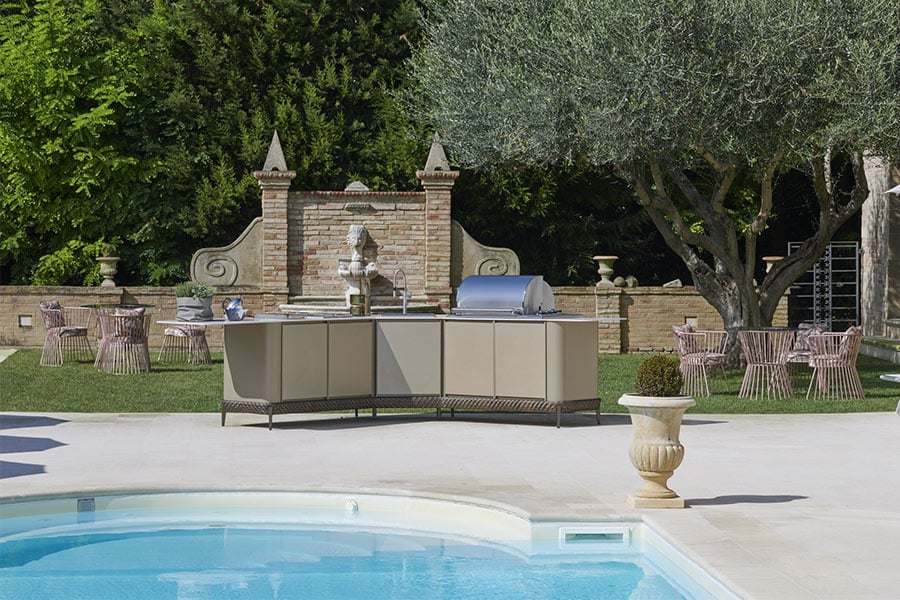 3. Select the most refined and high-performance materials
Resistance, durability, efficiency and impeccable style. These are the factors necessary to make the outdoor kitchen you are dealing with highly functional and beautiful to look at.
To achieve this goal, it is necessary to select the most refined and high-performance materials right from the start. Among the most valuable materials able to offer robustness and aesthetics, we find:

Powder-coated steel treated for the outdoors
To always have high resistance and durability, while still leaving room for style, choose an outdoor kitchen with doors made of powder-coated steel treated for the outdoors.
This particular finish will guarantee strength and resistance to the entire structure, leaving room for customisation in terms of finishes.

Ceramic marble
Choosing ceramic marble for the doors or countertops means offering aesthetic presence and elevated resistance.
In fact, this material stands out for its versatile nature both in technical and stylistic terms. Beyond, its unmistakable texture, always characterised by different designs and marbled effects, ceramic marble is:


Easy to clean
UV resistant
Frost resistant
Abrasion resistant
Resistant to oxidation
Highly hygienic

Stainless steel
Choose stainless steel for appliances and their protective covers.
Stainless steel is adaptable to any design concept and is ideal for giving sturdiness to kitchen countertops and tools without sacrificing style.
In addition to being easy to clean, biologically neutral and highly hygienic, stainless steel ensures a vast choice of finishes, and each one is unique given their unmistakable sober and modern charm.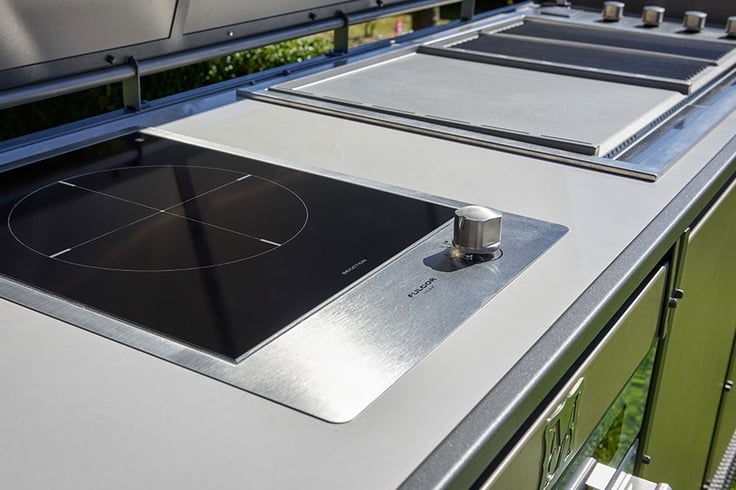 Synthetic rattan or metal
To provide greater solidity and resistance to the structure, you could opt for a metal base. In this way, you will remain faithful to the style of the entire kitchen, or you could choose to customise it with a hand-woven synthetic rattan base.
Synthetic rattan resists the most abrupt changes of temperature, does not discolour, is not attacked by mould or parasites, and breaks the material continuity of the kitchen, which is why it is ideal for outdoor spaces.
Moreover, with this type of base, the kitchen rests on feet that keep it raised from the floor.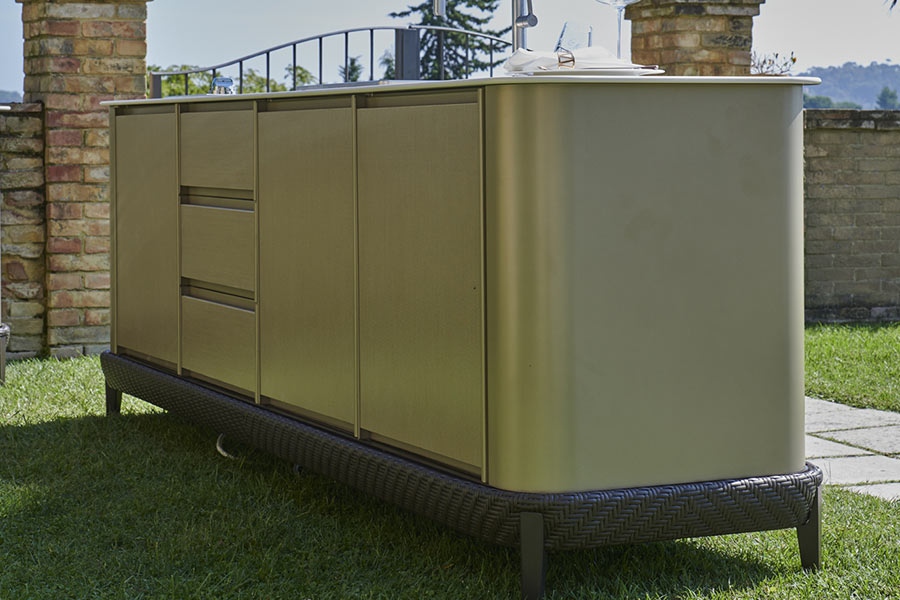 4. Opt for precious finishes
Choose precious finishes to emphasise the aesthetic presence of your outdoor kitchen. Opt for platinum, gold and bronze finishes and metallescent or pearlescent effects for the doors.
To give greater visual appeal even to covers and appliances, be sure to choose the best finishes for stainless steel. Among the best we find:

Matte finish
This is the most common finish. In this case, stainless steel takes on a nuanced appearance.

Brushed finish
It is one of the most popular finishes, used above all for the construction of household appliances. In this case, the brushed-finish stainless steel has a moderate lustre, as the parallel-line texture prevents the surface from reflecting light.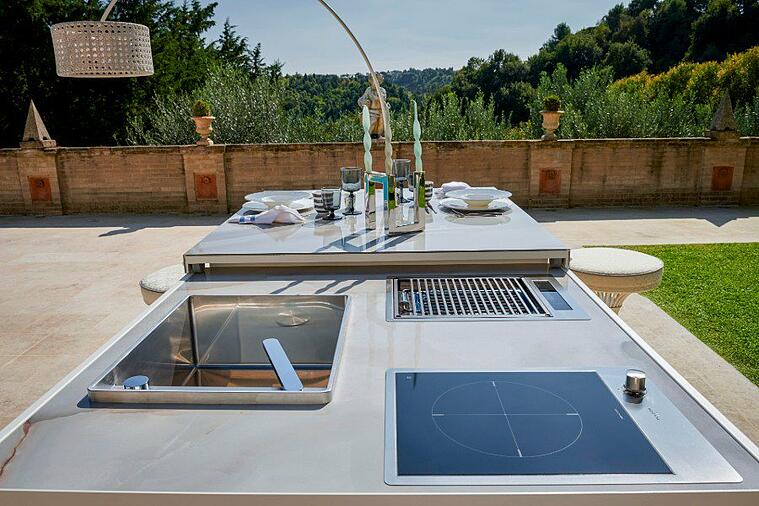 Mirror finish
The mirror finish makes the stainless steel highly reflective and mirror-like.

5. Choose a furnishing concept in harmony with the kitchen
To give a sense of stylistic harmony to the entire outdoor area, it is important to choose a furnishing concept in harmony with the glamorous design of the kitchen.
Once you have identified the furnishing style that the customer prefers, you can set up the area around the kitchen with elegant furnishing accessories, such as: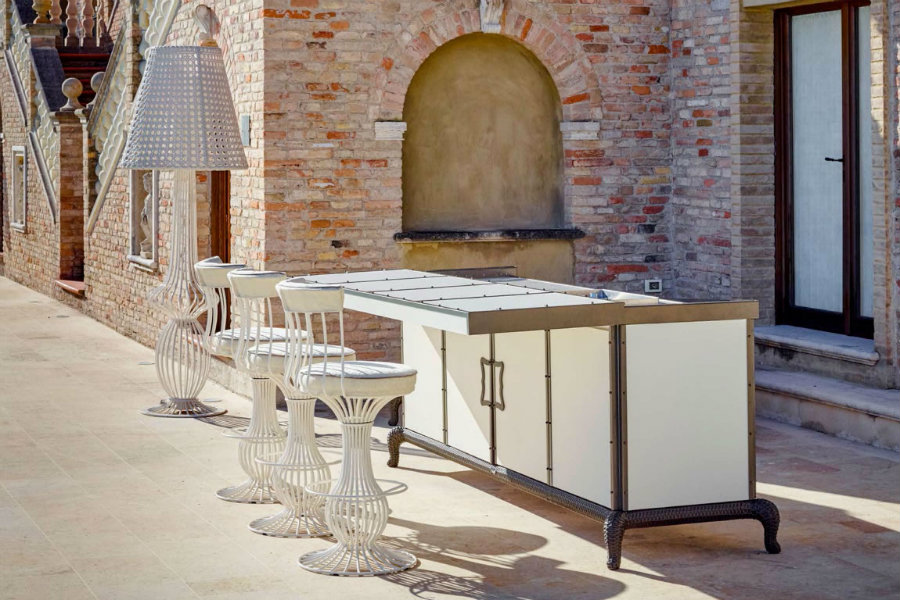 Outdoor kitchen designs: how to combine style and performance
There are many possibilities for customising a luxury kitchen space.
Follow our style and design advice to create sophisticated outdoor kitchen designs for your clients, ensuring in a single solution: refined aesthetics and high performance.
This is the essential winning combination for the realisation of a quality kitchen.