Outdoor kitchens help us experience outdoors spaces in a new way. It is necessary to choose a functional, practical and versatile layout suitable for every space to obtain a well-configured kitchen, in which each element is well-arranged and organised, and at the same time, a final composition capable of giving the outdoor spaces a liveable and comfortable appearance.
In this sense, choosing to furnish the outdoors with an L-shaped kitchen is advantageous in terms of technical space and is purely stylistic: a guarantee of comfort and aesthetics that not all kitchen design configurations can provide.
Let's discover the advantages of outdoor kitchens with an angular arrangement.

The advantages of the L-shaped outdoor kitchen layout
The outdoor L-shaped kitchen guarantees a stylistically versatile configuration and at the same time, creates comfortable and functional workspaces. This layout offers 3 fundamental advantages in technical and aesthetic terms:



We will now go into more detail on each of these topics, explaining how outdoor kitchens with an angular layout can ensure an exclusive 360-degree experience in outdoor spaces, without sacrificing aesthetics and functionality.
1. The angular layout is versatile and offers a high-performance layout
That's right: the outdoor L-shaped kitchen is ideal for large outdoor spaces and specific outdoor areas developed in an angular sense.
Structural adaptability and aesthetic versatility are the salient features of this specific layout, which offers the possibility to create an atmosphere of conviviality and liveability in outdoor environments, typical of indoor areas.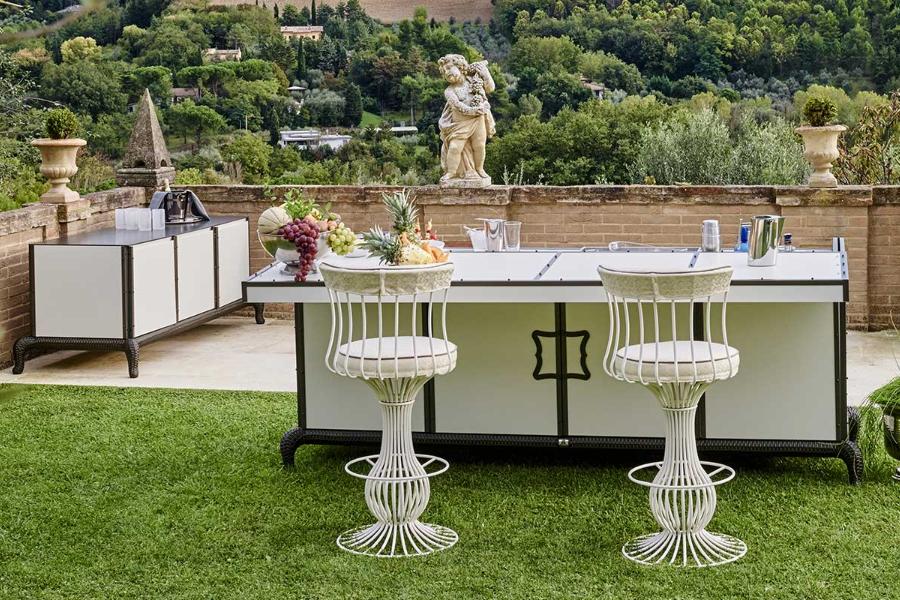 2. It presents a practical and easy work triangle
Ergonomics is the keyword that defines the technical-structural character of outdoor kitchens with an angular arrangement.
In fact, this particular type of kitchen provides for the distribution of pantries, wall units and appliances along two axes, ensuring an intuitive and well-structured configuration of the hob, sink and refrigerator, as well as the main task areas of the cooking area.
Therefore, the layout of the outdoor L-shaped kitchen fits perfectly into the spatial parameters of the "work triangle", guaranteeing comfort and functionality in the kitchen environment and above all excellent performance for those who use it.

3. Ensures easy access and freedom of movement
Outdoor L-shaped kitchens have become the undisputed protagonists of open outdoor spaces. This is because the angular configuration guarantees freedom of movement concerning the furniture, leaving a large space in the centre of the area where it is possible to introduce a dining table and chairs.
In this sense, the kitchen area, located outside, takes on the liveable character typical of living areas, outlining the profile of a welcoming and easily accessible atmosphere, furnished with elegance and a glamorous spirit.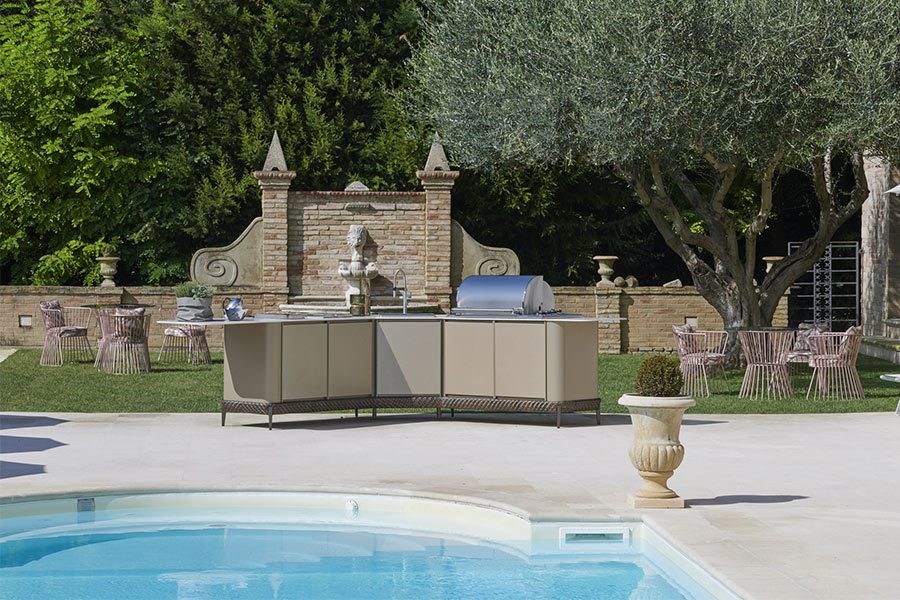 L-shaped outdoor kitchens by Samuele Mazza: DFN solutions
DFN offers ultimate luxurious outdoor solutions by Samuele Mazza.
Specifically, these are outdoor kitchens, fully customisable to meet the technical and stylistic needs of each client, made with quality materials, capable of enriching the aesthetic appeal of the kitchen and at the same time giving strength and resistance to the structure.
But let's take a closer look at the design and stylistic details of each of the brand's outdoor kitchen models:
Curved Kitchen - Multi-Element
The Multi-Element model is suitable for any space and use.
It allows you, through different independent and customisable elements, to create a complete external kitchen environment, finished with attention to detail.
The client has the opportunity to equip each element with the desired appliances, including, for example, a BBQ, sink and gas hob, organising modules, pantries and work areas, according to their functional and aesthetic needs, to enjoy maximum comfort and be able to move around conveniently during activities.
The Multi-Element kitchen has a structure made entirely of galvanised iron and painted for outdoor use. It rests on a solid bridge covered in hand-woven synthetic rattan, with metal feet characterised by special finishes. The module doors are clad in ultra-thin porcelain stoneware with a metallic finish.
The worktop, also made of porcelain stoneware, has a marble finish and a thickness of 12 mm with a bevelled edge: a quality material that is highly resistant to heat, wear and atmospheric agents.
This type of kitchen has an overall high-performance structure, a mix of fine finishes and robust materials that add value to the design of this model.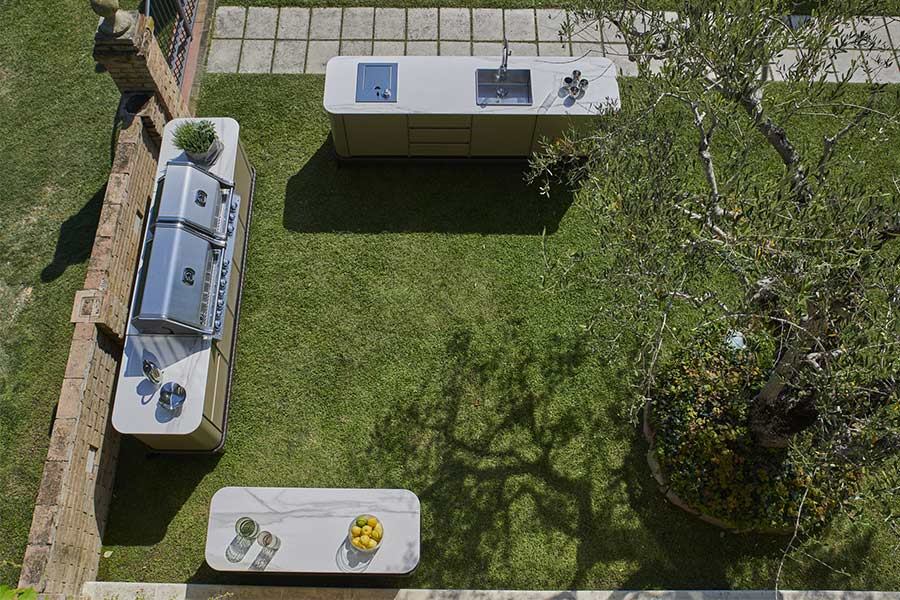 Curved Kitchen - Corner Composition
The Corner Composition model, with its innovative design guaranteeing comfort and high aesthetic performance, escapes from traditional spatial patterns, developing in an angular sense. It has particular shapes and a broader and more functional work plan complete with an operating console designed to be able to manage cooking, preparation and washing activities simply and intuitively.
The Corner Composition is complete with a hob, sink and modern BBQ. It rests on a solid base, covered in hand-woven synthetic rattan and has metal feet with a pearlescent finish. The doors are covered in ultra-thin porcelain stoneware with a metallic finish, an additional aesthetic component that ensures robustness and resistance to the kitchen.
The worktop is made of porcelain stoneware and has a marble finish and a thickness of 12 mm with a bevelled edge and two cantilevered tops that act as a worktop as well as a snack table.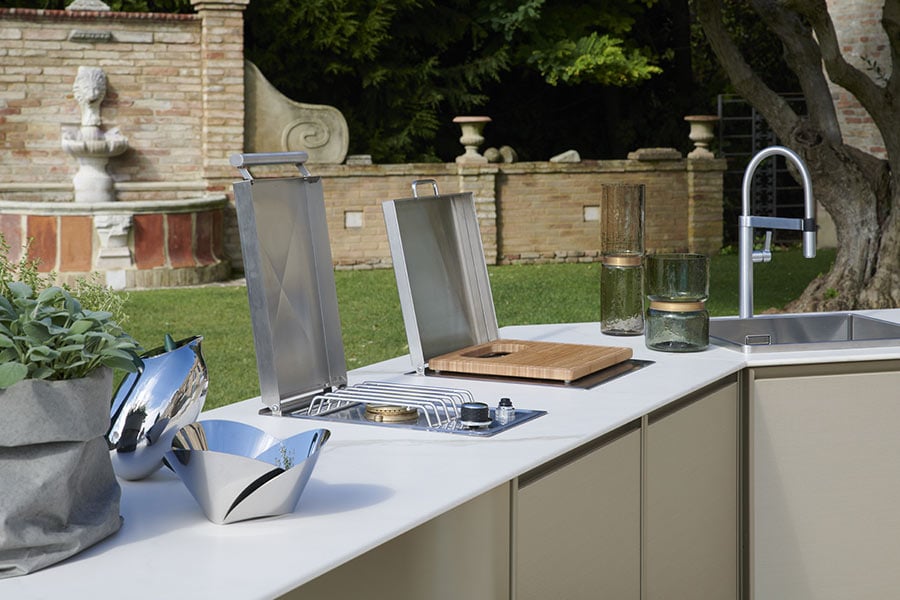 DFN L-shaped outdoor kitchens: a guarantee of comfort and aesthetic value
The angular kitchens of the Samuele Mazza brand offer the possibility of reinventing outdoor spaces without giving up the comforts of a complete kitchen even outdoors and indulging in the pleasure of tastefully furnishing outdoor environments, making them liveable and welcoming.
Comfort and aesthetic value are the distinctive features of the DFN proposals, a furniture brand that translates into an authentic hymn to the luxury lifestyle.