Performance, visual appeal and resistance are essential characteristics for making luxury outdoor kitchens highly functional and aesthetically appealing areas. Even outdoors, technique and style must be completely defined, guaranteeing high performance with every use and always beautiful to look at, without deteriorating over time.
In this sense, it is advisable to first select suitable raw materials for the realisation of an outdoor cooking area and, subsequently, to opt for finishes able to accentuate the aesthetic potential and at the same time give resistance to the entire structure.
In fact, what most denotes the technical-stylistic profile of an outdoor kitchen are the refined finishes and quality materials used in its design.
Below, we will take a look at these aspects, paying particular attention to the best functional and aesthetic options.

3 tips for choosing the best outdoor kitchen finishes for your project
To guide you in choosing the most suitable materials and finishes for outdoor kitchens, here are 3 guidelines to follow:


Let's analyse each tip.


1. Choose durable and resistant materials
To always ensure excellent performance and durability, it is essential to select solid and robust materials for the construction of the outdoor kitchen.
To do this, it is necessary to know the intrinsic properties of the material in question and determine its resistance properties concerning atmospheric agents of various kinds and high or severe temperatures.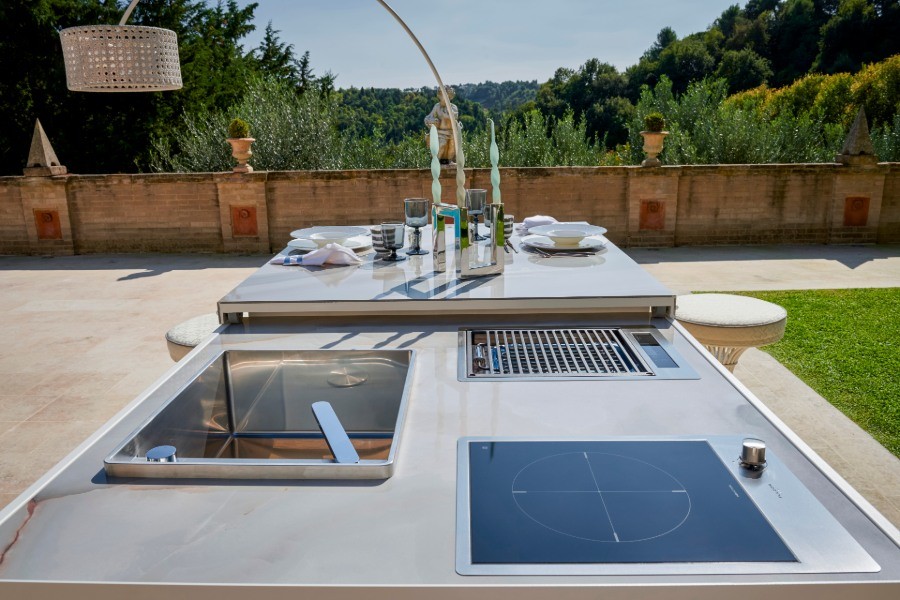 2. Don't give up style: opt for precious finishes
Once you have selected the best performing materials, we advise you to concentrate on the aesthetic aspect. Next, you should opt for precious and unusual outdoor kitchen finishes such as gold, bronze, platinum. In the sunlight, the kitchen will come to life, shining like a jewel of glamorous design.

3. Keep in line with the stylistic concept designed for the location
With the ultimate goal of instilling a sense of harmony and aesthetic continuity, make sure that your choices regarding materials and finishes respect the stylistic concept designed for the location and, above all, satisfy the style requirements of the client.

Outdoor kitchen finishes: a complete selection for outdoor luxury spaces
Designing an ideal outdoor kitchen means creating a space where design and functionality converge, without limits.
To help you create a luxury kitchen area with strong technical and aesthetic content, we have compiled a list of the most sought-after materials and finishes. In particular:


Powder-coated steel: for a kitchen that lasts over time
To always have high resistance and durability, while still leaving room for style, choose an outdoor kitchen with a powder coating.
By opting for this solution, you will have the possibility to select unusual outdoor kitchen finishes with pearlescent and metallic effects. In this way, you will be sure to create a kitchen with a glamorous design but also reliable and robust for your customer.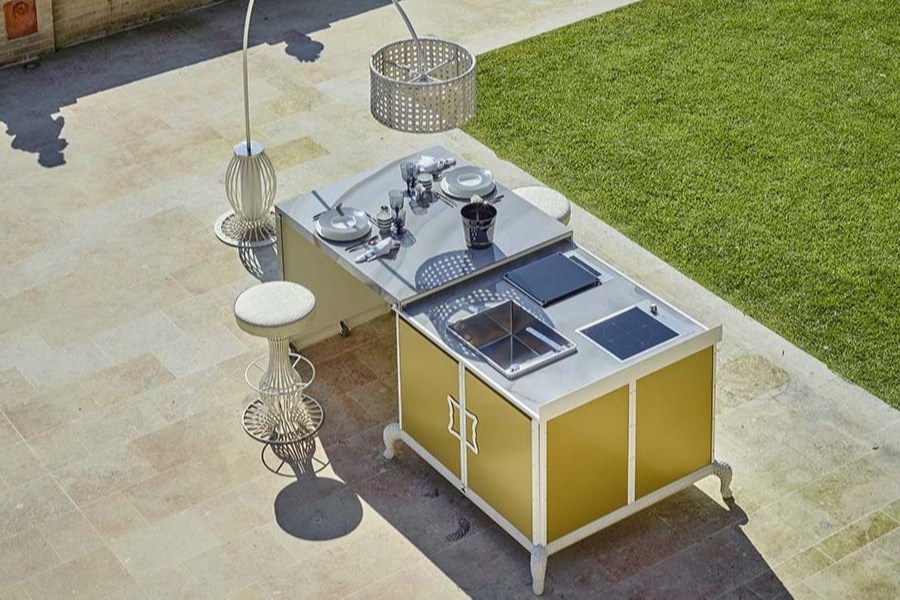 Porcelain stoneware: an unmistakable texture and highly resistance
Porcelain stoneware is mainly used in the production of kitchen tops and doors. It is a material with a versatile nature both in functional and aesthetic terms. In fact, it has a strong performance character because it is:


Easy to clean
UV resistant
Frost resistant
Abrasion resistant
Highly hygienic


On the other hand, it presents an enormous variety of textures, each with its own distinct personality, all different and equally fascinating.


Stainless steel: performance and modern aesthetics
Given its high hygienic properties, in addition to its innate durability and resistance, stainless steel is often used in the construction of tops, covers and appliances in outdoor kitchens.
In addition to the purely technical aspects, stainless steel presents an unmistakable sober and material charm in any finish. In fact, stainless steel reflects light and creates amazing visual effects in the sun, thanks to its countless finishes, of which the most valuable are:


This is the most common finish. In this case, stainless steel takes on a nuanced appearance.
The matte finish is obtained through cold rolling, a process that involves rolling the steel sheets through special rollers or dies that smooth the surface. Subsequently, the steel is descaled in an acid solution before passing through the ground rollers.


It is one of the most popular finishes, used above all for the construction of household appliances.
A brushed finish is created by smoothing the stainless steel in one direction. Consequently, the brush steel finish will have a grain with parallel lines. Brushed stainless steel has a moderate lustre, as the parallel line texture prevents the surface from reflecting light.


The mirror finish makes the stainless steel highly reflective and mirror-like. This type of finish is obtained by treating the steel with a series of abrasives that remove scratches, micro-holes and other imperfections. Once completed, the steel is polished to a highly reflective finish.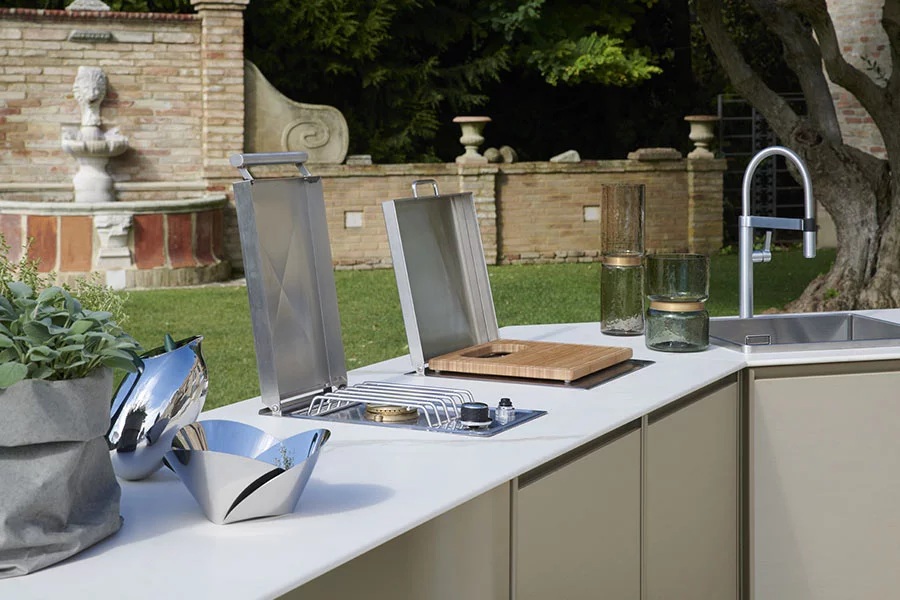 Braided synthetic rattan
To give greater solidity and at the same time break up material continuity, you could choose a metal base for a more modern look or opt for a hand-woven synthetic rattan base for your outdoor kitchen.
Rattan is an ideal material for outdoor spaces. It resists the most abrupt changes in temperature, does not discolour, cannot be attacked by mould or parasites and also gives the structure a more elegant appearance. With this type of base, the kitchen rests on feet that keep it raised from the floor. Furthermore, the synthetic resin acts as a link to the outdoor furniture, allowing the creation of a harmonious and coordinated space.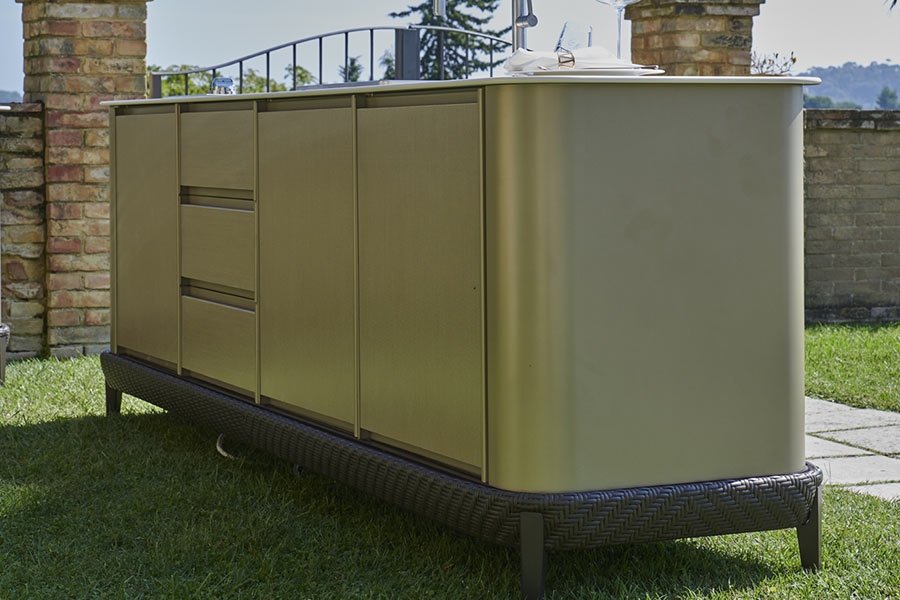 Outdoor kitchen finishes: when aesthetic and performance come together
With the right materials and refined finishes, the kitchen turns into a luxury living environment.
Choosing durable materials and elegant finishes for outdoor kitchens, your kitchen design project will be impeccable and will ensure a complete solution in which aesthetics and technique come together in a balanced combination.