The importance of an outdoor kitchen in the enhancement of a property is indisputable. If designed correctly, this expansion of the home's living space can indeed greatly increase the value of the property. Not to mention that it contributes to a substantial improvement in one's lifestyle, increasing the opportunity to spend more time outdoors.
Therefore, considering the importance of such a space, in the moment in which you decide to insert one, it is also essential to better define every detail that revolves around its design. In particular, we are referring to the choice of materials for your outdoor kitchen which, beyond the wear caused by regular use, must be able to withstand atmospheric elements that it will face even if it is covered by ceilings or pergolas. In fact, not all materials are suitable for an outdoor kitchen, above all, those usually used to create indoor kitchens.
What to evaluate and which components
It is essential to take the necessary time to study every nuance and above all to decide on the materials for the outdoor kitchen. What are the best ones for outdoor use? Which ones will not change colour over time under the rays of the sun and will be able to withstand rain and dust? Also, which ones can also be safely used near the hob or grill? Keep in mind that the materials for the chosen outdoor kitchen must coordinate with each other and at the same time be well inserted in the rest of the landscape surrounding the structure (garden, exterior walls of the house, swimming pool, etc.).
Keeping in mind that the best choice will not only make a difference aesthetically but also concerning longevity, so what are the questions you should ask yourself to choose the best option?
Is it easy to clean?
On the contrary, how does it behave in the event of extreme cold?
How does it behave when subjected to high heat?
Is the material suitable for external use?
In general, what kind of maintenance does it require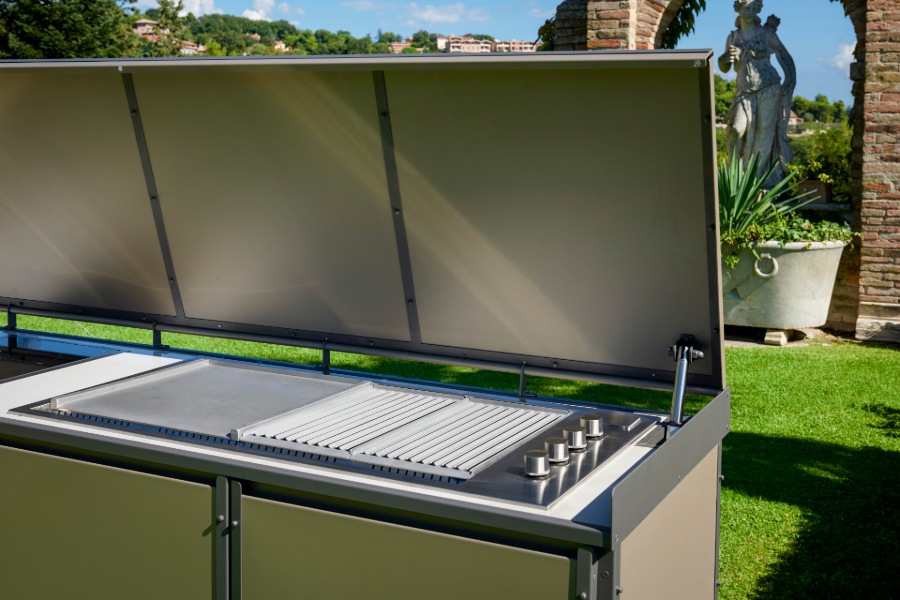 When talking about "materials for an outdoor kitchen" we refer to the various components of the structure and in particular to the worktop, to the furniture provided for the storage of food and dishes and to flooring. Let's analyse the various alternatives available for each of them.

Which materials for the worktop?
Outdoor kitchen worktops are essential. It is necessary not to skimp on the dimensions to guarantee that the customer has sufficient space for any type of preparation. These worktops are usually installed at the same height as those for indoor kitchens. However, if the client's intention is to spend time with guests even during the preparation of food, it is possible to provide a higher work surface, almost like a bar counter. Furthermore, to accommodate a grill, the work surfaces for outdoor kitchens are usually wider than those for indoor use.
Given these considerations, we can focus on the choice of the material, which must be very resistant since it will be constantly exposed to natural elements. It must be able to tolerate condiments or food without consequences, as well as high temperatures from the grill. It must also be easy to clean as well as, of course, beautiful to look at.




The worktop: the most requested alternatives
Above we have listed the different options. But which ones are actually used the most? What are the pros and cons of each one?

1. Steel
It is certainly one of the most popular choices nowadays for designer kitchens with class thanks to its refined elegance. It combines strength, high performance (as demonstrated by the fact that all chefs' kitchens are made of steel) and aesthetic taste and is perfect for outdoor use because it is capable of creating a refined and exclusive atmosphere. Its main features, from a functional point of view, are resistance to oxidation and heat. Steel also guarantees hygiene because it does not allow the proliferation of bacteria and is highly resistant to impact and abrasion. Its extraordinary shine, which does not lose quality over time, makes it a favorite choice for a demanding, attentive and evolved clientele. It is an eternal, fascinating and functional material that is used more and more, even for kitchen doors, obtaining results with a strong aesthetic impact in a convenient, practical and rapid manner.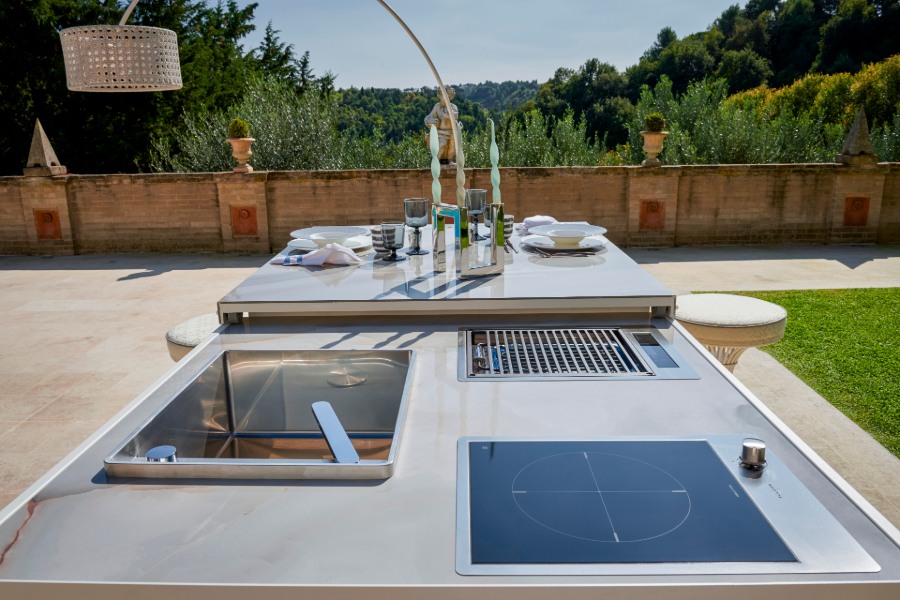 2. Porcelain stoneware
Known especially for its use in flooring, porcelain stoneware has recently started to be used with excellent results also as a kitchen worktop. It is a material with high technical performance and is extremely versatile. Its main features are compactness, resistance to stains, it does not absorb liquids and it resists potential deformation caused by heat as well as corrosion. When choosing the material for the outdoor kitchen, the aesthetic aspect must not be neglected. Opting for porcelain stoneware, which is usually used in large slabs of limited thickness, allows for an elegant and prestigious environment with a truly sought-after appearance. The absence of seams in the stoneware also contributes to this sensation since the slabs are custom-made and grout joints are not necessarily present. From a functional point of view, this also means that there will be fewer crevices for dirt.
It should be noted that porcelain stoneware is available in different finishes that can interpret precious essences such as marble, which is often difficult to recover, especially in large formats. This solution allows the client to have a material as aesthetically beautiful as marble but, unlike this, resistant, which does not fear heat or stains and does not change colour over time.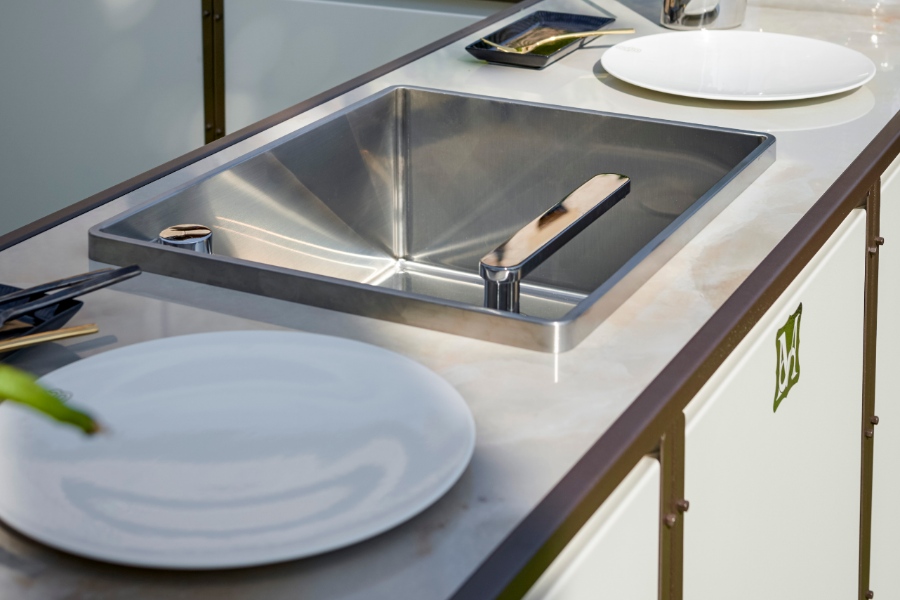 3. Dekton
In a hypothetical catalog of materials for outdoor kitchen, the dekton would certainly be present in the luxury category. It is a sophisticated material able to create exclusive and pleasant spaces to spend time in. It is characterised by a compact structure that makes it perfect for outdoor use, ensuring solidity, practicality and above all personality. Among its features, the ability to maintain its beauty over time stands out. It is often used in large sizes without cuts or joints to create a linear, uniform and pleasant to the touch surface. This material, which perfectly integrates into projects of any style, is also characterised by high resistance to stains, scratches and heat as well as to significant temperature changes. Its chromium plating remains unchanged over time and is not even affected by ultraviolet rays. Above all, however, we are talking about a material with reduced water absorption that is also fireproof.



Everything in its place...
Once the work plan has been defined, in studying the layout of the outdoor kitchen, you come across furniture for storing goods, including pull-out drawers and bins. Also, in this case, we are talking about elements that are important for the outdoor environment as well as for the indoors. They are usually located under the work surface, but there are projects that include separate structures such as drink cabinets or cupboards. They are elements that must be as durable as the main body of the kitchen, and it is important that they are finished to perfection, even internally.
In order for the final appearance to be coordinated, it is good to use the same materials as the main kitchen for the service furniture, this means creating a total look in an environment finished in every detail.
If we abandon the concept of the classic masonry kitchen and move on to a concept that follows the current trends of outdoor kitchens, and therefore linked to design, our kitchen can be made of iron treated for outdoors and covered with paints with precious textures. In the same way, the doors that make up the structure can be covered in 3 mm thick ceramic with surprising finishes.

Considering their characteristics, they are perfect for an outdoor kitchen as they guarantee hygiene and resistance. From an aesthetic point of view, they ensure that they project has a continuity of the material in the whole environment and therefore also visual harmony.

It is also important to consider the paints that finish the various surfaces. Among the most popular for outdoor kitchens are those in powder form, a very efficient finishing method for the outdoors. These are high-quality paints specifically designed for decorative and functional use, therefore characterised by unique properties that make them able to withstand even extreme weather conditions and corrosion. They are also resistant to heat as well as scratches, all the features that make them perfect for outdoor use. Not to mention that the look they guarantee is extraordinary since the choice between colours and surface effects is really broad and therefore adaptable to any customer request for maximum design freedom.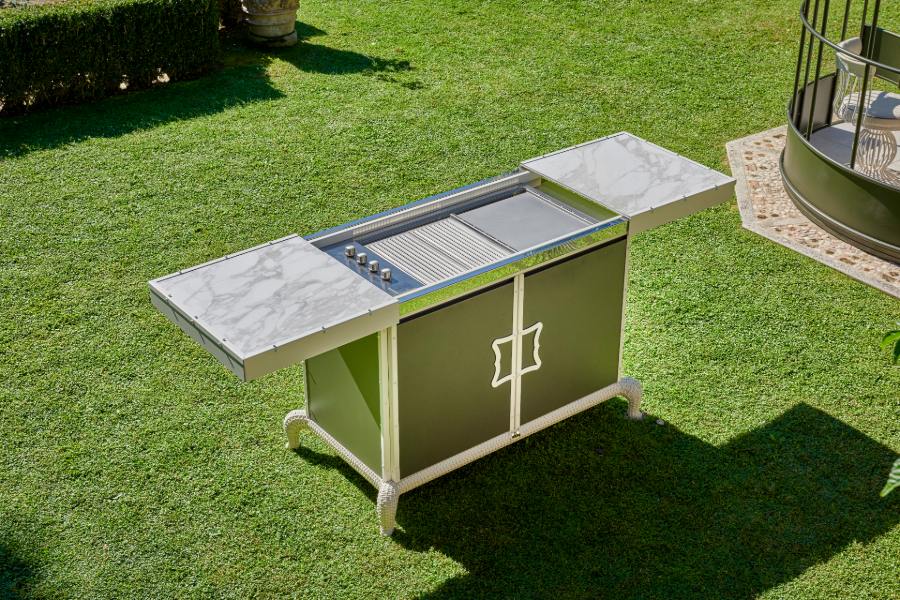 Flooring
Often left in the background, the flooring is instead very important and, in the phase of choosing the material for the outdoor kitchen, should not be neglected. In some cases, the outdoor kitchen is built on an existing floor. In others, you have the possibility to choose according to the design and look of the kitchen.
In both situations, it is essential that the outdoor kitchen's floor, where guests will walk, is resistant and easy to maintain and clean, also considering that food, liquids or condiments may get on it, as well as dust and trampling marks.
It is good to think of the floor by evaluating it in accordance with the aesthetics of the kitchen and with the look of the surrounding environment so that each element contributes to the enhancement of the environment.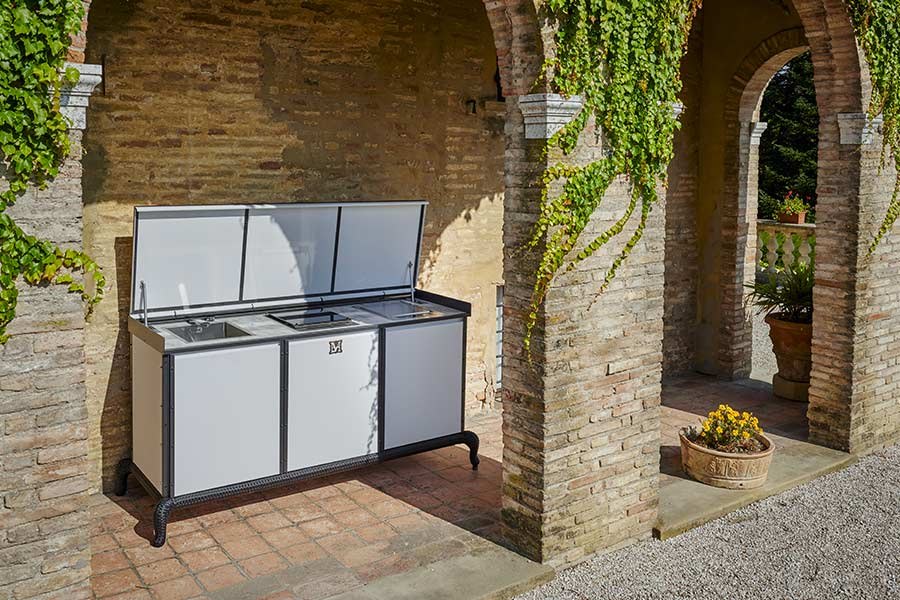 Errors to avoid
The only thing that can help us to avoid making errors is experience. For this reason, the client tends to turn to real professionals who are capable, beyond what they may have learned in manuals, of giving practical advice, which is perhaps based on real cases. In this way, the outdoor kitchen will not only be beautiful to look at but also effectively functional, having avoided design and construction errors that would have resulted in a negative user experience. Relying on a company that designs and builds outdoor kitchens is a great way to get a project that has everything it takes.