The best manufacture, the most sought-after materials, beautiful colour patterns that cleverly mix trends and timeless allure – all of this in a variety of styles that will certainly fit whatever kind of design you are working on. Decorating a luxury environment might still be a job – but it sure is a very exciting and fun one, when all the options you can choose from are this wonderful to look at and work with!
You cannot choose luxury outdoor furniture without taking into consideration the appearance of the house you are decorating.
Nothing says luxury environment as much as a

polished, neat, clean design

that is opulent in its details but understated in its overall look.
To create a space that is rich and refined in fact, you can source top-of-the-line materials, technology, design and mix and match items of furniture and complements so that they harmonize with each other, with the style of the house and with the surrounding area.
Quality: choose luxury outdoor furniture to last a lifetime
Outdoor furniture should be able to withstand the test of time and to resist harsh weather: bright, hot sun, strong winds, rainy and snowy days! So, choosing furniture that is good quality is always a must – and when you are working on a luxury project, it will be a lot easier to select high quality items.
On the luxury market you will be able to find the best materials available: wicker, wood, stone, ceramic, metals, glass – all finished to perfection and guaranteed by the most strict quality checks.
When decorating a luxury environment, you can afford to select top quality pieces of anything you choose: so learn about wood species and pick the best ones for the mood and style of your design. You can pick among rare objects and materials, vintage hard-to-find-items, or super efficient, high technology appliances. The choice is endless!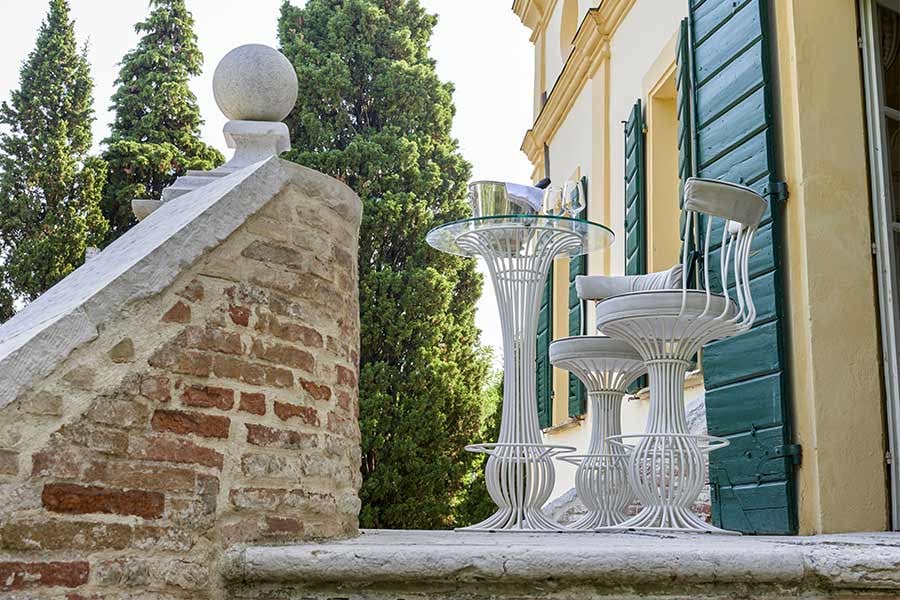 Start from the basics
When talking luxury, one word that often comes to mind is "extravagant". This however is not always the case – actually, an understated, elegant environment often reads more expensive and contemporary that one full of details that take away from the beauty of each single piece of furniture or complement.
What this means is that even though the budget allows you to go all out with the décor, it is still advisable to start from the basics and work your way up to adding more items if needed.
Pick tables and chairs first, add pillows and throws, create a cozy, relaxing space for the homeowners to nestle up and enjoy some time off or to share with friends for a chat and drinks – make the outdoors liveable.
Of course, going minimal with the amount of furniture you add does not mean decorating a poor looking space: on the contrary, if you are careful with quality items that shine in workmanship and design and that harmonize well with each other and the environment, they will give the area character and they will make it look stylish, modern and very luxurious.
Once the basics are in place of course, feel free to take inspiration from the mood your client wants to achieve, the style of the house and of the outdoors and from classic to trend-based colour combinations and shape to add complements, extra furniture, textiles, appliances that can give your design that extra oomph or simply make it pop without detracting attention from the main pieces you selected.
Luxury is a lifestyle!
Choose luxury outdoor furniture that is not only beautiful to look at and functional, but also comfortable and appealing.
An airy porch with seats and tables as well as room to move around will make for a charming little spot where homeowners and their guests can spend some time together and have a good time, away from the stress and frenzy of everyday life.
Feeling at home, feeling comfortable and at ease is a luxury in itself, especially nowadays, as rhythms are so tight and we are pressed with time, in a rush and in a hurry all the time.
Comfortable pieces of furniture
So, a good idea would be throwing in the mix a few pieces of furniture that promote relaxation and letting go of all stress and worries from the daily activities.
For instance, pick a gorgeous upholstered armchair or sofa, lined with fresh linen or cotton if the house you are working on is built in a warmer climate, or lined with patterned wool if it is built in a colder area. Coffee tables and stand alone consoles where to rest keys upon heading back home, a cool drink or tea, handbags, purses and wallets are also a very good option to add to your design.
As far as details go, make sure to choose chairs with a comfortable backrest and maybe armrests if that is the case, a footrest or separated footstools to go with the chairs and armchairs.
"What's the forecast?" Luxury is not only about the quality of each piece of furniture on its own, but as said, it is also about making the best of any particular place and moulding so that it effortlessly fits with one's lifestyle. So, as mentioned just above, remember to take into consideration the weather of the place the house is built in. Rain or sun will not only affect how your client will use their outdoors and the furniture in it – but psychologically, the brain will look for certain colours and shapes to balance out very bright light or darker, misty days for example, following the rules of colour psychology:
Lighter, fresher colours on cooling, natural textiles will work great in a warmer climate, as they are calming, relaxing, refreshing and have the ability to cool down the body by lowering blood pressure.
Deeper, richer and warmer tones gan lift the mood and fasten the heart rate, hence they are able to warm up the body. These shades on thicker, warmer fabrics will do wonders in cooler climates.
Getting this right will ensure your outdoors look made to measure for the reference area, effortless and designed perfectly, down to the last detail.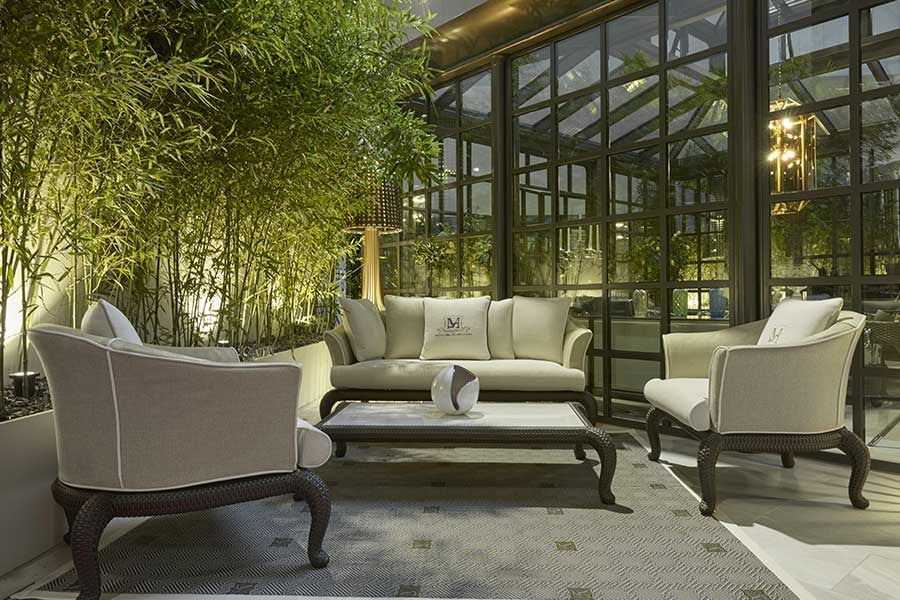 Living the outdoors in 2018
Appliances are also furniture items. So when you choose luxury outdoor furniture, why not make your client's life easier by adding high-technology, performing systems that can help with ordinary activities and/or allow them to use the outdoors just like they would the inside of their home?
Automated shading systems: these will make being in the outdoors super comfortable all year round and as well as protecting the guests, the system will protect the area and the furniture in it from harsh weather, too.
Build an outdoor kitchen: particularly if the property has a large enough area to fit all the appliances of a normal indoor kitchen and if the house is built somewhere warm for the most part of the year, this could be a very luxurious way to finish off an outdoor space. Not only will it make a lot more enjoyable for your client to be outside and to spend time there alone or with friends and family, doing activities that are not so common and a lot of fun. Properties with a cooking centre are extremely sought after, so the presence of such a structure with a dining area and storage space will elevate the value of the house on the resell market.
Swimming pools, shower units: Much like a cooking area, having a swimming pool has the same benefits on the value of the property – plus, you can play with chaises-longues and other poolside furniture that will make the outdoors look and feel much like a resort! What is more relaxing and luxurious that drink by the pool on a hot summer day? Shower units will help keep the space safe and clean, and can also add character and a professionally finished look to the space. With a pool, you can choose a beautiful anti-slip flooring that will look great and be functional at once.
Natural beauty: artificial ponds enriched by reeds, flowers and trees; little fountains, statues and sculptures, pieces of art – surrounded by chairs to sit by the water and read a book. Let yourself be inspired by what nature does and create a space that recalls nature but within the comfort and safety of a home. With this option, you can play with naturally luxurious and lush materials, the most beautiful species of woods, natural stone, marbles.
Luxury is about feeling our best in any place we are
An expensive, refined look does not come from the amount of stuff you can cram into a certain place! It is about the quality of the design, the materials and about the comfort and pleasure of use. With this in mind, when designing a luxury outdoor space, always remember that the best quality will provide you with a product that is valid and reliable across the board, which will ensure it looking great and elegant and working well.