Cooking is about the food of course – but it is also about the company with whom to share a good meal, a snack, or finger-food and drinks. Because it is an experience more so than an action in itself, cooking is historically something that can be done indoor or outdoor – anywhere that can make the activity more enjoyable for everyone involved.
Barbecuing for example, dates back to the 1950s, where it first got popular among young people and families alike. Today, as it is getting more and more popular and as it is now being regarded as a form of art in itself, too, something new and exciting is happening to the world of cooking: outdoor cooking stations. Although barbecuing remains the most common way people cook outside the house, fitting outdoor cooking stations is scoring points among homeowners.
You will find clients who want to expand their living space utilizing the outdoor areas of their homes through creating a unique, special place where they can enjoy free time and a meal with family and friends or where to experiment with their cooking skills, should cooking be a passion of theirs!
Outdoor cooking centres are a very modern and luxurious way to live the outdoors, and as it is gaining more and more popularity, too, you can find plenty of options on the market to fit one that is just perfect for your client. You can source kitchens designed especially for the outdoors, which feature high-tech appliances and sophisticated components that can withstand the test of time and resist harsh weather.
Everything and the kitchen sink!
You can fit anything you and your client deem useful for their outdoor kitchen space: a grill and a counter, maybe some sort of sink area, are the basics of a working kitchen, then you can add an extra table and chairs for your client to host parties and invite guests over.
As it is a functional space and not an aesthetic feature only, an outdoor cooking station should be designed for the specific needs of the homeowners.
Of course a fully fitted kitchen space allows for all sorts of preparations and extravagant culinary adventures, but keep in mind the perfect outdoor kitchen for some users will consist of the bare minimum for a stress-free meal with good company. Fore some others that are more into cooking as a pastime, for passion or that may be in that line of work for example, you will have to include all the new, exciting technology and all of the appliances that you would normally find in a classic, indoor kitchen to make them truly happy!
It is obvious how space will affect how many pieces of furniture, appliances and items in general you can organize in the area you are given. However, while planning the perfect luxury outdoor kitchen always remember that of course although there is only so much you can add to a smaller space, if you are careful in selecting the best items for your design, you will be able to maximise the space and make the best of even the tiniest area turning it into a precious, elegant and refined space, that is not only beautiful but functional, too.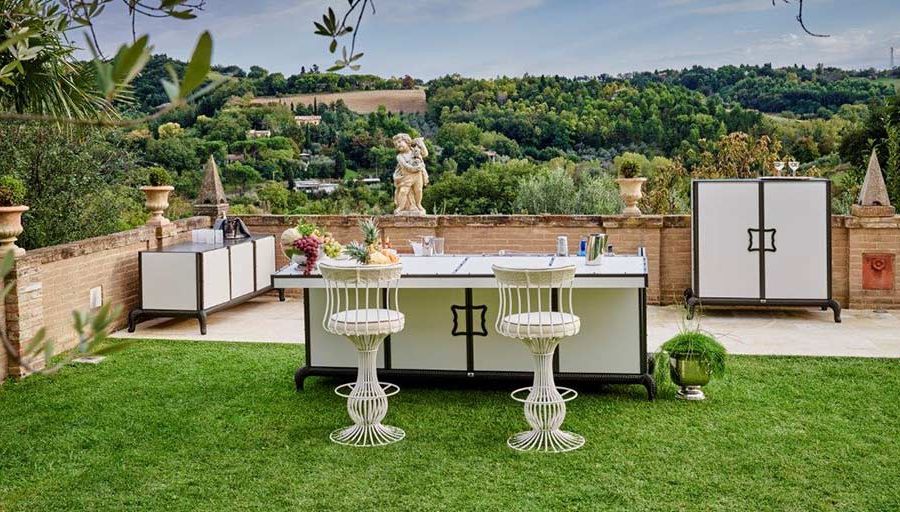 What your clients really need?
Ask your client whether they think they will stay in the property you are working on indefinitely, for a set period of time or if they are planning to move sooner rather than later – or to move if they have the chance or need in the future. This will help them decide what kind of furniture and appliances they want to invest in. In fact, you can find a lot of great options for planning the perfect luxury outdoor kitchen furniture and components that can be moved more easily than others, so that the investment does not go lost in a house move.
Differences in design strategies will appear when selecting the materials in which the kitchen will be made, and in the type of appliances you choose, too. For example, if your client is planning on staying in the property indefinitely and they want a quality grill or cookers, you can opt for built in appliances instead of mobile ones.
What your clients really want?
Food is a very personal thing – so find out what preparations are your client's favourites. Depending on their taste and cultural customs, traditions and practices, they will need different appliances, tools and even the space may need a specific layout to it. Cooking meat, fish, pizza, or traditional dishes from anywhere around the world requires completely different features.
Will you have to fit an oven in the outdoor kitchen space you are designing?
Do you need a grill, a charcoal, gas, electric grill?
Do you need storage space, a fridge, a freezer?
Depending on what you will need, you will have to make sure you plan all of the connections to make everything work properly: gas, electricity, plumbing and so on.
Planning the perfect luxury outdoor kitchen: start from context
Keeping a kitchen clean is of paramount importance for health and safety, so as you can imagine, exposure of all furniture, appliances and objects to elements and even harsh weather can make or break the deal when you are planning the perfect luxury kitchen and deciding what to fit in it.
Before you install anything at all, remember to learn about the weather in the area where you are working and understand how much and in which ways the homeowners will be able to take care of the kitchen.
Will they look after the whole space themselves among all the other chores and activities of everyday life, or will they have some outside help?

Once you know that, you can make sure to select items that can last well with the amount of maintenance you clients will be able to provide their brand new cooking area.
Materials and colour palette
It is a good idea to take inspiration from the materials and colour palette of the exterior of your client's home to select the furniture and features of the outdoor cooking area.
That will give an effect of continuity and make the overall look of the space wider, more airy, cleaner, more contemporary and polished.
Bricks and concrete are the most versatile materials you can go for, then you can add accents of other materials such as tiles and metals, or pops of colour to brighten up the space and make it more up to date, keeping up with trends from 2018.
Why cooking outside?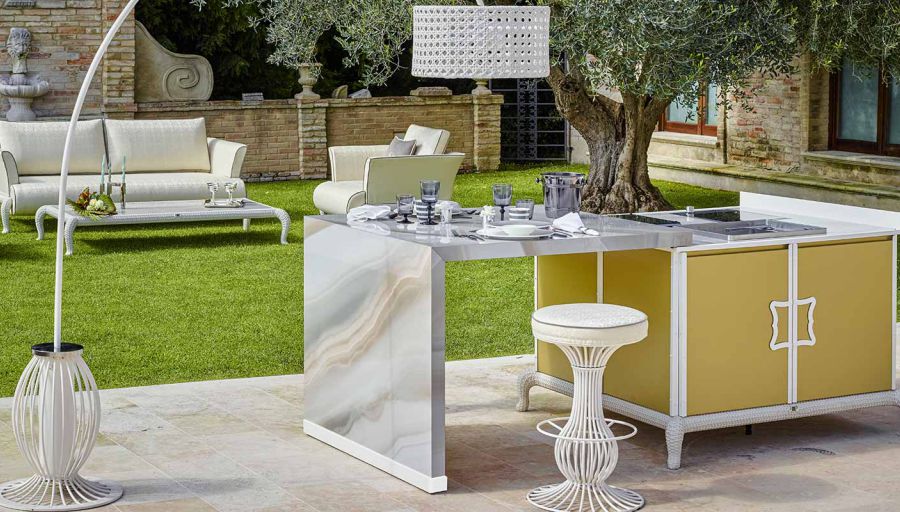 Smells and dirt, food residues – there are a lot of inconveniences one can come across while cooking at home, and sometimes, particularly if your client is lucky enough to live in a warmer climate where the outdoors can be enjoyed for a big part of the year, cooking outside the house can prove an extremely clean and efficient way to prepare meals.
Also, living in a warmer climate can make it much more enjoyable to do house chores such as cooking – and cleaning! – in the outdoors, with the light breezes, beautiful colours and delightful scents of nature all around!
So why not make even the most obvious experiences special by creating spaces to live the home at its fullest? If space isn't an issue and the property you are working in has plenty of it, planning the perfect luxury outdoor kitchen will be a lot of fun for you as you will be spoiled for choice as far as what you can fit in your design goes, and you will have a lot more freedom as to how you want to organize the layout of the cooking centre.
Of course, regardless of how much space you have, always start by fitting the kitchen with the essentials to make it functional for your clients – and only after, add anything extra.
In conclusion
Creating an outdoor cooking area requires a lot of cooperation between you and the homeowner. Your abilities, know-how and taste can only help make your design the best it can be, but they cannot be enough if the area does not respond to the needs of your clients.
As mentioned earlier in the article, a kitchen is a space that needs to be functional before being beautiful to look at, as it must be used and it serves a specific purpose – it must first of all be easy to use and clean, it must be safe and work well in all its parts.
Knowing how the client wants to use the new cooking station, who are the users who will enjoy the space and what their specific needs are is more important than ever and it is the only way you can go about designing such a space starting with the right foot.
Only then you can finish off the design with your vision as an architect, designer, artist.