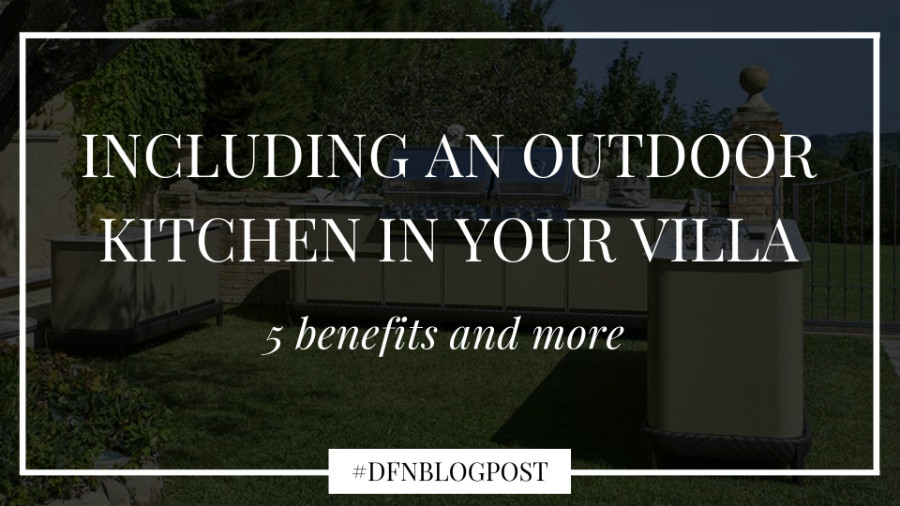 There are more and more clients who ask designers to include a more or less extensive and complex outdoor kitchen in the construction or renovation of their villa. However, there are clients who do not consider it and even before the proposal is presented to them directly by the designer they are reluctant. Most of the time their motivations are practical, linked to an actual lack of tendency to use outdoor spaces rather than a lack of knowledge of the subject.
What are the advantages of having an outdoor kitchen? What are the reasons that make clients want one? Why should those who, on the contrary, do not want one take it into consideration, meditate on it and, perhaps, let themselves be carried away by the idea and embrace the opposed idea?
Surely those who have or want an outdoor kitchen know there is a series of benefits that, once exposed to the most sceptical client, could lead them to change their mind, representing, in fact, a potential leverage for sale. The key questions that designers should inspire in the client are: are there any practical advantages of having an outdoor kitchen? Are these kitchens a good investment? Do they increase the value of the property? The answer, direct and concise, is yes, from all points of view.
The trend of outdoor kitchens
In a recent study conducted by Casual Living Magazine, 49% of owners have already added an outdoor kitchen or spaces where they can cook outdoor at home. In addition, among those who said they did not have an outdoor kitchen, about 25% admitted that they intend to add one within a year.
Furthermore, Kitchen & Bath Design News published a study carried out by the American Institute of Architects' "Home Design Trends Survey" for the fourth quarter of 2017, which involved more than 500 architecture studies focused on the residential sector. 45% of them said that outdoor kitchens continue to grow in popularity, similar to kitchen products related to technology, storage and water filtration. Moreover, the same Association announced the data referring to the first quarter of 2018, where the growing trends concerning work on outdoor spaces are further emphasised: 67% of the interviewees (65% in 2017) confirmed an increase in demand in this type of work.
HPBA CEO Jack Goldman has suggested to anyone working in the design and construction industry to come up with a variety of ideas for clients and see what happens. It often happens with outdoor fireplaces and braziers, for example, which are then seriously taken into consideration once the client understands how they can create an atmosphere and a welcoming environment. So the trick is to appeal to the client and convince them of the advantages of having an outdoor kitchen. This strategy can effectively translate into higher profitability of a project.
Practical advantages of outdoor kitchens
1.
A new room
It is true that it would be sufficient to invest one's budget in modernising or expanding the internal kitchen, but choosing to construct a new outdoor kitchen is a more functional option. In fact, one of the many reasons why outdoor kitchens are becoming more and more popular is because their creation expands the size of the house and essentially duplicates the size of the kitchen. Investing in the construction of an outdoor kitchen and the choice of materials for outdoor kitchens ad hoc means building a new room outdoors that is a functional space to eat and relax while at home.
2. More liveable space
The fact that an outdoor kitchen represents a real new room means expanding the liveable space of your home. Building a space organised around a cooking area means giving one's family an extra area to spend time together. Moreover, if an outdoor kitchen is created under an already existing veranda and there is the possibility of having sliding windows that define the space, it will be possible to use it even when the weather is less pleasant .
3. A meeting place
Among the advantages of having an outdoor kitchen, no doubt having a real meeting area is one of them. Modern technologies make many accessories available such as heating systems or fans, lighting, televisions and radios, to create a real paradise outdoors with all the comforts. The outdoor kitchen turns into an excellent accomplice for creating memories and emotional bonds. Birthdays, holidays and special events will be even more memorable if it is possible to bring together the whole family and friends in a particular setting different from the usual living room.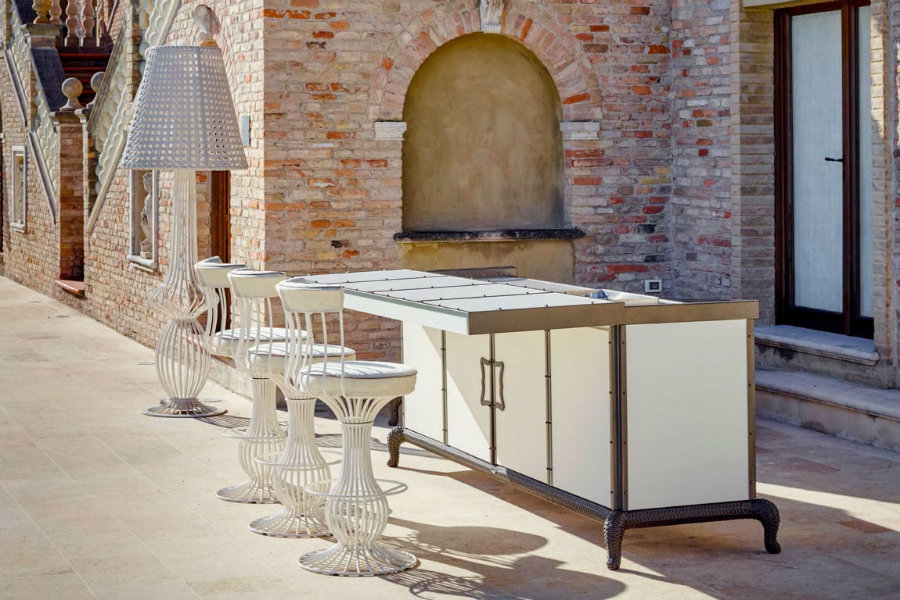 4. An investment that you can see
The construction of an outdoor kitchen has a high rate of return on investment compared to other home renovation projects. Regardless of dimensions and accessories, it is necessary to use materials of high quality that satisfy various requirements, among which the most important regards resistance to atmospheric agents. Basically, we are building a space that will last forever. Among the most used materials stainless steel undoubtedly stands out, which, together with the design of the various elements designed specifically for outdoor use, ensures maximum resistance of all components to atmospheric agents.
5. A custom-made design
It is well known that one of the peculiarities of outdoor kitchens is the ability to customise almost every single component. In addition to size and layout, you can choose from a variety of appliances that can also be adapted to specific spaces.
In the same way, it is possible to customise the structure by enriching it with a wood-burning oven, a brazier or a fireplace which, on the contrary, cannot be inserted into an indoor kitchen.
Finally, the client can choose from countless materials for outdoor kitchens also in terms of surface finish.
Customisation embraces not only the space intended for the kitchen but the whole living area created outdoors. The development made in terms of research today allows us to use various materials far from the classic idea of the built-in kitchen, making the space luxurious and consistent with the surrounding property.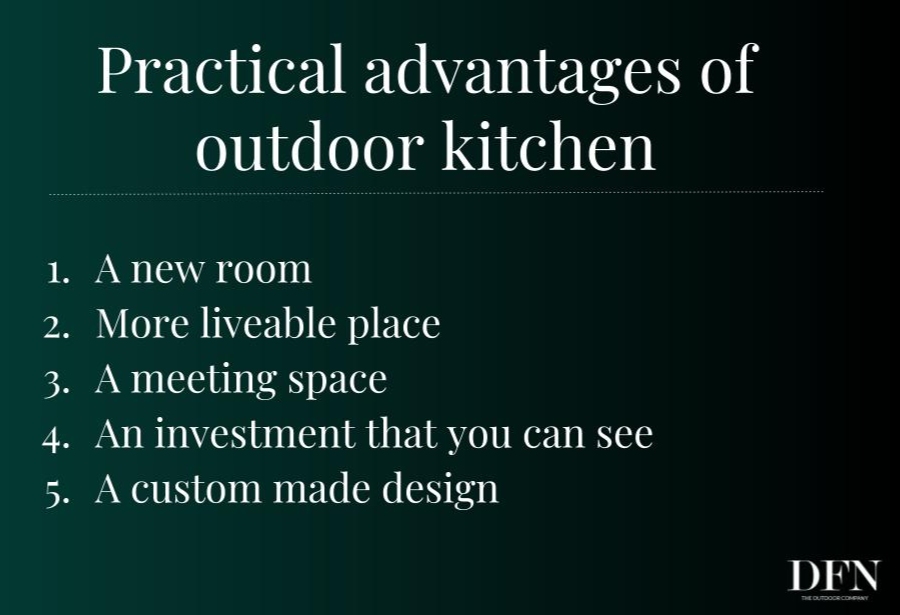 Benefits related to property value
1. Personal pride
There is no doubt that an outdoor kitchen is beautiful and enviable. An added value to be proud of. Whether it's a small kitchen, an island with lots of bars and stools, a more structured area and maybe the classic L-shape, each owner will be proud to show off his outdoor entertainment space to friends.
2. A strong identity
Always considering the aesthetics, it is necessary to pay attention to the flow between the inside and outside. In fact, the style has to be re-proposed with a view of continuity that allows the identity of the house as well as of its owners to be strengthened. If the interior is more luxurious or refined than the exterior, the latter loses value and consequently tends to devalue the entire property.
Looking at balance a garden must live up to the interior part of the home. The creation of an outdoor kitchen certainly goes in this direction, enhancing the property. However, beware, it is also important to follow the flow between the interior and exterior; even the outdoor kitchen must be at the same level or at least consistent with the style of the inside of the house.
3. An added value
In light of all this, outdoor kitchens are undoubtedly an excellent investment. If we are not convinced yet, let's think about what could happen if we decide to resell our property.
As explained, the trend of outdoor kitchens has been in constant and continuous growth for years now, and there are no signs of it stopping any time soon. Investing in the creation of such a kitchen means aligning your home with the latest trends. Therefore, one of the advantages of having an outdoor kitchen is certainly also the optimal positioning it gives your home within the real estate market, with an increased sales value.
This can also be inferred from the analysis by the National Association of Realtors, which, following a thorough study, revealed that more than half of homeowners said they were willing to raise their purchase budget if they found a home equipped with an outdoor living area.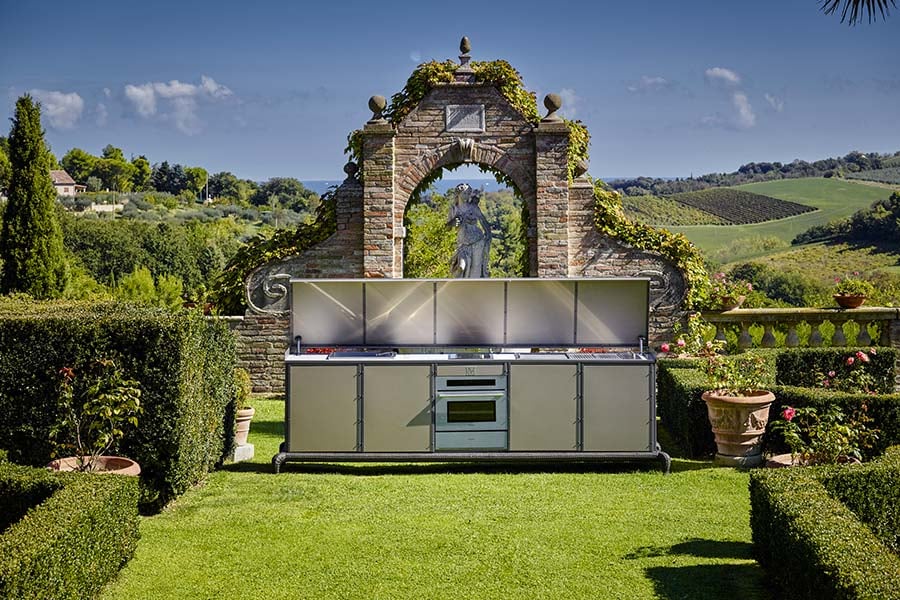 A question of well-being
All in all, one of the best reasons to embrace the idea of building an outdoor kitchen is that ultimately it is an investment in your own well-being and family. There are countless scientific studies that show how staying outdoors improves memory and concentration, facilitates mental rest, reduces stress levels and stimulates creativity. Building an outdoor kitchen at your home means creating an opportunity to spend time outdoors.