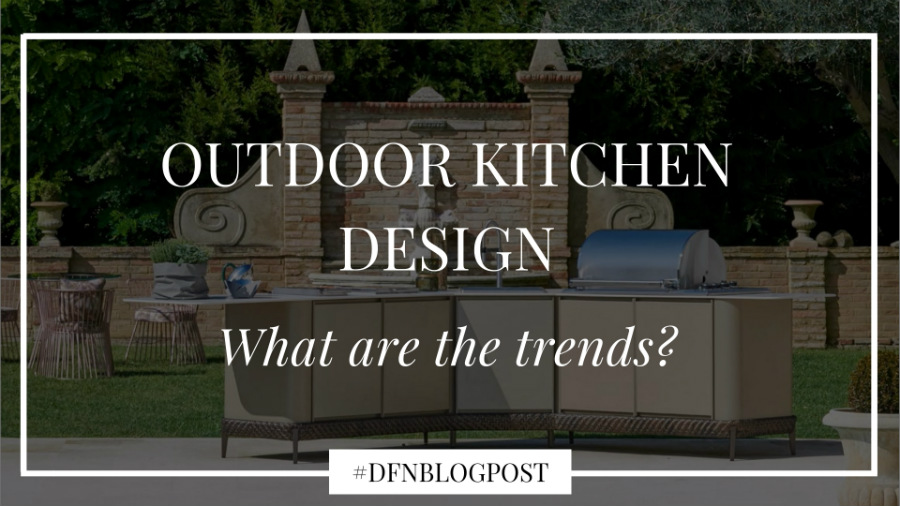 Garden kitchens always impose themselves with greater clarity, through dedicated brands that propose real outdoor kitchen designs. The clearest trend when it comes to garden furniture, but also a terrace or balcony furniture, is the abolition of a clear distinction between indoor and outdoor, both in terms of materials and shapes. The outdoor kitchen intended as a creative laboratory of fusion materials focuses on surfaces that refer to different, but always precious, imaginaries.
If your clients' demands concern the creation of welcoming and functional outdoor entertainment spaces, it is to be expected that the project will be complex and therefore a preliminary phase of study and planning is needed.
If you want to get into the specifics, a space for food preparation can be found in these projects. We are not talking about a simple barbecue placed on the patio, but a real kitchen for cooking and entertaining.
But what are the trends in outdoor kitchen design? Which accessories and equipment should you include in a space that has become a must-have for informal but always refined days and evenings? Let's take a look at them together so that we can better advise our client.
A real possibility
Outdoor kitchens have become a constantly growing trend in recent years. This means that designers and architects can venture into projects that are also important for their clients who turn to them for a restructuring of their outdoor spaces, proposing not only a barbecue island but a complete and functional entertainment space where the focus is on the kitchen.
According to some data from Qualified Remodeler, more than 80% of architects interviewed recently created one or more outdoor projects that included cooking areas that follow the latest trends in outdoor kitchen design. Other research conducted by the magazine Casual Living stated that outdoor kitchens are among the priorities in renovation requests and 25% of those who do not yet have one are willing to add it in their outdoor space within the next year.
Salone del Mobile 2018 also confirms this.
The growing demand for even complex outdoor entertainment spaces is also confirmed by the presence of interested clients at the Salone del Mobile in Milan, which in 2018 saw several companies in the sector propose a decisive abolition between indoor and outdoor spaces both in terms of materials and shapes. This also highlights how a purely American trend is going beyond geographical boundaries to reach Europe, even with all the limitations of the case mainly due to different climatic conditions that limit the portion of the year that you can use the outdoor space.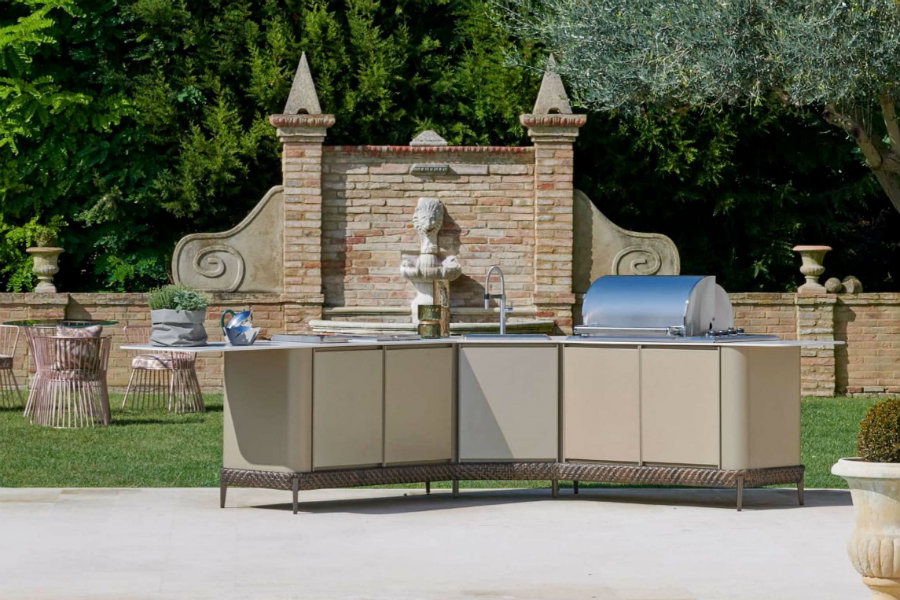 Key features of an outdoor kitchen
Whether on either side of the Atlantic (which is actually much more likely, according to statistics and requests), it is clear that the enhancement of outdoor spaces is a requirement encountered in many clients, and we have found that the focal point of all projects is the outdoor kitchen. But what key features must it have? Let's look at them together in the following summary.
The outdoor cooking areas have evolved from the classic stone and stucco barbecue island that we are accustomed to, to varied and often complex solutions that are closer to homemade cooking than to an outdoor cooking area. The outdoor kitchen today is becoming a real gourmet kitchen that is just as good as the kitchen inside the house in terms of quality but also in size.
The construction elements must naturally be of high quality to guarantee comfort, but above all resistance to dust, sunlight and humidity. In practice, we are talking about construction materials that can cope with atmospheric agents. All this without precluding elegance and style to be able to respond to functional but also aesthetic needs, creating a relaxed atmosphere or—depending on the situation—charm environment that inspires the senses.

The importance of custom-made
These are the foundations of an outdoor kitchen, which, nevertheless, can take on infinite nuances. It is essential to play on the concepts of versatility and exclusivity and change all the other key components, keeping firm points of functionality and current design. All this, translated, means "customisation". Customisation, the creation of bespoke projects, allows us to propose a solution that expresses the unique style of each client and is a result achievable only if you are able to adapt your service to different situations and requests. Therefore, we could say that another keyword in this area is flexibility.
To do this, it is important to offer a dedicated service that will lead us to the creation of a perfect kitchen. Therefore, it is necessary to follow the client step by step in every phase of the design and implementation of their "idea", taking into account the style, space, layout and accessories that they would like to insert. At the end of this process, the result will be an exclusive product and, naturally, suitable for an outdoor space.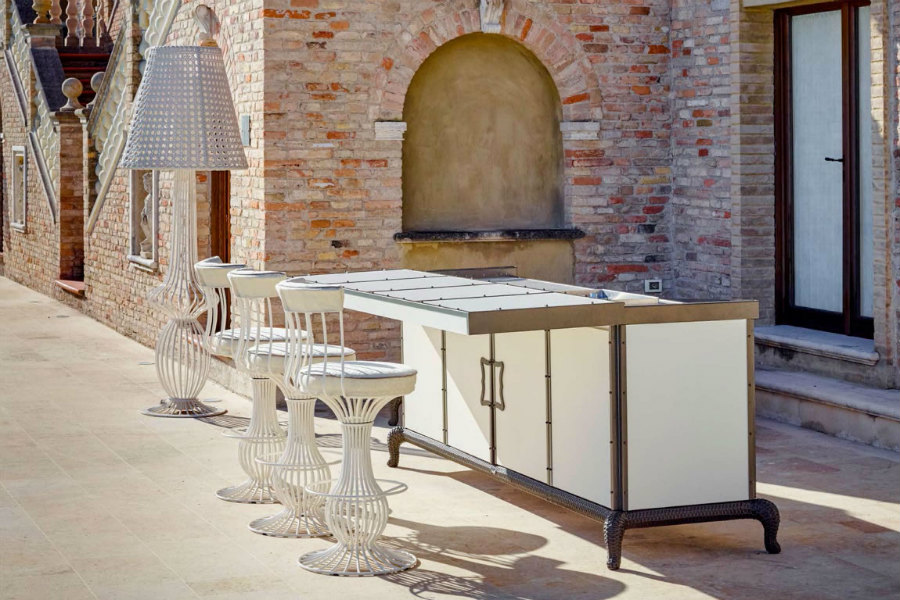 10 trends in outdoor kitchen design
Focusing on the outdoor kitchen, the beating heart of a rich and prestigious outdoor area, what are the customisable elements? Or better, wanting to propose a bespoke project, which trends in outdoor kitchen design should you consider?
1. Worktops
Wide and airy: that is how the worktops where you prepare and serve the food must appear, which must be an extra addition to the outdoor table around which we will then meet together to eat. In this way, guests will have the opportunity to "visit" the owner while he or she is busy preparing various dishes. One of the most popular trends in this regard is the creation of multi-level worktops or peninsulas.
2. The bar
Talking about multi-level worktops opens the door to the concept of a bar counter. Nowadays outdoor kitchens are hardly ever created without an aperitif station similar in all respects to the typical bar and pub counters. These stations can include ice machines, freezers or refrigerators, a sink and—why not—wine cellars.
3. The material of the countertop
A clean and functional surface is also essential to give an idea of order. In addition, this surface must resist atmospheric agents and damage or impact. Nowadays, alongside stainless steel, which has always been considered an emblem of reliability and durability, there are other materials with a warmer look that allow us to have the same guarantees in terms of strength and reliability. The slabs of porcelain stoneware that reproduce precious marble are a precious alternative to give elegance to the kitchen.
4. Multiple cooking surfaces
More and more clients have made requests for multiple cooking surfaces. Almost all the people interviewed by various market research have expressed their intention to equip their outdoor kitchen not only with burners but also with a grill, preferably with gas.
5. Grill and ovens
Speaking of grills, stations dedicated to grills and home appliances intended for cooking food continue to grow in number and size from year to year. Added to these are ovens that are sought after and a real must-have.
6. Accessories
This category includes not so much the small accessories that can be purchased individually by each client to complete the outdoor kitchen based on their taste but the appliances that must be able to take care of every function as well, for example, machines for making ice. In this context, the designer's ability lies not only in proposing the right appliances but also in adapting it in terms of style and size to the kitchen being created.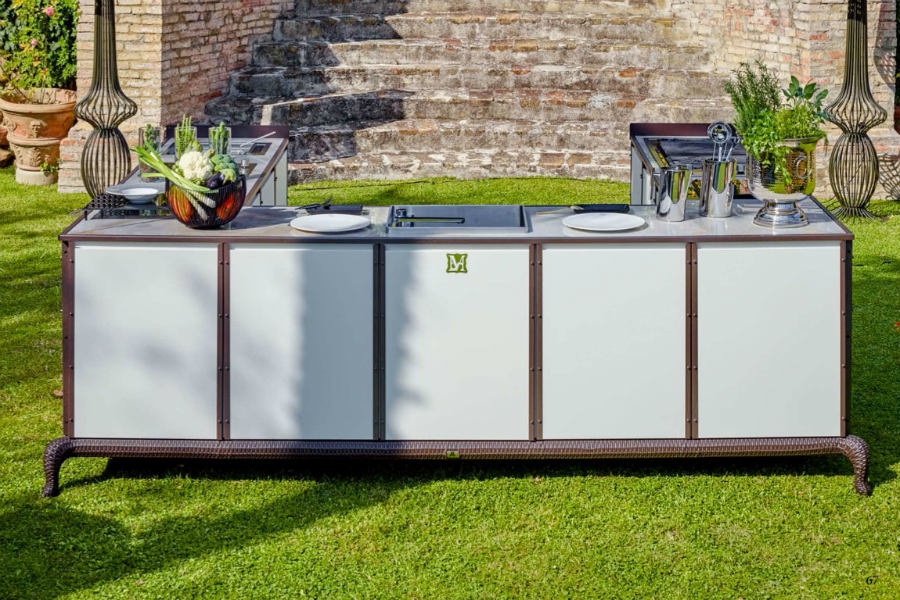 7. Seats and sliding tops
With a multi-level worktop and even more with a bar top, it is logical to think about bar chairs, such as stools. The kitchen, if well designed, can at the same time be a place of preparation and consumption of food. For example, it is possible to get retractable sliding tops that protect the kitchen when it is not in use, and when in use, for snacks.
8. Aesthetic
Of course, the eye also wants its part. For this reason, beyond the practical aspects, the trends in outdoor kitchen design also concern the pure aesthetic appearance. So, it is essential to know how to offer the client special finishes, in some cases moving away from traditional standards or even—in this case—customisable. The use of unusual finishes is the key to a project with a personality that does not go unnoticed and that goes beyond the built-in kitchens.
9. Illumination
In every kitchen, whether indoor or outdoor, light is fundamental in terms of setting but above all functionality. We must, however, consider that modern outdoor kitchens have the dual function of preparing food and entertaining.
It is also advisable to insert dimmers that allow you to have more intense lighting during food preparation and reduce it to create a softer and more intimate atmosphere once the dinner is over. Do not underestimate LED lights installed directly around the perimeter of the worktops; even in this case atmosphere is assured.
Finally, braziers or bioethanol fireplaces are increasingly relevant, not used as an alternative point for cooking food but for their scenic appearance: places to relax and end the evening after dinner.
10. Entertainment area
To complete the outdoor kitchen, but more generally the whole outdoor living area, you can install digital entertainment systems. The most recent innovations in technology have made it possible to install digital instruments that guarantee satellite and internet connection even in outdoor environments. This potentially allows you to create entertainment areas or, why not, real outdoor mini-theatres.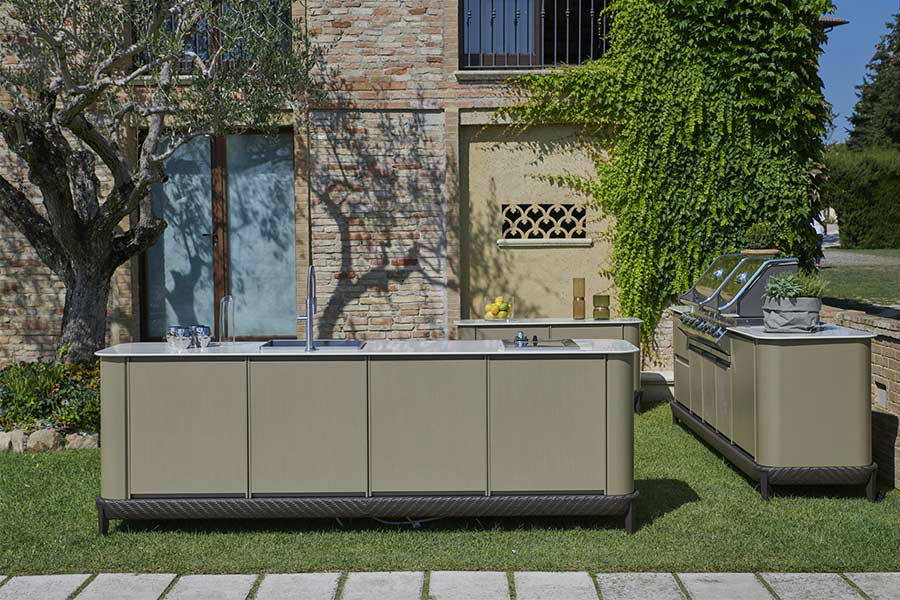 When the indoors moves outdoors
Keeping in mind all the aspects analysed so far, it is clear that today's outdoor kitchens are not simply kitchen corners positioned outside the house. These are complex spaces that reflect in all respects the style of the owner of the main house, and for this, we can talk about a transfer of the indoors to the outdoors.
In this perspective, however, there is an increasingly clear separation of external environments, just as if we were inside the house. So, here we find the kitchen well defined and diversified from the entertainment area that often translates into outdoor lounges. This is another important element to keep in mind when creating a project for external areas.
The concept is to guarantee the outdoors the same comforts that you have indoors. Or, in other words, assure the client the same experience of a kitchen's use but also an outdoor dining room.
In conclusion, we would like to add that with the help of pergolas or conservatories, outdoor areas can be used throughout the year, in summer as well as in less outdoor-friendly seasons. It is a great way to make sure that our client can fully exploit their investment, even well beyond the period they have planned. It is indeed an additional element to consider during the design and consultation with the client.