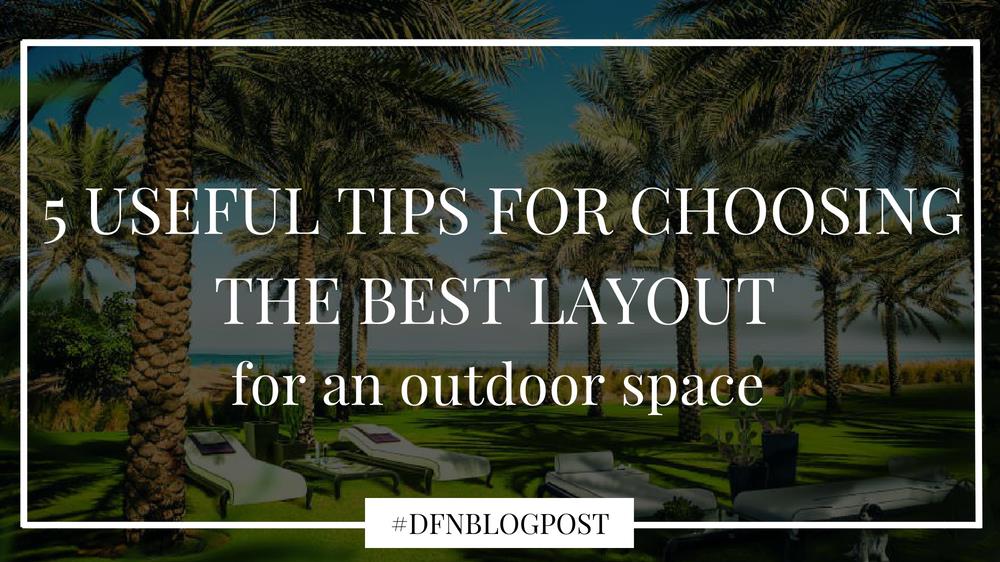 Designing a house's outdoor space is a fun process for both architects and designers.
There are no restrictions
due to walls or load-bearing structures that delimit spaces, which can often force creativity in a pre-established direction.
However, in order to establish the best layout for an outdoor space, a high amount of professionalism is still required, as well as a specific design phase. In short, the same accuracy dedicated to interior spaces is also indispensable in the garden.
In fact, it's easy to surrender to the client's expectations and desires, which can sometimes give a sense of additional space to a house's outdoor areas. On the contrary, however, you may run the risk of furniture that is chosen without adequate planning, ultimately getting "lost" in vast and vague spaces that don't really give you a sense of purpose.
That's why the layout of an outdoor space is also key to enjoying an area dedicated to outdoor activities.
The layout of an external space should be linked to the style of the house and the personality of the people who live there, but there's also more to it.
It's important to reflect on the client's lifestyle in order to create the best layout for his or her outdoor space.
In order to give you some useful tips when choosing the best layout for an outdoor space, we've come up with some suggestions intended to make you reflect on how important it is for the layout of a space to suit the habits of those who live there.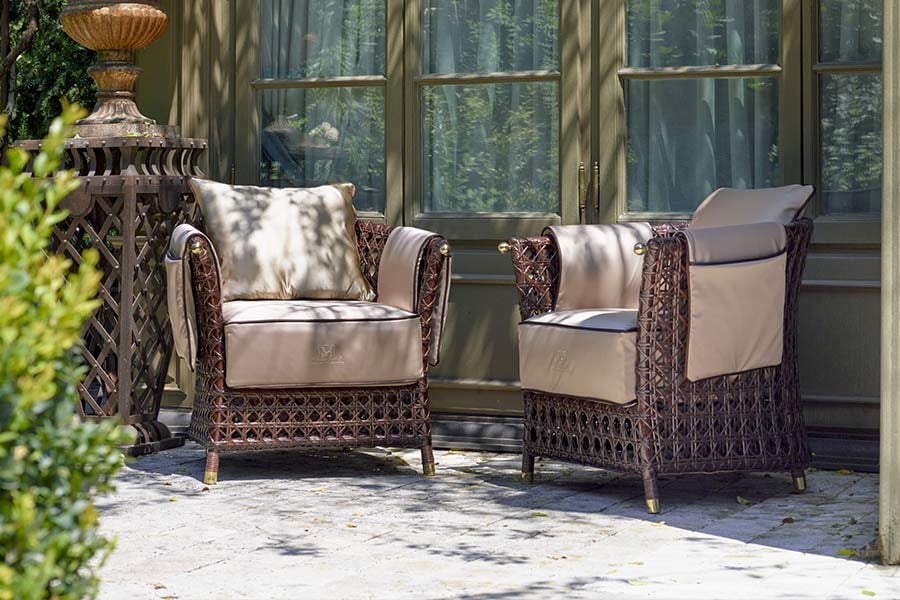 1.
Establish the space's intended use
First and foremost, it's essential that you understand what the outdoor space is going to be used for. Let's reflect: what its purpose? A space used mainly for eating shouldn't have the same layout as a patio designed for sunbathing and relaxing while looking out over the horizon.
Let's take a concrete example: think of outdoor spaces for clients who often have friends and relatives over for dinner, as well as barbecues, a bite to eat or social occasions in their garden.
Choosing a

paved surface with a rounded or oval shape

will bring focus to the table as the "heart" of the entire outdoor area.
The table is a symbol of communication and closeness, and its rounded shape – with no corners – is an excellent solution.
On the contrary, when creating a large outdoor space aimed at relaxation,

it's useful to think about square paving and rectangular surfaces

.
Why? Let's take another example: various designer loungers that are often laid out in the garden leave no room for circular or rounded lines. Instead, it's better to opt for regular polygon-shaped paving with clearly identifiable paved walkways.
2. Think about the client's lifestyle to choose the best layout for an outdoor space
Another suggestion in order to select the best layout for an outdoor space is to stop trying to understand a client's lifestyle rationally. If the client likes to plan parties and welcome a lot of people into the garden, and the house is always alive with social events, the shape of the outdoor space should take on an ad hoc identity.
Outdoor areas used for parties and social events can be independent spaces that are set away from the house (if there is space available) so that there are no issues with music or noise.
The garden's shape, given the large number of people, should provide as many paved surfaces as possible in relation to the available space. And of course, the materials used must also have specific technical characteristics.
Reflecting on a client's lifestyle is also fundamental for more peaceful spaces. If the client loves silence and tranquillity in the garden, perhaps a landscaped outdoor space that offers breath-taking sunsets, and favours a layout with various nooks and crannies is more suitable, each with its own purpose: for resting, reading, eating or chatting.
3. Start from a focal point

As with interior rooms and spaces, it's important to define a focal point to start designing an outdoor area. This may be a large piece of wall art, a pond or fountain, or large potted plant, or even a striking piece of furniture.
From there, you can build the rest of your area's design features around this central gathering spot.

Moreover, in order to create a truly comfortable outdoor living space, you'll need to define a conversation area in which you can place pieces of furniture like chairs, benches, stools, outdoor sofas or even a daybed, or a combination, around an outdoor coffee table or fire pit.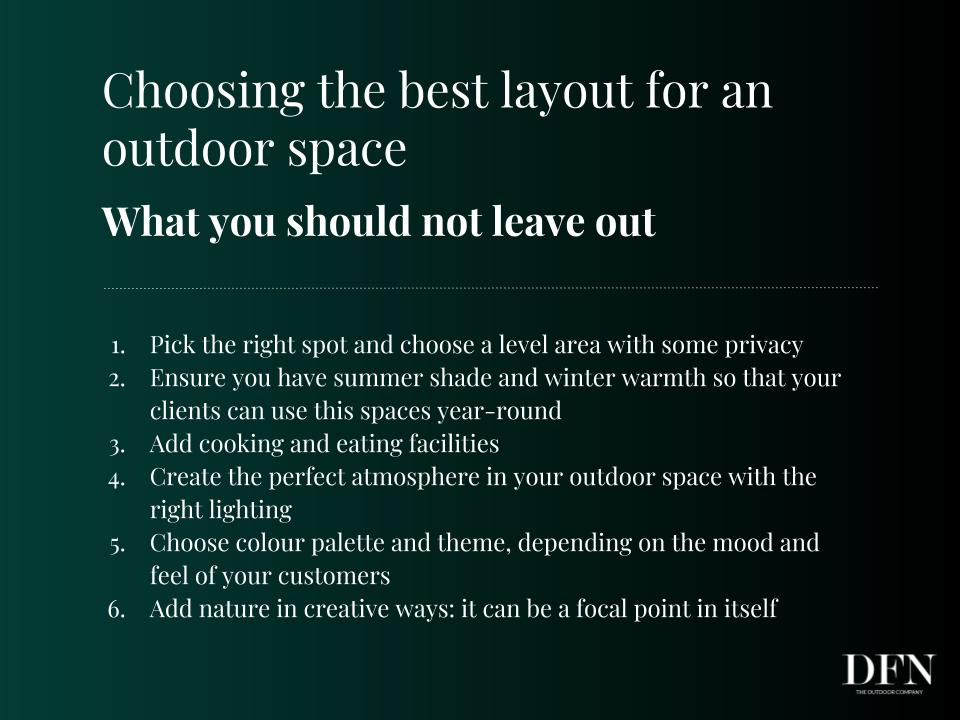 4. Design an environment in harmony with the building
Always keep an attentive eye on the style of the home: unless you are specifically creating a contrast effect, the garden's layout must respect the style of the house.
For many people, the area surrounding the building is

an extension of their own home, almost like another room

.
In this instance, the ideal layout for an outer space is an L or U shape, embracing the house and therefore reflecting its style and characteristics.
5. Take into account exposure to light and the architectural constraints
In order to choose the best layout for an outdoor space, it's essential that you take exposure to light into account. A sunny south-facing area, with shade from the sun but no walls, should have a paved surface equal to its area with the addition of walkways.
Said space can take on two forms: a regular layout that amplifies the surface area but reflects the shape of the upper level; or a layout that plays with contrasting shapes, for a decidedly more informal and contemporary outdoor space.
On the contrary, a semi-covered porch area with protective walls and less exposure to light does not need large paved areas surrounding it, as the sheltered areas will decrease the dynamics of the walkways.
6. Create the best layout for an outdoor space using light
As previously mentioned, choosing the best layout for an outdoor space involves taking into account the lifestyles and wishes of the client and the intended use of the outdoor space.
After reflecting on these concepts, it's essential that you create a space that allows the client to enjoy it at any time of the day, by creating pleasant lighting.
The targeted design of a strategic lighting plan is, in fact, a phase that is strictly connected to choosing the right layout for an external space. Decisive lighting points will highlight both decorative elements in the garden and the functional areas available to make the most of the space and to meet your client's needs.