Patios can be a great way to enjoy the outdoors in good company without straying too far from where we are staying – hotels, resorts, restaurants, etc. Therefore, patios can turn into a very special spot for any guests that want to relax and take some stress-free time, and it will become even more important if the facility you are going to decorate is visited by many children and / or elderly people who have the need to keep close to where they are lodging.
Because during the hottest months of the year the weather can get very warm and bright – think spring to summer, especially during peak hours when the sun hits the most – it is very important that you know how to fit the patio at hand with the best systems in order to keep it cool and shaded, hence comfortable to use, throughout the year and at all times of the day.
Effectively shade an outdoor patio: What to choose between style and functionality?
Beauty and functionality are both equally important in this case.
Beauty is of course fundamental as choosing a certain design will radically change the look of the outdoor space, changing its original morphology, adding to its colour palette and modifying shapes and volumes. As far as functionality goes instead, looking for the best available technology will make sure that the system you choose is modern, up to date and that it will not look out of place, old or improvised in any way, which would decrease the value of your work, making even the most luxurious, contemporary and high standard pieces of furniture you might have chosen look less elegant and current, and ultimately less valuable in general.
Let's see some ways you can effectively shade an outdoor patio so it meets all the established criteria.
1. Garden / Outdoor Umbrellas
Usually made out of nylon, but if required or needed, you can source umbrellas made out of more natural and sought after materials that can give the patio more character and maybe a more unique look – even if those kinds of materials are more likely to be less durable and resistant to weather conditions than nylon, so choose wisely depending on the location where the facility is.
One thing to keep in mind is to select the right stand for your umbrella, so it weighs it down properly making it safe even with stronger winds but still looking neat, without looking disruptive within the design. Just like shade sails, you can pick among many colours and shapes and sizes, too. You can pick between to types of umbrellas:
Beam mount umbrellas: these will work better for larger spaces that need a more uniform covering
Angle-design umbrellas (cantilever): these are easier to fit in small to medium areas where directing the shade where it is needed is most important.
2. Canopies
If a beam mount umbrella does not look or feel like the right choice for the hotel you are decorating but the area to cover is still quite large, you can opt for canopies, which have the added plus of being easier to move around and rearrange if need be, when compared to other shading methods.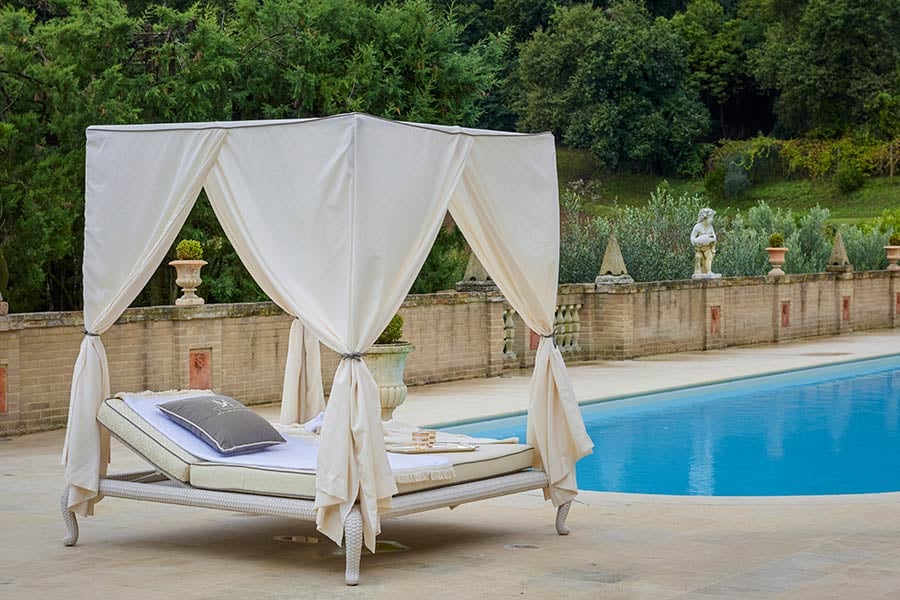 3. Shade sails
Once again just like umbrellas, these are made out of nylon, shade sails are very resistant to weather conditions and high winds. They come in a huge variety of colours which will make it almost impossible not to find the perfect one for your needs – one that goes with the style and colour pattern of the facility you are working on.
Shade sails must be connected to rigid structural features of the building in order to be suspended over the patio. You can combine shade sails with pergolas – which would make for a very luxury looking environment, almost a building on its own.
4. Gazebos
These can give great character to the design. Gazebos exist in the widest variety of materials and shapes, sizes and styles, so without a doubt there will be one perfect for the style you are looking for. Only thing to keep in mind, opposite to canopies, gazebos are very difficult to move and are a relatively permanent fixture.
5. Bioclimatic pergolas
A wonderful way to enjoy your patio all year round is to build a bioclimatic pergola.Not only this type of structure is a top choice for feasibility, efficiency, and aesthetics in general, but the sheer number of models available will make it impossible for you not to find just the perfect one!
In fact, creating an outdoor room will give the illusion of the house expanding from the indoors out, which creates once again a bigger looking space as well as giving that very modern and sought-after effect of an organic, harmonious overall design. You can choose among different size pergolas to perfectly fit the area you are working with, and architectural configuration can be adapted to your taste and needs.
How it works: the bioclimatic pergola uses a simple yet effective model of aerofoil louvres to control the level of sunlight or shade filtering into your outdoor space. This system naturally regulates temperature and ventilation (quantity and direction) – and some models come completely automated.
When opening the louvers, homeowners can choose the levels of ventilation and shade they want and need depending on personal preference and outside weather. When they are closed, the pergola will protect the outdoor living area from harsh sun or averse weather should it be the case, keeping the guests comfortable and the structure itself safe.
6. Orangery, conservatory and winter gardens
Another beautiful way to create a liveable room outdoors is to build a winter garden, a conservatory or an orangery. These can look very romantic and elegant and will for sure give your design a very refined look and feel.
With the trends going on for this year, keep classic when choosing materials and go for natural materials and fibers but with unusual, unique colours for example. This will keep the space looking fresh and modern but without losing the charm of a timeless ambiance.
You can fit these spaces with anything your clients may need - from tables to coffee tables and suitable chairs to go with them, storage space and storage units, potted plants, flowers, pillows and throws, framed art and other small, even custom made elements to make the room cozy and unique.
Depending on what your clients will use the winter garden for - reading or throwing parties? Being on their own for a quiet moment or inviting guests over for a fun chat and a few drinks? - you will find you are spoiled for choice as far as decorating a space such as this goes, as you can treat it as you would any indoor room.
Just like pergolas, having one of this outdoor rooms will give the effect of the overall living space being bigger and much more open and airy.
7. Awnings
Awnings are very good at shielding wind and providing shade all at once. They can give a very cozy feel to the area you are decorating, and under them you can fit sofas, pillows, other elements made out of luxurious fabrics, so as to create a lovely and warm outdoor "tea room" for the day – and cocktail bar for the night time. Another good thing about them, is that they are extremely versatile, as it is possible to install them in two different ways:
attached to the main structure of the building;
place them as stand-alone items that can be set anywhere on the ground of the given outdoor area.
The second option allows for a more interchangeable layout of the space and it makes it easier to arrange the design so it is functional and beautiful for small to medium locations, too. Awnings can come just like many of the other options presented, in many colours and materials, and shapes, too: they can be a single sheet of fabric, or several bands aligned or intertwined, for example.
8. Botanic elements
Not only because it is so on trend this 2018, but adding botanic elements to your outdoor designs can prove extremely functional as far as shading patios, too. Trees can work with luxury items of furniture making their design, colours and shapes pop even more, enhancing the overall look and feel of the outdoor design itself – either making in harmoniously melt with the landscape or by making certain furniture pieces stand out and become the centre of the attention.
For instance, one way to use these natural elements in some sort of "architectural" way, is to build flooring around the trees for example, making them stand out as pieces of furniture, almost.
Effectively shade an outdoor patio mindfully
To sum things up, remember that choosing the right way to effectively shade an outdoor patio is not only a matter of picking the option that looks better on its own or that better fits in the overall landscape design, but it also has lots to do with the space available, its size, climate and normal weather conditions.
The importance of addressing these details is clear, as to make a patio not only usable, but comfortable and enjoyable throughout the year.
Even choosing colours and materials depends not only on whether you want your design to follow on the trendy or the classic side of things, and on what the assignment is, your taste to an extent (different for each task) but once again, the surrounding environment and its peculiarities climate-wise must be taken into consideration.
Considering how many options are available on the market and how many different versions and styles of each of them you can find, you will feel spoiled for choice! No doubt you will find the perfect match to complete your outdoor design wonderfully.