To have an outdoor experience that is always pleasant and at the highest level of exclusivity, it is essential to select an outdoor kitchen in which technical dimension and stylistic character blend perfectly, guaranteeing a complete solution in every aspect.
In this sense, the outdoor kitchens of our brand Samuele Mazza, the result of the perfect synthesis of these salient aspects, are ideal for decorating outdoor spaces and allowing yourself to enjoy a luxury experience in your outdoor space to the fullest.
What denotes the technical and aesthetic character of our collections is the use of quality materials, used to completely cover the kitchen structure.
Highly resistant materials with great aesthetic value, with an elegant material profile enhanced by fine finishes, capable of creating visual impact effects under the sunlight.
Let's discover the peculiar features of DFN luxury outdoor kitchen materials.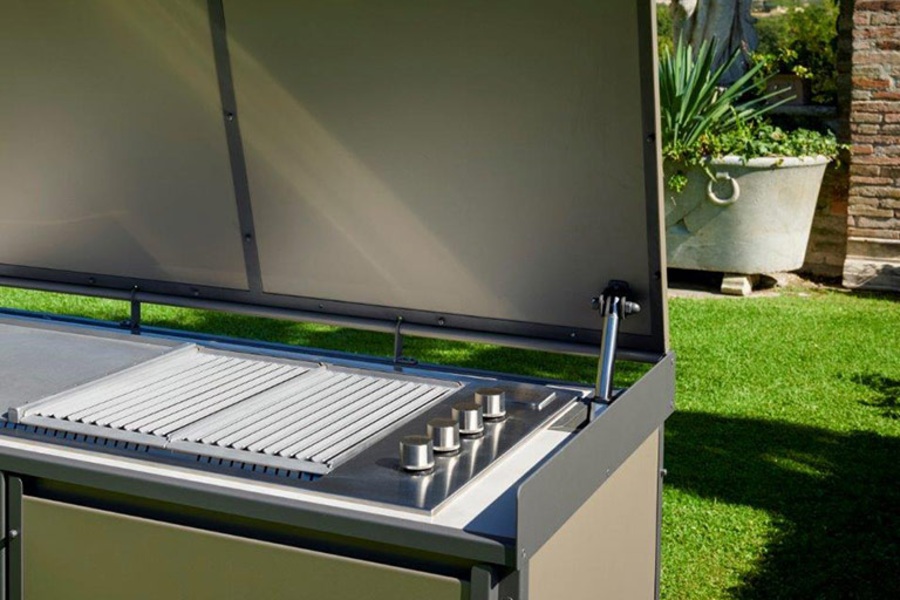 Luxury outdoor kitchen materials: DFN selection
DFN outdoor kitchens are the end result of careful technical and stylistic research aimed at guaranteeing a high-performance outdoor kitchen area with surprising aesthetic potential.
Our kitchens are entirely covered with high-performance and resistant materials characterised by precious finishes, which, together, in addition to giving strength and solidity to the entire structure, accentuate its aesthetic presence. In particular:



Ceramic marble: refined and timeless spirit
The tops, both in the models of the Linear Outdoor Kitchen collection and the Curved Outdoor Kitchen line, are made in marble-effect porcelain stoneware applied on the surface or recessed.
A material with an unmistakable texture, which always offers us new and unrepeatable designs, presenting at the same time excellent hygienic properties and more. In fact, ceramic marble is resistant to UV rays, frost, abrasion and oxidation, and is easy to clean.
The versatile and high-performance nature of this material plays a decisive role both in aesthetic and technical terms in outdoor kitchens. In the Curved line, we find it applied in the ultra slim version with a metal finish also on the kitchen doors.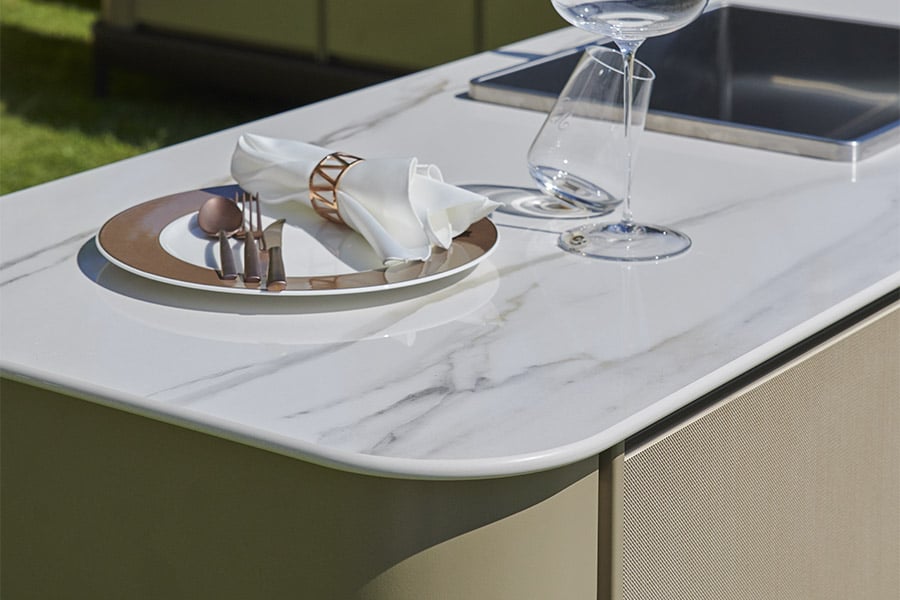 The sober and material appeal of stainless steel
Stainless steel is one of the best materials for luxury outdoor kitchens.
Durable, resistant, easy to clean and highly hygienic: stainless steel is used to make tops, covers and appliances in our kitchens: a guarantee of durability to furnish your outdoor spaces. With a sober and material charm, it reflects the light creating impactful optical effects and also gives the kitchen a modern and sophisticated look.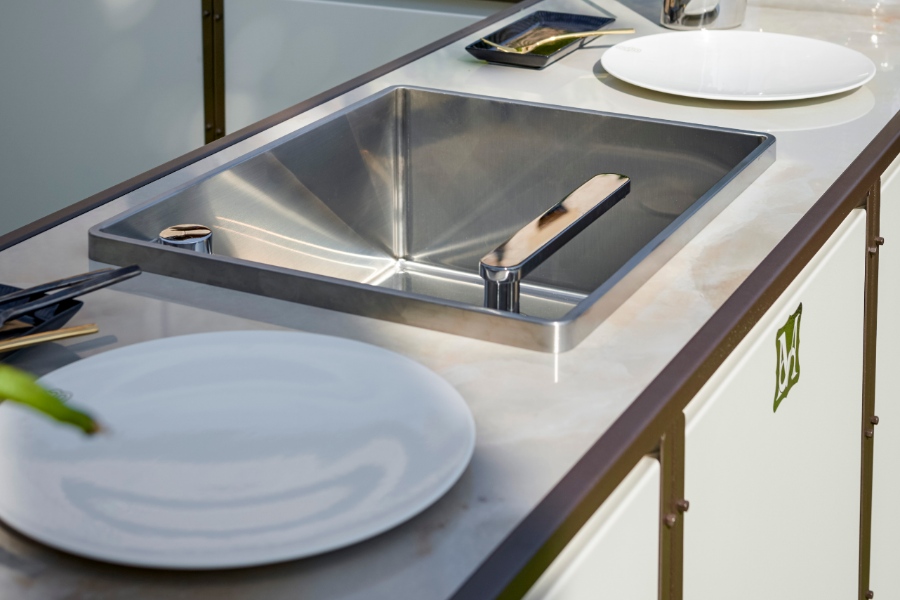 Powder-coated galvanised iron: strength and durability
Our kitchens are the protagonists of outdoor spaces: with an unquestionable aesthetic personality, they reveal a robust and solid soul in powder-coated galvanised iron. Concerning the paints, a choice of unique finishes has been made such as gold, platinum, bronze or metal and pearlescent effects. A robust and durable structure that still leaves room for style.

Braided synthetic rattan
The base of our kitchens is constituted by a bridge covered in synthetic rattan woven strictly by hand.
It is a material with excellent performance in outdoor environments that withstands the most abrupt temperature changes, does not discolour, cannot be attacked by mould or parasites, and it covers and decorates the structure.
In this way, the kitchen rests on feet that keep it raised from the floor. Unlike masonry kitchens, kitchens produced by DFN are freely installed.
In addition to the bridge covered in woven synthetic resin, for a more linear look, a metal base is also available that follows the exact style of the kitchen.

Luxury outdoor kitchen materials: why should you choose DFN?
With DFN, aesthetic beauty becomes an attitude and technical value a categorical imperative.
The stylistic-functional intentions that are reflected in the proposals of the Samuele Mazza brand, the unmistakable signature style that marks our outdoor kitchens, covered with durable materials and a surprisingly decorative value is a robust and elegant armour, which gives a glamorous look to the kitchen and preserves its structural integrity.