The spirit and comfort of an outdoor kitchen are also measured by its performance and the efficiency of the instruments chosen to equip it and define its technical profile. Finishes and materials characterise the structural and aesthetic aspect of the kitchen, while appliances determine its technical-functional character.
But what are the appliances for a luxury outdoor kitchen that you should consider for your outdoor cooking area? Let's find out together.
Luxury outdoor kitchen appliances labelled DFN
Samuele Mazza outdoor kitchens are elegant versions of glamorous designs in a luxury key, resistant materials with great aesthetics and instruments with high technical qualities.
DFN outdoor kitchens offer a wide range of customisations in structural and aesthetic terms: from the refined finishes to the excellent performance of appliances, you can select and prepare the most suitable solutions for your needs.
Exclusive materials and finishes, the result of careful technical and stylistic research, elegantly dress our outdoor kitchens, giving each one a solid and resistant structure without giving up a chic look with a marked aesthetic appeal.
Moreover, appliances add technical value to outdoor kitchens and guarantee a complete structural character and excellent performance. Let's discover DFN's proposals together.



Luxury outdoor kitchen appliances: all the must-haves for your alfresco space
In order to experience a high-performance, exclusive experience in your outdoor kitchen area, it is essential to take advantage of suitable and effective tools for each stage of the preparation of dishes and recipes.
The outdoor kitchen that you select, and later will personalise, will have to fully satisfy your outdoor lifestyle.
For this reason, we advise you to make a targeted choice concerning luxury outdoor kitchen appliances, carefully evaluating their features and potential to meet your functional needs.
DFN outdoor kitchens are equipped with high technical and functional properties. Must-haves that you should consider to best equip your outdoor cooking area, in particular:

Barbecue
The barbecue is undoubtedly an inevitable cooking tool in a luxury outdoor kitchen. Equipped with a protective stainless steel cover, we find it in the Linear Kitchen Barbecue Version and Curved Kitchen Multi-Element models, in the XXL version. Designed to be capacious, efficient and easy to clean, the barbecue is an option that shouldn't be left out in your outdoor kitchen.

Grill/Fryer
In a complete outdoor kitchen, such as the Sectional U Shaped Kitchen model, a grill or fryer should never be missing, as well as ideal tools for cooking and having a pleasant outdoor experience.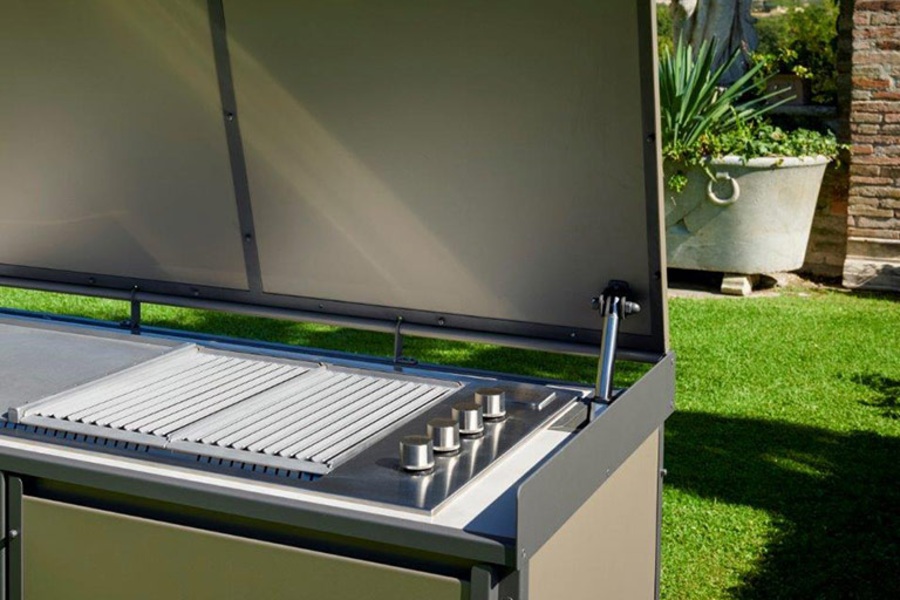 Wine cellar
The wine cellar is an additional element that we find in the Linear Kitchen with Automatic cover model, which cannot be missed in the outdoor kitchen of those who not only love to cook in the open air but above all want to enjoy every functional comfort outdoors. Savouring precious moments of relaxation while sipping a glass of wine at the right temperature, surrounded by greenery, is a priceless luxury.
This element can also be inserted into a drink cabinet also equipped with glasses and an ice machine to have everything you need for the preparation of drinks.

Refrigerator
In a quality kitchen, like the Linear Kitchen with Sliding Cover, one cannot forget the optimal capacity cooling systems. For this reason, you should consider a refrigerator to complete the functional layout of your outdoor kitchen: ideal for ensuring the preservation of flavour and freshness of food and drinks. Refrigerators can be visible or hidden inside cabinets.

Gas/induction hob
Gas or induction hob for an Island Kitchen With Sliding Table ? The choice depends on your functional needs and above all your way of cooking. The gas hob is a widely used, practical and efficient solution that allows the instantaneous adjustment of the temperature of the burners. The induction hob is more efficient and guarantees the optimisation of cooking and energy consumption times.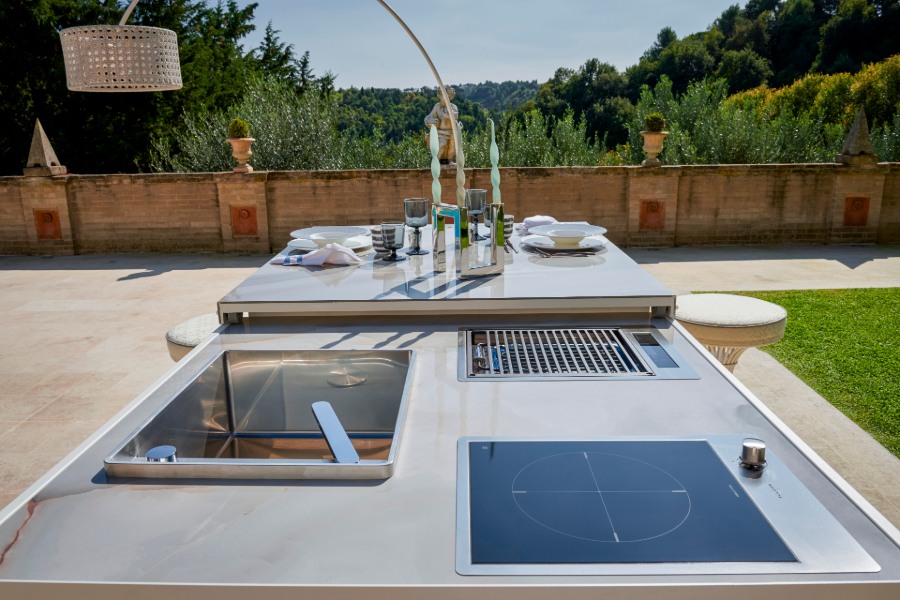 Teppanyaki
It is a cooking tool of oriental origin as well as an exclusive option with strong technical content, proposed in the Linear Kitchen with Manual Cover model. Teppanyaki offers a functional value added to your kitchen.

Oven
The oven is one of the appliances for cooking that plays a central role in the kitchen. The highest performance and suitable solutions guarantee capacity, resistance to high temperatures, multiple functions, combined cooking types and efficient control systems.
All the kitchens proposed by DFN provide protection solutions for household appliances. The option is to choose kitchens equipped with a sliding and drop-down cover that protects the entire top when used or choose appliances with their own single protective cover.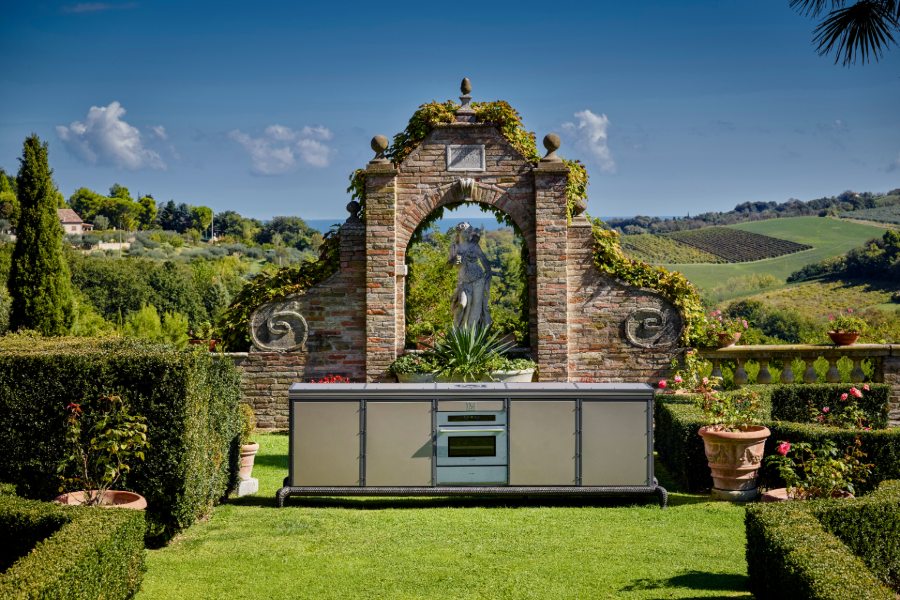 Choose DFN appliances: equip your luxury outdoor kitchen properly
Ergonomics, efficiency, performance are the keywords that define the ideal working atmosphere in an outdoor kitchen.
An outdoor space where it is essential to enjoy optimal tools and functional comforts that guarantee the smooth performance of kitchen activities.
If you want a complete kitchen with technical qualities that does not renounce to aesthetic performance choose DFN.
In the Samuele Mazza outdoor kitchens, the glamorous look generated by the combination of exclusive finishes and materials meets the high performance of efficient tools and appliances, ensuring the outdoor kitchen you've always wanted.