Outdoors, a normal routine becomes an exclusive experience. That's why everything becomes splendour in a luxury outdoor kitchen. Designing an outdoor kitchen area means combining high-performance and a sophisticated design into a single solution.
To do this, it is necessary to carry out careful research to identify the best inspirations of style and functionality to create a complete outdoor kitchen in a structural and aesthetic sense.
But how can an impeccable result be achieved?
In this article, you will find some innovative luxury outdoor kitchen ideas for creating a project of high technical and stylistic performance.

12 original luxury outdoor kitchen ideas
The best luxury outdoor projects in kitchen design are full of personality, that is, a complete structural profile and a captivating aesthetic image.
Below, you will find 12 original luxury outdoor kitchen ideas to guide you and inspire you in creating an outdoor cooking area with high technical and stylistic content:


Let's explore each point together.

Luxury gazebo or bioclimatic pergola
The key to outlining the perfect outdoor atmosphere is to give shape to the space that will host the outdoor kitchen.
Above all, it is essential to create a protected and welcoming environment, where you can move around in total comfort. To meet this functional need, without sacrificing style, you could design a luxury gazebo or a bioclimatic pergola.
Bioclimatic pergolas are the ideal solution for experiencing and protecting outdoor spaces. The system for moving the slats that make up the roof is the most characteristic technical feature of these structures. The adjustable motorised slats guarantee complete protection from bad weather, allowing you to regulate the solar intensity and favouring natural ventilation.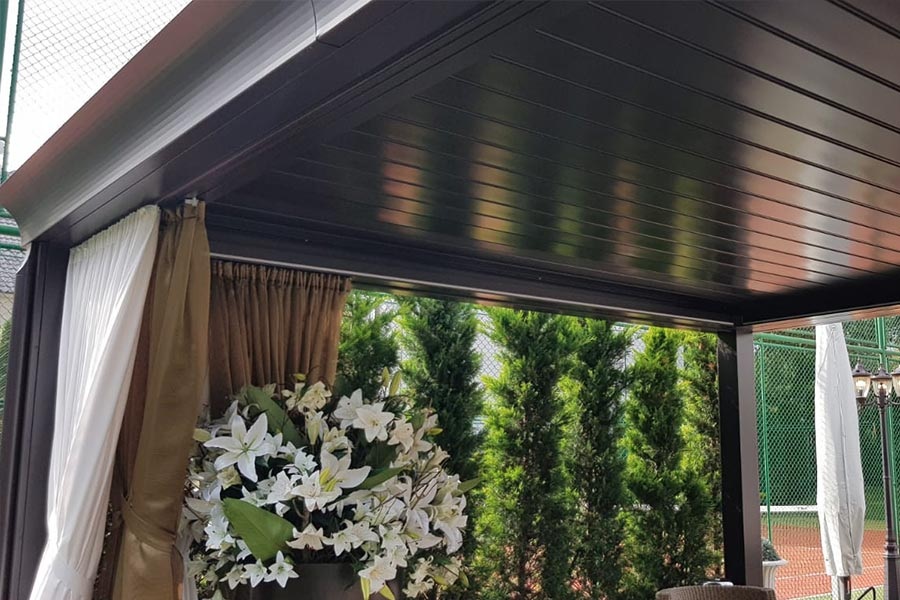 Corner kitchen
Once you have created the perfect location for your outdoor kitchen, you need to choose the type of arrangement that best suits the space. In this regard, you could opt for an angular kitchen, which is one of the most suitable solutions, offering total comfort and ergonomics and also granting you ample freedom in furnishing.
Corner kitchens are characterised by an extremely versatile layout as they show remarkable adaptability to large and medium-sized areas. In fact, this type of kitchen can find a place both in large open spaces and angular-cut outdoor spaces.
Furthermore, outdoor L-shaped kitchens ensure a highly functional configuration of the hob, sink and refrigerator, thus respecting the rule of the "work triangle".
Finally, it should be pointed out that L-shaped kitchens allow you to create an even more pleasant and liveable atmosphere outdoors. The two adjoining floors arranged in an angular sense leave an ample space in the centre for outdoor tables and chairs or even with sofas and small coffee tables.
Linear kitchen
In a kitchen area, a linear arrangement of the main task areas (hob, sink and fridge) may even be just as functional. The linear kitchen guarantee, first of all, a more comfortable and smooth workflow. Moreover, it presents remarkable structural and aesthetic versatility. Therefore, this design option is also suitable for furnishing outdoor spaces.

U-shaped kitchen
Ideal for large outdoor spaces, the U-shaped kitchen is certainly one of the layout proposals most suited to freestanding designs.
Given the optimal configuration of the "work triangle", this type of arrangement ensures a comfortable performance of the preparation phases and liveability at 360 degrees. In fact, U-shaped kitchens offer the possibility of separating the task areas from the more convivial spaces, i.e., the areas used purely for meals.
This kitchen model, most often used indoors, is also suitable for outdoor use. Outdoors, the U-shaped kitchen acquires an even higher aesthetic and functional potential.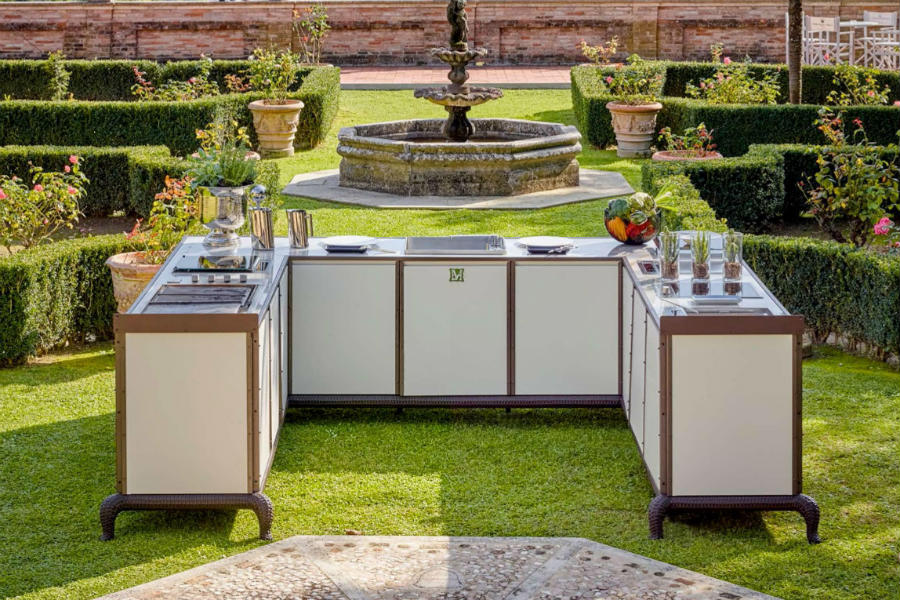 Top in stainless steel or porcelain stoneware
In order to be efficient and stylistically attractive, outdoor kitchens must be made with quality materials and personalised with precious and unusual finishes.
For the kitchen top, select materials with an impactful, durable and resistant appearance. Materials such as stainless steel and/or porcelain stoneware, for example, could be the ideal choices in terms of design and performance.
Marble-effect porcelain stoneware, in addition to its aesthetic appeal with great thickness, is extremely resistant, hygienic and easy to clean. It is without a doubt an excellent solution to enhance your kitchen while preserving its integrity.
On the other hand, stainless steel: a highly resistant material of innate elegance, makes its material strength a technical and aesthetic value added, inimitable. Stainless steel combines excellent structural qualities, which is why it is used to make tops, covers and appliances.

Base in metal or synthetic rattan woven by hand
To complete the aesthetic aspect of the kitchen, make sure the styles and materials agree with the rest of the structure.
If you want to give a more modern look to your customer's cooking space, opt for a metal base. However, if you prefer a glamorous look, we advise you to choose a bridge structure covered in woven synthetic resin. In addition to elegantly decorating the kitchen, this is a high-performance solution for the outdoors. It does not discolour, it resists temperature changes and weakens mould and parasites.

Glamorous finishes and details for a kitchen with a great stage presence
To enhance the visual appeal of the entire composition, select the most daring and unusual finishes. Choose platinum, gold, bronze and metallescent or pearly effects.
Your kitchen will shine like a precious design jewel under the sun.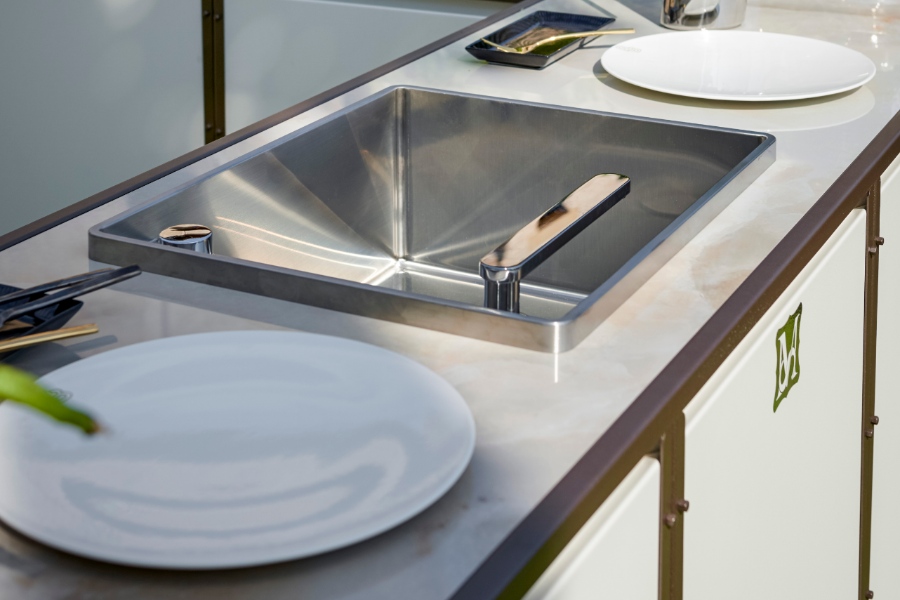 Covers that become comfortable worktops
For a kitchen that will not go unnoticed, there are sliding or fold-down covers that can be activated with a remote control to protect it when not in use, which are also convenient worktops or snack tables when needed.

BBQ and protective cover
Making a technically complete kitchen design involves the choice of efficient appliances and cooking tools.
To fully meet the expectations of your customers, select a kitchen with a BBQ and protective cover. Both are inevitable in the ideal kitchen environment.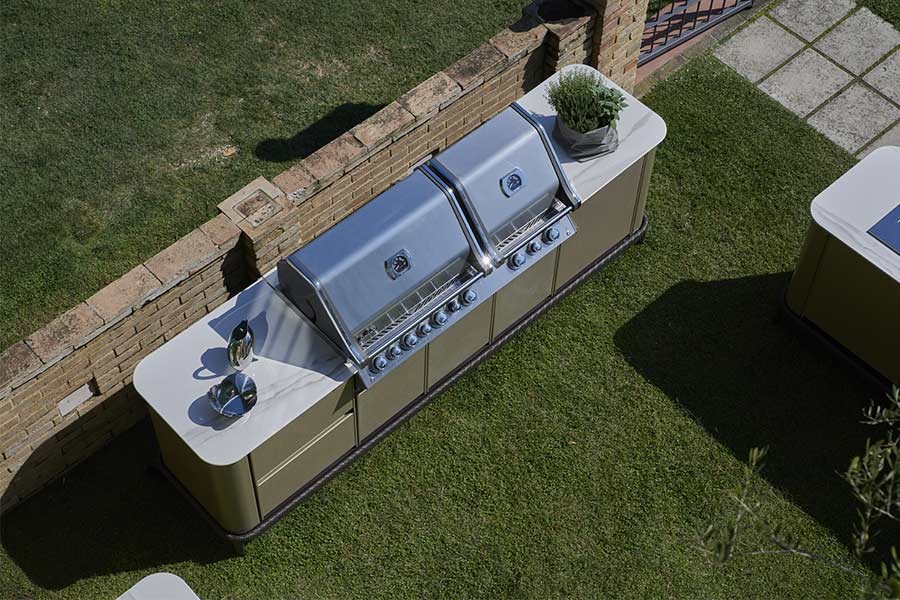 Grill and/or fryer
To offer a broader choice of cooking methods, equip your kitchen with a grill or fryer. In addition to reflecting the true essence of the outdoor lifestyle, these tools complete the technical profile of the kitchen.

Drink Cabinet
For those who like to indulge in precious moments of relaxation while sipping a good glass of wine at the right temperature, having a kitchen with a wine cellar is ideal.
To offer a complete cooking area, you could insert this additional luxury element into a drink cabinet equipped with glasses and an ice machine.

Elegant furnishing accessories
One of the main advantages of designing an outdoor kitchen is the possibility of extending the same comforts to outdoor spaces that usually only indoor places can provide.
Complete the outdoor kitchen you are designing with elegant and sophisticated furnishing accessories. Specifically, sofas and armchairs, tables, chairs, outdoor lights can be used to extend the unique and welcoming atmosphere of the living area outdoors. Or you could use a bar counter with chairs and lights to recreate an authentic lounge area to entertain guests.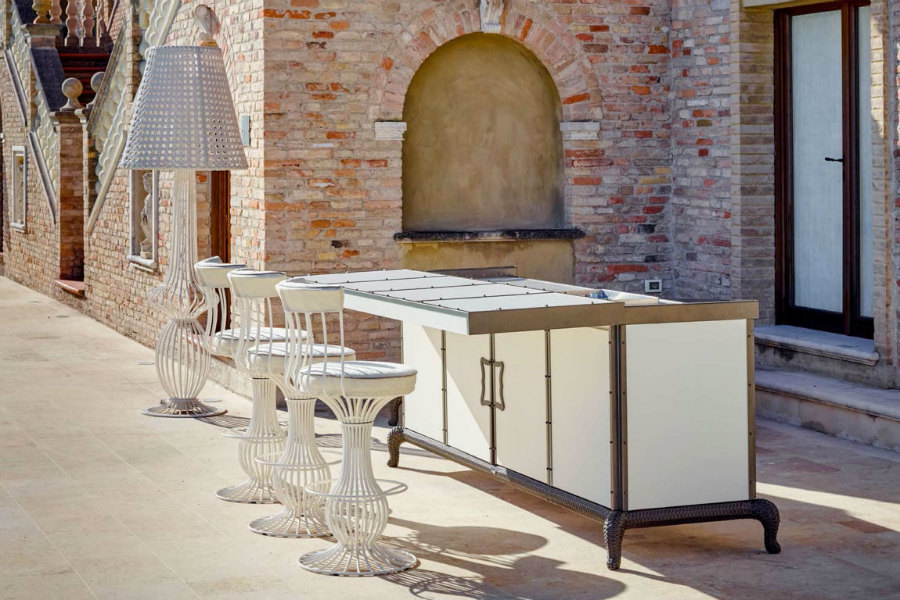 Decorative accessories
Finish the entire location with outdoor decorative accessories. Enrich the luxury gazebo or pergola with brightly coloured vases and flowering plants. In addition, we advise you to introduce storage complements such as storage boxes, to have every necessary object at hand.

Luxury outdoor kitchen ideas: create the perfect outdoor space
When it comes to designing an outdoor kitchen, it's important to create the perfect outdoor space to accommodate it. To do this correctly, let yourself be inspired by our luxury outdoor kitchen ideas.
Outdoors, it is essential to enjoy the high performance of a structurally complete kitchen and, at the same time, an element with a glamorous and elegant design.
Select the kitchen that best reflects your customer's needs, as well as the right compromise between technology and style.