Experiencing the outdoors with a luxury outdoor kitchen is the new outdoor lifestyle trend. You should be able to enjoy the high performance of a structurally complete kitchen and an element with a glamorous and elegant design, not only indoors but also outdoors.
Therefore, designing an outdoor cooking space means outlining a functional and high-performance setting based on the client's needs, to transform your normal routine in the kitchen into an exclusive experience.
If you want to give an outdoor kitchen a touch of unique and personal taste, pay close attention to the client's technical and stylistic needs.
Below, you will find 5 guidelines to create a welcoming and aesthetically pleasing environment equipped with everything you need.
5 key tips for customizing a luxury outdoor kitchen
Customizing a luxury outdoor kitchen means creating a bespoke outdoor space for the client, trying to accommodate functional needs and aesthetic preferences.
To do this correctly and obtain a glamorous, refined and, above all, resistant and durable design, it is necessary to follow these 5 key steps during the design process:
Let's proceed step by step.
1. Select durable materials for the kitchen's construction
Being subjected to the continuous exposure of atmospheric agents, outdoor kitchens need a robust core that is highly resistant to bad weather.
This is why it is necessary to select high-performance materials that make the entire structure durable.
The most suitable materials for the construction of outdoor kitchens are:
Porcelain stoneware
This material has great aesthetic and technical value and is used to cover doors and surfaces. It has infinite texture options that can faithfully reproduce the finest marbles. It is also characterized by excellent hygienic properties and high resistance to UV rays, frost, abrasion, and oxidation.
Stainless steel
Used in the production of tops, covers, and appliances, it is highly hygienic, resistant, durable, and easy to clean. It is also very aesthetically pleasing thanks to its sober and modern nature.
Powder-coated and treated metal
The structures made of steel treated for outdoor use and powder coated, in addition to ensuring high strength and solidity, allow for a wide range of customization with refined finishes, ideal for emphasizing the visual impact of the kitchen.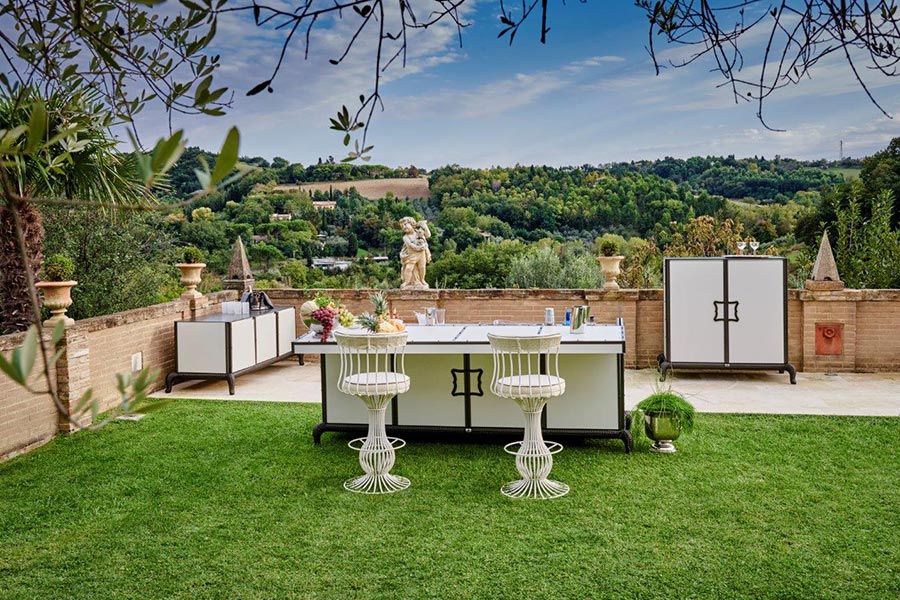 2. Plan the layout and dimensions
It is important to set the kitchen's dimensions according to the client's requests, carefully planning the layout in such a way as to correctly accommodate the workflow and guarantee ergonomics and freedom of movement.
The most suitable layouts for outdoor spaces are:
L-shaped kitchen
Ideal for corner spaces, the so-called corner kitchen ensures a practical workspace that is set up well, configured according to the "work triangle", a highly functional arrangement of stovetop, refrigerator, and sink.
U-shaped kitchen
This widespread arrangement provides a free central space, with a table and wall worktops; the U-shaped kitchen, having more substantial dimensions, allows greater space for movement and a wider range of equipment.
Island kitchen
This modern layout is perfect for making even an outdoor space welcoming and intimate; in the island kitchen, the central islet is ideal both as a support surface and to host the different stages of food preparation.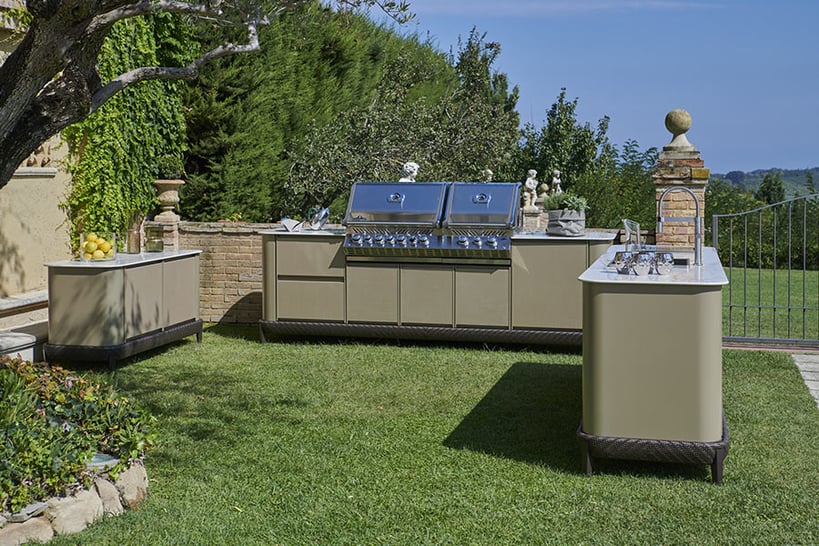 3. Choose the kitchen's base
By choosing a kitchen on a raised deck, the entire structure rests on feet, so it is raised off the floor. Naturally, the choice between the different bases for outdoor kitchens depends exclusively on the client's aesthetic preferences.
To personalize the kitchen with a modern taste, you could choose between metal bases for a bolder and more modern look, or bases in hand-woven synthetic rattan for a more classic style.
Both rattan and metal guarantee excellent performance in outdoor environments, as well as excellent durability and resistance to temperature changes. They also create aesthetic compositions with great decorative potential.
4. Select elegant finishes
Let your client add a touch of personal style to the kitchen by selecting finishes that are elegantly eye-catching.
The best luxury outdoor kitchens have a solid and sturdy soul, given by the high-performance materials that make up the structure, without sacrificing the visual appeal of fine finishes.
Pearlescent and metallescent effects, gold, bronze and platinum finishes, give a sophisticated image to the outdoor kitchen and, overall, constitute its distinctive aesthetic character.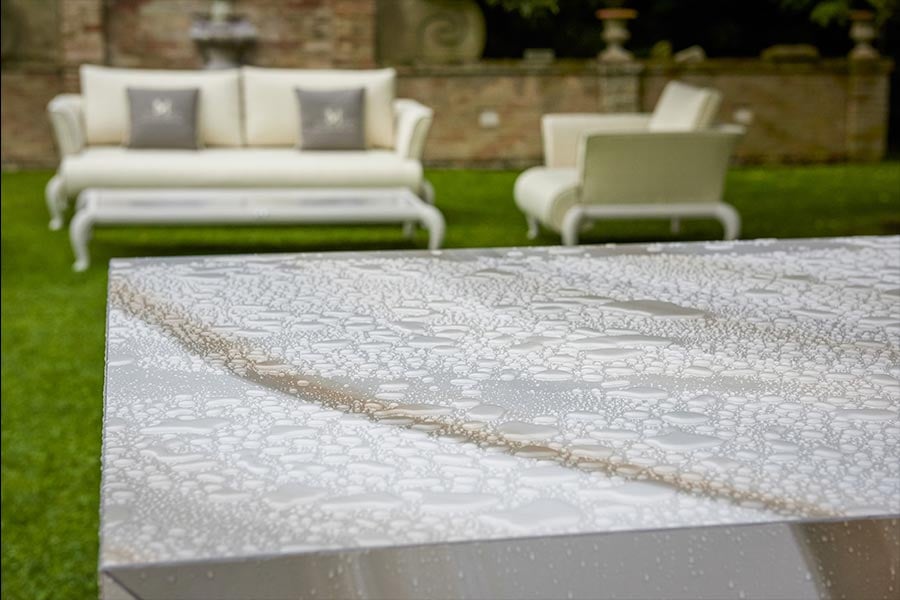 5. Choose appliances that meet the client's needs
An outdoor kitchen's performance also depends on the tools selected to equip it.
Make sure you select high-performance and hi-tech tools and appliances that allow you to carry out each phase of food preparation in total comfort. Next, we will look at the tools with which a luxury outdoor kitchen should be equipped.
In particular:
Induction or gas stovetop
The choice between these two options is up to the client. The induction stovetop is characterized by a smooth and uniform surface, but the gas stovetop has a completely different design and conformation.
With due care and attention, both solutions are efficient in terms of cooking, are easy to clean, and have an elegant design with an essential style that is indisputably versatile.
Bar and drink cabinet
For those who love to indulge in precious moments of relaxation while sipping a good glass of wine at the right temperature, a kitchen with a wine cellar is ideal.
With the aim of offering a complete cooking area, you could place this additional luxury element inside a drink cabinet equipped with glasses and an ice machine.
Fridge
The refrigeratore can store food and drinks and have them ready when needed to prepare excellent lunches, dinners, and aperitifs with family or friends.
Oven and barbecue
Creating a technically complete kitchen design project implies the choice of efficient appliances and cooking tools.
To fully meet your client's expectations, select a kitchen equipped with an oven and BBQ. Both are inevitable options in the ideal kitchen environment.
Grill or deep fryer
To offer more cooking methods, equip your kitchen with a grill or deep fryer. These tools, in addition to reflecting the true essence of the outdoor lifestyle, complete the kitchen's technical profile.
All household appliances must be guaranteed optimal protection.
There are appliances specifically designed for outdoor environments that are equipped with their own stainless steel covers and kitchens equipped with integrated covers that protect the worktop from atmospheric agents and dirt. Sliding or folding, activated by remote control, they allow you to protect the cooking area when not in use.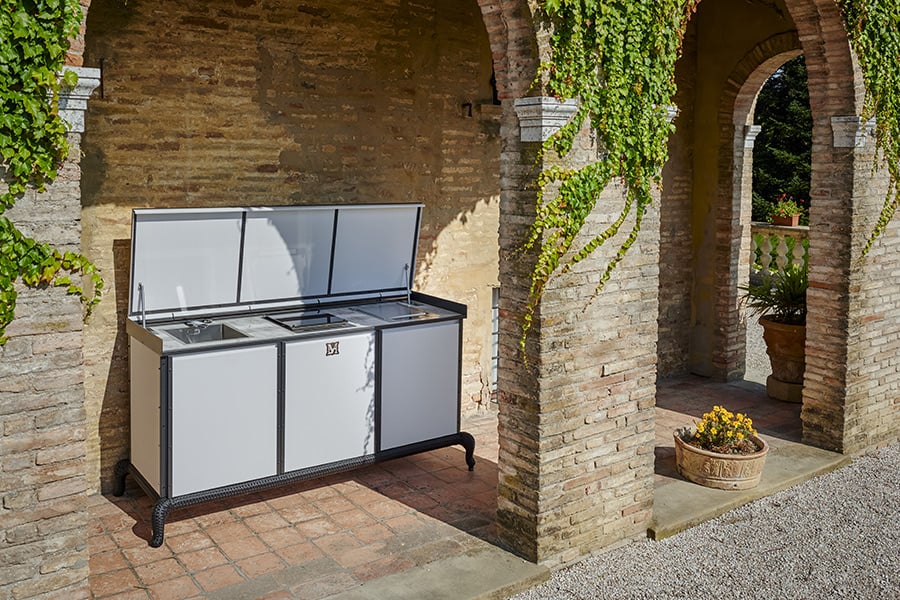 For the best results make sure you choose one of these options.
In addition to the protections systems integrated into the kitchen, there are protective covers: inevitable elements in a luxury outdoor kitchen. The covers are made with particular technical fabric that fit your kitchen, adapting perfectly to its shapes, and guarantee complete protection.
Luxury outdoor kitchens: DFN's top latest solutions
The kitchen has always been a space for building intimate and personal relationships, and everyone has their own idea of how to enjoy this environment. DFN is able to satisfy this prerogative even in outdoor environments with a dedicated design service.
Our technical staff works together with the client throughout the entire process, available to respond to any request, whether simple or complex.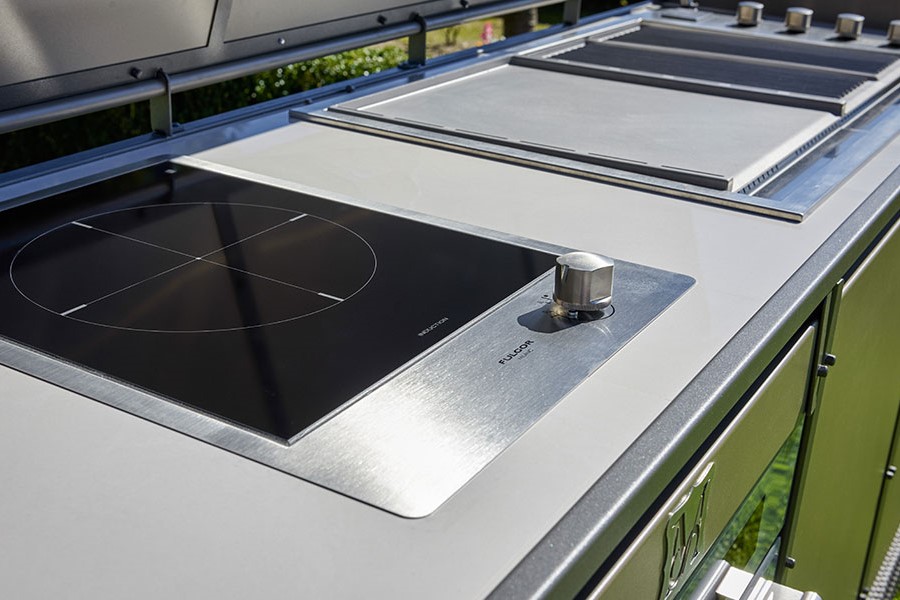 Luxury curved kitchen: the ultimate dining experience by DFN
A true icon of style and performance. The new luxury curved kitchen by the Samuele Mazza Outdoor Collection combines refined finishes, advanced technologies, and a bold profile.
This innovative model is totally customizable, always at the discretion of the client and their technical-stylistic needs.
This high-performance design treasure has an attractive design: rounded sides, automatic sliding cover and doors decorated with a micro-glass mosaic covering with iridescent reflections.
This kitchen area combines style and functionality. By sliding the top to one side, the cooking space turns into an equipped worktop and the cover becomes a comfortable snack table.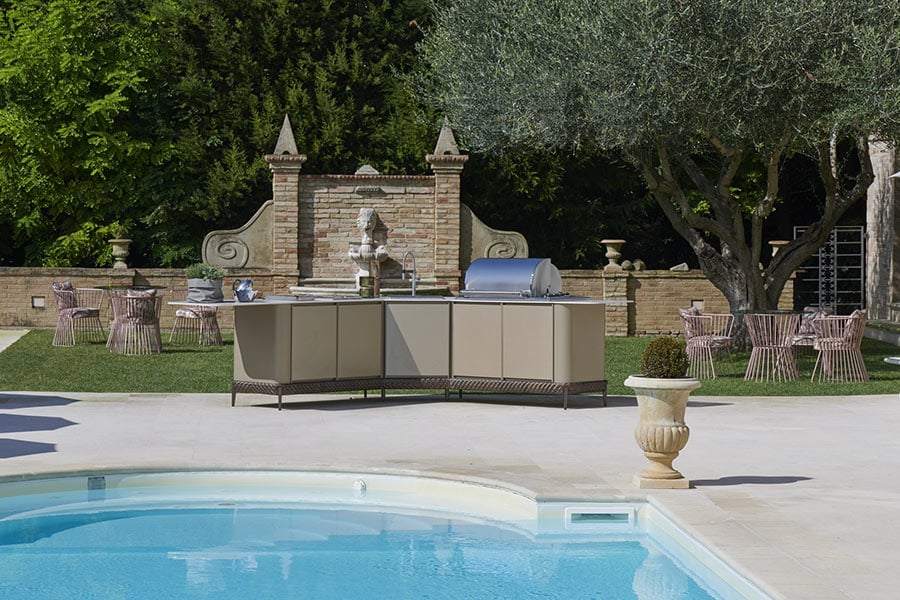 Refined design and high performance: our luxury outdoor kitchen's winning formula
Choosing a luxury outdoor kitchen by DFN means giving personality to a home's outdoor spaces, allowing the owners and their guests to have an exclusive experience, enjoying all the comforts of an indoor kitchen outdoors.
The best outdoor kitchens arise from the winning combination of a sophisticated design and technical qualities: essential aspects that DFN is able to guarantee.
It offers a complete and customizable product, both structurally and purely in terms of aesthetics, and ensures a complete customer assistance service from the beginning design stages to the final result.