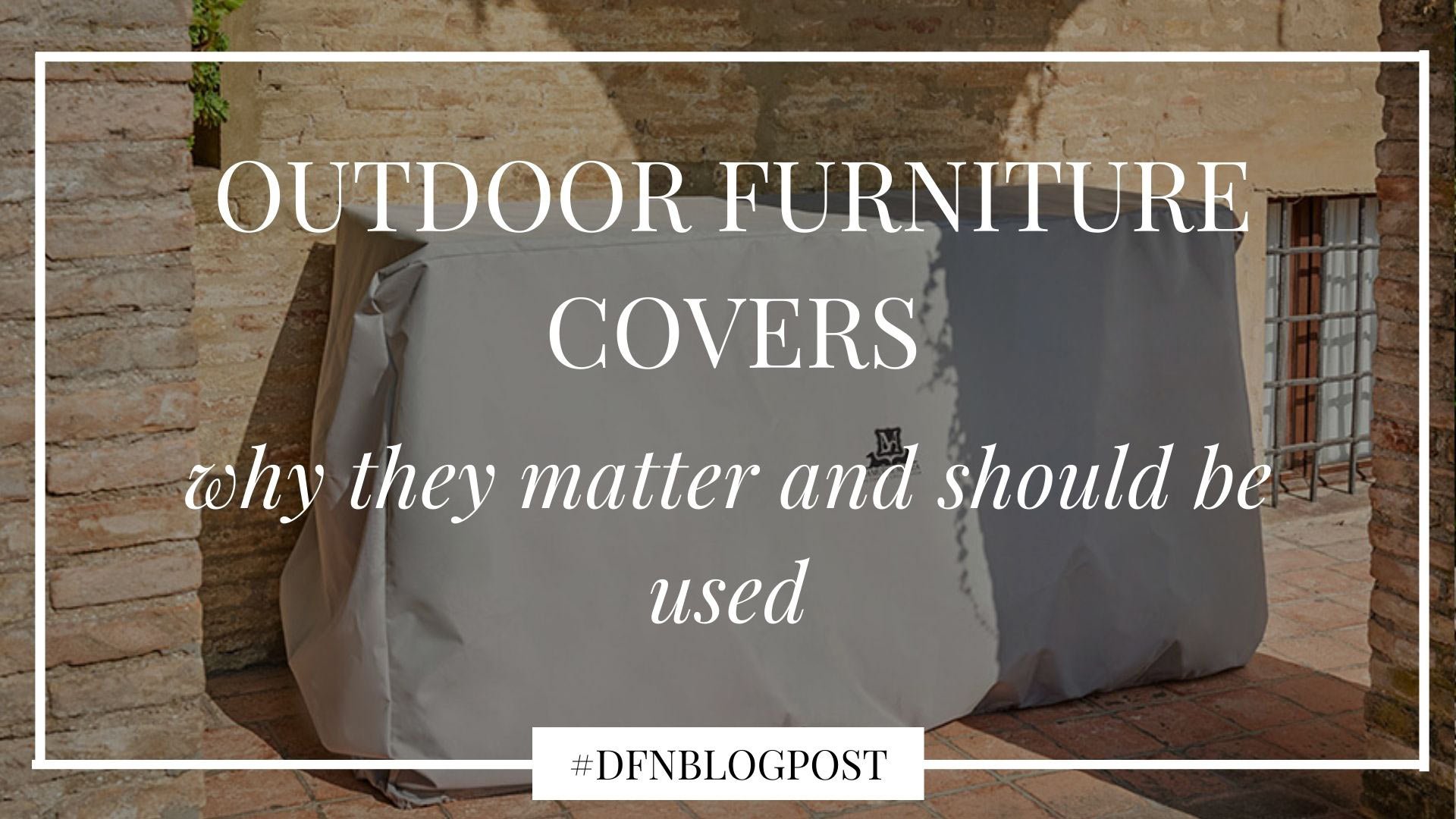 The most beautiful and comfortable luxury furnishing scenarios find their place in outdoor settings immersed in the greenery of nature. Whether it is in the shade of a bioclimatic pergola, a luxury gazebo, or a conservatory equipped with all the comforts of an enclosed space, your patio's furnishings need protection so that they do not deteriorate and remain beautiful over time.
The designer furniture designed for the outdoors is made with resistant, high-performance materials suitable for any context, but this is not enough to ensure that their aesthetic conditions remain unaltered over the years.
In periods of inactivity, the accessories may be subject to various atmospheric events such as rain, snow, wind, humidity, heat, salt water, and even the salty air typical of coastal areas.
To best protect each element, you will need the best covers for outdoor furniture.
Outdoor furniture covers: 5 factors you need to consider before buying them
Given their central role in furniture protection, before buying any type of outdoor furniture cover, you should consider several key points.
Below, we will illustrate 5 factors to consider before making a purchase:
Let's continue step by step.
1.
Protective covers must be made of breathable fabric
The first characteristic of high-quality protective covers for outdoor furniture is the material they are made of. The ideal protective covers should be breathable, but waterproof at the same time.
Why is this important?
Because the breathable fabric lets the air in and out, counteracting the formation of humidity, an element that gives rise to mold that can damage your furniture's upholstery, especially if positioned in a location with a tropical climate.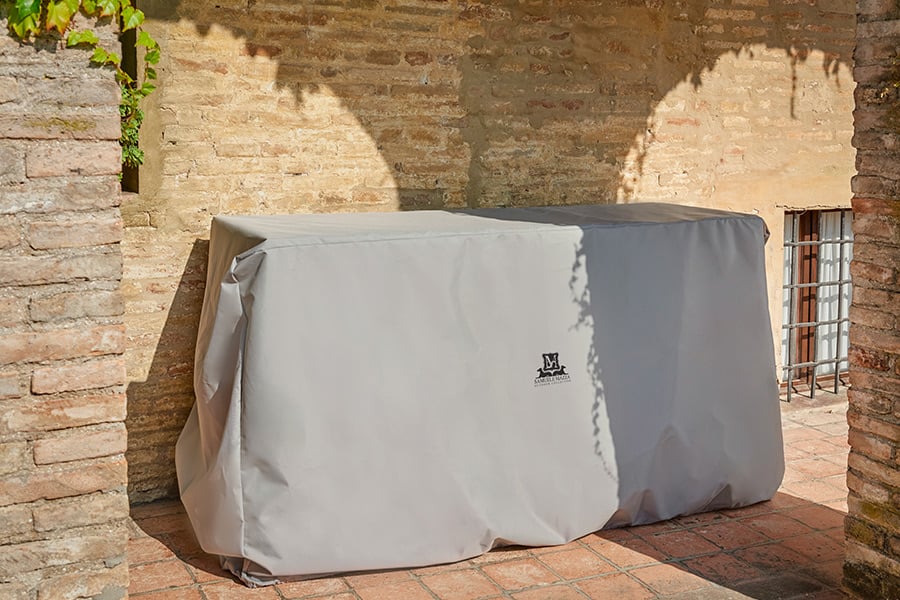 2. The covers must be water resistant
Outdoor furniture slipcovers should be made with waterproof fabrics. The covers must guarantee total protection from liquids.
This feature is essential, because if the covers were to absorb liquids they could transfer it to the furnishings. This would cause the formation of moisture within the furnishing, causing aesthetic damage, which is difficult to remedy.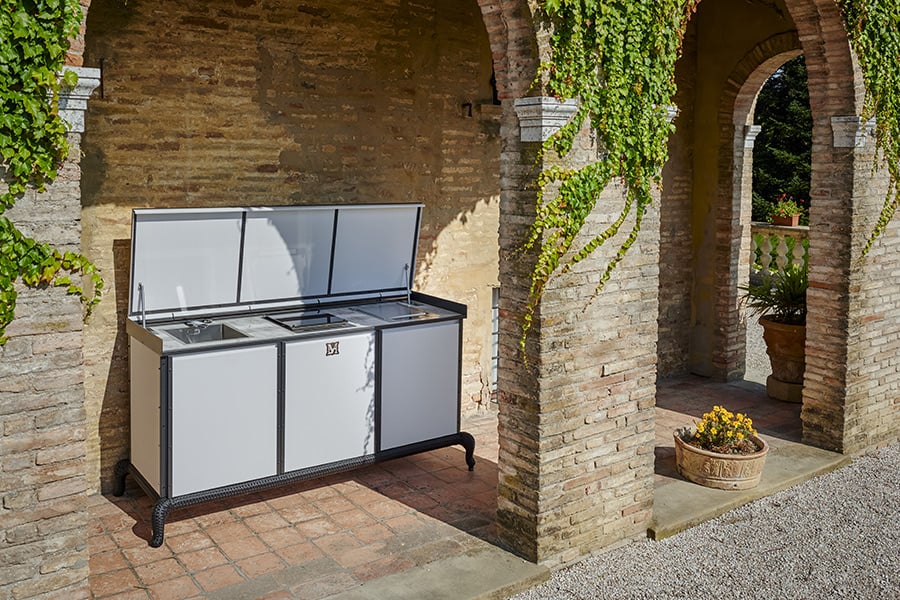 3. Protective covers must be fitted with special zips and stitching
The protective covers that you purchase must have special zippers and seams in order to dress the furniture in the true sense of the word.
The zipper facilitates the covering operation, but it is important that the zipper and the seams are perfectly sealed so as not to let any liquids through.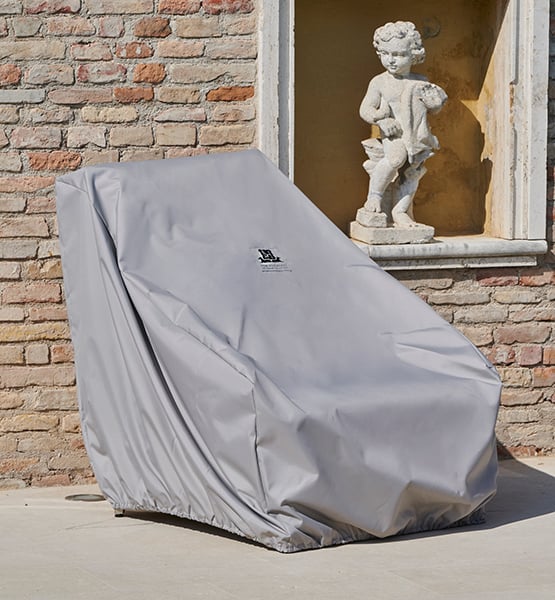 4. The covers must be made with certified materials
Always opt for covers made with certified technical, waterproof, and breathable materials.
The cover is an indispensable element designed to protect the furnishings so that they are always kept clean, beautiful, and comfortable.
Therefore, to protect your furnishing elements better, choose protective covers made with certified technical materials that guarantee breathability and waterproofing.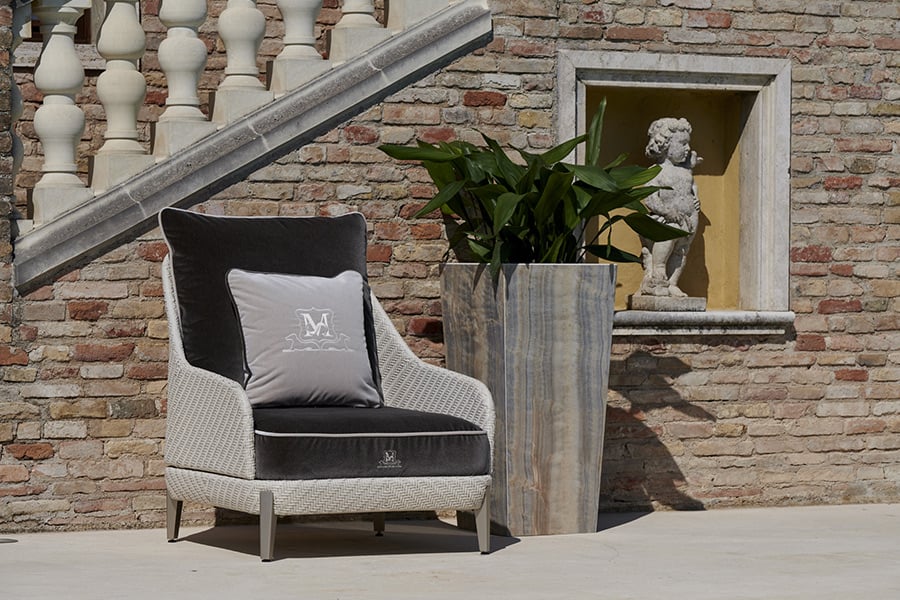 5. Protective covers must fit properly on the furniture
Last, but not least, the covers will need to dress the furniture properly.
The best covers feature a series of variegated shapes suitable for the various furnishing accessory designs. By adapting perfectly to the shapes of the furnishings, the covers will guarantee complete protection.
DFN creates customized covers according to your taste and needs: fabrics, textures, dimensions, softness, and embroideries made ad hoc to satisfy the client's requests.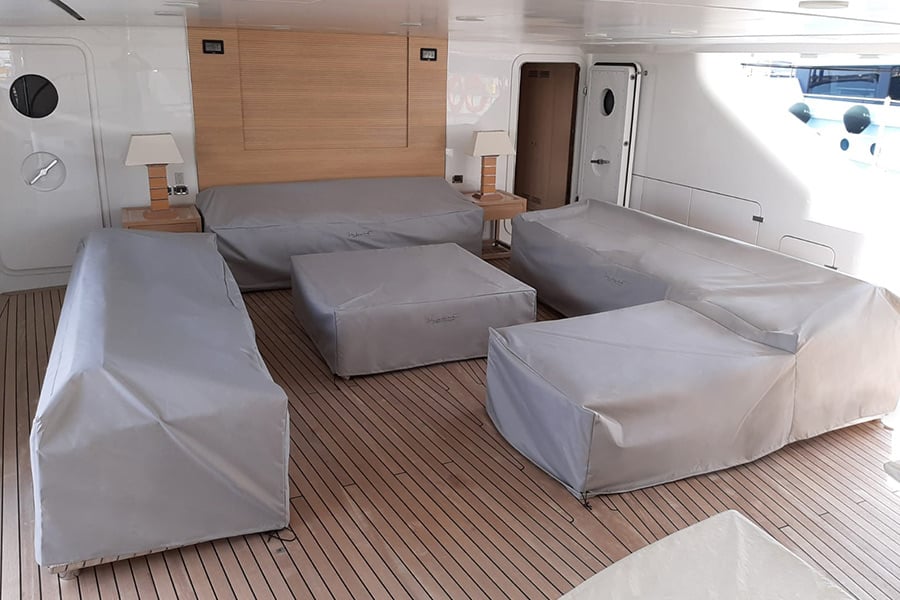 Outdoor furniture covers: care and maintenance
So far we have seen how important it is to have quality covers for your outdoor furniture.
Now, we will focus on the care and maintenance they need so that they can remain flawless over time.
One of the best ways to keep protective covers in excellent aesthetic-functional condition is to make sure that dirt does not settle and to provide for regular cleaning.
Here are some simple steps for a general cleansing ritual:
Remove light dirt residues with a sponge or soft bristle brush
Prepare a liquid solution made with neutral soap and warm water (1 measuring spoon of soap per liter of water)
Leave the solution on the fabric for a few minutes
Rinse thoroughly to remove all soap residues
Allow the fabric to air dry
As for stubborn dirt and the most difficult stains to remove, we recommend the following:
Apply a light foam obtained from the mixture of neutral soap and water using a spray can
Spread the solution on the stain by scrubbing lightly with a sponge or soft bristle brush
Rinse thoroughly to remove all soap residues
Blot excess liquid with a clean, dry towel or sponge
Allow the fabric to air dry
If necessary, repeat steps 3 and 4 until all soap residue is removed
To wash the covers by hand, it is advisable to:
Soak the fabric in a solution of warm soapy water (1 measuring cup per liter of water)
Use a sponge or soft bristle brush if necessary
Rinse thoroughly to remove all soap residues
Allow the fabric to air dry
If you wash them in the washing machine, it is advisable to wash them in cold water. Depending on the washing load, use indicated amounts of mild laundry detergent and add 1 scoop of bleach.
Tips for drying:
Do not dry clean
Allow the fabric to air dry
If the fabric has some wrinkles, iron if necessary, but only on the synthetic section
As some irons exceed the recommended temperature for synthetic fabrics, we suggest trying to iron a small portion of the fabric before ironing the entire piece.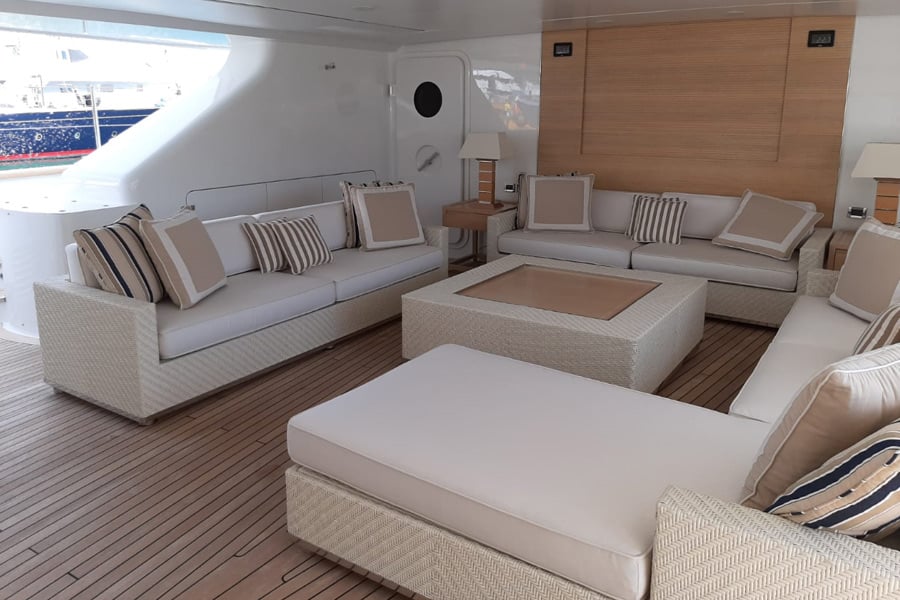 Outdoor furniture covers: the best way to protect your furniture
The covers for outdoor furniture must meet the 5 different criteria that we have shown you.
DFN's covers meet these specific functional needs, without sacrificing style.
Carefully choose the furnishings that will outline your outdoor furniture scenario, and select with equal attention the necessary protections to ensure that each piece of furniture can always be kept in optimal aesthetic and functional conditions.