You are working on an important outdoor design project, and your client would like to create a modern, refined and welcoming furnishing atmosphere that can, above all, last as long as possible.
Is it possible to achieve a similar result? The answer is yes.
To make the most of the outdoor environments of an elegant home, aiming at maximum durability and resistance, it is necessary to select valuable materials, indicated for the realization of furniture elements of great aesthetic appeal and remarkable technical qualities.
In this article, we will show you the best materials for luxury outdoor furniture projects, paying particular attention to the technical and aesthetic characteristics of each one.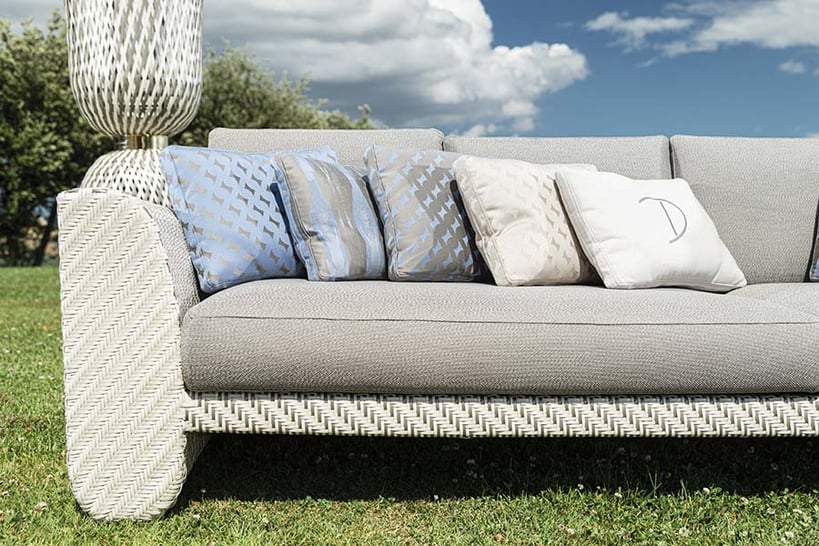 The 9 best materials for luxury outdoor furniture
To create a furnishing composition with a great aesthetic impact, without neglecting the functional side, it is necessary to select high-quality technical materials.
Below, we will show you the best materials for luxury outdoor furniture for the realization of your design project:
Natural materials
Synthetic materials and metals
We will now take a closer look at these categories.
Natural materials for sheltered outdoor areas
Rattan
Rattan is a precious material of natural origin that comes in the form of a cane. It is imported from Southeast Asia and after a careful selection is used in the production of furnishing structures.
The main features of this material are:
Elasticity
Flexibility
Lightness
The rattan cane is curved by heating it with fire. Furthermore, rattan can be painting.
Wicker
Wicker is obtained by drawing out the inner part of the rattan in different diameters, in the round or flat-oval version.
Wet and then hand-woven exclusively, it allows the creation of textures with more varied designs. Wicker can be colored through special painting processes.
Parchment
Parchment is a precious material of natural origin, is highly resistant, and is obtained from the skin of an untanned animal that is cut into thin strips that are then braided.
It is used both for ligatures, in this case with a decorative value, but also for giving life to large textures. It is suitable for being colored, and the application of a fixative enhances its aesthetics and resistance, protecting it for a long time.
The advantage of rattan, wicker, and parchment furniture is that they allow you to create a furnishing scenario in natural finish with dense and precious textures that come from the skilled hands of artisans. To preserve its beauty and durability, we recommend using it in sheltered areas such as porches and verandas protected from rain and direct sunlight.
If you are fascinated by the art of weaving and "handmade" production, check out our Natural Rattan collection.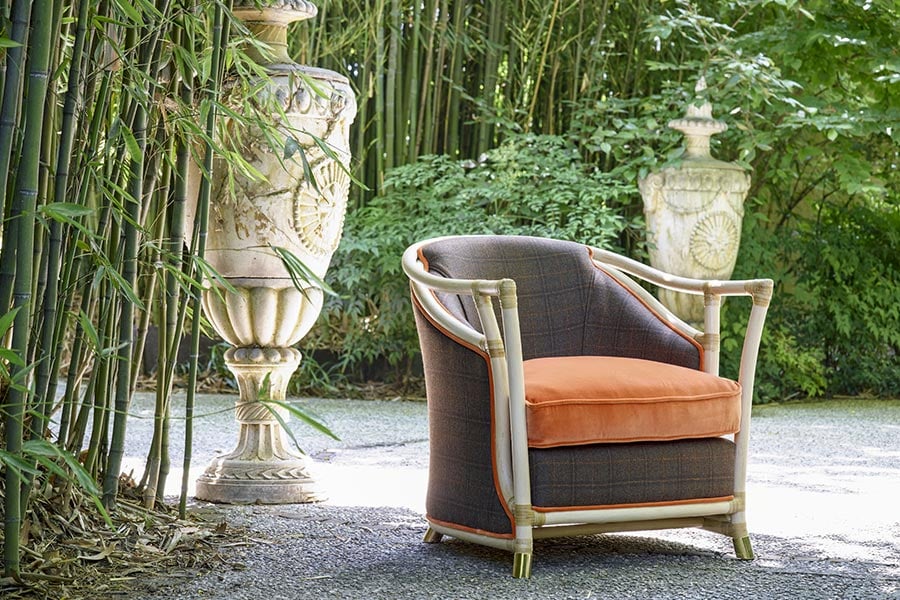 Synthetic materials and metals for fully outdoor areas
Synthetic fiber
Over time, to respond to a growing market demand that desires elegant furnishings that last, new synthetic materials have been developed that combine the appearance of natural fibers with the performance of a material that can be outdoors.
The furnishings made of synthetic resin have an internal aluminum structure to guarantee lightness and strength at the same time.
The synthetic resin that covers the structures is a one-of-a-kind material since it does not fear atmospheric agents or discolor when exposed to UV rays. It also resists low temperatures and cannot be attacked by salt, chlorine, mold or parasites.
These features, combined with the simple maintenance, make it perfect for prolonged use in outdoor environments.
Cushions and fabrics
Ensuring a relaxing and welcoming stay outdoors should be the main objective of each architect and designer involved in setting up outdoor spaces.
To ensure comfort and aesthetics at 360 degrees, select cushions and fabrics suitable for outdoor use. On the market today, there is a wide range of proposals that perfectly reproduce the fine fabrics used in indoor environments, such as chenille, linen, and satins that are, at the same time, designed to be used outdoors.
We advise you to always opt for completely removable cushions so you can wash them and choose fabrics with water-repellent properties, resistant to the aggression of the sun, moon, bad weather, chlorine and saltwater, that are stain-proof and anti-mold.
Protective covers
To ensure greater protection during periods or times of non-use, we suggest covering each piece of furniture with a special protective cover, made with certified technical materials, waterproof, and breathable . The cover is an indispensable element designed to protect the furnishings so that they always remain clean, beautiful to look at and are able to live in excellent conditions of comfort.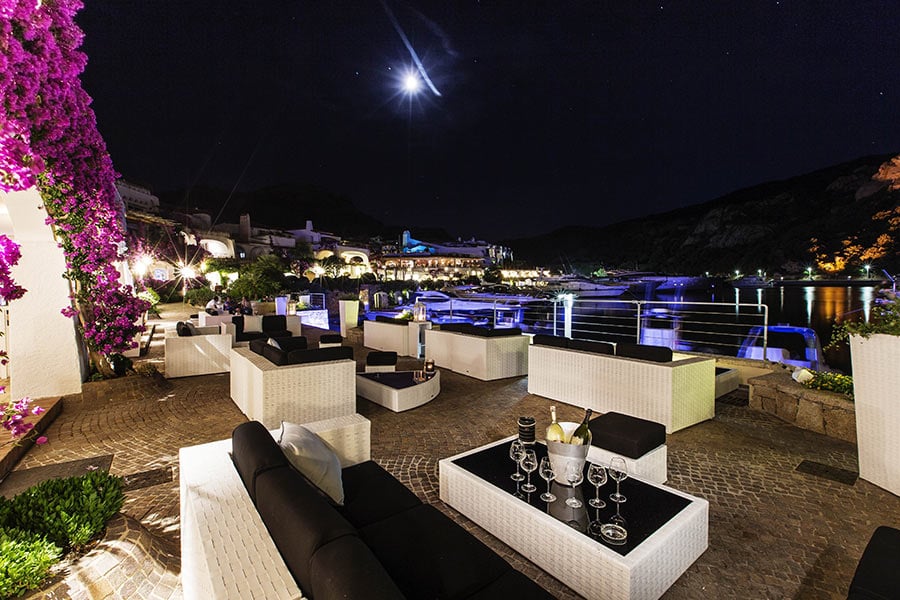 Metals
Iron
A material that never goes out of fashion is iron. Robust, compact, and extremely durable, the iron subjected to specific treatments (cataphoresis) and made unique by the use of paints with excellent technical characteristics (powder coating) allows us to obtain different color solutions that last over time.
A mix of surprising properties that leaves no room for doubt: iron offers functionality and style in unique furnishing proposals, ideal for setting up elegant outdoor spaces.
Aluminum
Extremely versatile , aluminum can be extruded or cast in any shape or design. Favored for its lightness and strength, aluminum is often used for interior furnishings.
It requires minimal maintenance, does not rust if exposed to high or low temperatures, and is light, so it is perfect for being covered with other materials that give an elegant and comfortable appearance to the furniture.
Steel
Steel is an emblem of durability, as well as great elegance. Powder-coated galvanized steel is the best option for making furniture such as outdoor kitchens, given its high resistance to atmospheric agents.
Thanks to their durable and extremely versatile nature, in purely aesthetic terms: iron, steel, and aluminum combine technical qualities with aesthetic potential in a perfectly balanced combination, ideal for those looking for luxury outdoor furniture with a modern look that can last over time.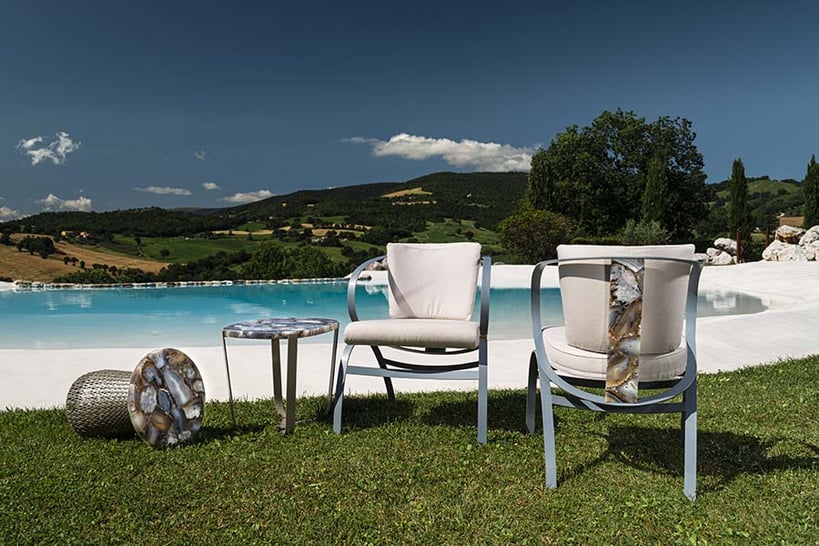 Design the perfect alfresco space: choose the best materials for luxury outdoor furniture
When resistance is combined with style and comfort, the ideal furnishing composition is born, as well as a setting for impeccable outdoor spaces both from a functional and aesthetic point of view.
In this article, we have illustrated the most suitable materials for the realization of luxury outdoor furnishing projects, highlighting the advantages and inherent qualities.
Let yourself be inspired by our Sublime Collection and Outdoor Collection lines: the refined design and the value of the best materials used in the best furnishing solutions.