When it comes to deciding which outdoor furnishing elements to include in your luxury outdoor design project, it is essential to evaluate each specific aspect, from aesthetics to functionality.
First of all, the factor that should influence your choice is certainly the type of material with which each piece of furnishing is made. Although there are practically no 100% weatherproof garden furnishings, there are large differences in performance and durability based on the materials used.
Before deciding, it is important to understand the strengths and weaknesses of various material options. The choice of the best material for outdoor furniture depends on the specific needs of the client, as well as on the typical weather conditions of the location where the furniture composition will be placed.
In this article, we will show you which materials are most suitable for high profile designs.
Outdoor furniture material: 10 aspects you should consider before choosing
Before proceeding with a review of the finest outdoor furniture materials for the creation of the best outdoor furniture, we will look at the main aspects to consider in the process of selecting the furnishings that will constitute the furnishing atmosphere of your luxury project. In particular:
Let's analyze each of these aspects individually.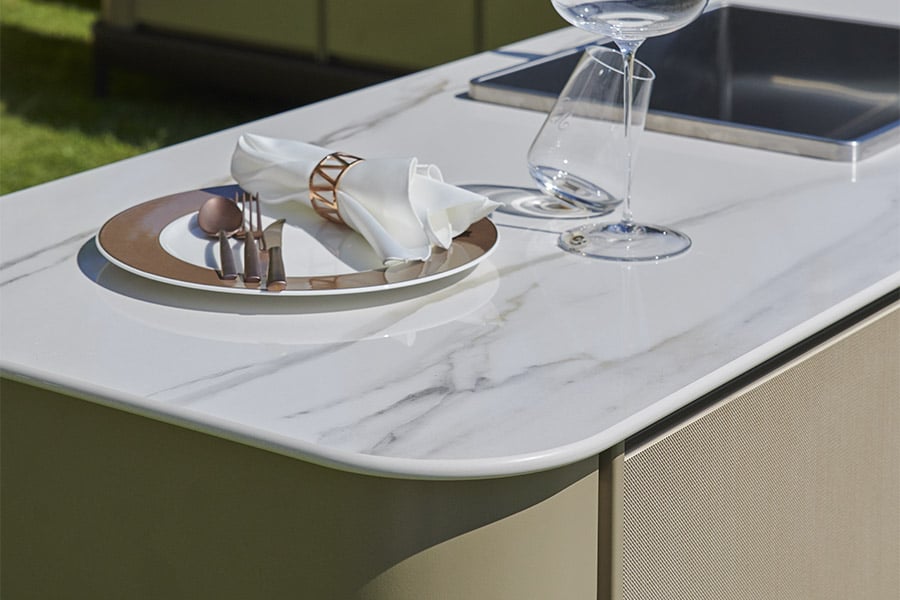 1. Rain and humidity
If the project's location is in an area where there are frequent thunderstorms, or there is high humidity, you should make sure that the chosen furniture is resistant to damage caused by various water-based problems. Stagnant water or retained moisture can physically degrade the material.
2. Mold
Humid weather conditions create an environment in which various strains of fungi thrive. The organic materials that retain water are sensitive to mold, which can cause respiratory problems, irritation, and other health problems. Putrefaction, on the other hand, leads to the biodegradation and decay of the material.
3. Rust and corrosion
Metals that contain iron or steel are subject to corrosion if continuously exposed to water and oxygen. The corrosive oxidation process slowly weakens these metals, causing visible rust and discoloration. Salt in the air and water accelerates the chemical process, so rust is often more common in coastal regions.
4. Warping
The materials that allow water to penetrate can dry unevenly and cause obvious deformations of the original shape of the furniture. Initially, it may be unnoticeable, but over time it can significantly distort the material, misalign the seams and loosen the screws and other fasteners used to hold the furniture together.
5. Sun and temperature
If the project's location is in a predominantly sunny area or a place with sudden climatic changes, you will have to go in search of outdoor materials able to resist damage caused by strong UV rays and sudden changes from hot to cold.
6. Cracking
Some materials expand and contract significantly when exposed to heat or cold. They can break, deteriorate, or become fragile if subjected to extreme temperatures or drastic changes. Dry air can also cause furniture to bend and break.
7. Heat retention
Heat can lead to various comfort and aesthetic problems. As well as fading and losing shine, outdoor furniture left in the sun can overheat and become uncomfortable and unpleasant when in contact with the body.
8. Wind
If the project is placed in an open and extremely windy area, it will be important to make sure that the outdoor furniture is heavy enough not to tip over or deform.
It doesn't take much to damage a nice light deck chair or a dining table, so it's crucial to take the necessary precautions. Otherwise, the client will be forced to keep and store the furniture safely when not in use.
9. Durability
Some outdoor materials can last for years in ideal conditions, but it may be necessary to replace them every two seasons if exposed to adverse weather conditions. Another variable related to durability is the use.
If you eat outdoors on a dining table on a patio or in a luxury gazebo only a few hours a day in the summer, then it will have less wear than the sun beds and chairs that line the edges of the swimming pool, if your project includes one, for example. The more frequent the use, the more durable the materials should be.
10. Difficulty of cleaning and maintenance
Aesthetic and functional durability is also influenced by the care of garden furniture. Some materials require very little attention season after season since they are easy and quick to clean thanks to the aid of water, soap, and simple products. Others require more demanding care and special products to keep them beautiful and working properly.
The 7 best outdoor furniture materials you should choose for your project
Here is a selection of the main materials used for the realization of luxury outdoor furniture:
Let's study more closely the technical-aesthetic characteristics of each material.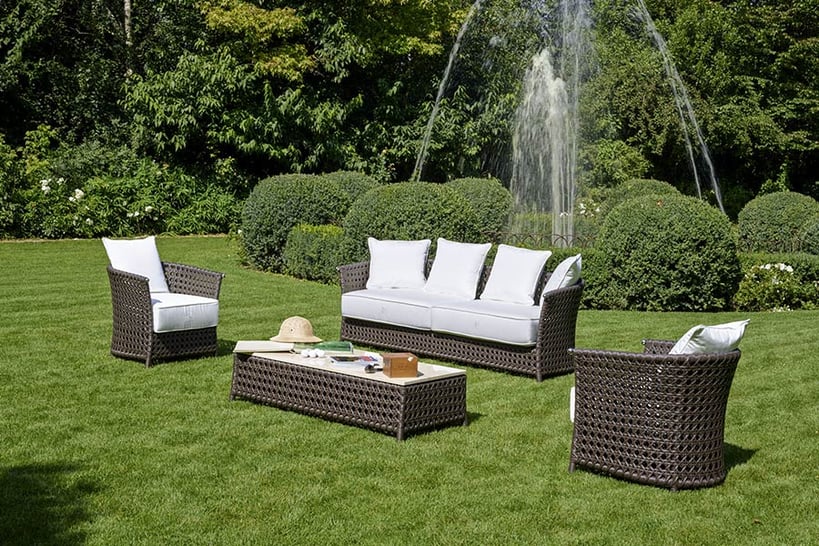 1. Stainless steel
Stainless steel is a chromium-rich steel alloy that is extremely strong, corrosion-resistant, and 100% recyclable, therefore, it is ideal for the construction of outdoor kitchens, dining tables, sofas, and modular outdoor units of great weight.
Its composition makes it immune to rust and corrosion, but it is still highly advisable to choose powder-coated stainless steel for greater resistance, especially in coastal areas where salty air and water are present.
Its high density helps prevent dents and other damage from frequent use. When comparing the types of stainless steel, the higher the chromium content, the more resistant the alloy to atmospheric corrosion.
Luxury outdoor furniture made of stainless steel is heavy and does not tip over or get damaged in the wind. It is also possible to say that stainless steel is one of the high-end modern outdoor furniture materials because its elegant silver metallic finish gives a chic and contemporary look to the furnishings it covers.
Although it is expensive, stainless steel is worth every penny and its use is widespread in the nautical environment.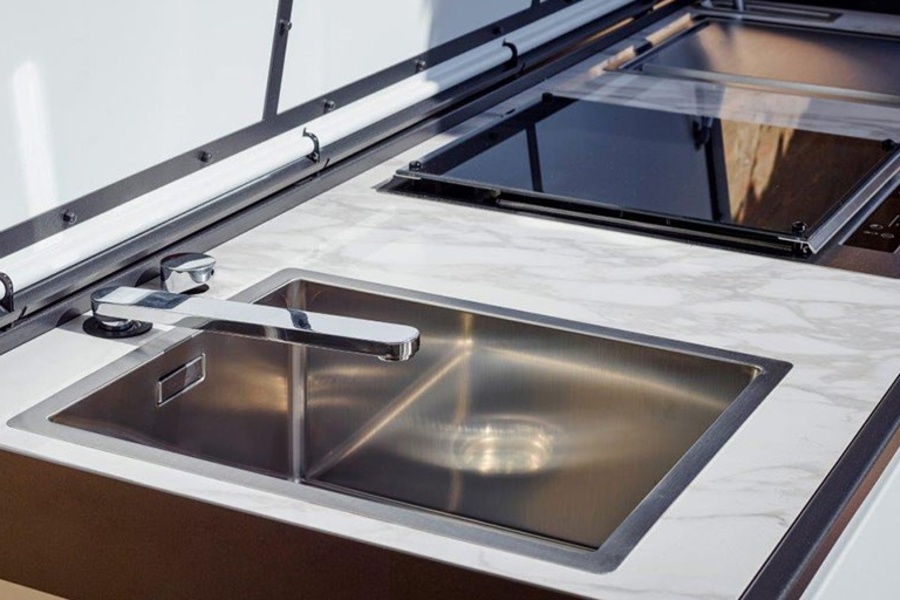 2. Metal
Metal is typically the most resistant and durable material for outdoor furniture.
Thanks to its strength, metal frames can be thinner and modeled in more complex designs than other options, offering manufacturers greater flexibility in style. Metal is also an excellent choice when used in combination with other materials that have their functional and aesthetic advantages.
Various production techniques can create metal chairs and tables that do not require bolts, screws, or other fasteners, which make other types of furniture more susceptible to breakage.
However, metal also has its drawbacks. It heats up in the sun, making it uncomfortable to touch. Some metals are very heavy and difficult to move, while all metals are somewhat vulnerable to rust and corrosion, but each type of metal has its own unique characteristics.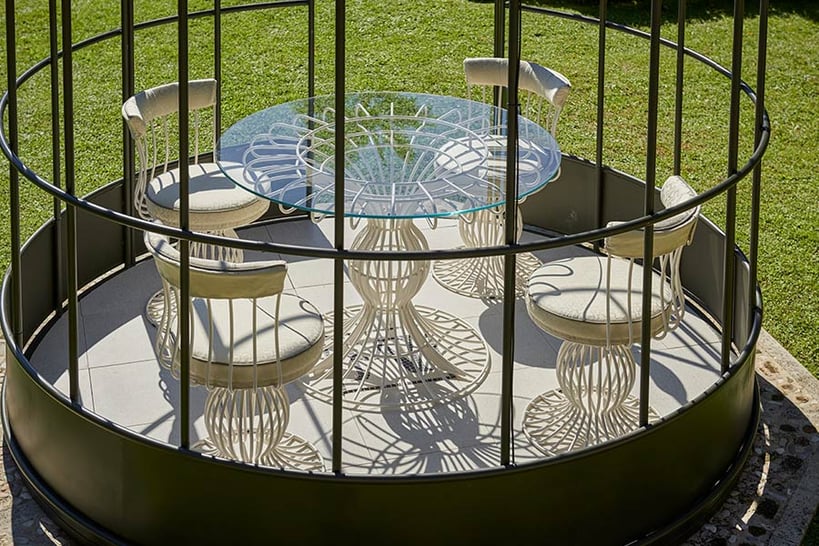 3. Teak
Teak, also known as "tectona grandis", is a deciduous tree, belonging to the family of Lamiaceae plants, native to tropical forests. It is the most popular choice of wood for outdoor furniture.
Its high demand, combined with limited availability, has pushed the price of this fine grain wood extremely high. This material has numerous features that make it ideal for outdoor use.
It is incredibly strong and does not deform, break, or become fragile like many types of wood. This is because teak repels most of the water and does not expand or contract in the drying process. It has a high content of natural oil, which makes it highly resistant to damage from rot, decay, and insects.
This resistance against the elements allows teak to last longer--up to fifty years! Its splendid honey brown appearance can be maintained with minimal lubrication, or it can become an attractive silver gray over time, if not treated.
Most garden furniture brands have at least a few pieces made from this beautiful wood. It is relatively easy to clean and can be cleaned with mild soap and water.
4. Aluminium
Aluminum is the most popular metal for outdoor furniture. Despite being light, it is durable and can be easily worked into a variety of intricate and aesthetically attractive forms.
Aluminum is relatively cheap, requires little maintenance and never rusts. Like other metals, aluminum heats up, so it's best to have seat cushions to keep you cool and comfortable.
Very often aluminum is used for the internal structures of furnishings.
5. Synthetic resin adhesive: synthetic rattan
Artificial synthetic materials, such as synthetic resin, are becoming increasingly popular in the world of outdoor furniture.
Since the color is inherent in chemical makeup, they are resistant to fading and do not require paint or sealants used by other materials. Synthetic resin also known as synthetic rattan is easy to clean and maintain. Synthetic rattan has the same appearance as natural wicker but is made of polyethylene resin, which is stronger and more resistant.
High quality resin is very dense, weather resistant, and environmentally friendly. High density polyethylene (HDPE) does not emit chemicals, is highly resistant to perforation, and can be exposed to UV rays for a long time without deforming.
Synthetic rattan is durable, light, fade resistant and easy to clean. There are lower quality synthetic wickers made of polyvinyl chloride (PVC), which tends to become fragile and crack over time.
Most garden furniture made of outdoor wicker has an aluminum structure, which increases the weight it can support. Synthetic rattan can be colored in an organic shade, making it practically indistinguishable from natural wicker. A vibrant tone can also be given, adding a touch of color to the proposal.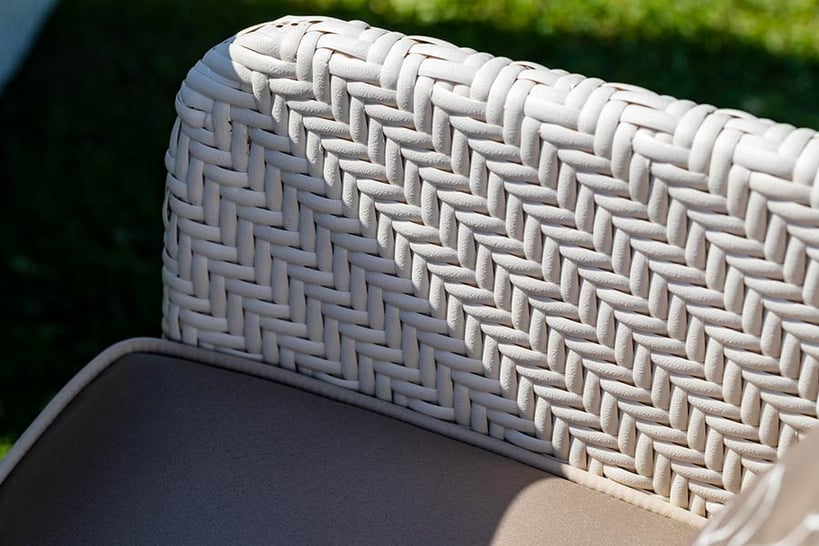 6. Cushions, fabrics, and protective covers
Opt for technical fabrics and removable cushions to allow for washing.
Choose water-repellent fabrics, resistant to the aggression of the sun, moon rays, and bad weather, to the attack of chlorinated or salt water, stain-resistant, and anti-mold to combine resistance and comfort.
In addition, to always guarantee maximum protection for the furnishings, choose protective covers made with certified waterproof and breathable technical materials.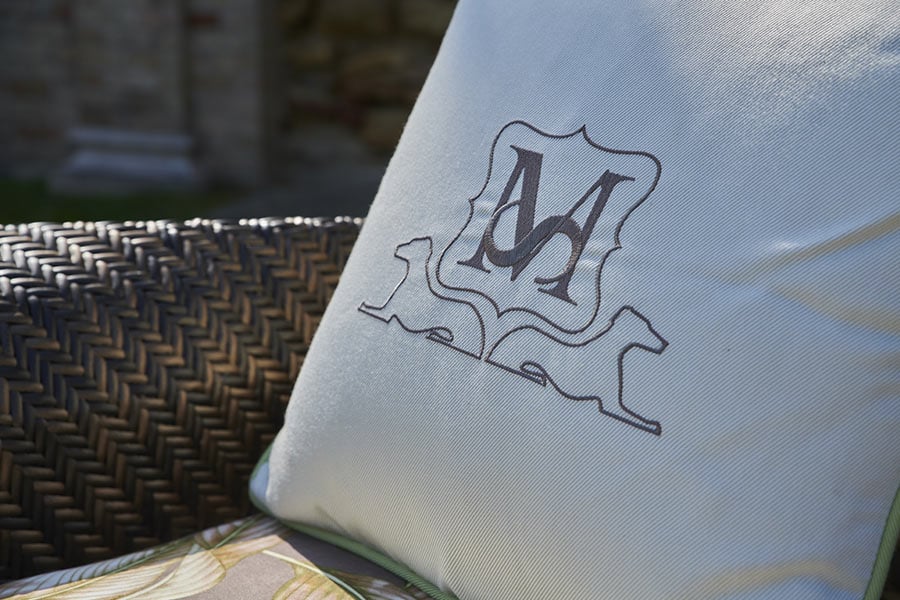 The importance of choosing the right outdoor furniture materials
The success of luxury outdoor designs certainly depends on the final result, both in aesthetic and functional terms.
What affects the final appearance of the furniture composition over time is certainly the quality of the furnishings' materials.
In this lies the importance of choosing the best materials for the construction of outdoor furniture with criteria that will set up the furniture context requested by your client.
Trust our guide regarding the selection of outdoor furniture materials and you will know which ones will be up to a high profile project.