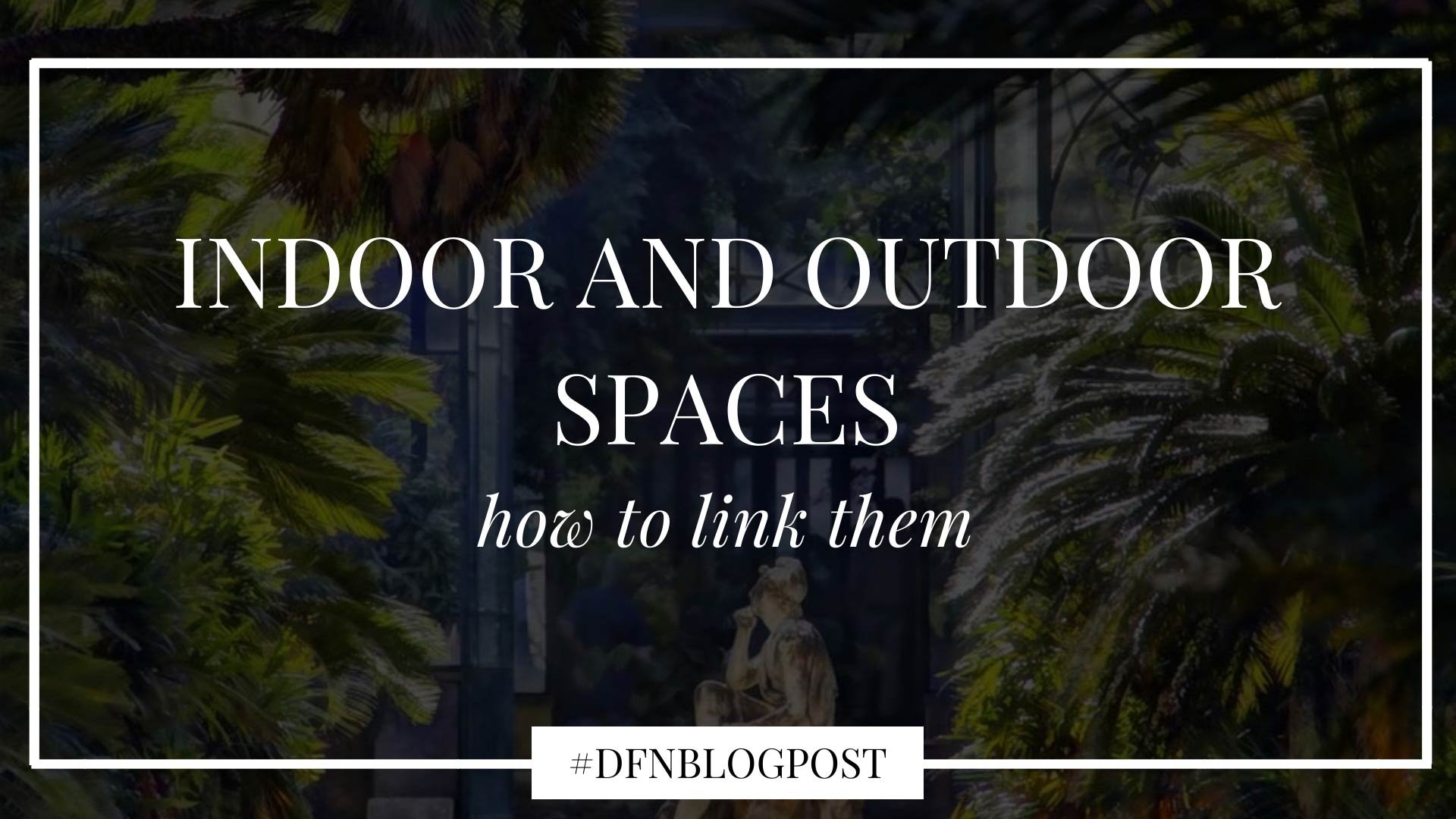 Naturally, we think of the interior of the house and the areas outside as two separate entities, with a great difference between them. However, nowadays, in the best luxury furniture projects, there are no longer borders between the indoors and outdoors, but multiple ways to connect these two areas.
The need to create a physical and emotional connection between these two areas arises from the needs of clients, who are increasingly interested in giving a sense of stylistic and spatial continuity to their homes.
But how is it possible to achieve such a result and achieve an impeccable final effect?
In this article, we will reveal some design tips to help you tie together the indoors and outdoors, creating a sense of greater space and connection and always guaranteeing functionality, comfort, and glamorous aesthetics.
7 tips on how to perfectly link indoor and outdoor spaces
From the selection of the best materials to the choice of doors and windows of the same design, below we will show you 7 tips on how to connect the indoor and outdoor areas and give the house you are dealing with a sense of spaciousness, greater space, and stylistic continuity.
If you are working on the design of a new extension, or a restyling of the living area for an open-plan space, consider these key points to connect the indoor and outdoor spaces:
Let's continue step by step.
1. Introduce French doors and/or glass doors
Provide an exclusive view to your client by introducing French doors and/or glass doors. Plan for a view out into the outdoor spaces, so that you can see the garden, a lovely patio, or the swimming pool.
Try to imagine possible night scenarios: the stars, the trees and the welcoming aura of a small outdoor living room finely furnished outside the house. All easily visible thanks to the glass elements capable of creating a visual and spatial continuity with the interior of the house.
If your goal is also to introduce more natural light, it is worth considering large windows with thin profiles, which allow the sun's rays to enter and which, if necessary, can be moved to one side in order to create continuity between the indoors and outdoors.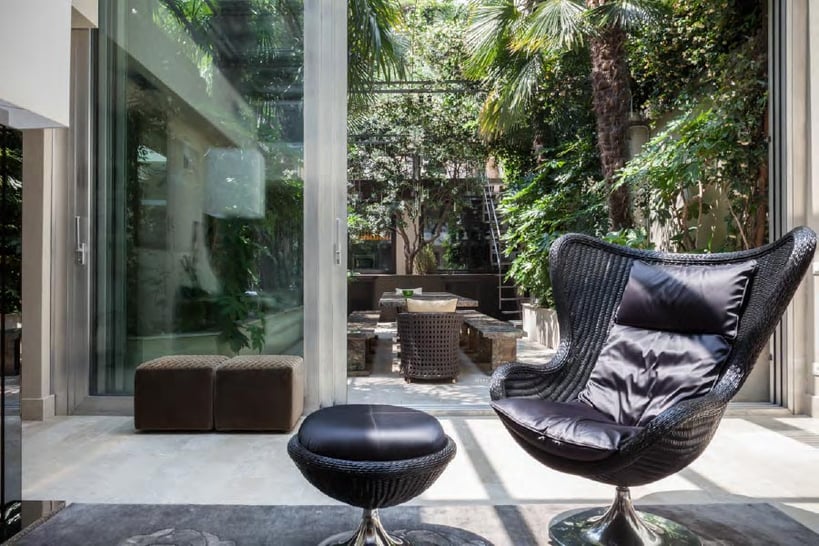 2. Install flooring that matches the indoor one
Choosing the same flooring for both the outdoor and indoor flooring will accompany your gaze towards the outdoors.
Keep in mind that the type of flooring used outdoors must be suitable for use in all weather conditions. Choose resistant and long-lasting materials for the flooring, that do not sacrifice aesthetics, that is:
Wood or composite decking;
Stones;
Porcelain stoneware;
Marble mosaic;
Pebbles and gritting.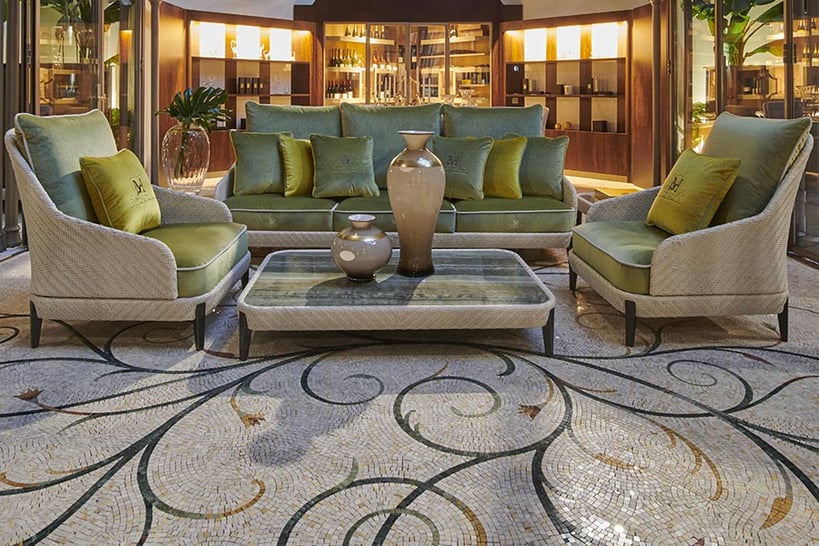 3. Choose materials and finishes carefully
For the realization of a high profile furnishing project, able to connect the indoors and outdoors, it is essential to choose materials and finishes carefully.
Your goal should be to maintain a visible stylistic harmony between the two areas and safeguard the durability and resistance of the furnishings in the outdoor spaces.
Therefore, to guide you in selecting the furniture elements correctly and in the case of a luxury outdoor kitchen, if your client wants to include one in the project, we suggest choosing:
Powder-coated steel for outdoor use
To always have high strength and durability, while still leaving room for style, choose an outdoor kitchen in powder-coated steel for the outdoors.
By opting for this solution, you will have the opportunity to select unusual finishes with pearlescent and metallescent effects. You will also be sure to create a kitchen with a glamorous but also solid and robust design for your client.
Porcelain stoneware is mainly used in the creation of kitchen tops and doors. It is a material with a versatile nature both in functional and aesthetic terms. In fact, on the one hand, it has a high-performing character since it is:
Easy to clean;
UV resistant;
Frost resistant;
Abrasion resistant;
Resistant to oxidation;
Highly hygienic.
On the other hand, it presents an enormous variety of textures, each with its own personality, all different and equally fascinating.
Given its high hygienic properties, in addition to its innate durability and resistance, stainless steel is often used in the creation of tops, covers and appliances for outdoor kitchens.
In addition to the purely technical aspects, stainless steel has an unmistakable sober and material charm in any finish. In fact, stainless steel is able to reflect light and create surprising visual effects under the sun, thanks to its countless finishes, which included:
It is the most common finish. In this case, the stainless steel takes on a nuanced appearance.
The matt finish is obtained through cold rolling, i.e., a process that passes steel sheets through special rollers to improve the surface finish. Subsequently, the steel is descaled through pickling with an acid solution before passing through the adjusted rollers.
This is one of the most popular finishes, used above all for the realization of household appliances.
A brushed finish is created by honing stainless steel in one direction. Consequently, the brushed steel has very thin parallel lines. Brushed stainless steel has a moderate shine as the texture of the parallel lines prevents the surface from reflecting light.
The mirror finish, in fact, makes stainless steel highly reflective and specular. This type of finish is obtained by treating steel with a series of abrasives that remove scratches, micro-holes, and other imperfections. Once completed, the steel is polished to a highly reflective finish.
To give greater solidity and, at the same time, a refined look, the kitchen could have a hand-woven synthetic rattan base.
Rattan is an ideal material for outdoor spaces as it resists the most sudden changes in temperature, does not discolor, is not attacked by mold or parasites, and also gives a material appearance to the structure.
With this type of base, the kitchen rests on a bridge that keeps it raised off the floor. In addition, the synthetic resin can be the element that acts as a link with the outdoor furniture, allowing the creation of a harmonious and coordinated space.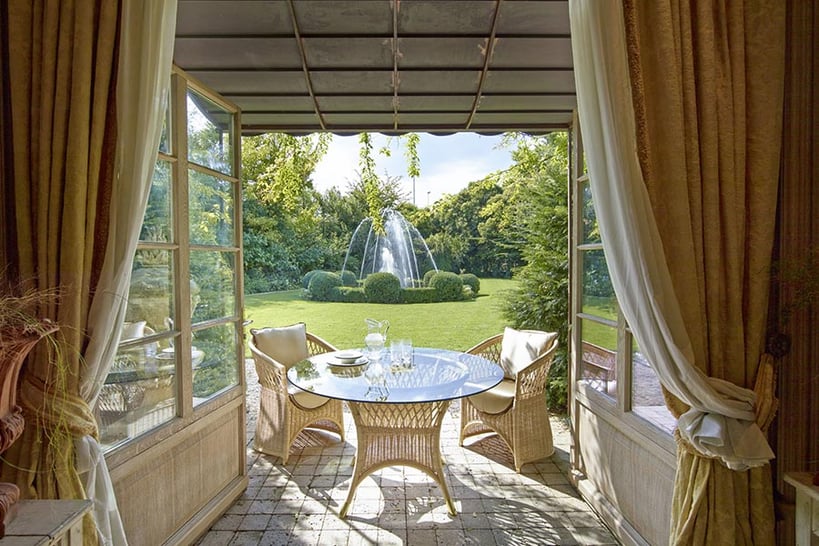 4. Choose the same furnishing concept for indoor and outdoor spaces
The indoor and outdoor areas should remain connected not only on a spatial level but above all on a stylistic level.
To give a general sense of aesthetic continuity, choose indoor and outdoor furniture elements that have the same concept (glamorous, modern, contemporary or what your client appreciates most) or at least, even if not belonging to the same collection, make sure that match each other.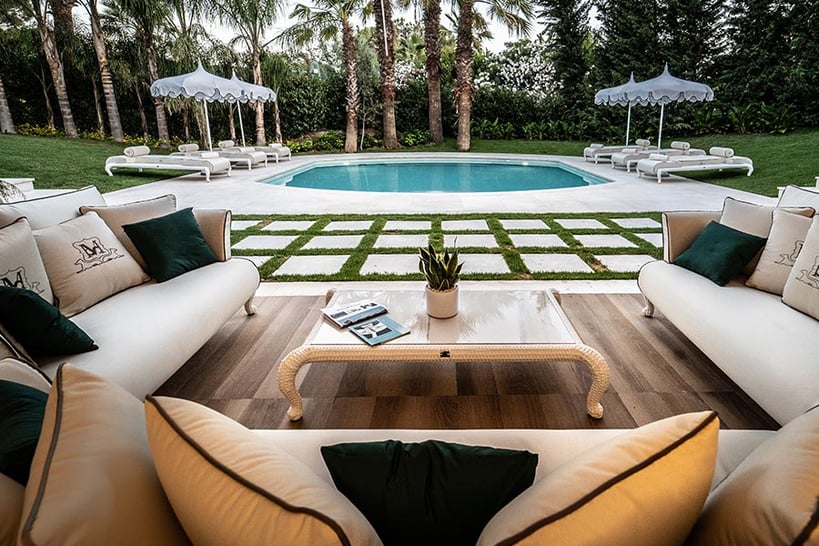 5. Create a decorative lighting composition that gives a sense of continuity
Don't let the idyllic atmosphere typical of outdoor spaces fade away at dusk.
Just like for indoor spaces, a good external decorative lighting scheme should consist of a well-organized layout with light points positioned ad hoc, so that workstations and corners of interest aren't left in the dark.
As you well know, lighting plays a central role in terms of atmosphere and functionality since it enhances the furnishing mood and allows those who occupy and experience outside areas to move in total freedom.
Choose decorative lamps in stylistic agreement with the furniture composition: arched floor lamps, floor lamps, wall lamps, and suspension lamps made with the best materials and certified for outdoor use.
Think of the possible lighting paths that you could create around the poolside, in the living or lounge area, the dining area, and the kitchen area, etc. Also, consider how you could highlight decorative elements such as plants and trees, architectural details, and so on. Naturally, you should make sure you respect your client's wishes.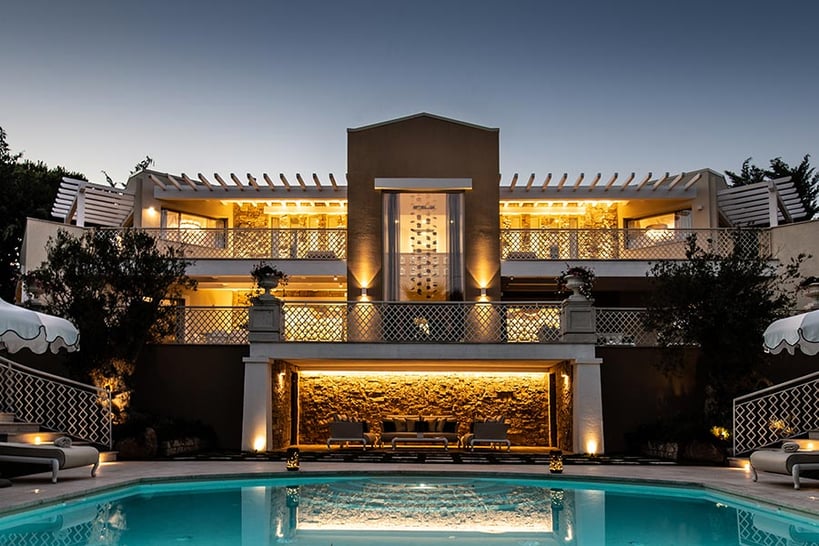 6. Introduce decorative plants both inside and out
Adding greenery where the interior of the house meets the outdoors could be a smart way to connect these two areas and give the impression of a single large space.
Choose decorative plants and flowers with a beautiful aesthetic presence and place some near the window and others in the outdoor furniture areas.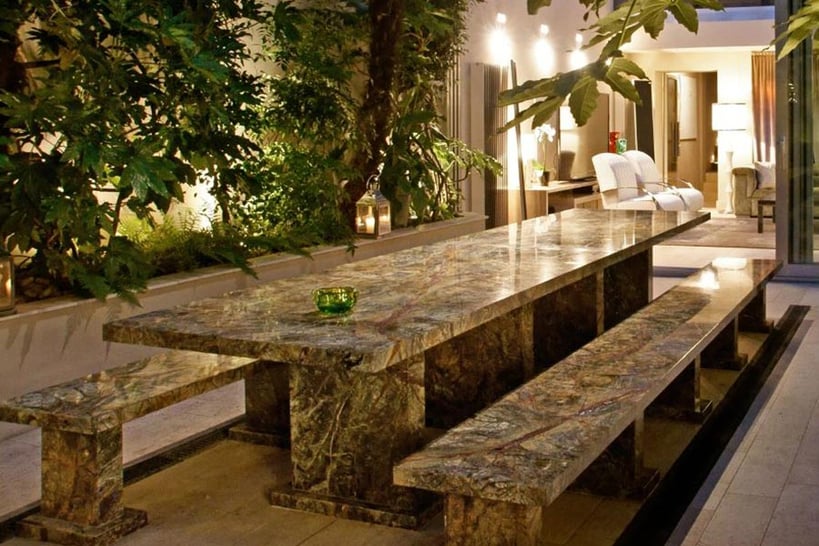 7. Design a bioclimatic pergola
Designing a bioclimatic pergola attached to the home could be another way to create a sort of "outdoor room" that can act as an external extension of the house.
The bioclimatic pergola, made of aluminum with the roof in adjustable slats, is resistant and ensures protection from the elements while ensuring proper shading and ventilation.
Each location has its own climatic problems that require different solutions. Therefore, installing shading and shelter systems such as a bioclimatic pergola is an excellent way protect against atmospheric agents or from too rigid or high temperatures. The bioclimatic pergola, in fact, can also be equipped with side windows that allow you, if necessary, to protect the internal environment.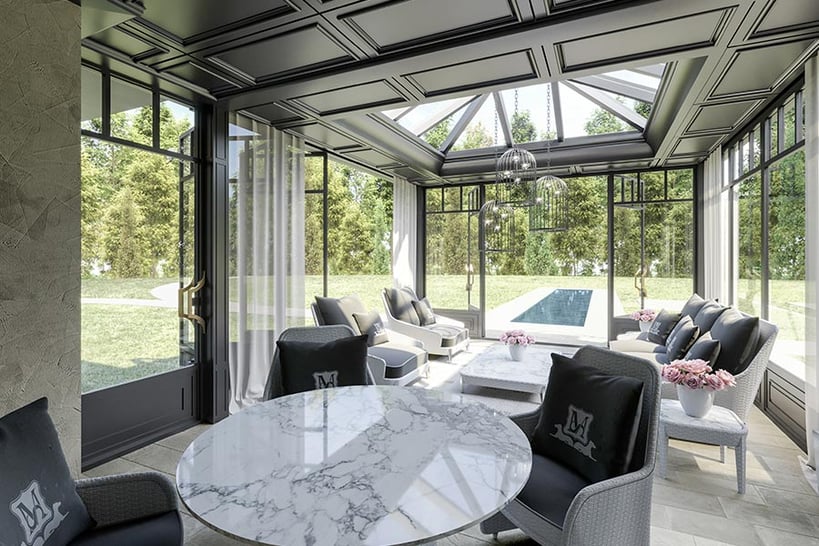 Why is linking indoor and outdoor spaces so important for your project?
In this article, we have shown you some design tips to connect the indoors and outdoors to the fullest.
Creating a physical and stylistic connection between the indoors and outdoors means making your client's entire property perceptibly wider and more attractive in aesthetic terms.
Follow our technical instructions to obtain an excellent final result and ensure that your client can always have an exclusive experience in their home, by designing an outdoor area that can interact harmoniously with the interior of the home.