Designing an outdoor space that can be enjoyed by the whole family and all your friends and guests means creating an environment that satisfies all the needs of the those who will live there and who will visit. For this reason, you can't go without a typically convivial place, where you can prepare, cook, and consume good food in the company of others.
From a classy aperitif to lunches and dinners during the summer, a high-end luxury outdoor kitchen is a fundamental element in creating a pleasant gathering environment that you can enjoy with your closest family members, large groups of friends on special occasions, colleagues for events and business meetings, or private parties.
There is no standard luxury outdoor kitchen project: the layout and choice of finishes and details depend on the customer's tastes, the space available, the functions you want the kitchen to have and the kitchen's location.
But how do you harmoniously integrate your outdoor kitchen into the surrounding environment?
Let's take a look at how to organize and decorate your high-end luxury outdoor kitchen to make it an integral part of the home it belongs to and the landscape so that it is aesthetically pleasing, accessible, and safe, as well as able to satisfy all the functional needs requested by the customer.
Consider your new outdoor kitchen's housing structure
A luxury modern outdoor kitchen is the perfect accessory to enhance a high-class living structure further.
For this reason, it is particularly important to design your outdoor kitchen taking into account the home's style and architecture, and color palette of the walls and upholstery.
Staying true to the main housing structure will ensure an elegant, high-end continuity effect.
Not only that: as an extension of the housing unit, it is essential to think of the new outdoor space as an additional environment that can be used and taken advantage of for as long as possible throughout the year, regardless of the season.
To do this, come up with strategies to protect your kitchen space from the sun, UV rays, wind, and temperatures that are too cold or too hot.
Install an awning, pergola, or large umbrellas to sit under, to offer shade and shelter during the hot season. Alternatively, if space permits, plant trees that can provide the same service and also blend harmoniously with the surrounding nature.
You can opt for the construction of a fire pit for the colder periods or choose to install an outdoor heating system, perfect even if the space available is limited.
As for these systems, there are many options: floor standing, wall or ceiling mount, tabletop, or gas, by selecting a radiant heat over the patio system.
If there are other outdoor structures in the environment where the kitchen will be inserted, such as a conservatory, a winter garden with a swimming pool, it is a good idea to adapt the design of the new kitchen to them.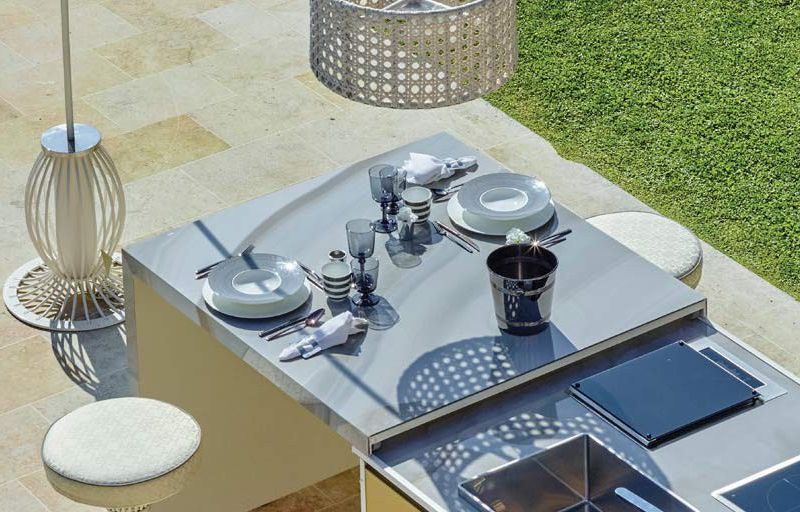 Consider the surrounding environment
Your new outdoor kitchen must not only match the home it belongs to but must also and above all respect the natural environment in which it will be immersed, including its structure, shapes, textures, and colors.
To design your outdoor kitchen while maintaining an indoor-outdoor continuity, consider the yard and area surrounding the housing structure and also the geographical environment in which this space is located.
Choose the colors and materials for your luxury outdoor kitchen designs based on these parameters.
If you are furnishing a kitchen located in a very warm place, perhaps by the sea, you can dare with bright, lively, and vibrant colors, with high contrasts: yellow and green, orange and turquoise, red and blue, which recall the natural color combinations that can be found in these areas (for example in shells, corals, flowers, and tropical fruits).
Prefer metals in warm colors, brass and gold, also with brushed or satin textures.
In colder areas, choose the colors of the earth and vegetation that blend with the surroundings and create a more welcoming and warm environment: light green to earthy beiges and browns, sienna, ivy green, cream.
For metal accessories, choose smooth, polished, and shiny textures in shades of silver and bronze.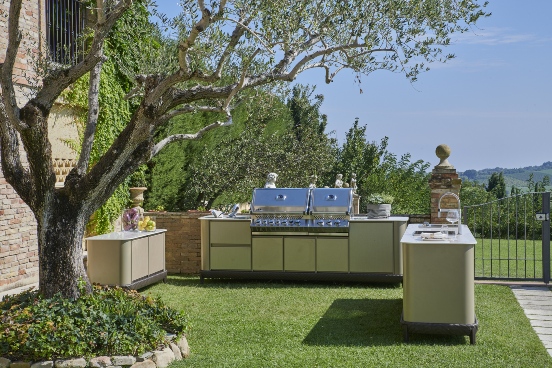 The power of enlightenment
Do not underestimate the power of enlightenment.
Design the light points to enhance the space, blending them properly with the external environment and giving character to the environment—without forgetting functionality.
For your luxury outdoor kitchen to be a true extension of the home, the structure must be comfortable and have no restrictions.
For example, choose indirect lights to enhance a kitchen, which will be mainly used in the evening: the space will be safer since there will be no blinding light sources, and the environment will be made more evocative and relaxing by the soft lighting.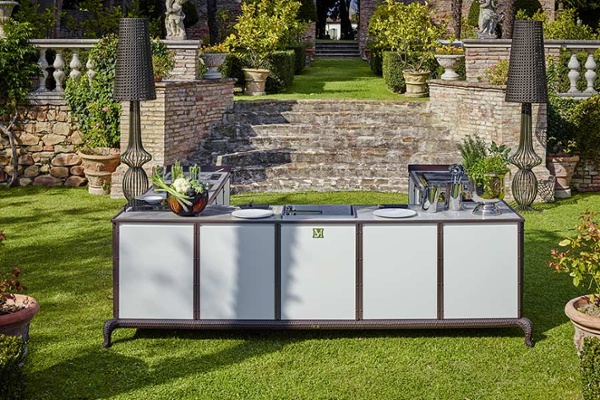 Best luxury outdoor kitchen appliances: which ones you should include in your project
As we have seen, to harmonize and integrate a luxury outdoor kitchen project with the rest of the outdoor setting properly, it is important to make the structure's appearance organic and also to ensure the best quality of use of the space for its functionality.
For this reason, depending on how the customer wants to use their new kitchen, you can add the kitchen appliances you prefer, and they can be organized in the four main areas that make up a luxury kitchen built outdoors:
Hot zone: where cooking hobs, grills, stoves are located
Cold Zone: which include refrigerators, freezers, and ice machines
Dry area: where food is stored and prepared
Wet area: occupied by a worktop, faucets, and sinks
Luxury outdoor kitchen accessories and appliances include:
Gas, electric, or charcoal grills
Fryers and smokers
Barbecues
Ovens
Gas or induction hobs
Wine cellars
Built-in or freestanding refrigerators and kegerators
Ice makers
Of course, a worktop made of quality materials, such as ceramic marble, ceramic onyx, or marble, sinks, and stainless steel faucets, is essential to be able to wash and prepare food directly on the spot.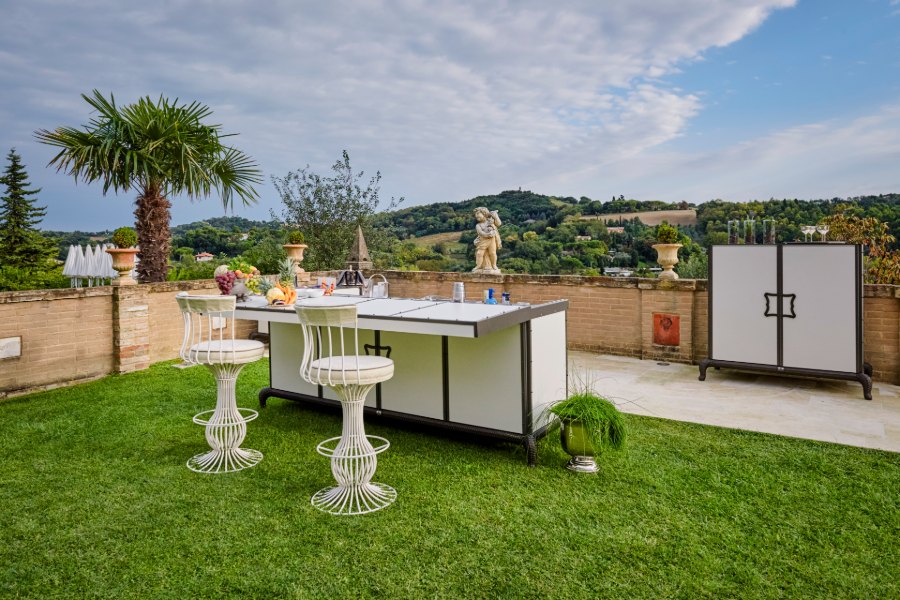 Accessibility and safety of your high-end outdoor kitchen
An essential, logical, and intuitive layout will make your outdoor kitchen not only modern, chic, and more organic in its setting but also easier and safer to use by anyone and even in low light situations.
Common luxury outdoor kitchen ideas include the creation of a U-shaped or an L-shaped layout, based on an outdoor island kitchen as the central element.
This configuration will allow you to include and organize all the high-end outdoor kitchen appliances you want in a way that is easy to find and use without the risk of running into things.
As mentioned, the lighting design is another parameter to consider to give the kitchen the best aesthetic qualities and also to ensure maximum safety in the use of the space.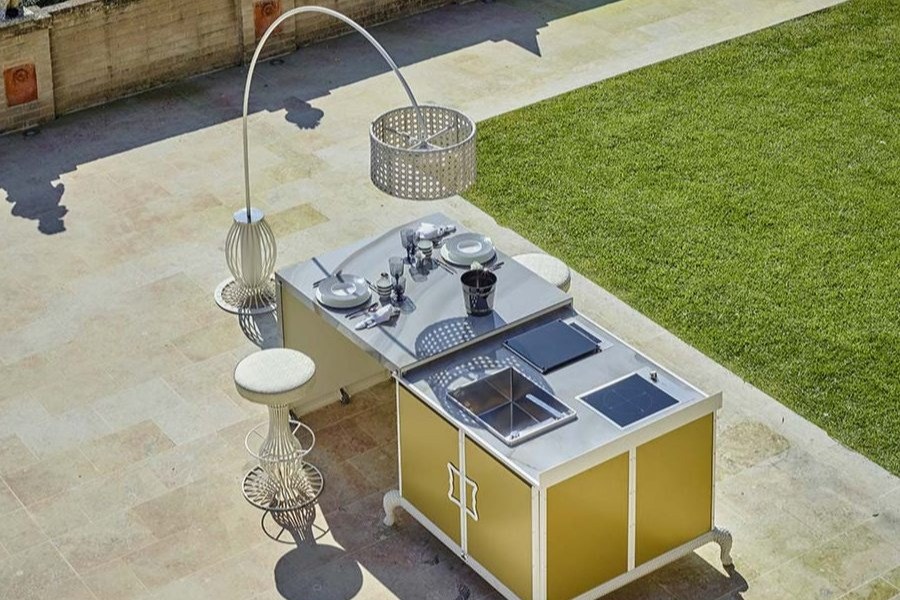 How to choose the right materials
Once again, aesthetics and functionality go hand in hand in the creation of a luxury outdoor kitchen project that is harmoniusly integrated with its surroundings.
The choice of the best materials for your furnishings and upholstery must be based on two parameters:
1. Durability
The materials must be resistant to atmospheric agents, rain, wind, and high temperatures, especially if the kitchen is not designed to be covered at all times by covers or awnings.
If you use materials that, by nature or processing, could be subject to discoloration, be sure to choose those with resistance to sunlight and UV rays.
These higher quality materials will keep their original, vibrant, like-new color for longer.
2. Ease of maintenance
The ease of cleaning and sanitizing of worktops, appliances, and covers is essential to allow users to use the kitchen pleasantly and safely.
What materials should you choose for the different elements of your outdoor kitchen?
Choose materials such as stainless steel for your luxury outdoor kitchen cabinets, especially durable if powder-coated, granite, marble, or ceramic for the countertops, and resin for the covers.
These materials are extremely resistant to shocks, UV rays, sudden changes in temperature, and systematic thermal excursion and are really easy to clean.
Avoid structures completely in wood because they are very delicate and require regular maintenance—which cannot, in any case, guarantee the wood the same longevity as the materials mentioned above.
Another tip?
Choose the materials and colors for the floors carefully, especially in front of grills, stoves, and fryers.
Very light colors will tend to make any small spots or drops more visible, which would make the environment less pleasant until it is cleaned.
So, choose a darker color, always in harmony with the surroundings, to minimize this problem.
You can opt for dark brown, terracotta red, anthracite gray, bottle green, or midnight blue, for example. Darker tones of any tint will do; you don't need to stop at gray or black.
A luxury outdoor kitchen project to complete your luxe home
An exclusive outdoor kitchen is a space capable of giving even more value to a luxury home.
The taste for good food, typical or exotic preparations, the use of excellent raw materials, organic or at 0 km, stand out even more, and preparing and consuming food and drinks in the company of others is increasingly appreciated by guests.
Choose the most exclusive furnishing elements and the finest materials to create an outdoor kitchen that is high-end in terms of the structure, finishes, details, and quality of use.
Analyze the space at your disposal and design a true outdoor room that integrates with the main house and the surrounding natural environment without overpowering it.
Create a beautiful, harmonious environment where it is a pleasure to stop for a while, if only for an excellent glass of wine.