To set up an outdoor location with an outdoor kitchen and make it unique, welcoming and highly functional, it is necessary to choose design solutions with a high technical-aesthetic profile.
Giving personality and exclusivity to the luxury outdoor kitchen design project that has been commissioned to you means taking care of every detail according to the client's requests, paying attention to every request regarding customization and the choice of finishes and additional elements.
By choosing the DFN outdoor furniture proposals, you will access a wide range of kitchens, with great aesthetic potential and made with high-quality materials, customizable and adaptable to any setting.
Improve your luxury outdoor kitchen design with DFN solutions
Samuele Mazza's luxury outdoor kitchens are perfect variations of design and performance, as every solution is elegant and highly efficient.
This is the guarantee offered by DFN: the ideal brand to tastefully furnish the outdoor spaces of the most refined residences, real estate and sophisticated private residences.
The Curved Outdoor Kitchen and Linear Outdoor Kitchen are the flagship collections of the brand, and respectively, while sharing the same style, show different concepts and structures designed specifically to meet the most demanding furnishing requests.
Both collections include different models that can be completely customized at the client's discretion, starting from the appliances and the color to the layout, finishes and dimensions. In particular:
Below, we will illustrate the technical and stylistic peculiarities of each solution.
Curved Kitchen Multi-Element
The Curved Kitchen Multi-Element adapts to any use. This is the most complex version that allows, through different modules in its own right, to set up a complete kitchen space.
Each element can be equipped as desired with a BBQ, sink and gas hob. Each work area is organized at the client's discretion, to ensure total comfort and a smooth development of the preparation phases.
It is an outdoor kitchen model that follows a design with curvilinear shapes covered with high-performance materials . Unsurprisingly, the entire structure is made of iron and painted for outdoor use.
It has an aluminum base covered in synthetic resin, with metal feet characterized by particular finishes. The doors of the modules are covered in very low thickness porcelain stoneware with a characteristic metallic finish.
The worktop is always made of porcelain stoneware with a marble finish, 12 mm thick with a bevelled visible edge, a refined material highly resistant to heat, wear and atmospheric agents.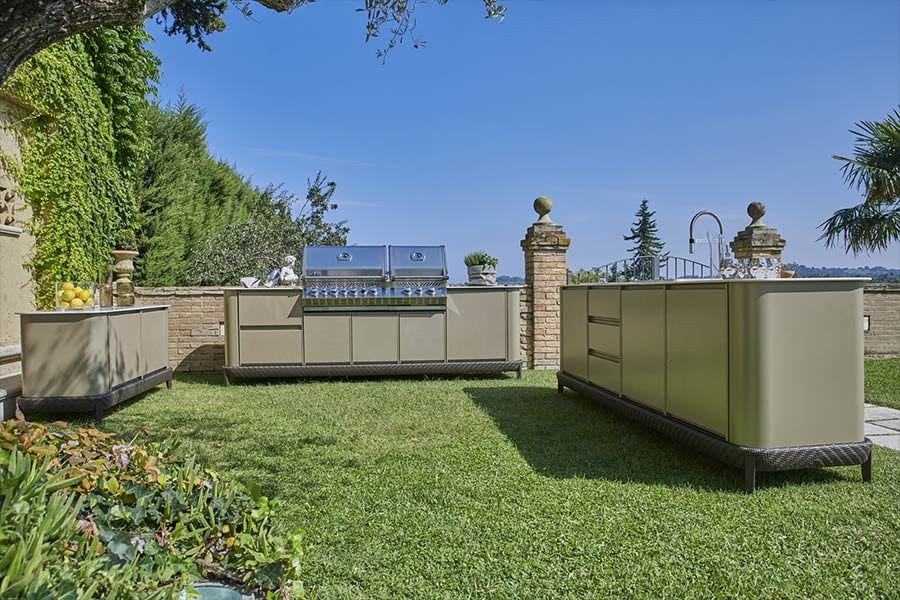 Curved Outdoor Kitchen Corner Composition
This model, belonging to the Curved Kitchen line, has escaped the traditional spatial schemes; in fact, it has a very particular angle. Thanks to its characteristic shapes, the work surface is wider and more functional: a real operating console organized to have everything at hand.
It offers an innovative design outside of the usual schemes that combines functionality and comfort. From a single central position, it is possible to manage the cooking, preparation, and washing functions.
It is a highly functional cooking space, developed in an angular sense to ensure the comfort and style necessary to elegantly set up the outdoor location designed to host it and make it livable and functional.
Here, we also find an aluminum base, covered in hand-woven synthetic rattan, which rests on bronze-finish metal feet.
The doors, as per the peculiarities of the curved line, are covered in low thickness porcelain stoneware with a metallic finish, which ensures strength and resistance to the entire structure. This model is also equipped with a modern BBQ, sink, and hob.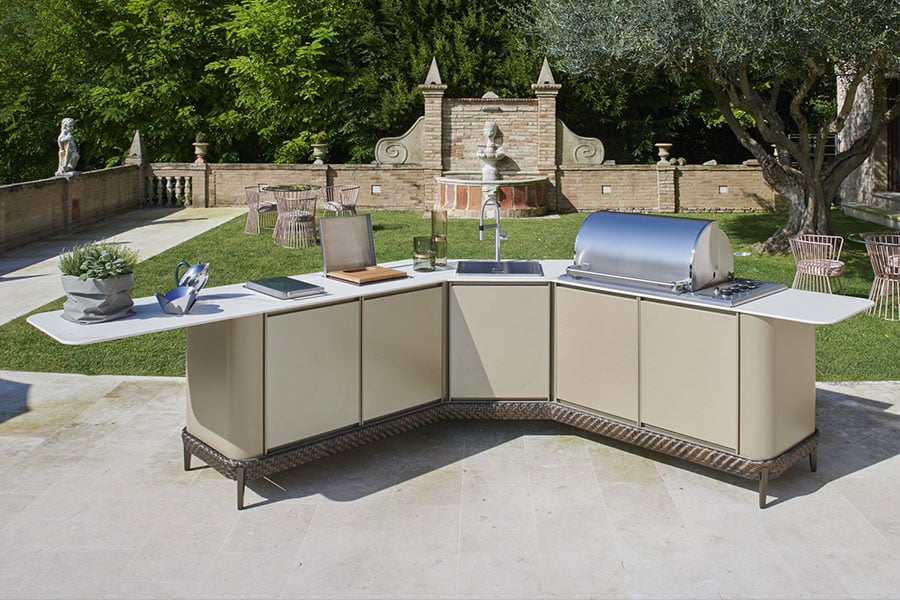 Linear Kitchen with Automatic Cover
With the Linear Kitchen with Automatic Cover, technology offers the possibility of covering the worktop and appliances with a cover that opens upwards and can be activated using a special remote control.
The model is equipped with an induction hob, sink with retractable mixer to allow the lid to be closed, gas BBQ, wine cellar, and porcelain stoneware top that is suitable for contact with food and resistant to oxidation and high or rigid temperatures .
In addition to deciding on the layout of all the appliances, you can choose whether to use a metal band for the base, which creates a polaris base, or a bridge structure covered with woven synthetic resin.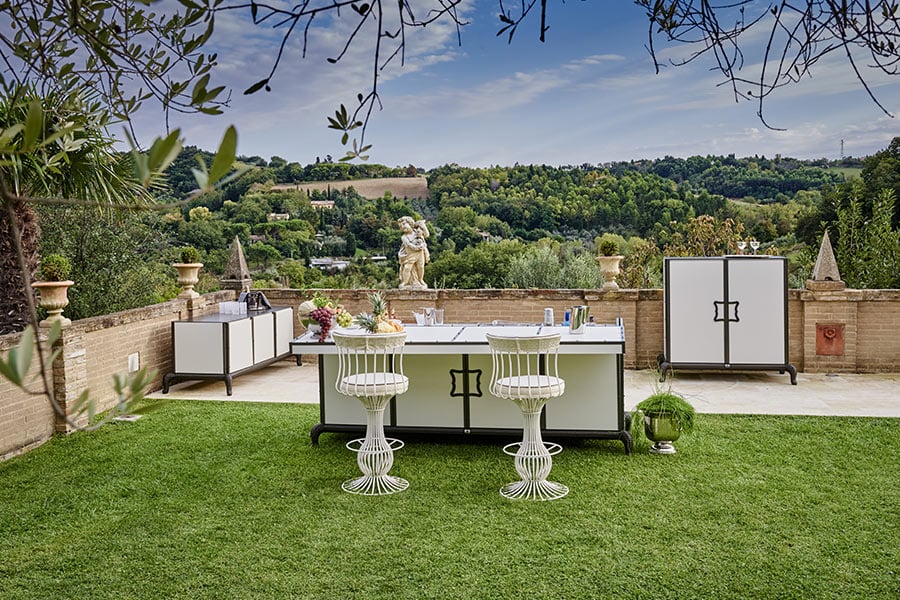 Island Kitchen with Sliding Table
The Island Kitchen with Sliding table allows you to experience outdoor environments around an elegant sliding porcelain stoneware table with marble finish, which when open, serves as a comfortable table top, while when closed, covers and protects the worktop and kitchen appliances.
Specifically, this model is made with powder-coated iron modules and, just like the Linear Kitchen with Automatic cover, has a top made of porcelain stoneware, the same finish as the table, highly resistant to wear and bad weather. It is also possible in this case to customize the entire kitchen configuration by selecting between two different style bases.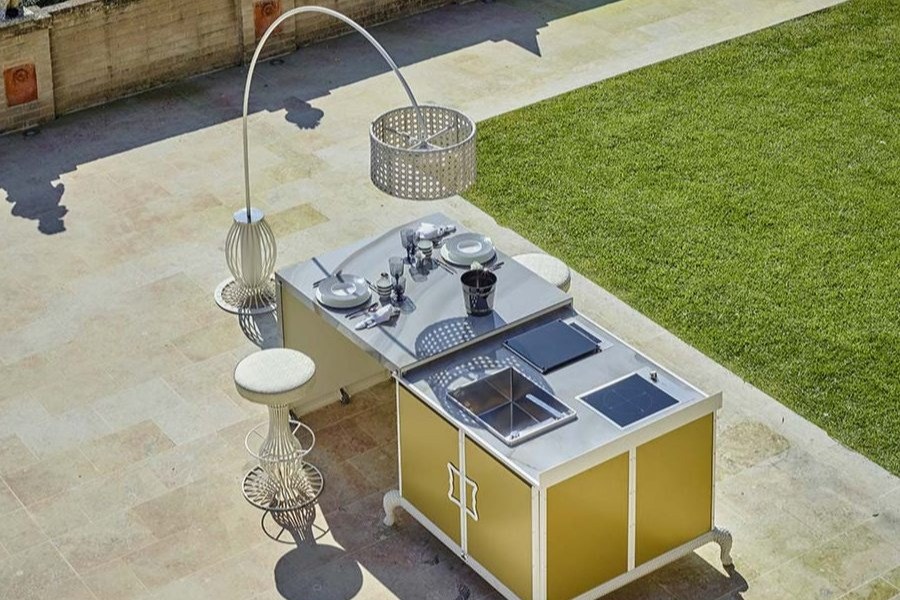 Linear Selection with Manual Cover
The Linear Section with Manual Cover is another model belonging to the Linear Kitchen collection.
It has a structure with technical characteristics almost equal to the Linear Kitchen with Automatic Cover, but in this case, it has a manual cover. The cover is designed to protect the entire work surface when the kitchen is not in use and at the same time finishes it when closed.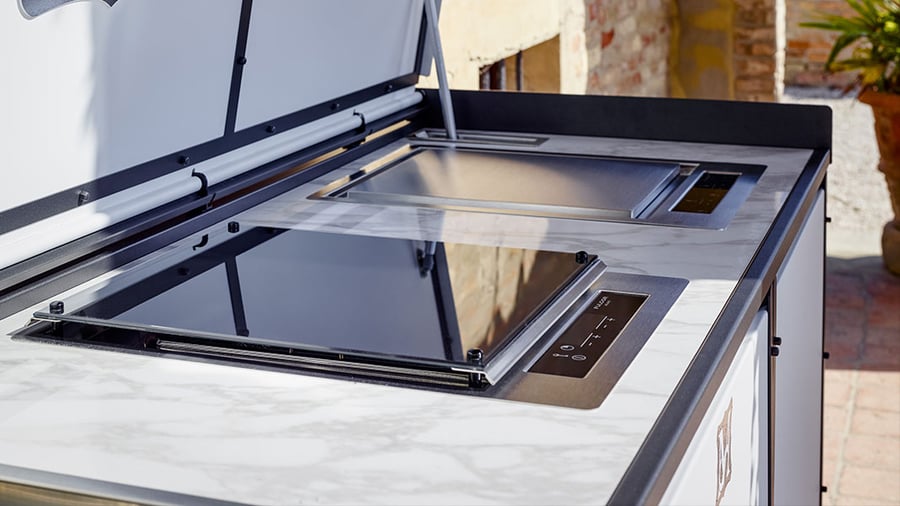 Sectional U Shaped Kitchen
The Sectional U Shaped Kitchen is one of the most complete outdoor kitchen models. It boasts a highly functional "U" arrangement and is suitable for larger outdoor spaces.
It is equipped with two induction hobs, a teppanyaki, gas BBQ, and wine cellar. The modules are characterized by extra durable powder coating, a finish that gives resistance to the entire structure and counteracts the oxidation process. Upon customer request it is possible to add sliding shelves for a customized solution.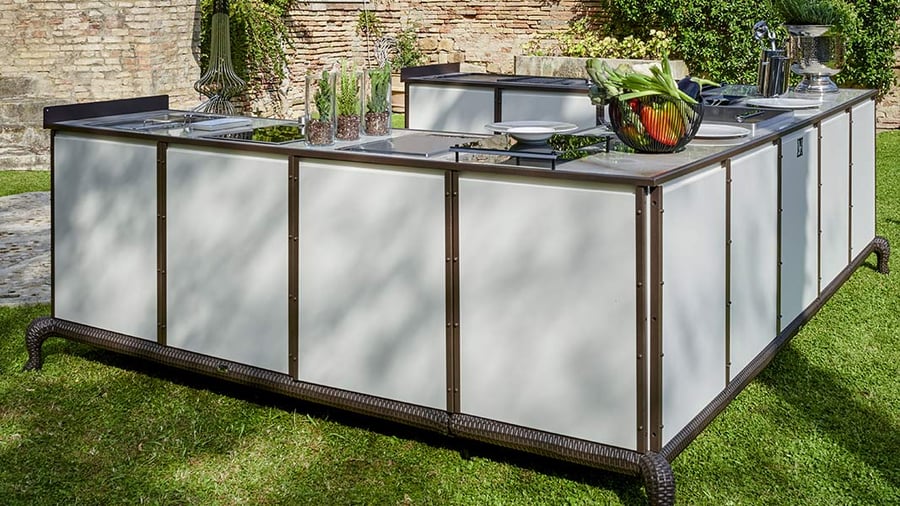 Linear Kitchen with Sliding Cover Bar Version
The Linear Kitchen with Sliding Cover shares the same stylistic and functional aspects of the other models of the Linear Kitchen collection, with a distinctive feature: a sliding cover towards the rear side of the kitchen that becomes a bar counter.
This is an additional element that underlines the multifunctional character of the proposal. This composition is complete with a sink with retractable mixer, to allow for the passage of the sliding cover and ice tray.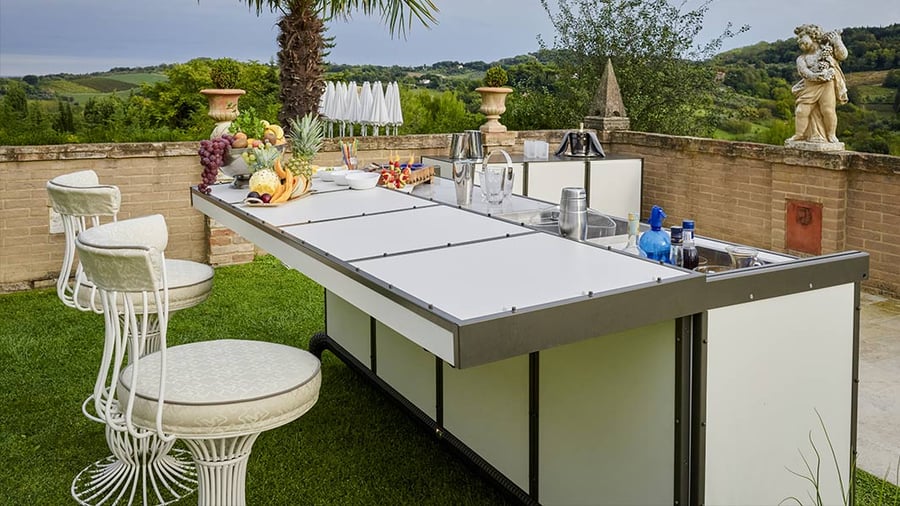 Linear Kitchen Barbecue Version
It is the smallest of the proposals suitable for small environments, where you would like to have a design object that encloses and hides a latest generation BBQ.
To complete the Linear Kitchen Barbecue Version, you can choose between an aluminum base covered with hand-woven synthetic rattan or a straight metal band. The iron structure is entirely powder coated and therefore boasts an extra durable finish.
This model has a sliding cover that opens on the sides to hide the appliances. At the same time, these two porcelain stoneware elements become a comfortable worktop.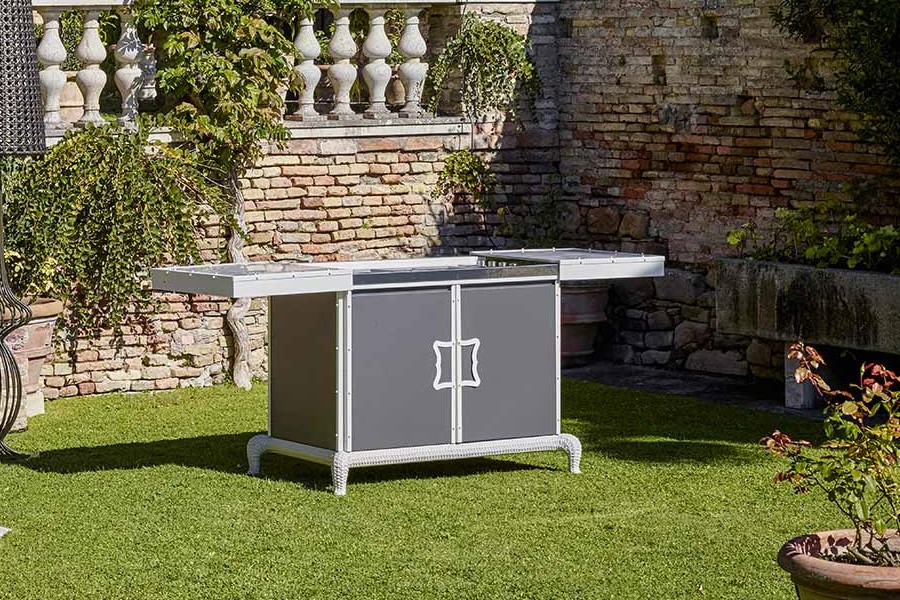 Create the perfect luxury outdoor kitchen design with DFN
For the full success of your luxury outdoor kitchen design project, it is essential to select the kitchen that best reflects the way your client experiences and uses this space.
Choose from the many proposals of DFN luxury outdoor kitchens and evaluate which model, among the proposed solutions, is best suited to meet the needs of the client.
Our kitchens are able to give personality to the outdoor spaces of any location since they offer the possibility of being able to work in total comfort in a functional and ergonomic area and at the same time allow you to have an exclusive experience.