Outdoor kitchens are an ultra-modern, luxury way to enjoy the outdoors. They are specially designed to use domestic appliances that are built to withstand time and the elements.
Cooking outdoors is not just fun; it is more than that. It is an experience that can improve hospitality and make time spent together more pleasing for everyone.
This is why you will probably find clients who want to expand their living space to create somewhere unique and special, where they can enjoy free time; or hospitality structures wanting to build an open-air setting that is different and appealing to guests.
Outdoor kitchens have increased the functions of outdoor spaces, adding extra value, and giving the pleasure of being able to eat in the garden, or on a terrace, making the very most of the potential that outdoor furnishing can offer.
It is true that they belong to the broader category of outdoor furniture and are also one of the major elements that characterise a space.
This is why it is advisable to carefully study the right position of an outdoor kitchen as well as to place it in a well shaded, properly ventilated area. In fact, DFN outdoor kitchens combine perfectly not only with our furniture, but also with our covered structures such as bioclimatic pergolas and conservatories.
DFN has a range of outdoor kitchens to satisfy every need and requirement of its customers, thanks to the choice of different types to create pleasing, luxury and practical areas.
The pleasure of exciting your senses with outdoor luxury
"Enjoy outdoor living on every occasion" - this is the philosophy behind the Outdoor Kitchens from the Samuele Mazza Outdoor Collection brand, made and sold by DFN srl.
The idea at the base of this innovative range for outdoors has its roots in a strong tendency for bespoke items and constant research for unique solutions that can be applied to any design element.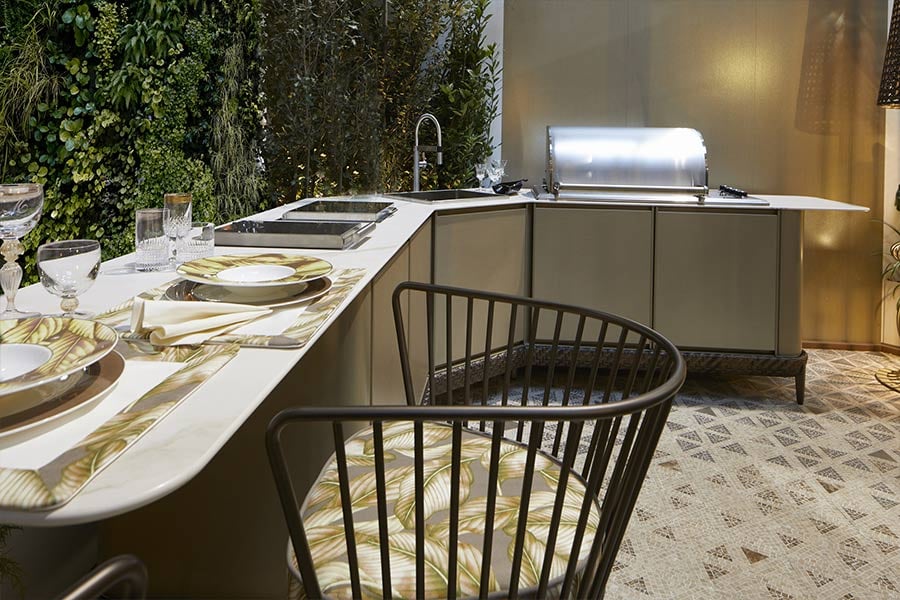 Outdoor kitchens by Samuele Mazza
A free-standing kitchen with rounded sides and doors covered in metal-effect ceramic. Domestic appliances such as gas cooker, barbecues, and sink are made in steel and equipped with a protective cover that protects them when not in use.
Linear kitchen with automatic cover
Free-standing linear kitchen, installed with automatic cover with remote control. When the kitchen is not being used, the cover protects the tops where the domestic appliances are installed.
Kitchen island with sliding table
A kitchen island with integrated, sliding porcelain stoneware top with marble finish. The sliding table can also be used as a work top and once, closed, it protects the domestic appliances in the kitchen unit.
Linear kitchen with manual cover
Free-standing linear kitchen with manual cover. When the kitchen is not being used, the cover protects the top part, where the domestic appliances are installed.
Free-standing U-shaped kitchen. This is the most complete kitchen in the DFN collection, which can be used to fit out a larger outdoor area. Available with protective covers on request.
Linear kitchen with sliding cover
Free-standing linear kitchen, installed with manual sliding cover that converts to a snack table. When the kitchen is not being used, the cover protects the top part, where the domestic appliances are installed.
Linear barbecue with sliding cover
Free standing barbecue with manual sliding cover that can be used as a handy work surface. The cover protects the barbecue when not in use.
Base units
All of the models in the collection can be fitted with three different types of base unit to adapt to the customer's preferred style.
The Canopo and Aralia base units have a metal bridge element, covered in woven synthetic resin, with the unique feet that used on all of the products in the Canopo and Aralia ranges, to adapt perfectly to the chosen furnishing style.
The Polaris base is made with a linear metal band in the same material as the kitchen structure to create a less formal look.
Both types of base unit, like all of the kitchens, are perfect matches for the furniture in the Samuele Mazza Outdoor Collection.
Materials
The units in the structure are made in iron, with ultra-resistant powder coating that meets the most stringent criteria from tests of resistance to weather conditions.
The kitchen tops, like the table tops, are made in food grade porcelain stoneware and are resistant to frost and heat, as well as to UV rays. They are also stain proof and colour fast. The stoneware comes in a range of different finishes that perfectly reproduce fine natural marble.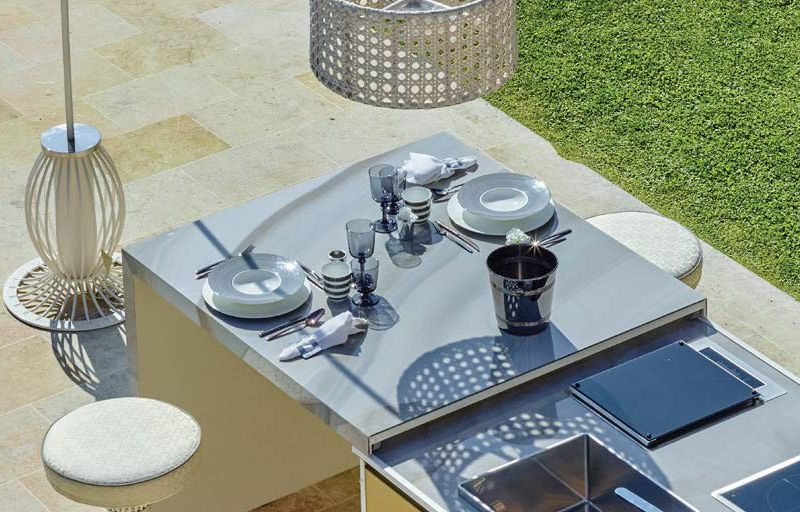 Accessories and dimensions
All outdoor kitchens sold by DFN can be customised by adding units, domestic appliances and accessories that make them as functional and versatile as possible, as well as to meet any customer requirements.
On request, all kitchens can be made to fit the customer's domestic appliances, and with equipment from preferred brands.
DFN offers a vast choice of colours and finishes to customize your kitchen's style.
Customised styles
DFN, due to the artisanal processes involved in manufacturing its products, is able to create totally custom-made kitchens that adapt to any type of project in outdoor environments, in order to meet all of the customer's needs.
There are no limits when it comes to creating your kitchen: DFN, as well as the many combinations already available in the collection, can provide different ideas, specifically developed according to requirements.
The style, materials and dimensions are selected based on individual customer preferences. An exclusive bespoke service that DFN guarantees in order to satisfy the needs of its well-informed, discerning customers.
Out technical staff is in fact able to provide answers for any type of request, no matter how complex, and to work in close contact with customers throughout the entire project, in order to provide an exclusive product.
Luxury outdoor kitchens to suit every taste
The Samuele Mazza Outdoor Kitchen collection is a range of kitchens designer for outdoor use, which DFN has developed, starting from the use of technological materials and details that will provide excellent resistance in all weather conditions. The result is a full range of models in line with the ethos for special customised products that is such an important part of DFN and its collections.
The outdoor kitchen is a highly efficient item that takes care of all advantages featured on furnishing collections by the same designer. Unique shapes, precious details, unusual finishes and cutting-edge technology, are the ingredients for a kitchen designed to pave the way for new trends in the outdoor furniture industry.
Kitchens are in fact an area that needs to be as pleasing to be in as it is practical to use: comfort, easy cleaning and with efficient appliances.
At DFN, for our products we have placed the following aspects at the top of our list: easy use, excellent performance, and extreme versatility. Since these are luxury kitchens, we have not forgotten to focus on unique design shapes, precious details, unusual finishes and cutting-edge technology.
We have also made sure that the product is easy to install. The kitchens are free-standing, meaning the fitting is easy, needs no masonry and the electrical equipment is fitted on board.
The result from a kitchen from DNS is that you get a designer product with unusual finishes, coordinated with your furniture, for a total look never seen before.
Comfort and luxury for al fresco dining.
With a DFN outdoor kitchen, it will be fantastic fun to cook for your guests, outside. It will also be more appealing to guests to showcase cooking in the garden of a hotel.
Those with a large poolside area or a big terrace in town, or even a small veranda with limited space, can enjoy outdoor cooking with DFN, thanks to the possibility to fit independent kitchen blocks in any space, making them perfect for a summer cookout, a sunset drink, informal snacks, or that important special occasion dinner outdoors
Every DFN design dedicated to outdoor kitchens has two functions: the practical one of cooking, and the style one, meaning that it guarantees the constant pairing of design and innovation.
The distinctive, non-invasive shapes and volumes of Samuele Mazza outdoor kitchens make them fit seamlessly into their surroundings, becoming a feature point of outdoor living, without having to forego any practical use or efficiency.
A genuine dream kitchen
An outdoor area, especially in summer, is no more than the natural extension of the indoors and as such, it needs to be furnished: this is where the outdoor kitchen comes in: a multipurpose structure to allow you to enjoy the benefits of being outdoors in the company of guests, as well as its main aim, of enjoying a good meal.
With its collection of outdoor kitchens, DFN offers a full range to suit all tastes and requirements, as well as the possibility to choose tailored versions!
From the size to the appliances, accessories and finishes, you can create a bespoke version of the kitchen, to suit different styles and tastes.
Luxury outdoor furnishings for unforgettable moments that will thrill your guests! Our professional team of experts is available to work with you to build the outdoor space that is perfect for those who will be enjoying it.