Designing and furnishing a bespoke winter garden is an important investment that requires the commitment of a team of planners and designers capable of taking care of every design step to build the perfect structure, in line with the client's taste and requests.

Attention to detail, know-how, and research are essential elements to create an absolutely flawless architectural and design project.
Winter gardens are a real treasure chest of iron and glass, with an inimitable, spectacular effect and great technical-aesthetic potential, capable of hosting furnishing scenarios and offering all the comforts of an indoor space...but outdoors.
It offers the luxury of a conservatory. It allows you to live your daily life outdoors and enjoy all your needs and comforts just like in your home.
But what is the best way to furnish a winter garden with style?
High-profile furnishing designs like this require a different set of features than other normal housing structures.
In this article, we will show you the different options available to you to create exclusive furnishing compositions that live up to the structure that will host them.
How to furnish a winter garden: the ultimate guide
Next, we are going to take a closer look at some central themes regarding the designing and furnishing of a winter garden.
In particular:
Let's proceed step by step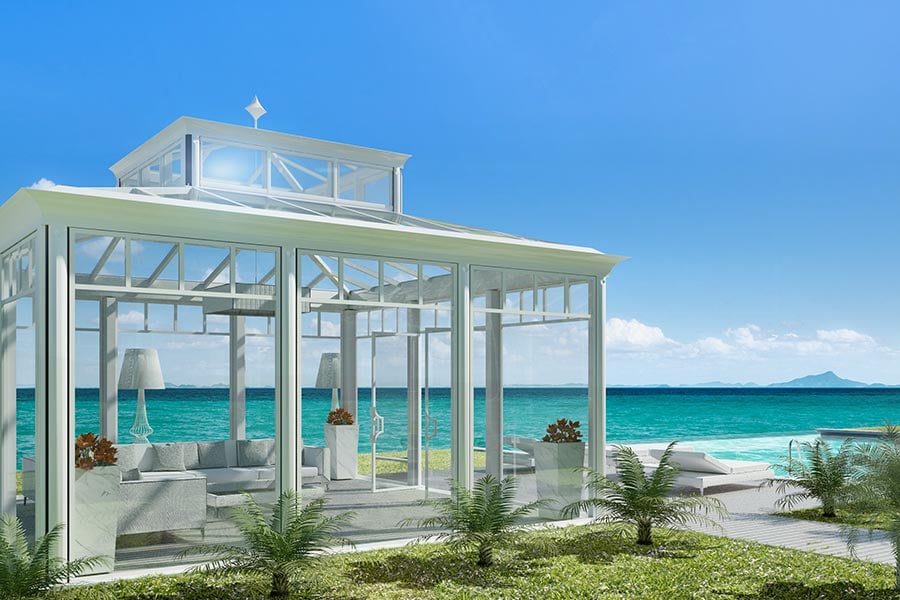 1. The structure's style
The final result of the architectural and interior design project must be the perfect synthesis of the client's style and needs.
Before moving on to the inside, it is essential to choose the structure that will host the different furnishing arrangements.
This step will help you decide on the general style of the project and above all to understand what the client's preferences are in terms of comfort and lifestyle.
DFN supports clients in every design phase precisely to achieve an impeccable and unique final result together.
With the proposals of La Casa dei Limoni, the client will finally be able to experience the environment they have always dreamed of.
A winter garden with a majestic but refined presence, equipped with every need and comfort, and extra luxury allows you to live your daily life in an exclusive way, enjoying an idyllic and relaxing panorama, both during the day and in the moonlight.
The La Casa dei Limoni conservatories have been designed to satisfy the aesthetic sense of the most demanding clients. In fact, the design of the structures ranges from classic to modern.
If you want to see how a winter garden by La Casa dei Limoni is designed and constructed, we invite you to view our webinar.
This webinar is held by the project manager of DFN's Conservatory sector Gianluca Ruggeri. Trained in the traditional construction sector and specialized in the design of lightweight steel and glass structures, he has followed numerous real estate and conservatory projects around the world.
Gianluca will share some technical knowledge with you, starting from the specific characteristics of these structures up to the design and production process of the iron and glass structures.
You will be shown:
The dimensional possibilities offered
The technical characteristics of the materials used
The design and implementation process
The types of systems that can be integrated into the structure
The advantages of a conservatory compared to traditional constructions
We are offering this complete guide to provide you with all the information necessary to consciously include this type of structure in your projects and therefore be able to guarantee clients, according to their different needs, an alternative to traditional structures. Go to the webinar.
Here are the winter gardens proposed by the brand: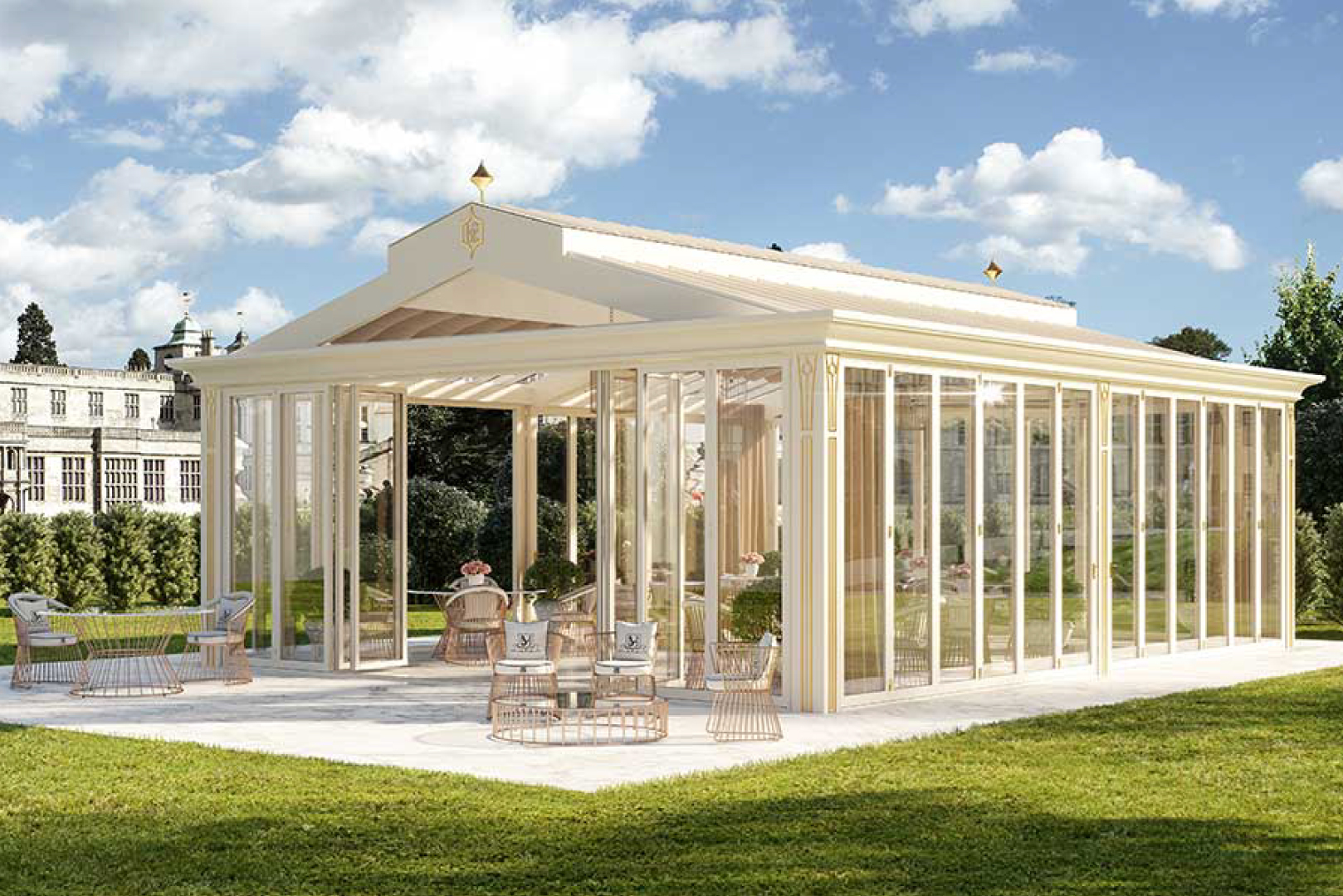 2. Furnishing materials
To create a furnishing composition of great aesthetic impact, without neglecting the functional side, it is necessary to select quality materials with excellent performance.
Below, we will show you the best materials for luxury outdoor furnishings to choose from for the realization of your design project:
Natural
Synthetic materials and metals
We will now take a closer look at these categories.
Natural materials for sheltered outdoor areas
Rattan
Rattan is one of the finest natural materials and is historically ideal for the creation of luxury furnishings for conservatories.
The main characteristics of this material are elasticity, flexibility, and lightness.
These peculiarities allow us to create solid, agile, and at the same time, light structures. The rattan reed is subjected to a fire bending process and is later painted.
Wicker
Wicker is drawn from the internal part of the rattan and can be obtained in diameters of different widths and several versions: round or flat-oval.
The wicker is first wet and then woven by hand. The twines allow you to create textures and weaves with varied and elegant designs.
Furthermore, in addition to a wide range of textures, wicker can acquire different colors thanks to special painting processes.
Parchment
Natural and highly resistant, parchment is a precious material obtained from untanned animal skin but simply cut into strips for artisanal weaving.
It is used in the making of ligatures and textures. It can be dyed and also subjected to the application of a fixative capable of enhancing its aesthetics and resistance, guaranteeing protection and durability.
Synthetic materials and metals for areas completely outdoors
Synthetic rattan
DFN uses synthetic materials that combine the natural appearance of fibers with high performance in outdoor environments.
Synthetic resin covers the structures of the furnishings and is resistant to atmospheric agents. It is also resistant to cold temperatures and repels salt, chlorine, mold, and parasites.
Cushions and fabrics
To create the most comfortable seating, select cushions and fabrics for the outdoors.
DFN has a wide selection of textile proposals that perfectly reproduce the textures and consistencies of the fine yarns used in interiors, obviously designed to be used outdoors, such as chenille, linen, and satin.
Furthermore, it is advisable to opt for removable cushions–to be washed periodically–that are repellent and resistant to the aggression of the sun and chlorinated and saltwater, and have anti-stain and anti-mold properties.
Protective covers
To ensure greater protection during periods or moments when the furnishings are not in use, we suggest that you cover each piece of furniture with a special protective cover made with certified technical materials that are waterproof and breathable.
Covers are excellent allies for preserving the beauty of fabrics over time and also for repairing furnishings during a storm so that, once removed, the seating is immediately usable.
Metals
Iron
Iron is an evergreen in luxury furnishing scenarios. Its charm never fades and always gives that extra touch of class to any aesthetic composition.
Solid, compact, and extremely durable, iron is subjected to specific treatments (cataphoresis) and made unique through the use of paints with excellent technical (powder coating) and aesthetic characteristics, allowing for different color solutions that last over time.
This noble material is the perfect synthesis of aesthetics and performance, which is why it is perfect for decorating any space, both outdoors and inside sumptuous homes.
Aluminum
Aluminum has such versatility and malleability that it can give us any shape or design. Lightweight and highly resistant, DFN uses it in the construction of the internal structures of their furnishings.
Even if exposed to high or low temperatures, it does not rust, and since it is light, it can easily be covered with other materials that give the furniture an elegant and welcoming look.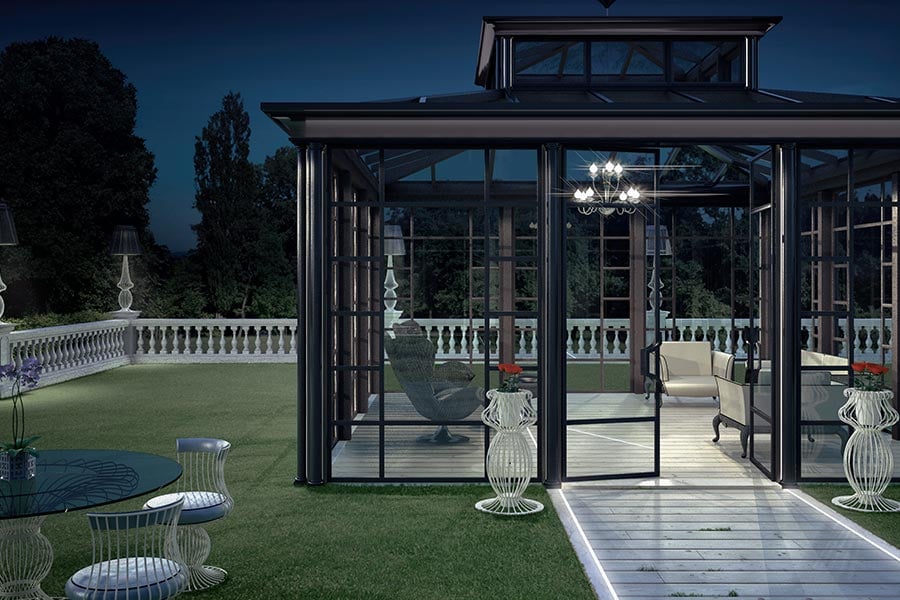 3. Flooring
The flooring is of central importance in any furnishing context, since it not only acts as a background, together with the walls, but also affects the climate and mood perceived inside the conservatory.
The flooring inside the structure must be able to support furnishing accessories and appliances; therefore, it is necessary to choose a surface made with resistant and long-lasting materials, but also with great aesthetic appeal, namely:
Natural stone or marble
Precious wood (oak, walnut, elm, cherry, chestnut, etc.)
Marble mosaic
4. Kitchen and cooking space
In a conservatory, a designer kitchen equipped with every tool and appliance, ensuring high performance, safety, and ergonomics, can certainly find its ideal location.
The kitchen area is the beating heart of the house. It is the place where families and guests gather to cook together, chat, and enjoy appetizing dishes.
Therefore, it is essential to create an environment that is functional but also pleasant with an agile, bold, and aesthetically appealing design.
It is important to set the dimensions of the kitchen according to the customer's requests, carefully planning the layout in such a way as to correctly accommodate the workflow and guarantee ergonomics and freedom of movement.
The most suitable layout for outdoor spaces are the:
L-shaped kitchen: ideal for corner spaces, the so-called corner kitchen ensures a practical and well-set-up workspace, configured according to the "work triangle", a highly functional arrangement of stovetop, refrigerator, and sink.
U-shaped kitchen: highly diffused arrangement, which provides an open central space, with a table and wall worktops; the U-shaped kitchen, which is bigger, gives you more space to move around and a wider range of equipment.
Island kitchen: modern layout, perfect for making an outdoor space welcoming and intimate; in the island kitchen, the central island is ideal both as a support surface and for the preparation of dishes.
Naturally, it is necessary to choose bases that enrich the kitchen's design and, at the same time, guarantee resistance and durability.
The choice between the different kitchen bases depends exclusively on the client's aesthetic preferences.
To customize your client's modern kitchen, you could choose between:
Metal bases, for a more daring and modern look
Bases in hand-woven synthetic rattan, for a more classic style
Both synthetic rattan and metal guarantee excellent performance indoors and outdoors and allow you to create aesthetic compositions with great decorative potential.
Last but not least: the finishes
The best luxury outdoor kitchens have a solid and robust soul, given by the high-performance materials that make up the structure, without sacrificing the visual appeal of fine finishes.
Pearlescent and metallescent effects, gold, bronze, and platinum finishes give a sophisticated image to the kitchen and, overall, constitute its distinctive aesthetic character.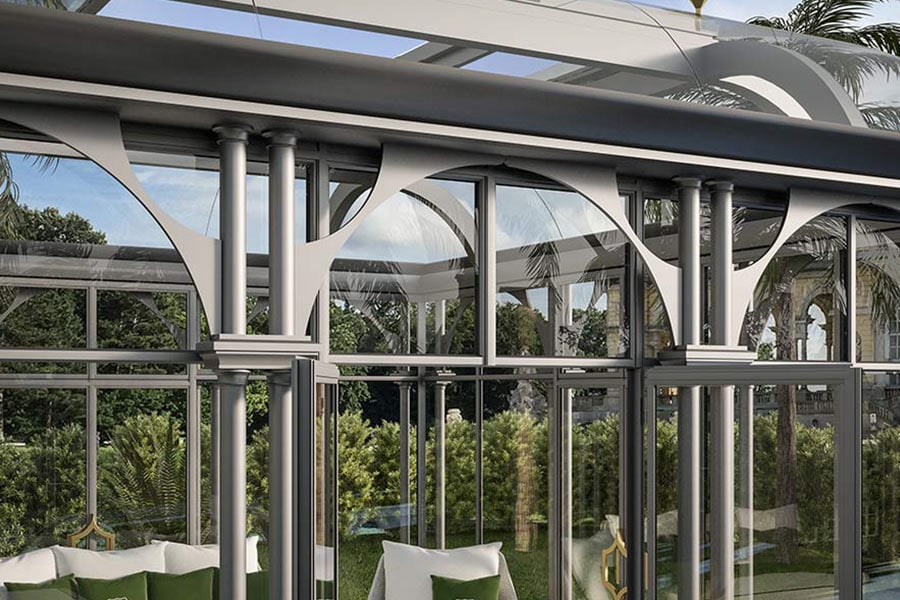 5. Dining room
Conservatories are famous for their impressive elegance and large spaces. This last feature makes these particular architectural structures ideal for hosting multiple environments.
They could also include a refined dining area, for example, adjacent to the kitchen or integrated with it in a large open space that allows the two areas to communicate.
The table is the real protagonist of the dining room, which is why it is important to choose the model that best suits its layout and furnishing context.
To select the ideal table for the outdoor dining area that you are designing, base your decision on the client's needs and how they will use the space.
Will this space host a large number of guests? Then opt for a rectangular or oval shape. If, on the other hand, the environment will be used exclusively for a few close friends, choose square or circular.
Based on the shape, you will also have to think about selecting the right dining chairs, since they must integrate perfectly with the surrounding space.
Also, focus on the style of the table and armchairs, and on the material they are made of, so you can give a sense of material synchrony to the entire composition or play on the contrast between different materials.
In this regard, here are the most suitable materials for an outdoor dining room:
Metal
Steel
Synthetic rattan
Teak
To make your dining room prestigious, make sure that the table and armchairs are coordinated with each other and the surrounding environment.
Also, for a luxurious effect choose unusual finishes and seating equipped with soft cushions that invite conviviality.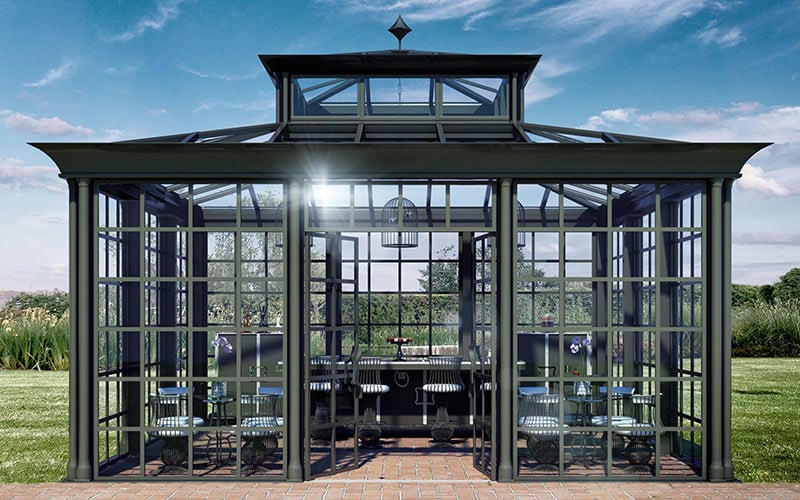 1
6. Lounge and conversation area
Comfort is synonymous with pleasure and exclusivity, especially when it comes to setting up a living room in a winter garden. In this regard, it is advisable to carefully select the seating that will complete the furniture composition of this area.
The best collections designed for the living area combine design and comfort in classy solutions, furnishing the entire environment in an excellent way and always providing comfort.
Make sure that the chairs, sofas, and armchairs that you introduce into the furniture scenario are comfortable and beautiful to look at.
7. Decorative lighting
Taking care of the lighting installation is another decisive step for the perfect design of a winter garden.
Lighting plays a central role in terms of atmosphere and functionality, as it enhances the furniture and allows those occupying the various spaces to move in total freedom.
Choose decorative lamps in stylistic agreement with the different furnishing scenarios: floor lamps, arched floor lamps, wall lamps, and suspension lamps made with the best materials and certified for outdoor use.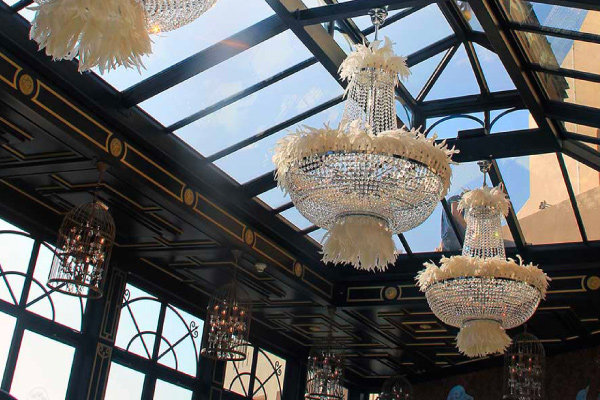 8.
Rugs
It is possible to make the conservatory's whole environment as welcoming as possible by introducing one or more rugs.
Extra decorative elements that are beautiful and comfortable will outline each area within the structure and will act as additional accessories able to aesthetically complete the furnishing arrangements.
Our guide will help you furnish a winter garden perfectly
In this article, we have provided you with all the information you need to carry out an architectural and furnishing project properly.
A winter garden is not just a physical and emotional extension of a home; it is an oasis apart, an exclusive place that deserves specific care and attention.
By following our step-by-step guide you will get a unique result that will undoubtedly satisfy your client.