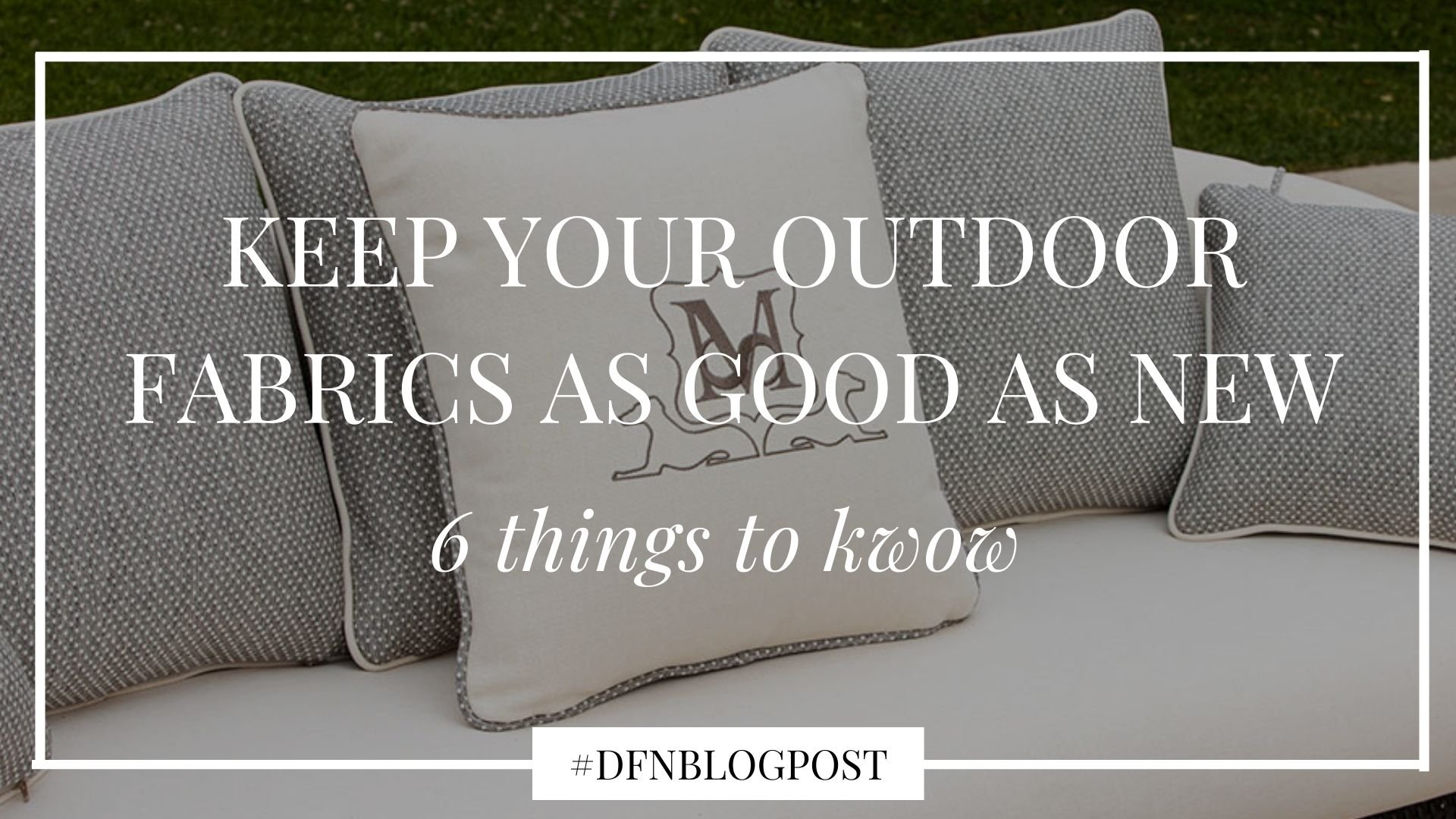 Outdoor fabrics are different from the fabrics we use inside our homes, and they are not all the same. High-quality outdoor fabrics must last over time and withstand wear and tear from atmospheric agents: sunlight, UV rays, rain, hail, wind, frost, humidity. Today, we have many more choices: outdoor fabrics range from PVC mesh to eco-leather, acrylic fabrics and lush satin, linen, velvet, and chenille products.
Luxurious textures, softness, and eye-catching prints: choose the perfect fabrics to enhance your outdoor area, learn how to maintain them properly, and guarantee that your outdoor textile products will have a longer life.
1.
Picking the perfect fabrics based on the geographic area of your outdoor areas
The first parameter to consider when choosing the perfect outdoor fabrics is the location of the outdoor space you are furnishing and decorating.
Analyze the location's climatic situation and the general environmental conditions.
Will the furniture elements and related fabrics have to withstand a cool and humid climate? Or hot and dry?
Is there a lot of rainfall in the geographical area of reference? In what volumes?
Is it windy?
Will exposure to the sun's rays and UV rays be continuous during the day in every season?
Will the furniture have to withstand strong thermal excursions?
All of these questions are key to narrowing down the most suitable fabrics for your outdoor project.
The right fabrics will ensure greater resistance to the more aggressive atmospheric agents and will allow your customers to use the space longer before having to refresh, repair, restore, or replace their furnishings.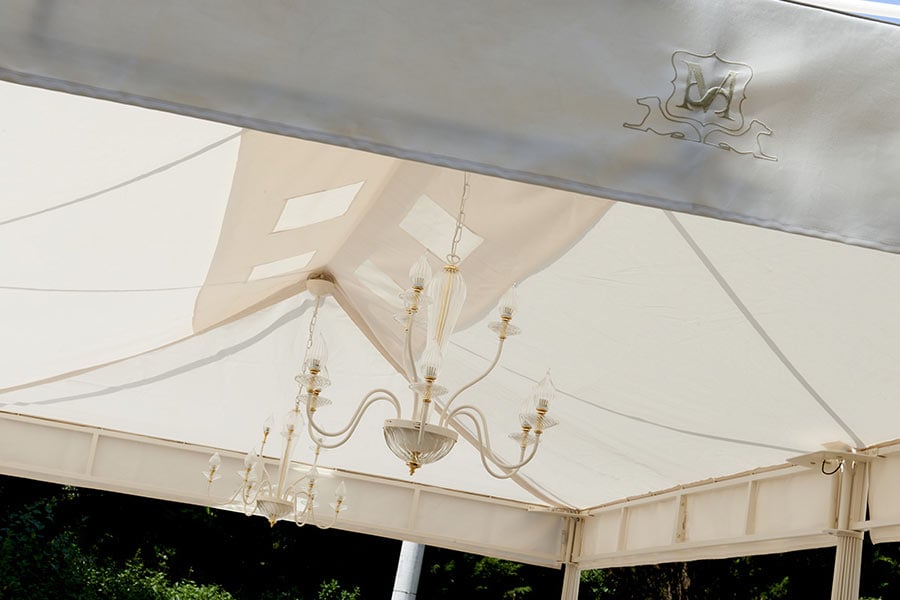 2. Assessing durability: outdoor fabrics and performance fabrics
The resistance of textiles is another key criterion for selecting the perfect outdoor fabrics.
Choose fabrics with a higher rub count if your customers intend to use their outdoor space and furnishings for all the family's daily leisure and relaxation activities, including children.
Fabrics with a higher rub count are capable of resisting more intense and continuous abrasive forces over time before show signs of wear.
In general, a material capable of withstanding at least 50,000 double rubs is ideal for the intensive use of furniture.
Choose more delicate fabrics with a lower rub count only if the customer does not need particular resistance to rubbing or for furnishing elements that do not undergo continuous, direct actions, as in the case of home furnishings used only at certain times of the year.
Choosing the outdoor fabric that will last the longest
Concerning the fabrics that can withstand more vigorous use, you can select any material from the classic outdoor fabrics and the performance fabrics.
The former are designed to withstand the elements and are perfect for domestic and family use. They can also have an appearance and texture completely comparable to the fabrics used for interior furnishings.
Performance fabrics, on the other hand, go one step further: these fabrics are characterized by high resistance to continuous use. They are completely washable and stain-resistant but are not always available in the same variety of shades, patterns, colors, and textures available for the classic outdoor fabrics.
These materials are particularly suitable if the customer also intends to use the outdoor space for play time and pets.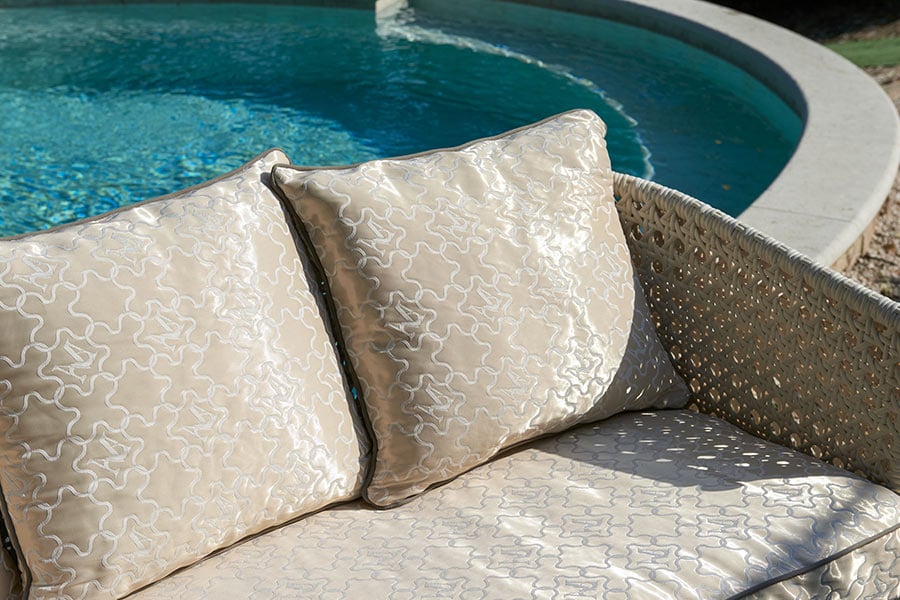 3. Why you should choose polyester: light fabrics, fun prints, and good washability
One of the most common outdoor fabrics is polyester.
The perfect material for spaces that will be used a lot and will need frequent cleaning, polyester is easily washable with a simple mixture of warm water and soap.
This fabric is particularly versatile on an aesthetic level.
In fact, you can find polyester fabrics of all colors and patterns that are always bright, vibrant, and quite striking.
Soft and light, polyester is the most common material to cover upholstered armchairs, poufs, sofas, and cushions and to make home accessories and drapery.
To ensure optimal performance over time, opt for a UV-treated polyester fiber, which can withstand around 500 hours of sunlight before starting to fade gradually.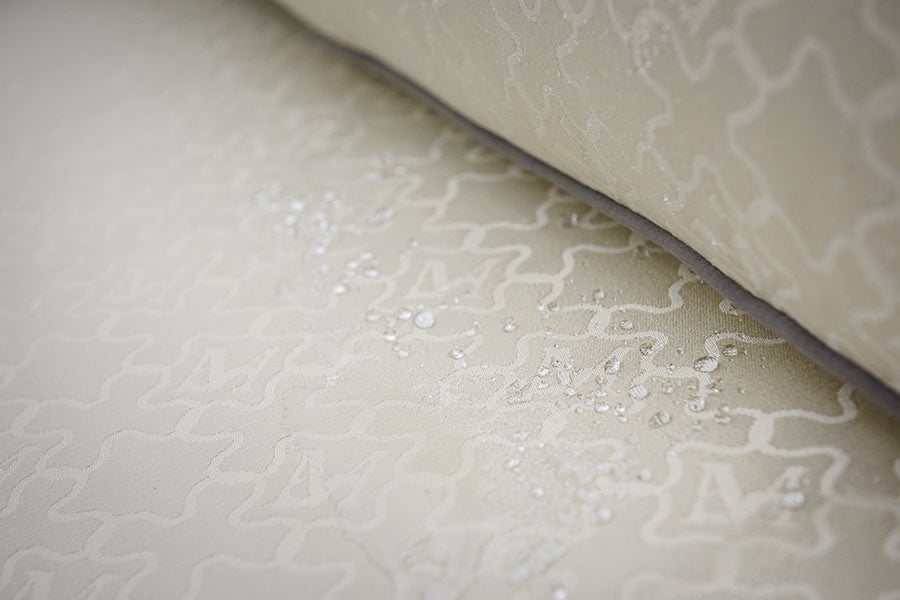 4. Why you should choose solution-dyed acrylic and solution-dyed olefin: high-quality and outstanding durability
These two fabrics are an excellent alternative to polyester because they are similar in texture and lightness, including the range of colors and patterns available.
However, they are far superior in quality and much more durable.
They can be substituted for polyester in all its uses when you want to opt for a fabric of greater value than the classic polyester and with higher quality and technical characteristics.
In their more consistent texture, these two types of outdoor fabrics are also suitable for the creation of covers, awnings, and umbrellas.
Solution-dyed fabrics of any kind are particularly suitable for furnishing and decorating the outdoor areas of structures located in sunny, warm places for most of the year.
In fact, these fabrics are processed to the highest standards regarding the dyeing method.
The fibers of the solution-dyed fabrics have optimal color retention even with intense and continuous exposure to the sun since they are dyed in the thread creation phase and not once the transformation into fabric is completed.
Thanks to this process, these types of outdoor fabrics are guaranteed to look as good as new for much longer than just a few months.
Solution-dyed acrylic: against the attacks of atmospheric agents
Acrylic textile products are particularly resistant over time and to attacks from atmospheric and natural agents.
Solution-dyed acrylic fabrics are guaranteed to resist UV rays and fading, fungus and mold, and can be cleaned with bleach for optimal maintenance and hygiene.
Solution-dyed olefin: resistant and eco-friendly
Like the acrylic version, solution-dyed olefin is a soft and elegant material made from polyolefins and synthetic materials that are stain-resistant and extremely durable.
These fabrics are washable with warm water and soap, are resistant to water, humidity, and UV rays, and do not transmit static charges, a feature that increases their pleasantness of use.
Solution-dyed olefin is also an eco-friendly material, completely recyclable up to 10 times, and produced through a process that creates minimal waste.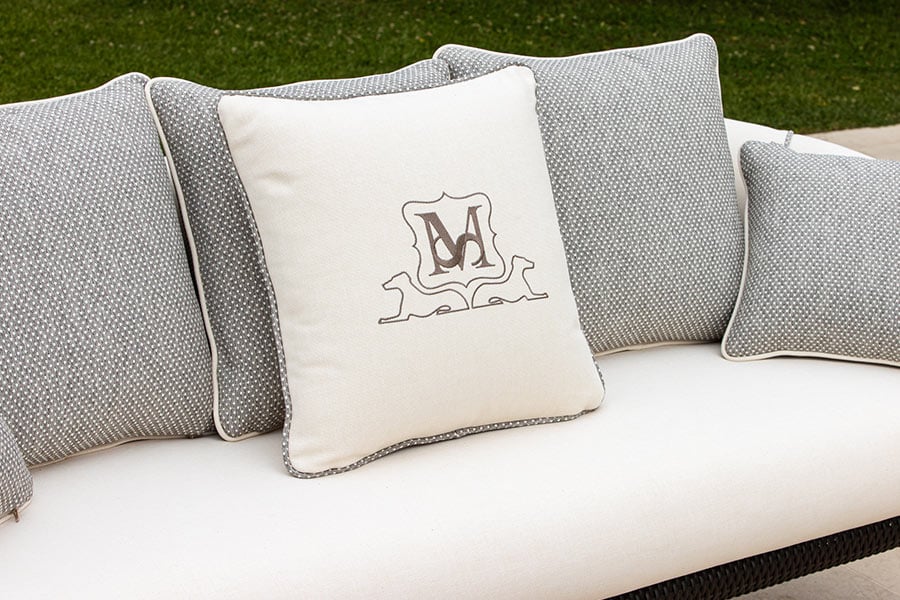 5. The uses of eco-leather: luxury marine vinyl
Particularly suitable for the upholstery of various types of armchairs and seating, eco-leather is a synthetic fabric of great value and extremely resistant, so much so that it is the material of choice in the maritime sector.
For this reason, it is also called "marine vinyl".
More resistant than any other outdoor fabric, eco-leather is always treated to achieve the highest standards of resistance to water, humidity, and UV rays; it is stain resistant and has a very high resistance even to high abrasion.
The appearance of eco-leather is in all respects comparable to that of natural leathers, especially in the highest quality examples. Moreover, the use of this material is able to give a truly luxurious appearance to all the furnishing elements for outdoor areas that feature it.
Among the trendiest products made of this material, Samuele Mazza Outdoor Collection offers floating furniture from the Canopo line, a real must for outdoor spaces that want to stand out with a piece of furniture that is both useful and has a high visual impact.
Tear-resistant and puncture-resistant, the Canopo model of floating furniture can be used both in and out of the water, proving to be extremely comfortable and practical on any occasion, always luxurious, elegant, and glamorous.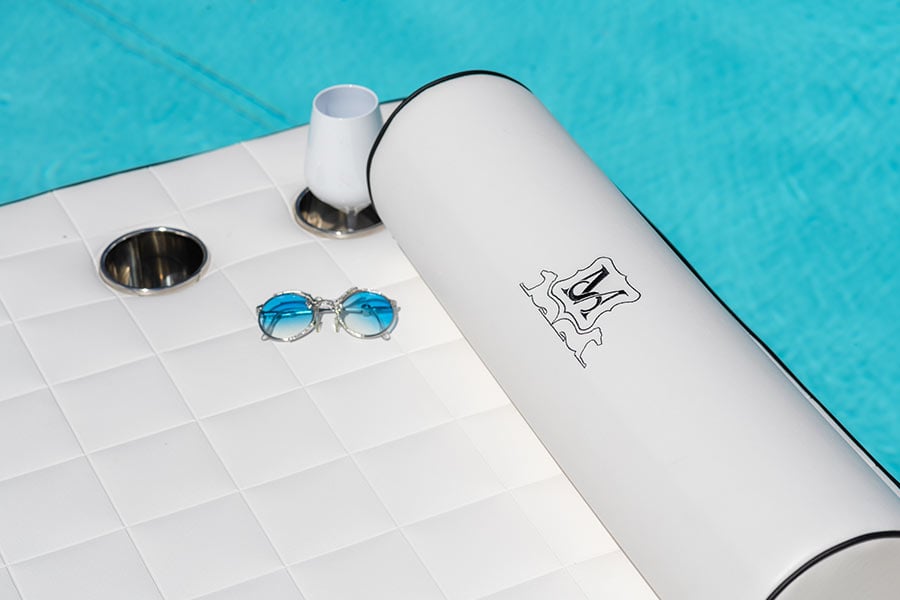 6. Choose a top luxury option with DFN's satin and copper wire outdoor fabric
This fabric has the highest quality technical characteristics, is glamorous, and has a delicate soul.
If you need a selection of outdoor fabrics of excellent quality that are refined, unique, luxurious in appearance, and pleasant to use, choose the fabrics developed by DFN in collaboration with the most important weaving companies. Among the most exclusive proposals are the satin and copper wire fabric.
These threads have all the characteristics of outdoor fabrics with the added luxury of precious finishes.
The Forte Village of Santa Margherita di Pula in Sardinia has also chosen to use satin fabric to add even more value to the décor of the exterior of Villa Mariam, a luxury residence that the resort makes available to its guests for an unforgettable experience.
How to take care of outdoor fabrics
Outdoor fabric does not promote mildew growth; however, mildew may grow on dirt and other foreign substances that are not removed from the fabric.
Therefore, regular cleaning is recommended to keep fabrics in good condition.
Each outdoor fabric needs tailor-made maintenance, aimed at respecting and maintaining the material's technical and aesthetic characteristics.
The only way to keep your outdoor fabrics as good as new as long as possible is to choose the most suitable material for their use and to respect the maintenance and cleaning instructions indicated by the manufacturer.