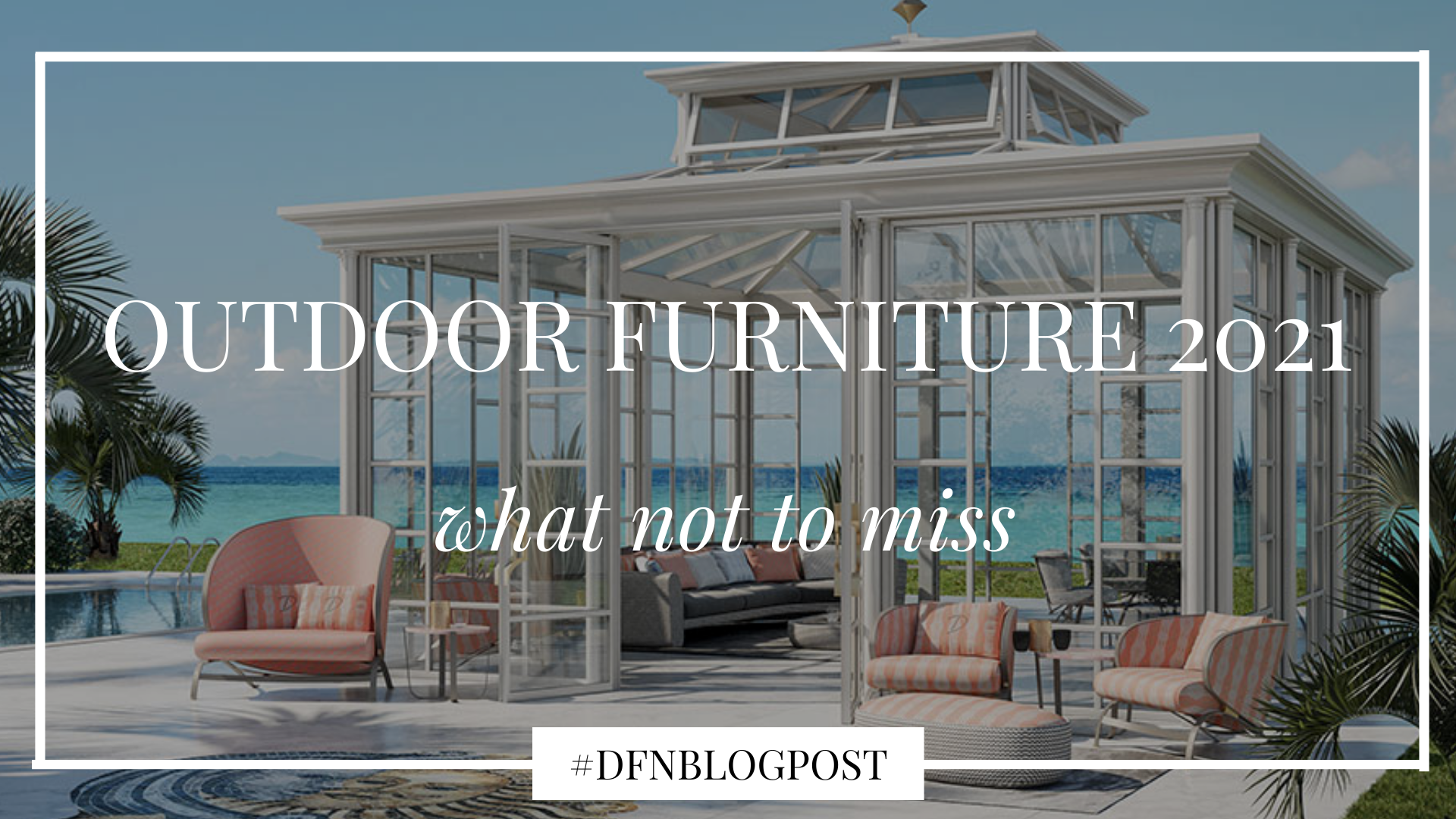 In the world of furniture, trends are renewed from year to year. Aesthetic influences, styles, innovations, colors, new technologies, and ideas of comfort change cyclically; that's the reason why it's important to keep up with the times and what comes with them.
For many reasons, 2021 has turned into a year of change, rebirth, and new beginnings: a great desire to start again has spread through many areas, especially the design industry.
In fact, the new year has brought with it new trends that reflect a renewed desire to surround yourself with beautiful things, create comfortable and convenient environments, and above all experience outdoor spaces to the fullest.
Breathe in the fresh air, immerse yourself in the greenery and enjoy every possible comfort just like in an indoor environment.
Such an idea of outdoor living deserves special attention and, above all, requires a broad knowledge of the most popular furnishing trends at the moment.
In doing so, we can create something unique that can fully reflect the client's personal taste and their way of life and that, at the same time, contains all of this year's unmissable design innovations.
DFN's team of designers is constantly looking for the latest trends in luxury furnishings, technologies, and the latest accessories that can recreate glamorous and welcoming atmospheres in line with current lifestyle trends.
That's why we've decided to put together a guide in which we will deepen this topic, illustrating the major trends of outdoor furniture 2021.
Outdoor furniture 2021: 6 top trends
With an increasing demand for luxury outdoor projects, outdoor furniture has acquired fundamental importance.
This is because furniture, as well as the interior of one's living space, plays a key role in outlining the atmosphere of outdoor environments and especially in making a personal style statement.
The best designs of structures and outdoor spaces show a clear aesthetic continuity with the properties' interiors, acting as real physical extensions.
It's undeniable that designers and clients wish more than ever before to recreate that unmistakable essence of comfort, functionality, style, and hospitality that distinguishes domestic spaces within outdoor locations.
In this sense, here are the main outdoor furniture 2021 trends that have established themselves in recent months:
Let's proceed step by step.
1. Seating able to offer comfort and aesthetic appeal
Sofas, armchairs, chairs, chaise longues, dormeuse: these are not just simple furnishing accessories; they are real accommodations able to offer comfort and rest.
In outdoor locations, as well as inside your home, the search for well-being and comfort has become essential.
Therefore, in view of setting up an outdoor setting that can match the interiors of the client's home in terms of functionality and elegance, it is advisable to select complete collections of upholstered seating with a solid and resistant structure that has generous and refined shapes.
Naturally, the fabrics chosen to cover the seat cushions must be of high quality and must have well-defined characteristics.
Opt for synthetic fibers that reproduce the effect of noble materials to the eye and to the touch, such as:
Linen
Silk
Cotton
Chenille
As for colors and patterns, choose:
Botanical prints and jacquard patterns
Geometric motifs and custom embroidery
Solid colors with vibrant shades such as pink, emerald green, navy blue, orange, yellow, and lighter tones such as white, beige, ivory, dove gray, and gray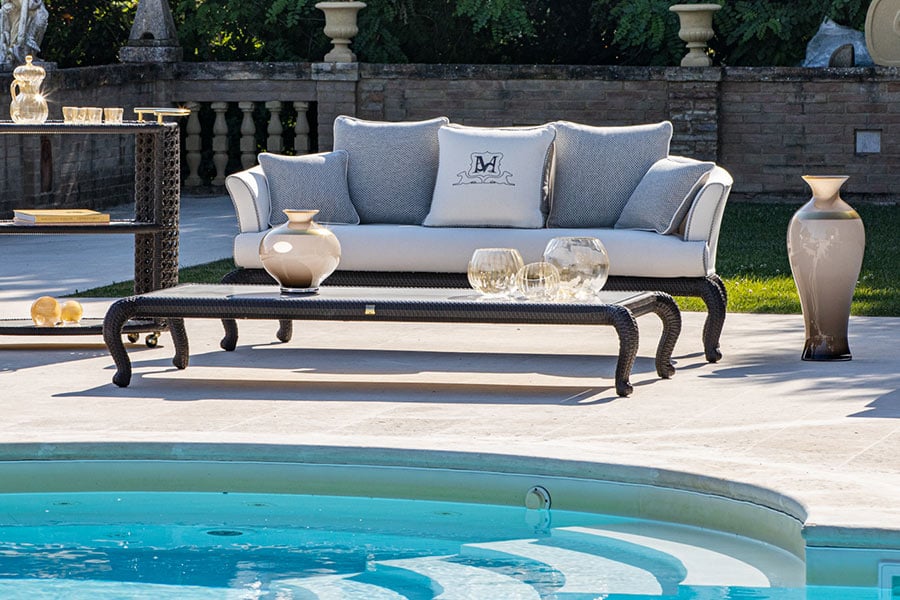 2. Materials with a natural effect and refined textures
Luxury also lies in the unusual finishes and the use of quality materials for the manufacturing of refined and chic furniture elements that guarantee excellent outdoor performance.
For the furnishings to fit perfectly into different outdoor contexts, we recommend that you select collections made with materials that reproduce the effect of natural materials and materials with refined textures.
The trend of the moment is a combination of different materials in the same furnishing atmosphere.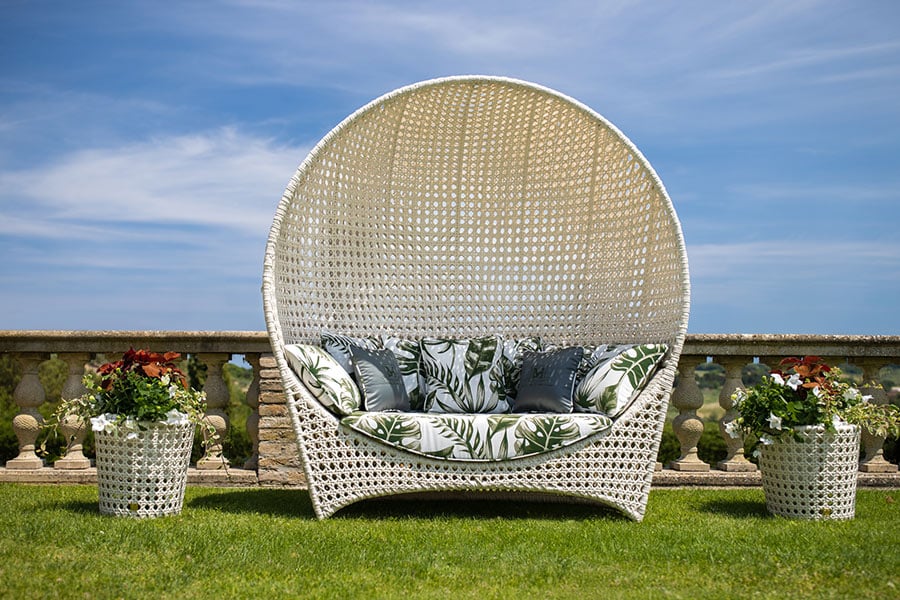 3. Conservatories, luxury greenhouses, and urban gardens
We have already mentioned that reborn desire to fully experience outdoor spaces. Luxury outdoor projects range from the construction of conservatories designed to host real lofts, to the creation of orangeries designed to accommodate small urban gardens.
These spaces are completely different but provide different ways to fully enjoy the luxury of open spaces.
Among the trends of 2021, the designs that have had the most success are bioclimatic pergolas, greenhouses, luxury gazebos, and winter gardens with an indisputably modern taste but with such versatility that they are able to adapt perfectly to outdoor locations with a bucolic essence.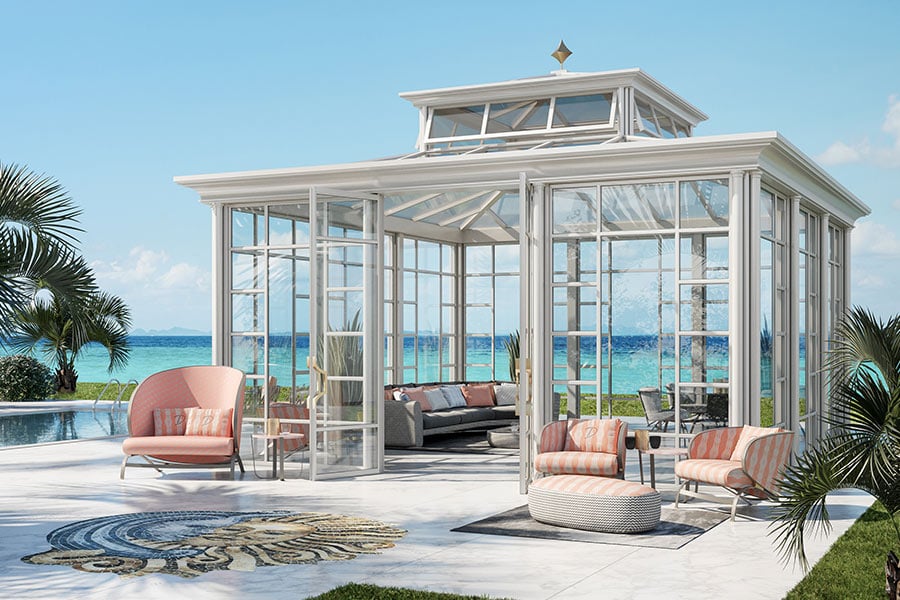 4. Floating furniture
The most luxurious outdoor areas host whirlpools, fountains, small waterfalls, and swimming pools.
The pool is the place of relaxation and regeneration par excellence, and the presence of designer floating furniture is emerging as the ultimate luxury in outdoor spaces.
Sunbeds, armchairs, floating trays: these are the lifestyle trend of the moment, designed specifically to ensure an exclusive experience, both in and out of the water.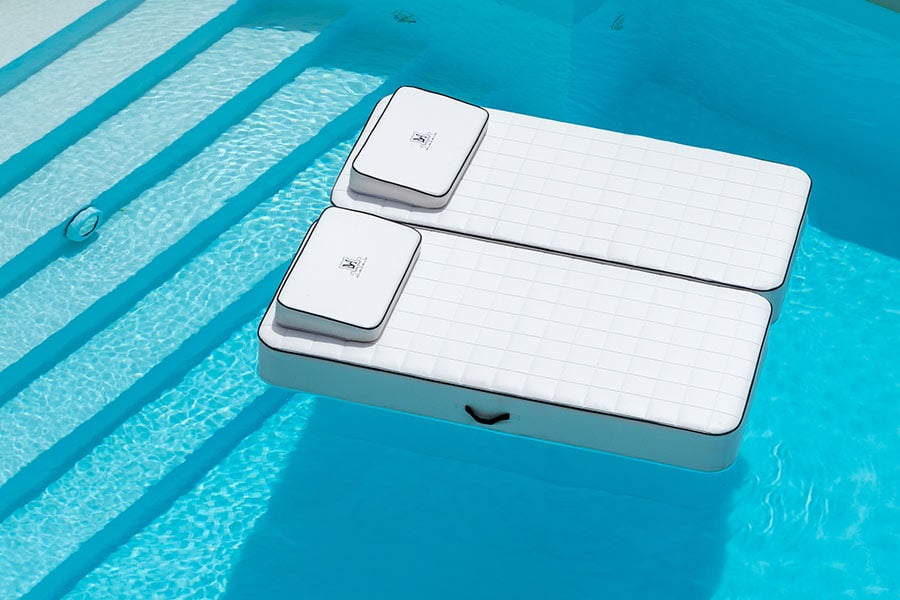 5. Pantone color of the year 2021: ultimate gray and illuminating
According to Pantone, the colors of the year 2021 are "ultimate grey" and "illuminating."
The warm and energetic shades of "illuminating" are reminiscent of the golden shades of a summer sunset, while ultimate grey—a softer and lighter shade—is a shade of grey that refers to a deep sense of austerity and composure.
These contrasting colors are able to evoke a pleasant sensation of comfort and luxury.
Both colors are perfect for kitchen and furniture finishes, painting walls, and different accessories, such as:
Curtains
Decorative elements
Pillows
Lamps
Rugs
They are ideal chromatic choices to create furnishing scenarios with a bold, classy, and modern soul.
DFN updates its textile proposals every year to keep up with the latest trends.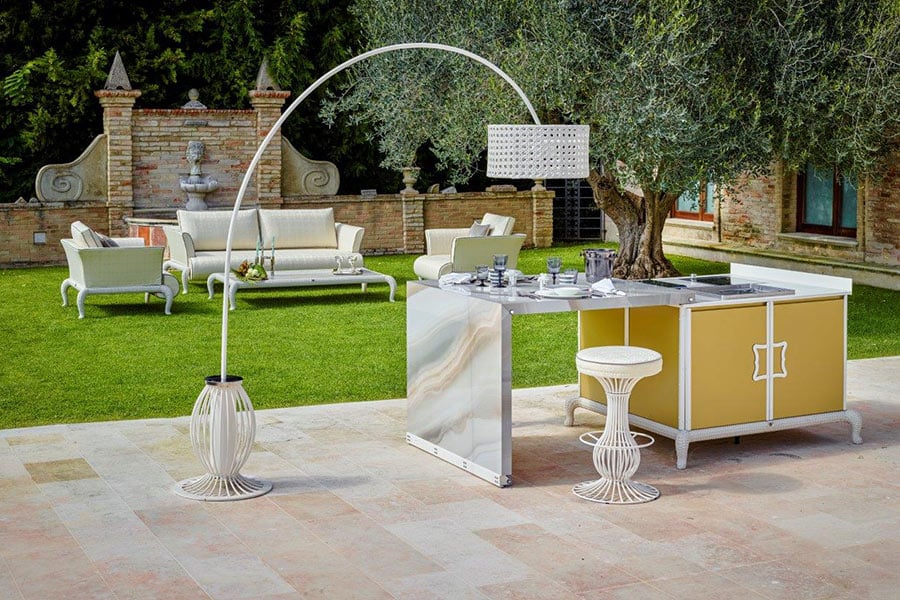 6. Performance and style: luxury outdoor kitchens
Outdoor areas are proposed as authentic extensions of your home, which is why they need all the necessary comforts typical of a home environment.
To ensure that the outdoor project does not lack performance and style, consider installing a luxury outdoor kitchen.
An outdoor kitchen is much more than an equipped and functional cooking space; it is a real place of conviviality and sharing designed in the name of exclusivity.
It is a task space equipped with appliances, tools, and hi-tech equipment that ensure high performance for cooking in total comfort and safety; it is entirely made according to the needs and tastes of the customer, with custom finishes and accessories of great aesthetic quality.
Versatile and adaptable to any context, outdoor kitchens can be converted into an outdoor lounge area or bar. They can be both a kitchen and snack area thanks to the sliding protective cover that becomes a support surface if necessary.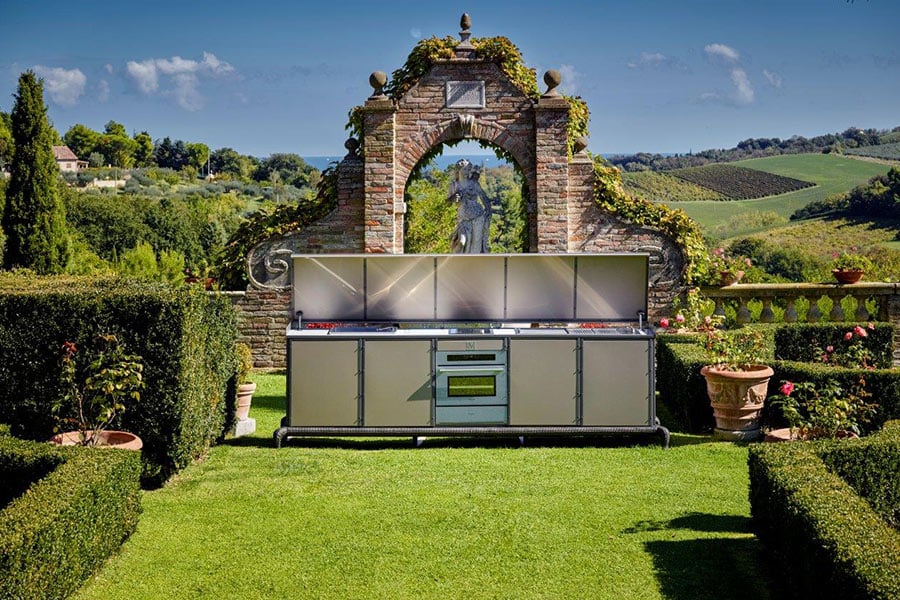 Outdoor furniture 2021: here's what you should know to keep up with the latest trends
In this article, we have shown you the latest trends in outdoor furniture 2021.
It is an unmissable gem for those like you who love to keep up with the times and learn about the latest news in terms of design and furniture.
Make your outdoor space a luxurious and elegant atmosphere, create a setting furnished with style and an eye for aesthetics, without sacrificing comfort, and fully enjoy all the comforts you need in your daily life.