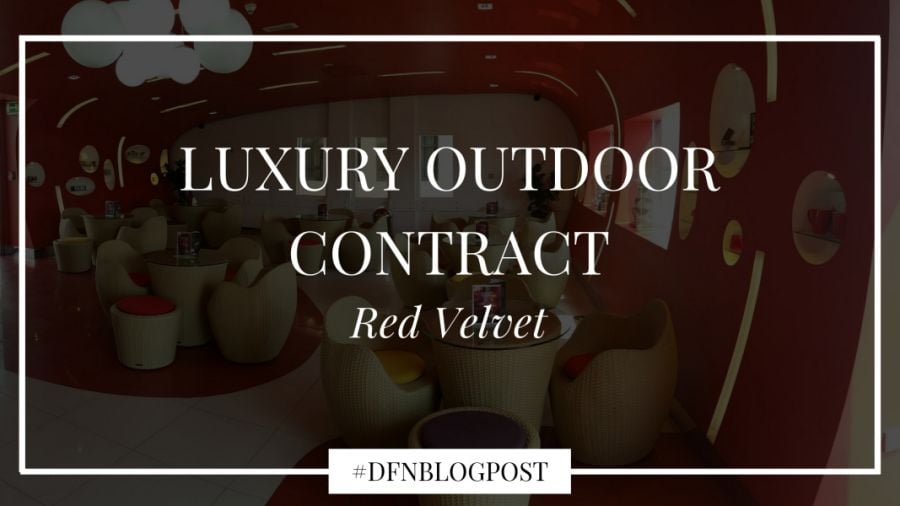 Every DFN project is a celebration of lifestyle experiences that cannot be beaten. With our continued focus on the wishes and tastes of every customer, DFN adds to luxury with an extreme dedication to the details and materials needed for excellent performance in outdoor use.
In fact, DFN deals with project and collections of great luxury and prestige, and often, to deal with the needs of customers, it creates bespoke contract projects for outdoor areas, taking care of everything, from planning to implementation on site. This is an exclusively tailored service that DFN guarantees to architects and designers in order to satisfy the needs of its well-informed, discerning customers.
The materials used to create the luxury outdoor furniture combine user comfort with the practicality required in hospitality settings.
Our bespoke service includes:
Personal consultancy

Planning of space

Bespoke projects

Style tips
With its bespoke service, DFN shows its extraordinary versatility and ability to individualise its standard products.
For the luxury outdoor contract project in Doha we worked on complete customisation, creating furnishings that would be in harmony with a location with an extravagant nature.
Our luxury outdoor contract in Doha
At DFN we catalogue luxury outdoor contracts as prestigious, unique projects.
We put all of our effort not only into creating a sophisticated setting with fine furnishings and fittings of excellent quality, but we also take care of the presence of the site in which we intervene, to enable seamless integration with our project and the complete satisfaction of our customers.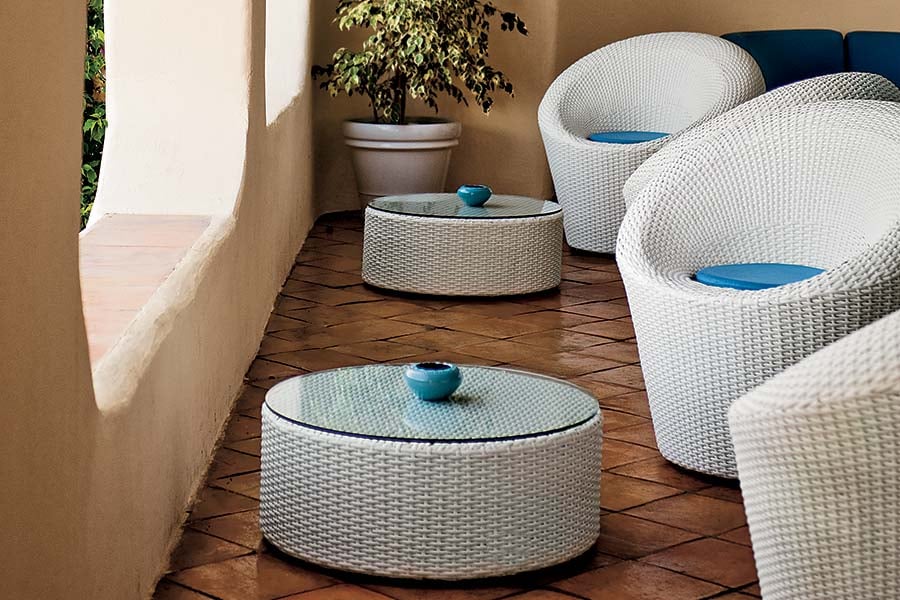 Dolcefarniete at Red Velvet
Red Velvet, in Doha, is a famous Cupcakery: a simple, inviting store, that is truly too delicious to put down in words.
For this special location, DFN has developed a special capsule collection for this project: armchairs, tables, and soft, rounded poufs, complete with bright, multi-coloured cushions that evoke all of the typical shapes and colours of a cupcake.
Our luxury outdoor contract unit in Doha worked in close contact with the customer, developing every stage of the project, from design through to the finished product, based on the functional and aesthetic needs of our client. The result is a full range of bespoke furniture that adapts perfectly to the atmosphere one would expect to find when entering the Red Velvet Cupcakery.
A marked attitude for developing bespoke projects and the ability to propose unique, bold solutions are what make DFN the ideal partner for "Luxury Contract" projects in any part of the world. In fact, for some years, DFN has been able boast prestigious collaborations with the luxury hospitality trade, covering not only the vast hotel sector, but also meeting the needs of particular and important restaurants, lounge bars and bars, as in this case, where it has been an exceptionally sensitive interlocutor.
Project requirements vary from one area to the next, but performance needs to be the same, even with different shapes. Thanks to the collaboration of our team of experts, eclectic and ambitious designers who examine the surroundings with care, looking at the background to each project, and thanks to the continued development of the company and to contemporary culture, DFN goes beyond simple furnishing projects, developing "specially tailored areas" in keeping with the needs of its clients.
It is this inquisitive, cosmopolitan approach that makes the brand the ideal partner for outdoor areas and contract projects in every part of the world.
Outdoor luxury contract in Doha: the choice of Red Velvet
Established in a crescent-shaped bay on the edge of the desert, the exotic and contemporary capital of Qatar, Doha, is a city that is growing at an extraordinary rate, where tradition and modernity come together to create an almost perfect synergy. Ultra-high skyscrapers in unusual shapes light up the night in thousands of colours, adding to the fascination of the capital.
Doha has been defined the capital "between unbridled luxury and the sea": it overlooks the Corniche, five miles of coastline packed with bars and nightspots to offering entertainment and fun until late into the night.
In the traditional market of Souq Waqif, it is possible to purchase jewellery in oriental style, fabrics in bright colours, exotic-flavoured sweets, and spices of all types.
It is a genuine city within the city, where everything is designed with visitor satisfaction in mind, offering a selection of restaurants, stores, and luxury hotels that cannot be matched. Luxury and opulence are in fact what Doha is all about.
With an oriental yet surprisingly modern appearance, this institution of Qatar showcases all of the charm and elegance of the Arab world.
Our luxury outdoor contract in Doha was a challenge: creating a unique singular style that could be timeless and traditional at the same time.
To meet this need, we brought flexibility, excellent professionalism, and our unmistakable Italian design to the table.
When fitting out a "luxury" bar or cafe, it is necessary to stress the deepest significance of the term within the setting.
Sumptuous furnishings in a bar are not synonymous with luxury: an elegant setting with the possibility of taking time out to savour every moment is what luxury is really all about.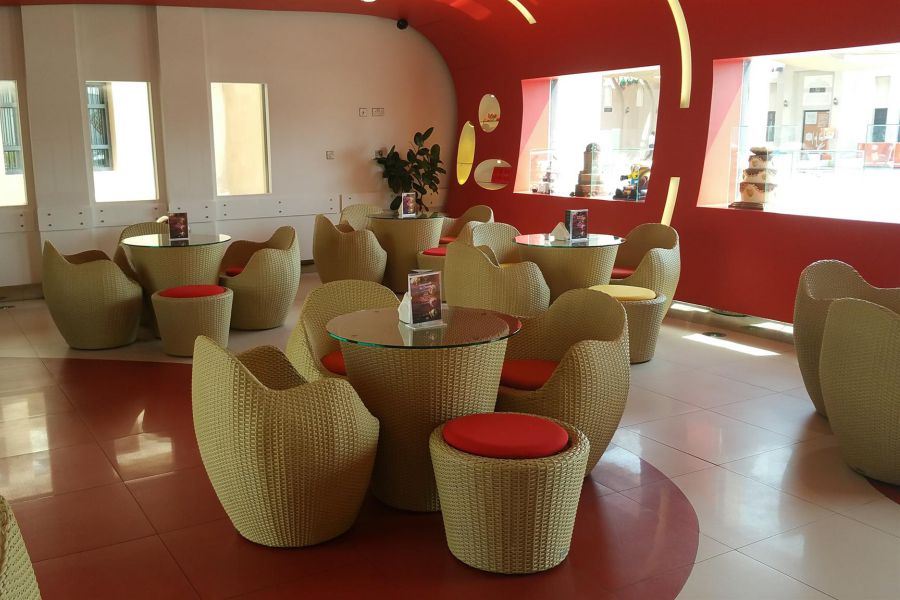 It is necessary to create areas to suit a discerning, elegant public who can enjoy food and drink and socialising.
This is why we designed comfy spaces for relaxing occasions, but brought together in terms of exclusive conviviality: hospitality with taste in a luxury setting means allowing guests to enjoy life's pleasures, even in a cup of coffee.
To create the design, we first looked at and studied the Red Velvet Cupcakery, its work methods, and its values, and we found that:
the expert pastry chefs who work there put their artistic talent into every cupcake;
they only use ingredients of the highest quality available on the world scene, and which are sources as locally as possible;
they reduce waste to a minimum
This is "comfort food" at its best, with skilled pastry chefs who combine sheer skill with artistic expertise, and top-quality ingredients to create cakes of supreme quality.
Based on these considerations, we have created an outdoor luxury contract in Doha that is as close as possible to the top levels of the store and the city.
Overall, the area and its furnishings, is the result of painstaking attention to detail, with a bright setting that offers the pleasure of sharing a fun, relaxing moment, welcoming customers in a familiar, yet refined setting that puts everyone at ease.
Our furnishings convey a sense of warmth and together with the lighting and decoration to bring out the best of the bar, with its coloured showcase, for unique, original and special styles, with an eclectic, eye-catching style.
When conceiving the bespoke furnishings we considered the shapes, materials and styles with an eye to trends and innovation, to create a warm, sweet and tasteful style.
A particular, luxury bar
As we already mentioned, for the prestigious Red Velvet bar in Doha, we designed a luxury contract project that is completely customised, using furniture that can be used both indoors and outdoors.
We developed a line to meet the needs of a discerning international client, creating a project that could be one of a kind, embracing the linchpin values of DFN: luxury, style and quality.
Starting with an idea, an atmosphere, we guaranteed the development of a project that is completely in line with what the customer wanted and needed: great-looking, top-quality furniture with excellent performance.
The Red Velvet bar features a well-lit environment with bold colours, especially red. For this area, we chose a more sober, traditional style that would not interfere with the rest, while creating an elegant image of relaxation.
The chosen colour for the synthetic woven resin is teak. This shade sits perfectly with the warm, light notes of red but it also has a colder component that adds a sensation of sweetness and a delicate feel to the store, for more luxurious results.
A touch of colour to the furnishings comes from the round cushions in different-coloured fabrics to match the colours of the store and the decorations on the cakes.
The fabrics used are perfect for indoor and outdoor use: resistance to the elements, and easy cleaning. The cushions have removable covers for easy washing, and they are water repellent, resistant to sunlight, and also stain proof and mould proof: perfect for combining resistance and comfort.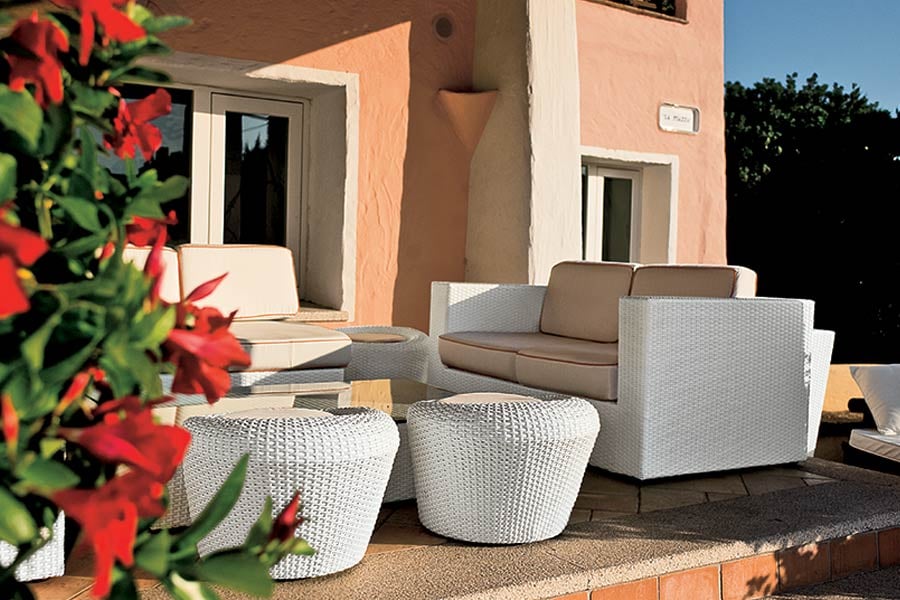 Hospitality & Design
Today, design and technology contribute to the success of hospitality more than ever, thanks to furnishings designed and made to meet the needs of the industry, from simple transparencies to customized features to welcome the customers.
At DFN we are at the customer's complete disposal to devise exclusive solutions for furnishing luxury bars and in general, for magnificent particular locations.
With our outdoor luxury project in Doha, we designed and created a product in line with the customer's needs, showing that there is no limit when it comes to finding the right solution for our customers, satisfying all types of requirement and any quality requests.
Contact us and together we can look at creating a fantastic luxury project, tailored to your requirements, for guaranteed unique, memorable emotions and experiences.