Nature and all of its colours, scents and textures is one of the biggest trends of this year with regards to interior and landscape design. So, it goes without saying that bringing the outdoors inside can only be a bonus when thinking of the décor of your hotel.
As building design grows more and more important due to the continuous improvement of people's living level and standards, integrating the indoor and outdoor areas of the same space seems to be the obvious choice in order to create a harmonious environment that will prove psychologically and physiologically beneficial to users of our society, which gets more and more human oriented. A human oriented society means that public spaces and common areas need to be liveable and pleasant to be in.
Form and function must go together seamlessly, so that the space can be enjoyed and that users can make good use of all its features hassle-free.
If the hotel design is well thought and realized, you will be sure you are providing your guests the perfect combination of luxury and comfort, creating for them a happy place to be – which will make them feel cared for and at ease at the same time.
Let's see how hotels design can benefit from the natural beauty of the outdoors!
Improve hotels design thanks to the harmony of nature
It is proven that implementing biophilic design to various facilities and hotels alike improves health of the body and mind and promotes good mood and an overall greater sense of well being. It also reduces stress, helps concentration as well as relaxation. From this perspective it is easy to see how to improve hotels design through outdoor elements.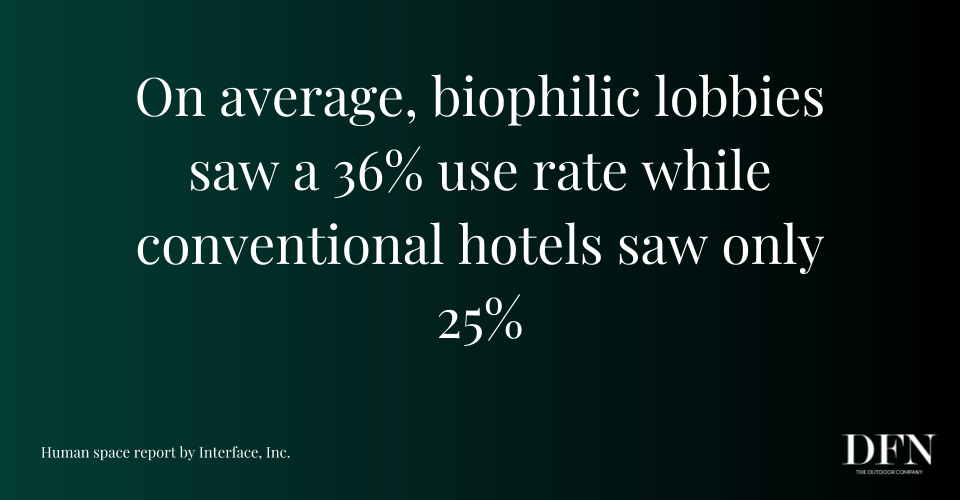 Adding plants, flowers and other greenery to the indoor areas of your hotel will create a more enjoyable environment for your guests – as well as making the whole building space and its surroundings a single entity. Linking beautiful architecture to a beautiful environment will give a sense of unity and oneness that leads to a better living – in this case, the temporary experience of life in some place that if well designed, can really be like a home away from home.
Harmonizing structure, comfort, beauty and technology (so much needed to make you guests feel at ease in today's world!) might not seem like an easy thing to do – but it will create the functional, performing space that is essential to provide your guests for an unparalleled hotel experience nowadays.
"As hotel designers and owners, you want to deliver joy," Erin Hoover, Designer
To reach this goal, designers and hoteliers should focus less on what kind of TV a room needs and more on what really makes people happy and discuss how it could be incorporated into hotel design.T
aking inspiration from nature and its characteristics is a perfect starting point – moreover, being so on trend for 2018, doing so get that little bit easier, as you will be able to source nature-inspired pieces of furniture to include a little bit of nature in your hotel interiors even should you not be able to introduce actual plants, flowers and trees.
For example, you can rely on prints with botanic or flower motifs for your complements, with patterns based on nature's shapes and choose them in earthy, natural tones and untreated fabrics or other natural materials – such as wood, clay, stone.

To make sure you stay on trend – don't forget to add a pop of bright colour here and there! Not only is it super trendy this year, but once again, it will bring a little vivid, vitaminic breath of life from the outdoors in.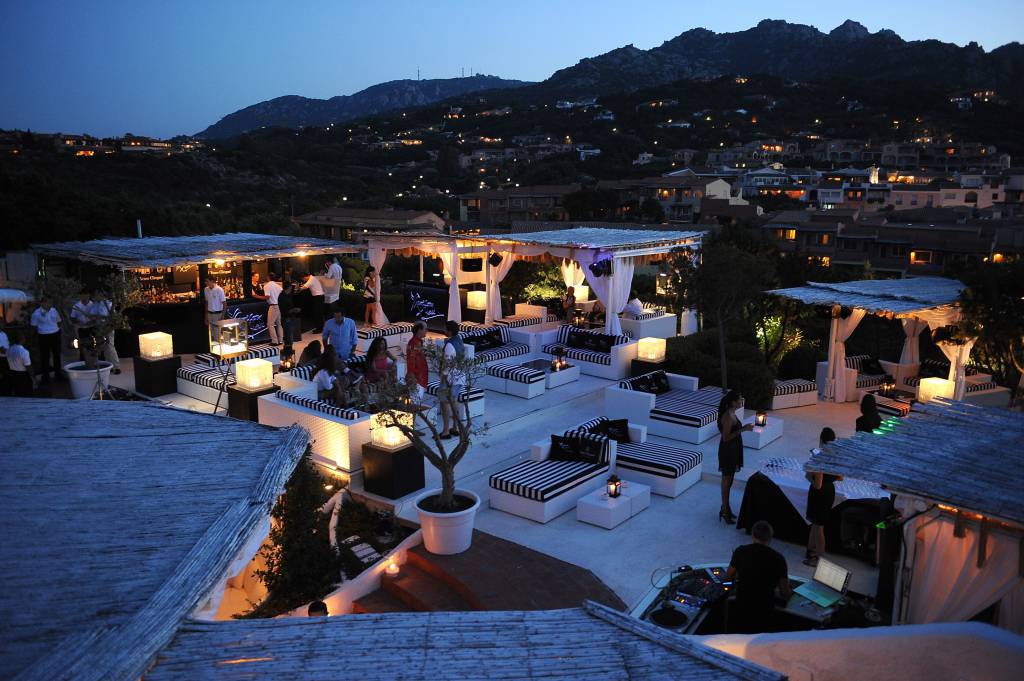 Let light in
Letting natural lights in your indoor areas is certainly a great way to improve hotels design through outdoor elements: it will add elegance and warmth all at once and it will make the are feel and look more spacious, airy, and ultimately, luxe.
Orchestrating a beautiful mix of natural and artificial light will create dimension to your space and give him simultaneously depth and a more airy feel. Appropriate lighting to a specific environment is proven to be another way for our brain to respond with a more positive outlook on things and ultimately another way to improve our mood, psyche and body functions and well-being.
A good tip to let light in is to design windows – large if possible, both in the lobby / common areas and the rooms themselves – that can let natural light in as efficiently as possible, based on the position of the hotel where, when and how the light hits depending on the time of the day and on the season.
Activate the senses
Activating all of the five senses is another trick we can learn from nature. Sensory perception engages the user and will make your guests feel happier in general – deliver joy! To do so, make sure nothing you choose as far as items of furniture and complements go is chosen by chance.
Select materials carefully based on their texture and temperature, pick colours so that they go well with the style and feel you want to give the hotel you are planning to decorate, look for patterns and unexpected pops of colour or metallic accents to brighten up the mix and keep your guests' attention level high without it being too much – so much it can cause stress – choose so that your décor is not boring but fun, engaging, new, yet relaxing, comfortable to feel, look at, touch, live in.
Try and find plants or perfume oils to fill the environment with scents to wake up the sense of smell, too.
Another good trick is to find a high-performance sound system to fill the air not only with a gorgeous scent – but also with a pleasant, inspiring soundtrack of your choice.

Most importantly, remember to harmonize everything you choose with the surroundings the hotel is set in – in order not to create confusion and chaos that would defy the purpose of realizing a space that is so enjoyable your guests won't be able to do without in the future!
Creating this "symphony", in a way, will make your hotel stand out as part of the geographical environment it belongs in – as well as making it feel like some sort of oasis, a beautiful place in its own, a little, precious, beautiful village.
Wait until you've seen the piazza!
Don't leave the piazza to the outdoors! Take a page out of nature's book and improve hotels design through outdoor elements, by letting nature seep into the indoor spaces of your hotels with all the little tips and tricks mentioned above, you can take advantage of yet another huge trend for 2018.
Creating lobbies with centerpieces that can serve as conversation starters as well as gathering points for your guests to meet, talk, work for instance, is very much on trend this year.
So, create the perfect indoor piazza by selecting the pieces of furniture that fit best with the hotel idea you have and want to portray and provide, choose colours, materials and patterns wisely and add as much greenery, as many plants and flowers as you want (and can) and carefully pick the scents, sounds and / or music you find most suited.
You will make the lobby of your hotel the interior centre of all your guests' social activities that will serve as some sort of a physical "calling card" that will show every guest upon entrance what the style, feel and philosophy of your hotel is.
Trust nature to design every space of the hotel - from indoor areas to the surrounding outdoors.
Not only will you be very on trend this year – but you will be sure to organize a space that is harmonious, organic and pleasant for all the senses; liveable and enjoyable – for added value, remember to properly equip your spaces with the best technology, to make the overall hotel experience easy, modern and stress-free.