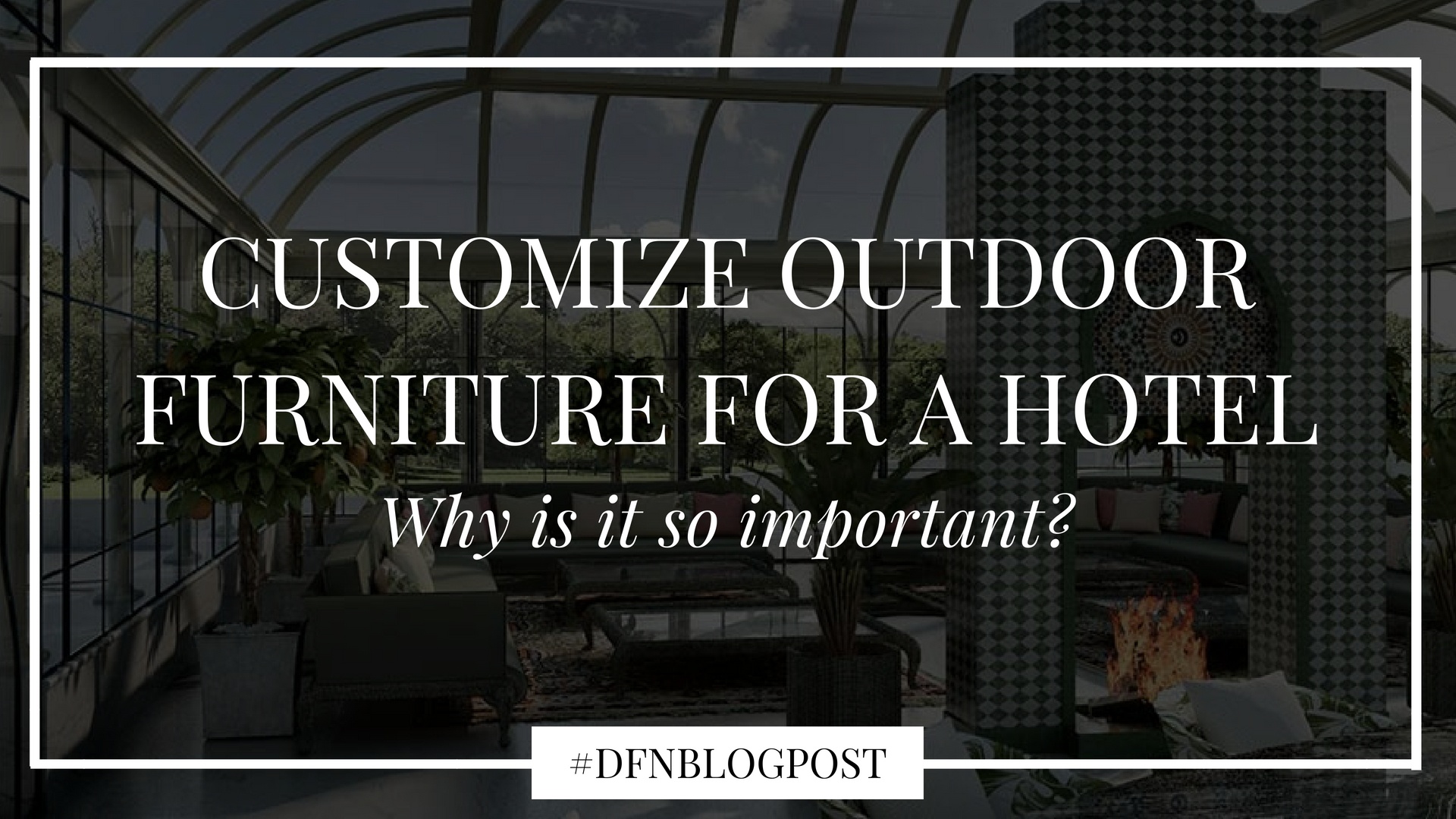 The outdoors of a hotel are without a doubt one of the most important areas of the structure. The entrance, patio, and the surrounding nature in fact, are the first things guests will see and come in contact with upon arrival. Gardens, balconies and any facility, amenity and furniture placed in those spaces will be immediately visible and will be the ones welcoming guests as they enter the hotel.
For this very reason, making sure you tune in with the feel and mood of the hotel you are working on is essential so that you can build the personality the hotel needs to stand out and make the hotel itself not only beautiful and functional but special and unique.
In order to do this, when you are working from scratch on the décor of the outdoor areas of a hotel or just remodelling them, you must make sure that you are able to customize outdoor furniture for a hotel, depending on the specificities of each structure and its strong points. Remember to:
Pick furniture that looks coherent with the look of the hotel. This means you should always observe and inspect what is already there (for instance, the décor chosen for the indoors and the nature surrounding the structure), so you can harmonize the décor of the outdoors with the inside areas and the environment where the hotel is built;
Take into consideration your clients' ideas and what they want to achieve;
Trust your vision as a professional to help your clients solve issues that may arise during the design process and the selection of the pieces of furniture.
Let's see together why it is so important to customize outdoor furniture for a hotel and why putting so much thought into it is worth the effort.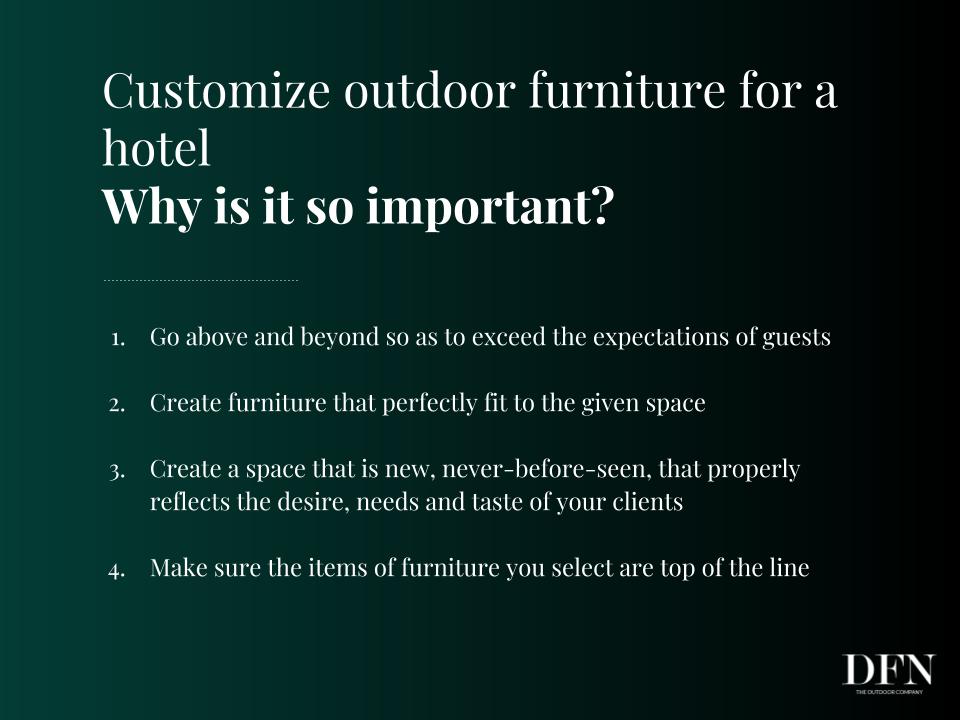 Beat the competition
The community working in the hospitality business is continuously growing, which means all sorts of leisure and hosting facilities such as restaurants, resorts and hotels are increasing in number, making it a little bit harder for everyone to find their place in the market and in the hospitality landscape – and to maintain it.
Hotels in particular are almost literally required to go above and beyond so as to exceed the expectations of guests by providing them with fancy perks and unique services that will make the time spent at the hotel, be it for business purposes or on vacation, more than a simple stay at a hotel, but a true, luxury experience.
As mentioned earlier in this article, the outdoor areas of the hotel will make a very important impact on guests, so creating a luxurious environment with the right character and a strong personality is extremely important.
With this in mind, going ready-made for the furniture you select is not the best idea. Manufacturers will of course suggest very valid options that can be very beautiful, but of course, the same solutions may be adopted by a number of facilities, which will then all show spaces furnished in a similar – when not identical – way. This does not allow the hotel to stand out from the crowd and acquire prominence within the market.
In order to be recognised and remembered, a hotel must have unique, appealing features that catch the eye and the attention of current and possible, future guests. This is why you should be able to customize outdoor furniture for a hotel basing your design choices on all variables mentioned above (look, mood and feel, your clients' wishes and so on.).
As a professional, you can suggest your clients' new ways to mix and match and arrange furniture sets creating new, customized solutions that are unique to the facility you are working on.
Research what is on the market and select items that are not only beautiful on their own, but that can serve the purpose of enhancing the hospitality business they will be set in.
Further personalizing the items, by for example engraving them with the name of the hotel or the logo, a symbol in the brand's colour, can also be very delicate and elegant ways to make the furniture even more unique to the business and its philosophy.
Mind the gap
Creating your own furniture sets also means they will fit the given space perfectly.
Be it a full garden, the inside of a conservatoir or orangerie, a balcony, an entrance patio, picking items that are the right size for a space, for as large or as limited as it might be, will make the environment you create look more luxurious at once. This effect is given, once again, by the thought dedicated to the design in customizing all details so they look made to measure for the reference area.
Carefully choose the size of each piece of furniture, their orientation in the space and combine them in perfected layouts that are suitable to the space at hand and that look clean and effortless.
Trust your instinct...
And that of your clients, too! Inspiration can come from anywhere, and it can trigger interesting ideas that can work really well to add a touch of uniqueness to the décor. To really customize outdoor furniture for a hotel, it is essential to talk to your clients so you can understand not only what they want to achieve but also how they want to finished work to feel once it is ready to be lived and enjoyed.
This way, you will be able to really create a space that is new, never-before-seen, that properly reflects the desire, needs and taste of your clients, their brand's philosophy.
Once again here, colour palette, materials, size of items and how they are arranged within the space are all details that come into play and work together to achieve the desired mood. Your professionalism and know-how will be of paramount importance at this stage, as you will have to be sensible while trying to satisfy your clients' and your own vision, taking into consideration all of the technical and technological aspects of the furniture you are looking at, so as to make sure it is beautiful, full of personality – but also, functional and long lasting.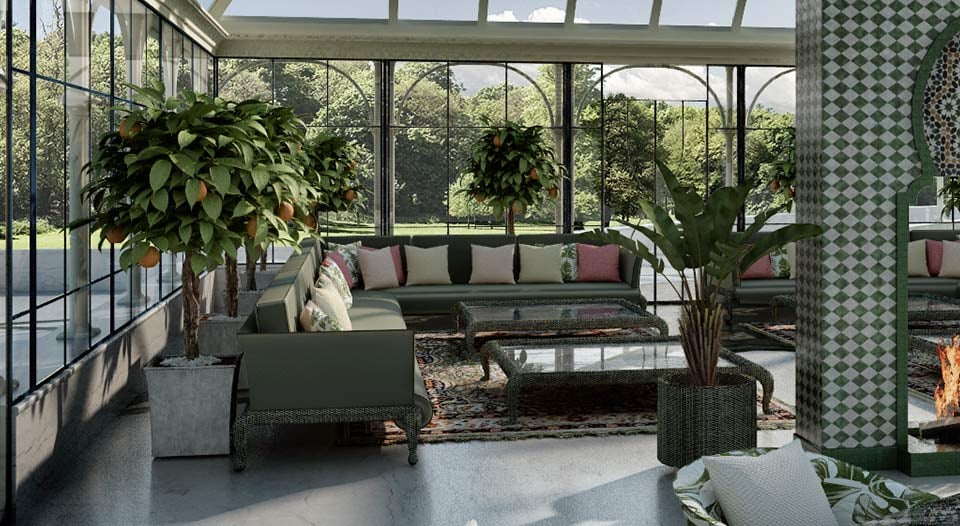 The cream of the crop
About long lasting furniture – as you are putting a lot of effort into designing an area that is customized, perfected down to the smallest detail, it goes without saying that it is desirable that the effort you and your client put in terms of money, time and work does not end up wasted.
Customized furniture usually have to be pre-ordered, then, especially made to order, so it might take a long time not only to design the look of the landscape work, but logistics and waiting time might also end up being quite burdensome.
To make a profitable investment in this sense and from all of these points of view, make sure the items of furniture you select are top of the line. This will ensure the pieces will last a long time without getting ruined (if properly taken care of) and that they do not lower the standards of luxury and excellence of the beautiful hotels they are chosen for. Select manufacturers that are renowned and trusted on the market and keep an eye on the production – as monitoring all the steps will help avoid having to fix issues and mistakes that might come up, which are usually much easier avoided than fixed later down the line.
Have fun - and work hard
It is a lot of fun to be able to decorate a luxury space, having a budget that makes it possible to work with the best materials and designs and especially when you have freedom to make a vision come to life, your work as an architect and designer can really be one of the most exciting, inspiring and stimulating out there.
For this reason, it can also be very challenging, especially when you are working on an environment that needs or can take a lot of customization.
Always remember that you are creating the setting for your clients' work and that guests, people, will have to use and live the spaces you decorate.
This is why customized spaces require if possible a little extra of attention on your side as a professional, as you must keep in mind the mood and stay true to the philosophy of the hotel and your clients' brand, all while advising your clients on the best options for a delicate area of their hospitality business like the outdoors are.
Only by giving enough attention to both the artistic and the technical side of the job you will be able to create unique outdoors that will give the best possible first impression of the facility on guests and that will have a wonderful impact on all visitors during their stay.