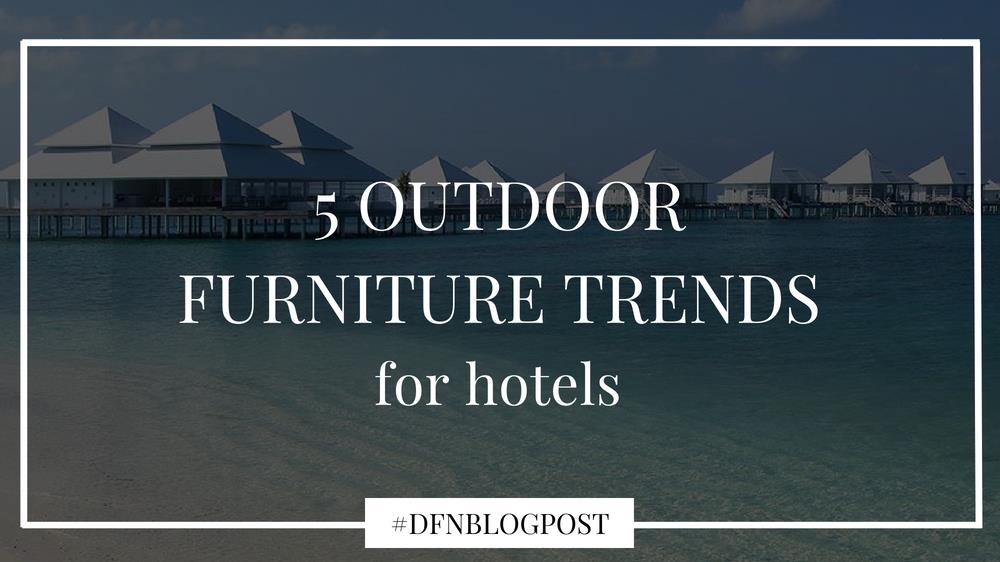 The main goal of hotels, restaurants and resorts is to offer the best experience for their guests by following the latest trends. 2018 is a great year to renew or design from scratch hotels and their outdoors – and of course, to decorate a brand new one. So, are you ready to modernize the outdoor space of these facilities by building fashionable and inviting areas according to the latest hospitality outdoor furniture trends?
Let's find out together what new ideas are coming into view in the field of landscape design and outdoor furniture.Let your inspiration flow and let your imagination go – make your space look and feel just wonderful. Rest assured, your guests will appreciate!
Hospitality outdoor furniture trends: A home away from home
Cold and impersonal is a big no-no when it comes to hotel structures – especially this year, warmth and a homely feel are the name of the game. Everything from golden, bronze lights to exposed bricks on modern walls for instance, or the addition of vintage looking pieces of furniture to an otherwise sleek, modernist-inspired déco can serve the purpose of making your hotel feel more personal and welcoming. For this very reason, avoid the outdated sleekness of the minimal or modernist looks, or the apparently timeless elegance of a perfectly classic design, and only get inspired by their main characteristics in order to create new spaces that will prove exciting and surprising, hence engaging for your guests.
A good mix of old and new will ensure a cognitive comfort that will result in comfort of use and an overall positive experience for all users. Making sure the materials and color palette selected are right for your space and the style you want for it will make the area visually relaxing, too. Read further down the list for materials and colours that appear the most and that will prove most powerful in outdoor furniture trends for hotels.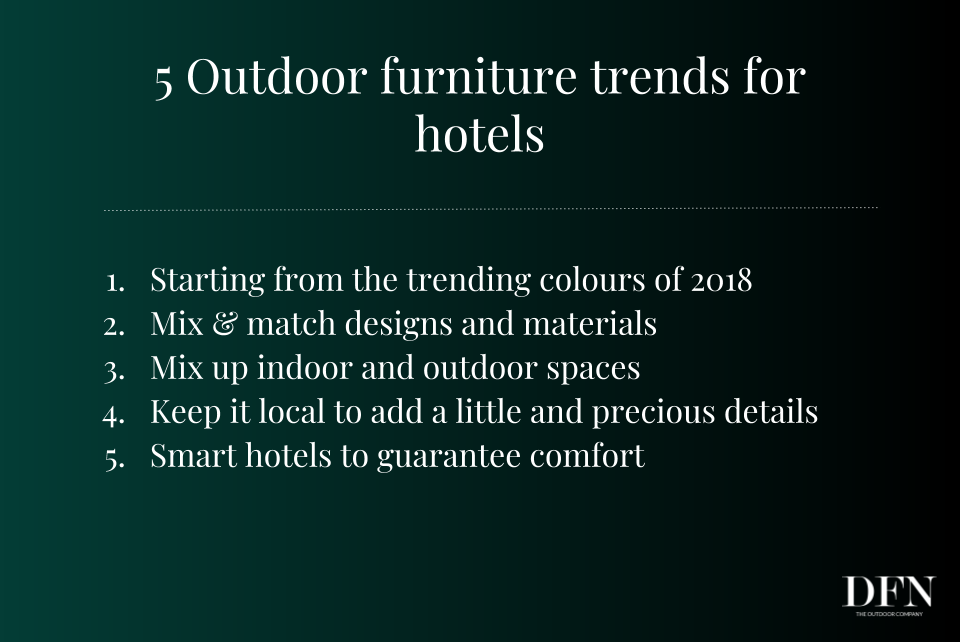 1. Starting from colours
Colours play a significant role in the hospitality industry, thanks to their psychological effect on people. For this reason, when planning an outdoor area of a hotel, pay particular attention to colours. According to the psychology of colours study green, blue, yellow, red, and purple generate positive vibes. But which colours are trending this year?
Although they can have that timeless appeal to them, we will not see neutral colours on their own this year. In fact, the trends say the best policy when deciding on a colour palette this year is to have pops of bright, vivid, highly saturated colour to liven up the more neutral tones.
Neutrals are mostly natural, earthy tones that go from warm, mellow cream colours to deep, rusty reds and luxurious intense black-browns - deeper colours being more on trend than their lighter versions.
The colourful accents on the other hand, will be lively greens, from sage to celery to avocado – lots of natural, vitaminic hues (to go hand in hand with the botanic trend, of course!), turquoises, violets and pinks, super-saturated primary colours, oranges. Metallics such as gold, bronze and copper and patterns can appear in the place (or paired with) the colours just mentioned.
Choose outdoor furniture sets with such shades of colour, will improve both the overall appearance of the hotel and the guests' state of mind.
2. Mix & match designs and materials
Natural elements can come into play also when selecting the materials for your furniture. Natural materials can be the most luxurious ones if expertly treated, and they are a great choice if you want to play the card of sensory fulfillment: you can choose any type of wood for example (keep in mind dark, lushous species are extremely on trend this year), straw, natural cotton, linen and other fabrics, natural stone. Anything earthy like clays and ceramics can be beautiful, too.
Many hotels and restaurants still choose only a single outdoor furniture style,

but 2018 suggests to combine different materials & styles.
Pick complements that can be found on the market made out of different materials and mix and match – cozy textures such as knit cushions, fluffy rugs, make for a relaxed and peaceful atmosphere and engage the senses. This also means to integrate aluminium and rattan outdoor furniture or combine several outdoor furniture collections within the same space. In this particular case, customisation can be a useful and successful option to ensure good harmony between the different sets.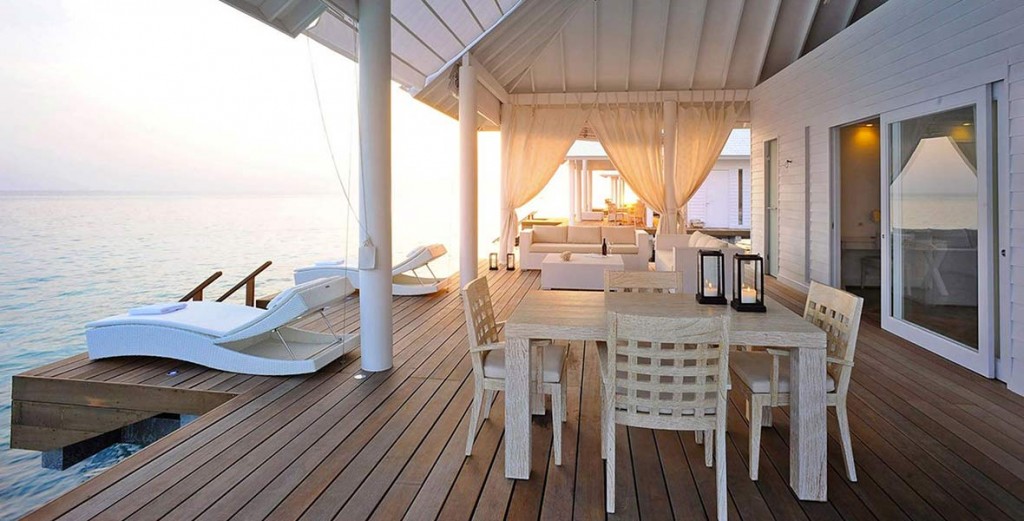 Pick your materials not only thinking of how they look, of what their colour is or of how they reflect light: touch them and explore the tactile impressions you get, so you can gift your guests with new sensory experiences! Also – going along with the botanic, greenery trend, picking plants and flowers for your outdoors with a distinctive smell will help bring the sensory experience up a notch!
3. Mix up indoor and outdoor spaces
Removing the boundaries between outdoors and indoors to integrate the two spaces can be a great option. If done smartly, opening the indoors to the outdoors gives you additional space and creates a positive feeling for customers.
Another way to use this trend is by allowing enough natural light in such places, without cramming too many pieces of furniture in the same spot. That would end up making the space look busy and feel much less pleasant and calming for the guests who will use it, ultimately making them feel unwelcome and unease.
When choosing pots and other supports for your plants, opt for natural materials – for instance, clay and wood are a great choice. As mentioned before, naturally sourced materials and designs are the most trendy for this year, and will give your outdoors an up-to-date, contemporary vibe. Also, researches the topic have shown in the Human Spaces Biophilic Design in Hospitality report that a biophilic design helps improve the guests' mood and their opinion on the hotel itself immediately gets more favorable, as our minds and bodies react to exposure to nature in a very positive way.
By selecting luxurious pieces of furniture that wisely use more natural materials in a more modern, contemporary key - think of modern systems for improved plant growth for example, or furniture than implements sound and/or light to vertical garden stands, and so on - you will be sure to create a suggestive environment for a unique guest experience, that will feel cozy and utterly lush, too.
4. Keep it local
Let your surroundings help you pick the furniture you want to add to the outdoor area of your hotel. Sourcing items of furniture that are designed, made, and even better handcrafted in the area the hotel is set is a fantastic way to introduce your guests to the place they are visiting, keep them engaged and interested and to make them feel at ease and welcome.
Rely on local artisans, artists and company to add a little detail that will draw even more attention to the main pieces of furniture you selected - as if well chosen, unique objects will complement the overall design nicely and serve as a perfect conversation starter, too.
5. Smart Hotels
Last but not least, comfort is one of the main things guests look for when travelling.
One of the things they will need while being away from home on a holiday or a business trip alike, is the possibility to connect with home or work for example – in general, the possibility to connect with the "outside world".
Planning and realizing a well-designed network of new, performing technology features and hacks will help them feel safe and connected, making the hotel you are working on not only pleasant to live in, but also functional, dynamic and versatile.
When addressing outdoor furniture trends for hotels, you can try and find items such as slotted tech furniture or usb-charging stations, a high-performance sound system can all be good ideas to introduce technology into your outdoor space without making it look or feel cold and impersonal.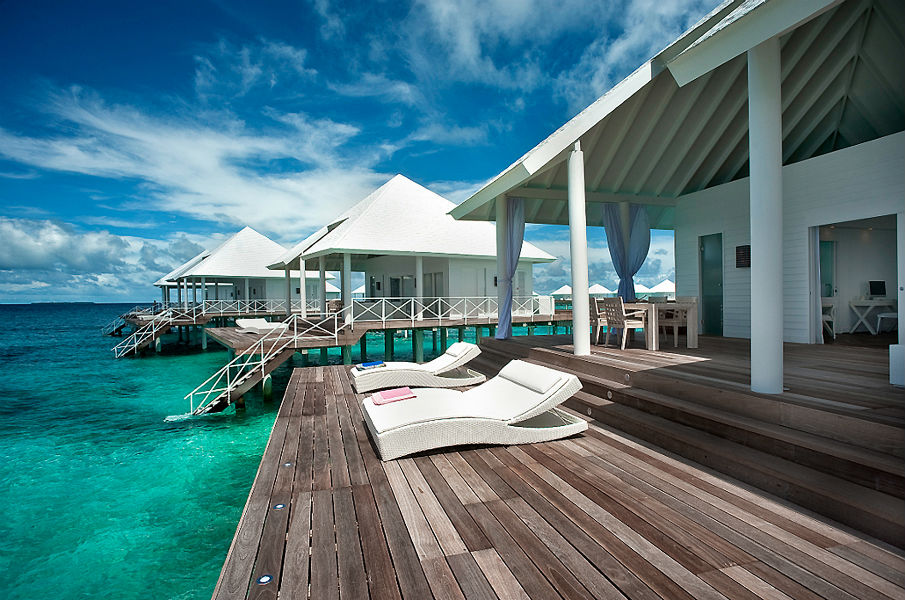 Outdoor furniture trends for hotels, custom-built!
Creating spaces that move with the users is your best bet this year: just like patterns moving from the geometric lines that were so popular over the past few years to the natural, ethnic, botanic designs that we just talked about, the layout of spaces becomes less rigorous and more flexible. Chairs that can be moved around, light coffee tables, lots of complements such as throws and cushions, rugs, and so on, are a very good idea to let your guests feel like they're home.

Nature, comfort, ease of use (and maintenance!) are what it is all about as far as this year's trends for outdoor furniture and décor go – along with the energetic élan vital of the earth. So take a break every once in a while, grab a good drink, enjoy life – get inspired!