Furnishing any space is an investment – not only with regards to money spent, but also in terms of time and effort while designing the space and picking each item of furniture and any complements to go with.
The design, layout, feel and mood of the space are especially important when the space to be furnished is a hotel – and even more so the outdoor area of the hotel. The patio, the entrance and the outdoors in general in fact, are the first thing guests will see upon arrival, the space they will – even unknowingly so – base their first impressions and thoughts on the hotel itself.
For this reasons, it is important that you are able to direct your client towards high quality, high performance pieces that will stand the test of time, look beautiful and in mint condition and work well for a long period of time. This will ensure the outdoors of the hotel looking flawless, fresh and appealing for the guests who will immediately judge the facility luxurious, clean, modern.
High quality for furniture consists of good design, cutting-edge technology, comfort and ease of use, and of course, the finest materials.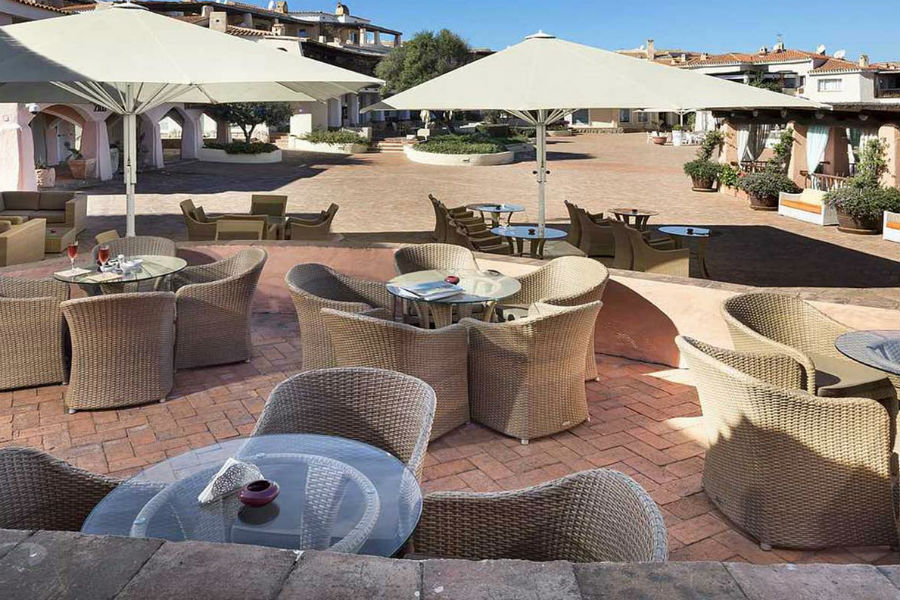 Materials for hotels quality outdoor furniture
The structure of any piece of furniture is the very first thing that should be inspected. Check the strength of the structure itself and of the seams and joints, the material of the frames and the main material of the item. This way, you will be able to evaluate whether the pieces you are looking at would be suitable for your needs.
Aluminium
Aluminium offers a wide variety of options thanks to its versatility. In fact, it can be worked into any shape you might think of, giving green light to the imagination of architects and designers. Aluminium is also very durable, it is water resistant and it is not affected by corrosion (extreme endurance). This material needs very little maintenance, too. As it will not rust, a simple solution of water and mild soap will work just fine to keep it clean and looking like-new.
Synthetic rattan or wicker
This material is made of woven polyethylene fibers that create a rigid material. Polyethylene is non-toxic and, just like aluminium, 100% recyclable.
The advantage of this material are:
It is extremely durable
It does not fade or crack
It is washable and can resist harsh weather and strong sun heat and UV light.
Steel
Steel is a heavy-duty material, highly durable and sturdy. For these reasons, steel furniture makes for a perfect long-term investment. The material is strong enough for your client not to worry about guests damaging the furniture, as it does not scratch or dent easily.
If damage happens, it can be fixed by immediately treating the finish. Maintenance is not too burdensome, and applying / reapplying a protective finish to prevent rust is the most important step.
Wrought iron
A little more vulnerable to the elements, wrought iron is still a very sturdy and durable option. Very heavy and classic looking, it is often used for elegant, timeless pieces. The powder coated finish is not only aesthetic, but it also helps making the furniture more durable, as it seals out moisture protecting the structure.
Textiles and fabrics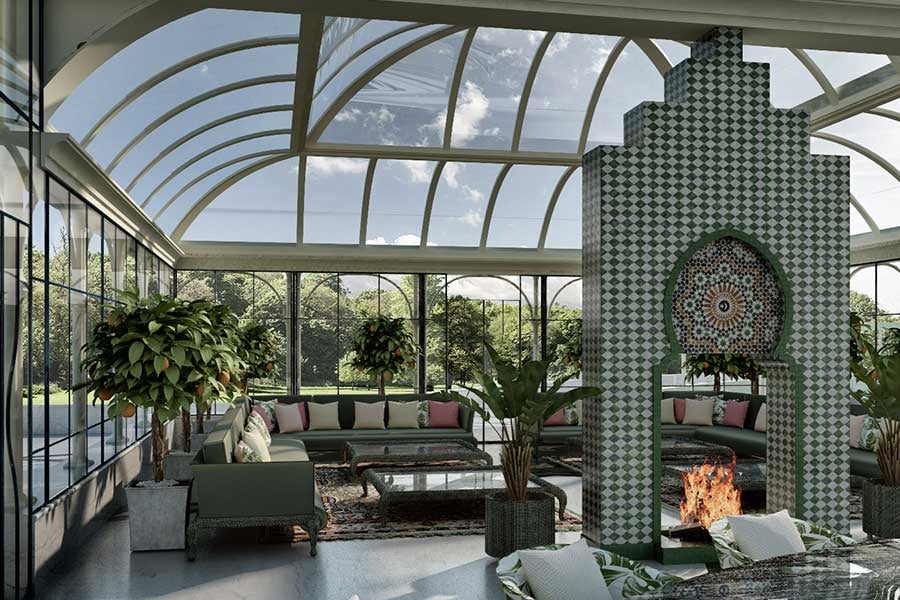 Particularly with regards to fabrics, hotels quality outdoor furniture should only include furniture that is purposefully designed for the outdoors. In fact, garden furniture is equipped – when fabrics are involved – with textiles that are technologically advanced and high performance, to last well against any harsh weather that might happen.
You can find fabrics on:
Complements such as pillows
Throws
Rugs
Pieces of furniture like sofas and chair or textile covered tables
Therefore, it is very important that you pay attention to the type of textiles used – as normal fabrics would spoil very quickly and easily if left outside. This would make the outdoors of the hotel look dirty, old and scruffy – which would ruin the image of the hotel and have a deterrent effect on current and future guests of the facility.


Sofas, chairs and hanging chairs, swings, daybeds and a lot of other items of furniture designed for the garden should be fitted with cushions made out of strong fiber that is durable and has a long life span, making the furniture you picked not only stay beautiful – but also comfortable, for as long as it is in place.

In upholstered furniture, check for removable cushions. Good quality upholstered furniture should feature smooth, zipped seat covers which house a block of foam wrapped with dacron, cotton, or down. Sometimes you can find a protective inner cover made out of muslin, too. On the market nowadays you can find Quick-dry foam pillows, which have the ability to drain themselves dry when wet, and are antibacterial, too.
Know the value of the design
Good design nowadays, will be able to combine the most high-tech, high performing materials, with a contemporary yet understated look, and the timeless quality of great craftmanship.
An excellent piece of furniture will have it all: price should not matter to an extent, as once again, investing in designing and putting into place garden furniture is important so as to make it last longer.
This is particularly true for hotels, as these structures have to make a great impression on guests to be selected among the hotel options available in a given area. Only once picked they can be used and enjoyed as they should.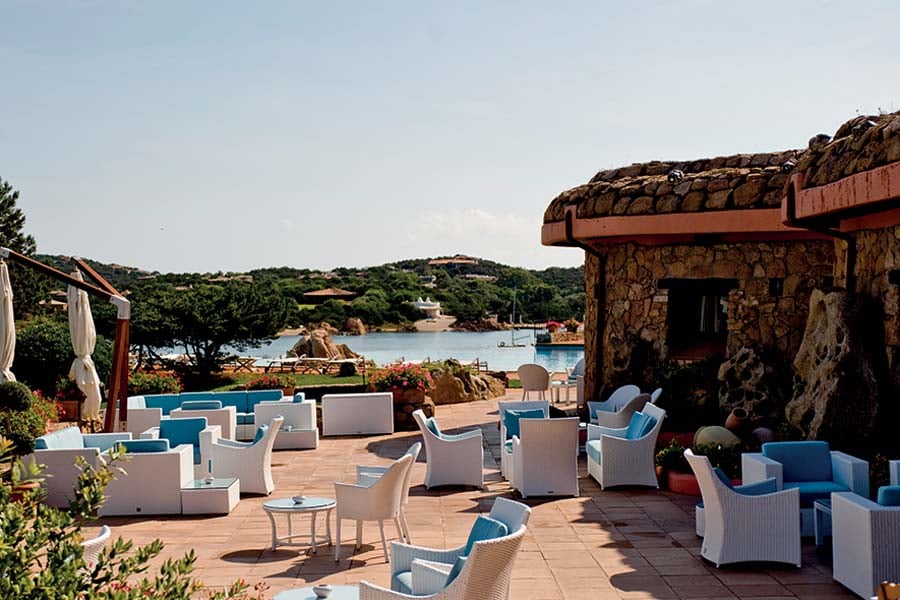 Look at catalogues from the best ranking brands that design furniture especially for outdoors and stick to those - garden furniture is a very particular line of work, and true professionals will be able to help you direct your attention towards the items with the technical characteristics, designs, styles and materials that are best suited for the job you are carrying out.
Depending on the style you are going for and your vision on the final look, you will be able to source a huge variety of designs, ranging from classic to contemporary. This difference does not only come from the look of the design itself.
Also materials make a huge difference in the look and overall feel of any pieces of furniture. Metal framed furniture for instance is the most versatile. Metal can in fact be wielded or cast, so it can take virtually any shape and form possible.
Check that the design you like fits well with the surrounding, so as to make your own design a beautiful work of landscape art.
In conclusion
As you can see, you have plenty of options you can choose from when selecting the right materials for hotels quality outdoor furniture. Each material will serve a different purpose best, so make sure you know where the items are going to be placed and stay.
Do they need to be resistant to heat and UV rays or water? Will it be placed under direct sunlight? In a sheltered area, covered by some type of shading system? Is there a source of water such as a pond or a pool nearby?
Of course, picking materials will depend on the geographical area the hotel is built, too, following the same rules mentioned above. Temperature, sun and rain will affect the decision you make on materials just as much as their placement on the layout of your landscape design.
Once you know what material you want, make sure to invest in the best quality you can source, finshed to perfection by great handiwork down to the smallest detail and hinge. Remember that great quality will always look better, perform better and of course, once again, last a lot longer.