When decorating the outdoors of a property, it is a good idea to have a focal point to the design that can function as the centre of the composition and serve as the gathering point for the homeowners and their guests. By creating this focal point you will define the character of the area, so it is very important that you talk to your client to understand what kind of focal point they want or need for their home, then start from there to create a space that is beautiful, useful and of course, special and unique.
Among the options you have there are cooking areas, conservatories, pools, and one that is getting more appreciated by the day: fireplaces. Great to warm up cooler summer nights and create a gorgeous atmosphere and of course perfect to let your clients enjoy the outdoors during the colder months of the year, a fireplace is a brilliant way you can add something unexpected yet functional to the design you are working on.
Adding a fireplace to the outdoors will will make it possible for the homeowners to entertain friends and family outside for longer each season, creating an extra room to the house which will give the effect of the property being more spacious and liveable, and making it much more luxurious – with all the extras and various options and perks to spend time and use the space.
Also, outdoor fireplaces can make for beautiful assets as far as landscape design goes.
When designed correctly and coherently, an outdoor fireplace can easily become the focal point in any outdoor living design, still without detracting from the beauty of the property itself or from the nature that surrounds the building.
For instance lately, structures with rounded, softer shapes have been the ultimate choice as they harmonize best with the organic shapes of nature, and if created with natural materials such as pebbles and stone for example, they can turn out to be not simple structures – but true landscape works of art.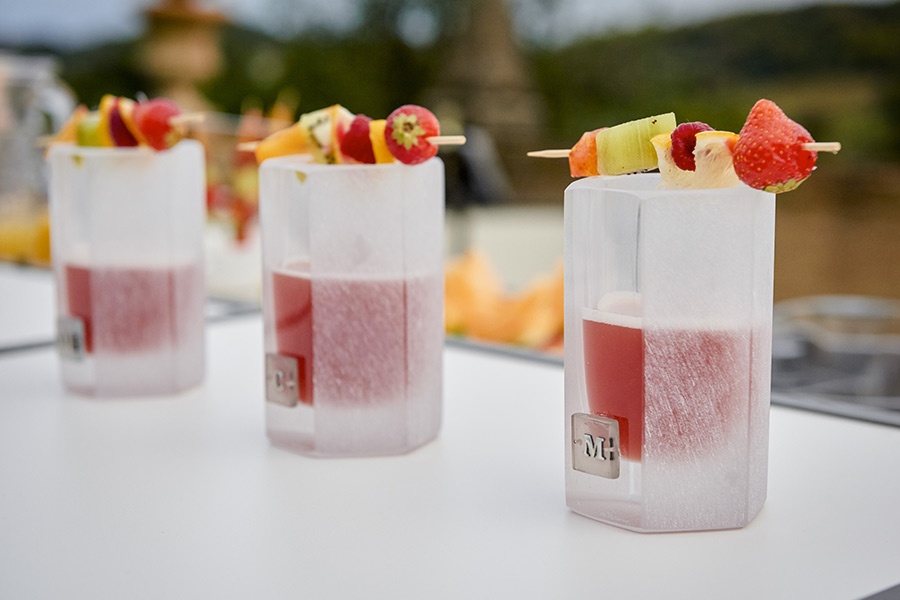 A fireplace as gathering spot
Fire! That is the first thing that comes to mind when thinking of a fireplace. A backyard fire pit will provide enough heat for the homeowners and any possible guests to enjoy the outdoors any time of the year.
A gorgeous gathering spot, a fireplace can warm up evenings and nights in any season, and create the perfect spot to comfortably sit with family and friends for a chat or a meal with good company.
Also, don't forget a fire pit is a very useful piece of furniture / appliance, as it can be used to cook and roast food, helping to create a happy mood from before consuming the meal, hence making eating with loved ones even more fun!
To use the fireplace like this, it will be useful to select a grill to go with the design of the fireplace itself and maybe a little storage unit to complement the already existing furniture, so the design does not suffer and so that your clients have everything they need to enjoy their new fire pit stress-free.
Create an elegant and romantic atmosphere
Light sources always create an atmosphere anywhere they are placed. From lamps to fairy lights and candles, the choice is endless – but have you ever thought of a fireplace?
Much like candles, the fire of a fireplace will create a romantic, warm and cozy space that will make the outdoors even more appealing after the sun has gone down, too.
This will certainly invite your clients to enjoy even more of the outdoors of their property, organizing dinners with guests and spending time outside any time of the day and of the year.
For a little boost, you can add a built-in overhead light to the structure of the fireplace, so as to add a dramatic look to the piece while providing ample light for operating the fireplace when the sky starts to get darker – which could come in super handy should you have added the option to use it as a grill or oven, as a built-in light will make it much more comfortable to properly prepare and cook food in the evening and at night time.
A unique touch to catch guests attention
Make your outdoor spaces welcoming and homey with a fireplace that can accommodate guests comfortably. As mentioned earlier in the article, a fire pit will serve as a gathering point and perhaps as somewhat of a cooking station, too. This means homeowners, their family, friends and other guests will need a place to sit and enjoy a chat or a meal.
You can pick tables and chairs that are mobile and can be move around depending on the number of guests and need, or you can think of adding built-in seating system.
Built-in seating is becoming one of the leading trends in outdoor design and it makes for an excellent addition to an outdoor fireplace, creating a polished, well organized space that reads elegant, luxurious and contemporary.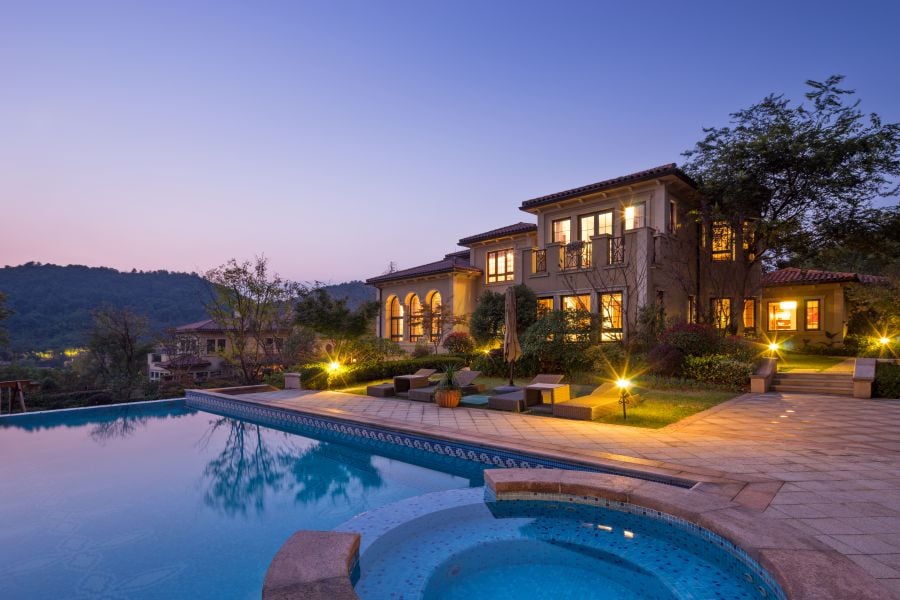 Fire tables
Fire tables are a lovely option if you want something more unique than a classic fireplace or fire pit. Even closer than these last two to the idea of gathering with friends for some time off, a good meal and a drink, fire tables are a modern twist on the classic theme of fireplaces. They come in different shapes and sizes and they are a great element to add to your outdoor space.
Fire tables are in fact getting more and more popular for a reason: they combine the comfort of sitting by a fire pit with the easy versatility and functionality of a dining table.
Fire tables will help you create somewhat of an extra room, much like an extension of the indoors – so when designing a space that includes one, take inspiration from indoor living and add details such as upholstered sofas for example, coffee tables, rugs, textiles in the form of throws and pillows, and anything else that is reminiscent of a beautiful, warm living area and that could help warm up when it gets more breezy or straight up colder during the year.
A good tip to make a space such as this even more homey is to place the structure and complements in an area of you patio / backyard that has a roof-like structure above it, like a shading system.
Outdoor spaces with a fireplace and a lot of character
Pick a theme and take inspiration – more or less loosely, depending on your client's and your own needs and taste – from places around the world, eras, nature, colour palettes and so on, to give your fireplace area more character and a cohesive look.
Take into consideration the overall style of the property and the vibe it gives off, as well as the mood the homeowners want to set for their outdoors. Below, a few examples of theme you could get inspired by.
To keep up with this year's trends, you could take cues from contemporary design experts and construct a fireplace with different materials such as stainless steel, hardwoods, and clean-lined concrete. Sleek angles, different finishes on the surfaces (matte or glossy) and linear shapes will enhance the look and will make for a luxurious, modern and understated space. Add greenery to the minimalistic design and make the hard, geometric structures and their earthy, basic colours pop with the living element of the organic shapes of nature and its bright, vitaminic colours.
If the property has enough room for you to work with, a natural stone facade to the fireplace will make for a cozy and classic ambiance. Natural materials and linear structures will create a somewhat majestic structure with a strong "awe-factor" to it.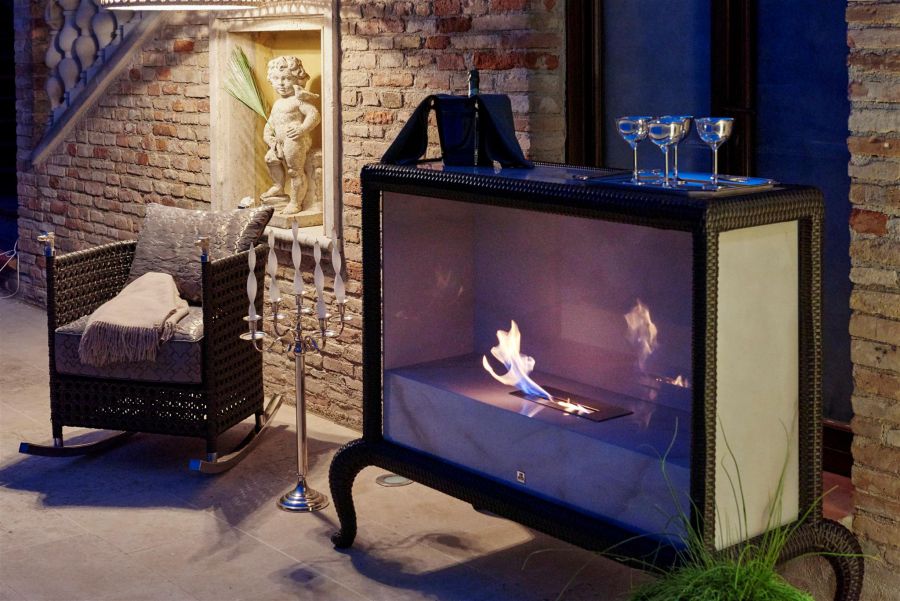 Cultured stone, sandstone, bricks and Mediterranean plants, herb bushes and flowers to bring you to the coasts of Italy, their history, colours and scents. Add a little artificial pond and sculptures to freshen up the warmth of the fireplace itself and create a full on environment from just the fire pit as a focal point.
A classic brick fireplace surrounded by cozy, comfortable furniture items made out of natural, wonderfully handcrafted wood, all set in a lovely garden. With this theme, you can add a grill and picket fencing to make the whole environment feel even more like home.
For extra complements, you can add an antique looking features such as a classic fountain or statue / sculpture, parts of old gardening / farming / farmhouse tools, for instance a millwheel; cat wheels; baskets and barrels and so on…
Outdoor spaces with a fireplace to maximise living space
In conclusion, as mentioned, creating a complete landscape design out of the single item of furniture that is a fireplace will provide your client's property with an extra room outside the house itself.
If well thought and well executed, with all due attention to the complements and decorative objects as well as to the basic elements that are the selected flooring and shading systems, the fireplace area will become a staple in the everyday life of the homeowners all year round, making for a beautiful and unique gathering spot to enjoy with a book, a glass of wine with friends or a meal with loved ones.
This will maximise the living space of the property and will give the whole house a more spacious, clean, clear and relaxing feel.
It goes without saying – paying attention to safety with a careful selection of materials and by sensibly picking the items of furniture and designing their arrangement is of paramount importance when fitting outdoor spaces with a fireplace.