Outdoors, the kitchen is no longer just a work area but rather an oasis where design and high performance come together, giving those who use it a unique experience.
If you are looking for ideas and some inspiration to draw on to personalise an outdoor space, this is the article for you.
Below, in addition to highlighting the key points to consider when designing a luxury outdoor kitchen, we will illustrate the technical and aesthetic characteristics of the Curved Outdoor Kitchen line from the Samuele Mazza Outdoor Collection.
Discovering the peculiarities of this collection, you figure out exactly how to personalise your commissioned outdoor location and make it comfortable, welcoming and unquestionably beautiful to look at.
How to personalise an outdoor space: 3 things you should consider
Personalising an outdoor space requires well-defined precautions and design steps. In fact, to create an outdoor kitchen design project, you need to:
Let's look further into these points.
1. Think about the kitchen's location
The first design step involves evaluating the location that will host the curved outdoor kitchen.
For the kitchen area to adapt perfectly to the outdoor space, it is necessary to think about the kitchen's structure and setting. Does your client want to install the kitchen in a refined conservatory ? Or were they thinking of a free-standing installation, perhaps under a high-performance bioclimatic pergola?
Depending on the location, the kitchen should be personalised with different layouts and optional and various additional elements.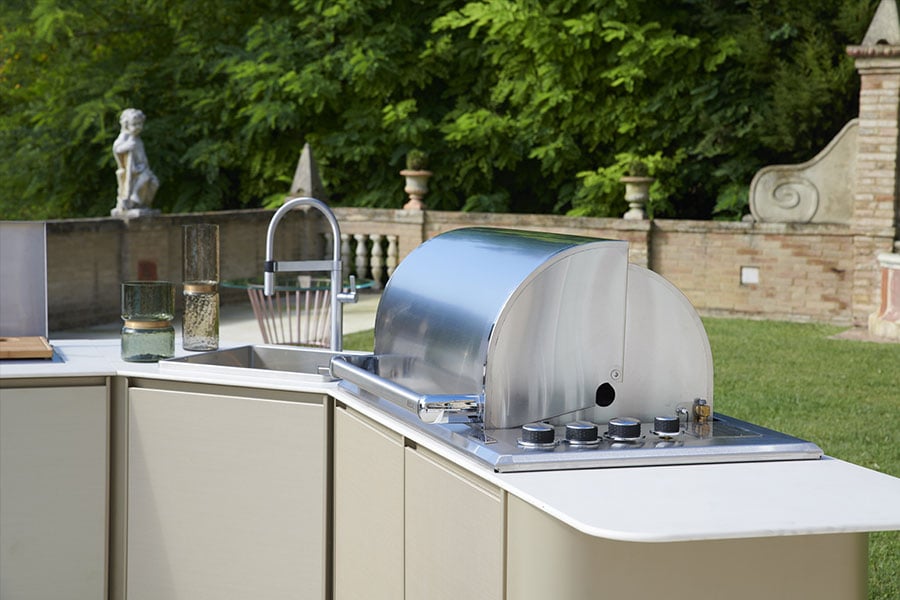 2. Consider the client's technical requirements
From cooking tools to appliances, each kitchen element reflects the customs of those who use the kitchen and how.
This is why, to satisfy your customer fully, it is necessary to select the best performing appliances, so they always accompany the user efficiently.
The curved outdoor kitchens have U (multi-element composition) and L (Corner Composition) layouts, both highly functional and extremely versatile. Both compositions respect the rule of the "work triangle", the predisposition of the main task areas of the kitchen, such as the hob, fridge and sink. Moreover, because curved kitchens are free-standing kitchens, the various modules used to compose them can be organised to your own liking.
However, to ensure that your client has an experience of maximum exclusivity, choosing suitable and useful cooking tools, appliances and cooling systems is crucial.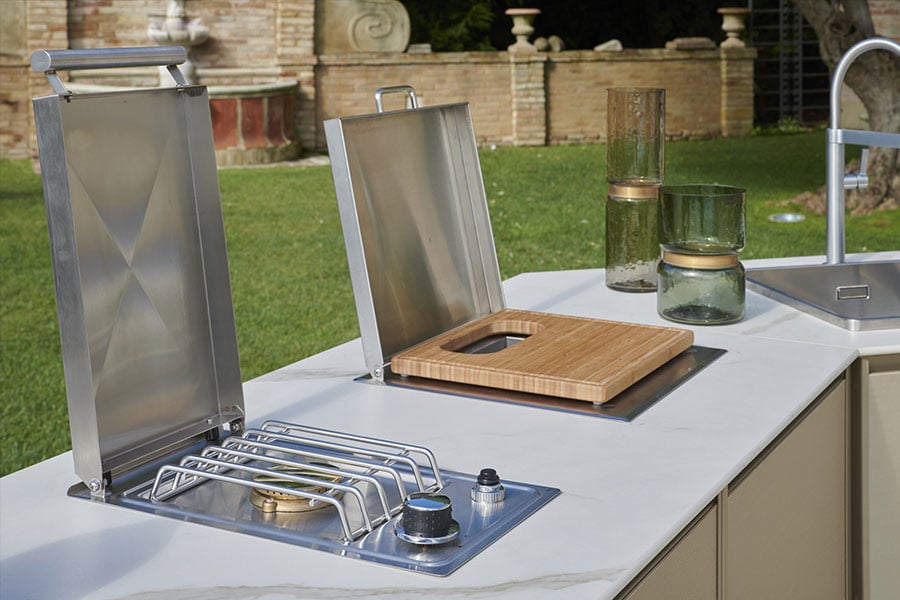 3. Pay attention to the client's aesthetic tastes to customise the kitchen in detail
In addition to the methods of use, the outdoor kitchen must always appear elegant and aesthetically appealing, both in the eyes of the client and their guests.
Impeccably customising an outdoor space means placing the client's aesthetic preferences at the centre of the project, in such a way to make unique changes and customisations in perfect harmony with their stylistic taste.
In a luxury outdoor kitchen, in addition to the technical and structural aspects, aesthetic character also plays a fundamental role. In fact, the quality of an outdoor kitchen is evident both in its performance and appearance.
That's why you should only choose highly resistant materials with great aesthetic potential, suitable for the creation of a cooking space with a glamorous and elegant design, which can ensure high performance, thus facilitating use and cleaning.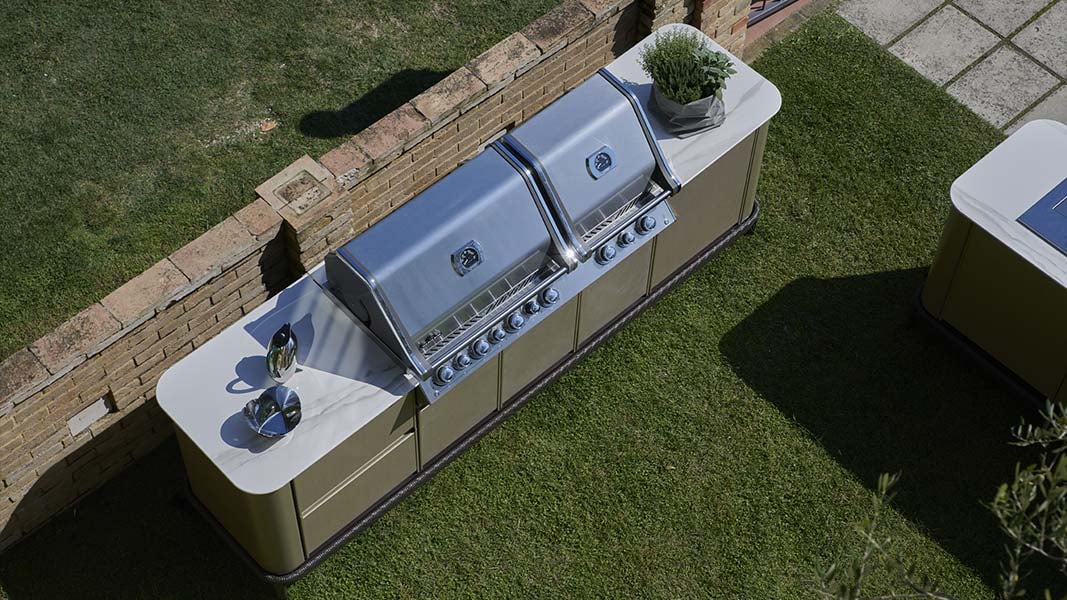 Curved outdoor kitchen: the perfect outdoor space
The Curved Kitchen line by Samuele Mazza perfectly combines technology and design in solutions of high functional and stylistic quality.
Aesthetically, curved kitchens have rounded sides as well as soft and graceful lines that completely envelop the structure and make each model recognisable and unique.
To top it all, it has a base in woven synthetic resin (with visible feet in special finishes such as bronze, nickel, rose gold) that complements the curved design of the structure made of treated iron for outdoor use. The modules are powder-coated and covered in ultra-thin porcelain stoneware with a metallescent finish.
But let's take a closer look at the peculiarities of each solution, namely: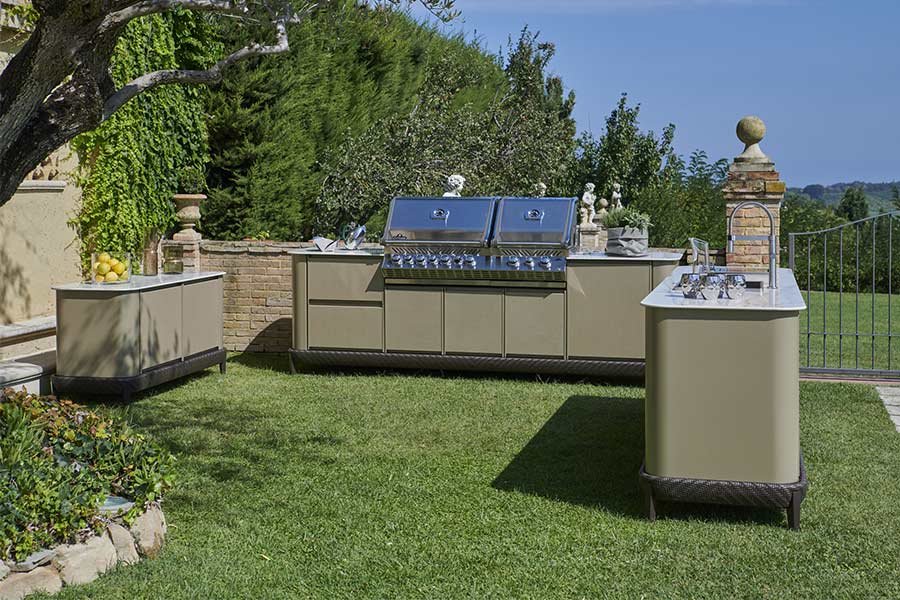 Curved Kitchen Multi-Element
The Curved Kitchen Multi-Element adapts to every kind of use. This is the most sophisticated version that allows you, through different separate modules, to set up an entire kitchen space.
Each element can be fitted with a BBQ, sink and gas hob to your liking. Each work area is organised at the customer's discretion, to ensure total comfort and a smooth progression of the preparation phases.
The structure is made of powder-coated iron treated for outdoor use and has an aluminium base covered in synthetic resin, with metal feet characterised by special finishes. The module doors are clad in ultra-thin porcelain stoneware and have a distinctive metallic finish.
The worktop is always made of porcelain stoneware with a marble finish, 12 mm thick with a bevelled edge, a refined material that is highly resistant to heat, wear and atmospheric agents.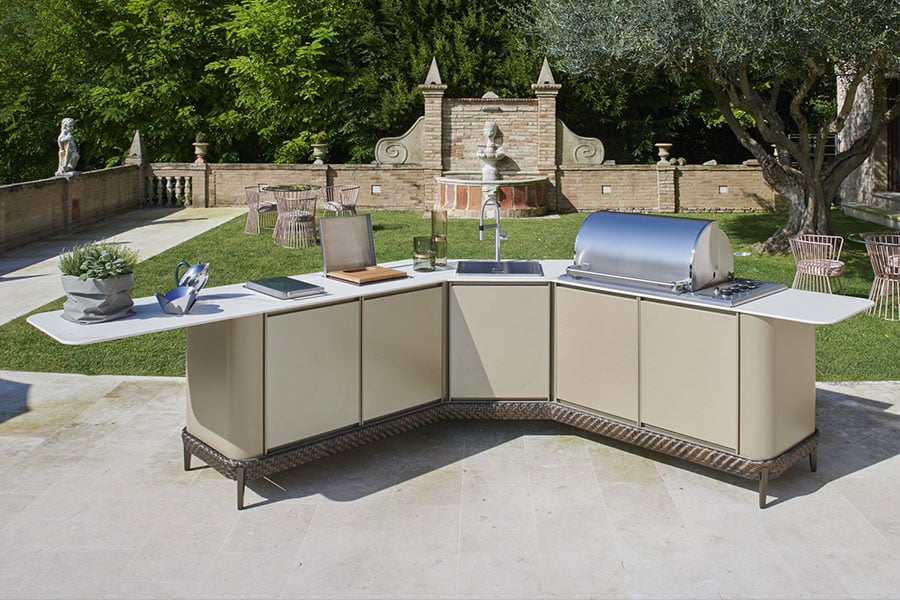 Curved Outdoor Kitchen Corner Composition
The Curved Outdoor Kitchen Corner Composition, with its special and innovative corner design, evades traditional spatial patterns without sacrificing comfort and functionality.
Thanks to its characteristic shapes, the worktop is wider and more functional: a real operating console with everything at hand. From a single central position, it is possible to manage the cooking, preparation and washing functions.
This model is also characterised by an aluminium base, covered in hand-woven synthetic rattan, which rests on metal feet with precious finishes. The structure is treated iron for outdoor use, and the doors are covered in low thickness porcelain stoneware with a metallic finish, which ensures strength and resistance. This model is equipped with a modern BBQ, sink and hob.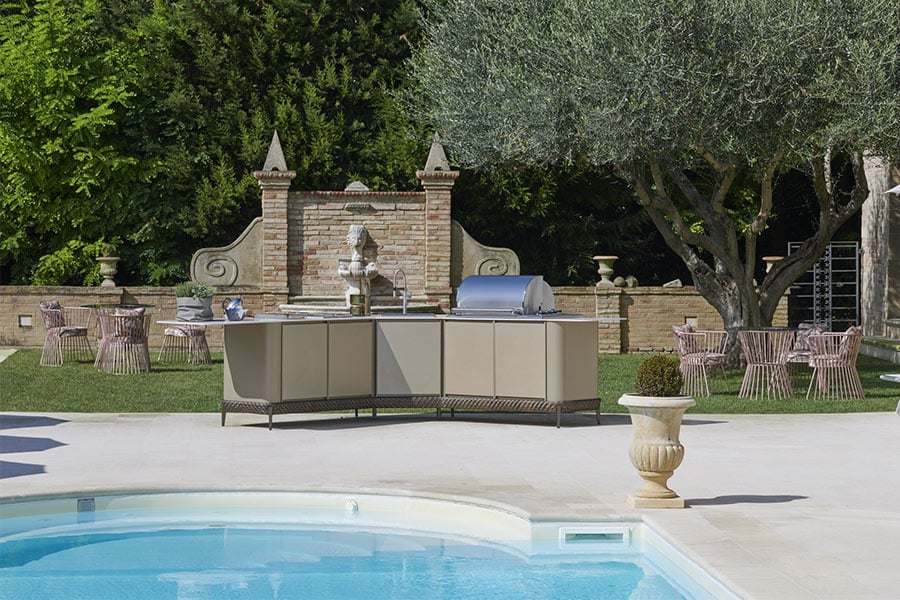 Curved outdoor kitchen: choose the most suitable model for your project
In this article, we have shown you the specific properties of curved kitchens: models that can be adapted to any space, characterised by a highly functional and ergonomic layout, which leave ample freedom of customisation to the client.
Choose the solution that is best suited to the client's requests and continue with the design, keeping in mind the key points highlighted above. You will then get a final result of high technical quality and sophisticated design.