A conservatory's most attractive feature is that it is a very bright and elegant space that creates continuity between the internal and external environment and can be used all year round.
Regardless of the weather or temperature: you will be able to enjoy this additional space and all its benefits all year round.
People often incorrectly assume that conservatories can only be enjoyed during the summer months. Conservatories that overheat can ruin the atmosphere and are not fully enjoyed.
However, this space is not off-limits during the summer months, despite higher temperatures.
That's why conservatories are so loved and sought after: the glass architecture is very versatile, it has infinite design possibilities and can be adapted to any lifestyle.
While the abundance of glass surfaces can bathe a conservatory in a charming natural light, sunlight often comes with additional warmth, especially during the summer months.
Fortunately, there is a variety of simple and effective measures that will allow you to keep your conservatory cool and relaxing during the summer months.
For example, energy efficient windows that use low emission and selective glass are designed specifically to minimise heat entering through windows.
A few ways to keep your conservatory cool
1.
Install curtains
In addition to looking great, curtains are also fairly practical.
Adding curtains is a simple yet effective way to help keep conservatories cool as they block out the sunlight and allow you to significantly reduce the temperature in the room.
Furthermore, during the winter months, curtains can help to insulate a room and retain heat. At the same time, they are also an aesthetic element that can help furnish their surroundings.
Maximum light protection can be achieved by using blackout roller blinds, Decorative curtains only tend to act as a filter to the sun's rays but have a greater aesthetic value.
Strategically planted trees in the garden can help create shade with their foliage and provide natural shelter from the sun.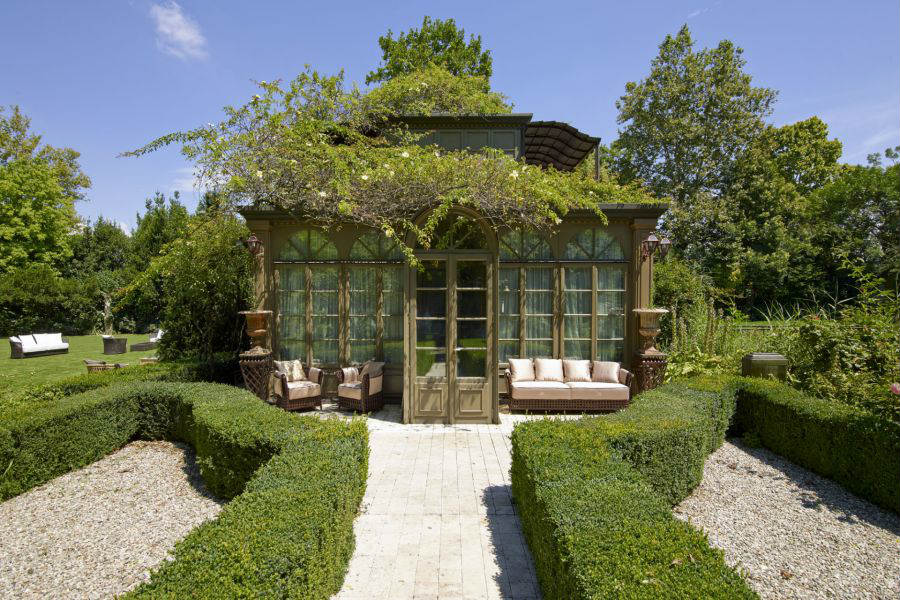 2. Apply a cooling film to glass, or use insulating glass
A special adhesive layer is applied to the outside of windows and reflects about 80% of the sun's rays. This reduces overheating and allows the conservatory to stay at a pleasant temperature.
This cooling technique can be visually compared to the lenses used in sunglasses. This means that both heat and UV rays are considerably reduced without obstructing the view of the garden.
This is not only useful for keeping conservatories cool, but it can also protect furniture from fading in the sun and reduce glare.
Alternatively, special types of glass can be installed that act as a filter between light and heat, allowing the first to enter while reducing the second. This is known as selective glass. Using this type of glass on the roof and windows can have a significant effect on the internal temperature. By using selective glass, light radiation is transmitted very well, unlike infrared (or thermal) radiation, which is rejected. The latter transmits heat, and not allowing it to enter the conservatory results in a sharp decrease in overheated environments, while not compromising on light.
Reflective glass, also known as solar control glass, can be a good solution.
This glass protects from the sun by reflecting sunlight, ensuring great intimacy and visual comfort and allowing certain sections of the solar wavelength to enter the room, thus obtaining decent light and reducing the discolouration of objects.
The solution consists of flat panes of glass which are treated with metallic lamination so as to limit the energy transmission of solar radiation and the so-called greenhouse effect.
Benefits of reflective glass:
It works in the winter months, too

. Maintaining heat rather than letting it pass through the glass prevents conservatories from getting too cold.

It doesn't require much maintenance

, just like with normal glass.

There is no difference in quality

: you can see perfectly through the glass.

It allows direct sunlight to enter but avoids excessive heat from entering

the conservatory.

Self-cleaning reflective glass can be installed

, meaning that you don't have to clean it like you do with ordinary glass.

This type of glass exploits the reflective properties of lamination to avoid people from having to squint in a glass-filled environment.
In the evening, when the lights turn on, the mirror effect is reversed: creating more light inside than outside.The windows become reflective for the people inside, while becoming transparent for those looking in from the outside
Retro-reflective glass works in a similar way to the cooling film described above and is perfectly suited to double glazing. However, instead of a thin adhesive film that is applied to the glass, the treatment is embedded directly into the glass and is therefore much more durable.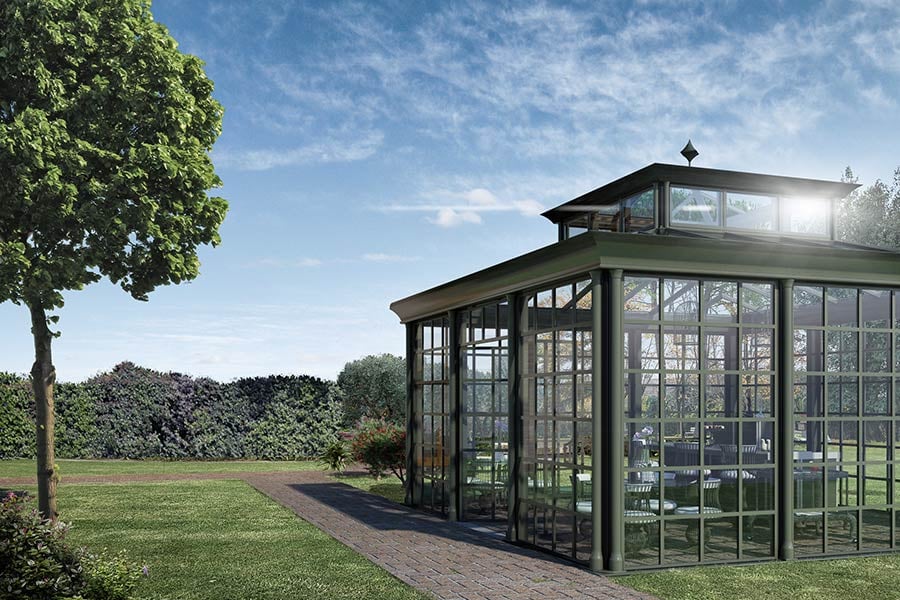 3. Install air conditioning
The most effective solution to keep a conservatory cool is to install an air conditioning system. Some units offer a double function, which means they can cool the room in the summer and warm it in the winter, making them a great investment.
Nowadays air conditioning systems are fairly silent, so there is no doubt that customers will be able to enjoy the environment in peace and total relaxation, avoiding being disturbed by the noise of the air conditioning unit.
Air conditioning can be integrated into the structure itself, such as in the roof if it has a a blind section, or it can be installed using splits. The appearance of splits can be mitigated and hidden by furniture. An additional solution is an underfloor cooling system.
4. Opt for cool furniture
Although it may seem like a very simple solution, your choice of interior design can make the room more spacious, light and airy.
Pastel colours, white and the use of light and soft fabrics can really transform a room.
Indoor plants and bamboo or rattan furniture can also turn a room into a cool and relaxing haven and bring the peace and brightness of outside indoors, while allowing you to enjoy nature without being exposed to the sun.
You should avoid fabrics like leather, which are not ideal for the summer months.
5. Improve ventilation
Air that gets trapped inside is the main cause of overheating. It is therefore necessary to ensure that it can easily circulate between the indoors and outdoors.
The very simple technique of opening windows and doors is key to keeping a conservatory cool.
Otherwise, passive ventilation can be used to ventilate a conservatory through the use of ventilation openings. In more complex situations, such as in very hot countries, you can install an automated mechanism that opens windows on the roof when the indoor air reaches a maximum humidity level.
If a new construction, it's a good idea to include air inlets on the roof and at the bottom of conservatory.
Proper ventilation will certainly help keep the conservatory cool on hotter days. It will also ensure that moisture in the air and pollutants are regularly expelled , which also helps to reduce condensation.
This will keep the indoor air quality high, helping to make the environment healthier and more comfortable.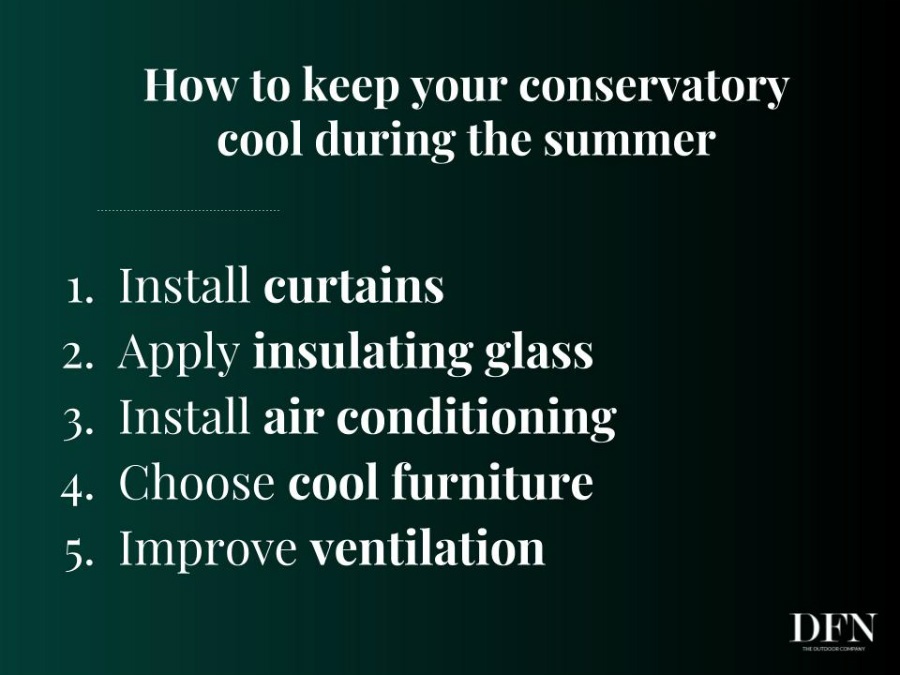 The best solution
The most advantageous and convenient way to prevent a conservatory from overheating is to design it appropriately from the very beginning.
If you have any doubts or queries, don't be afraid to get in touch with a company that specialises in conservatories: you can discuss your project ideas, learn more about the characteristics of the materials to be used and what devices are appropriate to your specific case.
By foreseeing the installation of an air conditioning or ventilation system, the use of performance glass, curtains and assessing the position of the conservatory, you will really be able to build a perfect and truly charming conservatory.
It's also a good idea to take into account the application of insulating glass and accessories that are fully integrated into the structure in terms of solar protection, air conditioning and heating systems, lighting and piped music while in the design phase.
With an intelligent design that takes into account all aspects, you can be sure that your extension will remain top-rate and comfortable even in the hottest months, guaranteeing your customer greater comfort and maximum return on his or her investment.
A few additional small tips to keep your conservatory cool:
The position of every project and conservatory is different, this means the combination of solutions and technical features for overheating will be unique and different depending on the situation.