When designing hotels, restaurants or villas, it is not only necessary to comply with architectural rules and regulations, but also to create a proposal that is approved by the owner and that positively affects guests.
This is why it is important to keep in mind both the characteristics that the clients require and other qualities that should not be underestimated in order to create a functional project such as comfort, style, elegance, quality, consistency, versatility, living comfort...
For this reason, a Conservatory is one of the most significant investments that any owner of an accommodation facility or home can make.
In fact, a winter garden makes it possible to extend the indoor space while maintaining a direct link with the outdoor space.
It is quite probable that clients may ask themselves why they should include a conservatory in the property and not something smaller and simple such as a gazebo or an umbrella or a pergola.
In truth, it is possible to include all these elements, but the performance of a Conservatory and the possibilities of use that it offers are very different. In terms of protection against weather agents, a winter garden, in fact, has many advantages over the traditional options to guard against humidity or the sun.
First of all, it can be used all year round to enjoy its relaxing and luxurious atmosphere regardless of the weather conditions outdoors.
In addition, it integrates with the structure in a seamless and charming way.
But let's review in more details what are the advantages that a Conservatory offers.
The advantages of a Conservatory
It creates more space
By expanding the living area of a property with the addition of a Conservatory, you will get an extra room that differs completely from everything else, a one-of-a-kind in terms of style and characteristics.
All the surrounding environment will be transformed, with a positive effect also on the rest of the structure that will appear more spacious.
It gives the structure natural light and creates an airy atmosphere
Conservatories built by DFN have a very thin structure. We use an elegant and minimal iron profile that allows us to create a design with predominance of glass, which allows the passage of a lot of natural light that floods the space making it incredibly spacious and inviting.
Natural light has a positive influence on mood, promotes work and is perfect for entertaining guests.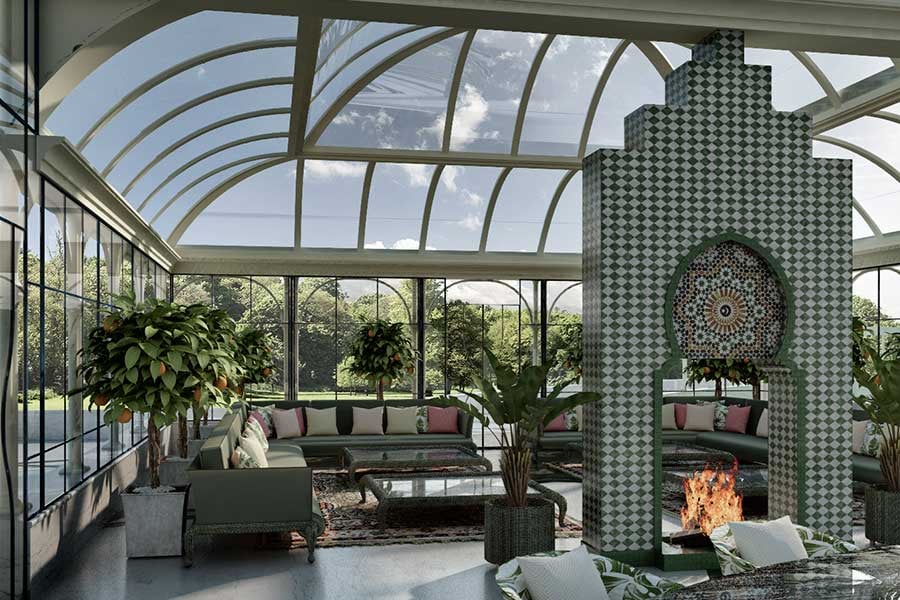 It joins indoor with outdoor
A conservatory is a solution that creates continuity between indoor and outdoor.
The living space and garden will appear even more integrated, especially if the design includes sliding or hinged doors that provide a particular and elegant opening toward the outside.
Through the choice of furniture, it will also be possible to provide a modern or more traditional style, according to the one of the property to which the conservatory is adjoined.
It increases the value of the property
In addition to increase the value of the property, Conservatories also make the property more attractive to potential buyers.
It has several roofing options
The main feature of a traditional Orangery is to have a central skylight that rises in height from the rest of the structure. It provides stability and is architecturally surprising. However, blind or glazed flat roofs are also possible. In addition, all glass surfaces can be fitted with curtains that are also automated and allow privacy and shade.
It will be a focal point in the property that stands out from everything else
Through its large and elegant glass roof, a characteristic symbol of an orangery, the environment will be flooded with natural light. All this will create charming games of light from sunset to dawn that will make the room a focal point of the property whatever the use may be.
Desired and natural temperature
The conservatory is not only about design and aesthetics but also technology and innovation. So that it creates a comfortable environment in summer and winter, it must be provided with insulated profiles and Low-E glass windows or selective Low-E glass windows. The Low-E double glazing with the addition of argon gas, which further decreases the dispersion, makes it possible to maintain the desired temperature indoors. At the same time, however, the selective filter ensures that the intense radiation that strikes the outside of the glass wall, in very hot countries, is filtered thus avoiding internal overheating.
Selective double glazing is built using soft-coated glass. Soft-coating is a physical process that fixes on the glass slabs silver ions (invisible), which have the task of reflecting a high percentage of the hot sun rays, while during the winter the selective double glazing continues to operate as a Low-E glass.
The choice of the right double glazing combined with the right window system has a significant impact on the energy saving of a house and on an annual family budget.
Depending on the location where the conservatories are installed, it is necessary to perform a careful analysis of the type of best performing glass for that context. If the environment is very sunny, it is certainly necessary to opt for a selective Low-E glass, in a Northern country instead, a Low-E glass is the ideal solution.
The right heating and cooling systems also contribute to creating the ideal climate.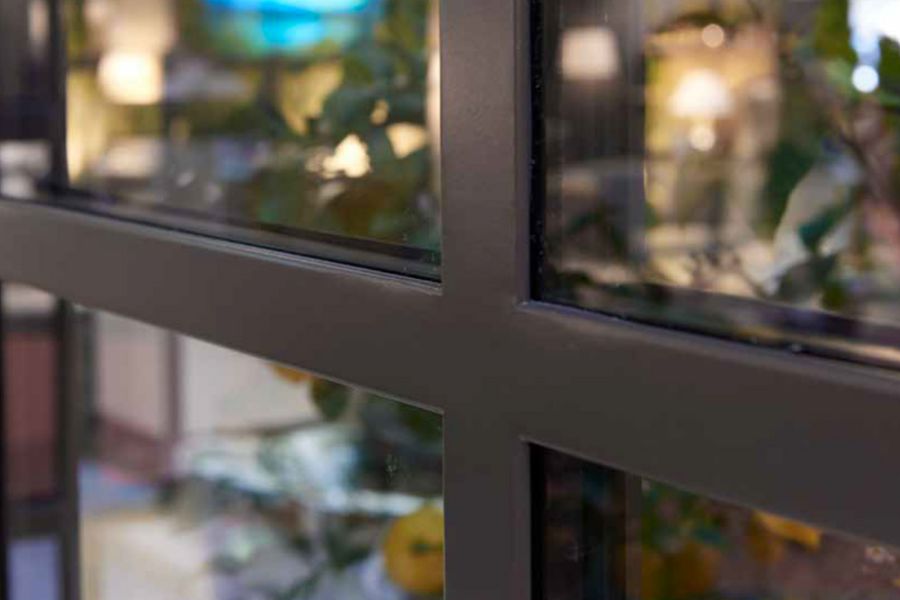 It is a versatile and elegant entertainment space
In addition to add considerable depth to the living space, a Conservatory is also very versatile.
Guests will be entertained by an environment rich in light and wonderful views of the outside.
The owners of an Orangery may choose the best use for this space. The open to the outdoor room can in fact be used as a:
Living room

Dining room

Den

Game room

In-house gym

Covered pool

Kitchen
It requires low maintenance
Made of durable and timeless materials such as iron and glass, modern Conservatory models do not need too much care.
It can be used all year round
The Conservatories, if carefully designed and workmanlike built as DFN knows how to do are really perfect rooms for all seasons.
In the summer they allow you to open doors or windows and enjoy the sun or the stars, during the winter they are comfortable since retain the heat and protect you from wind and rain.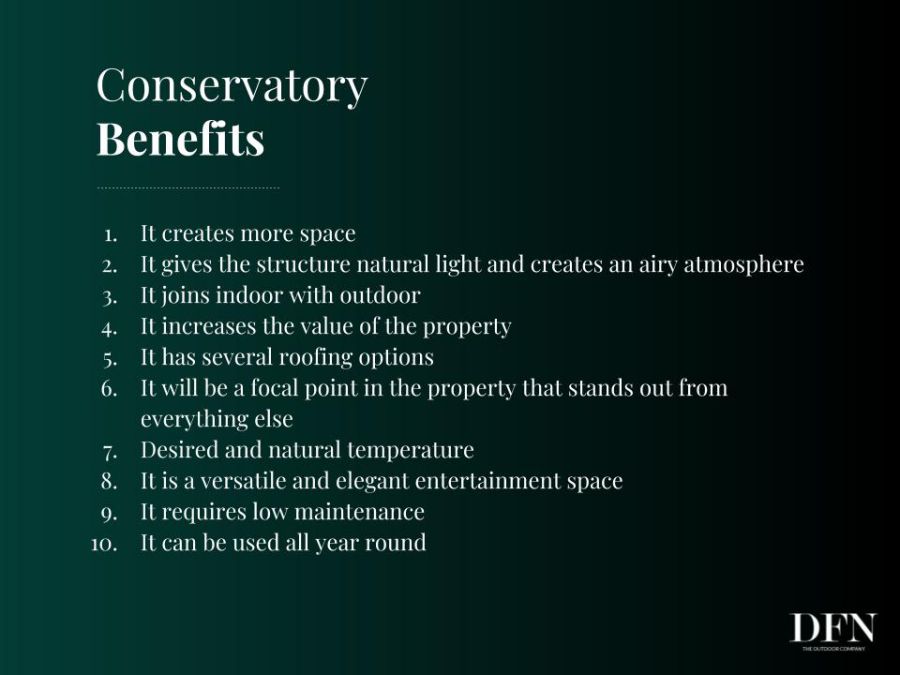 Advantages and differences
Traditional shading options are generally used only for roofing; they are ideal for protecting against the sun's rays but cannot be used during the coldest months.
It is possible to build verandas with sliding side panels, but most of the time they are not optimized, producing a great waste of heat and there is the risk that the environment is not comfortable. In addition, even in summer too much heat could be a problem and not make a pergola usable while an air-conditioned conservatory could give the right comfort.
Often pergolas and gazebos are of standard sizes and are industrial products with a design defined by the manufacturer and must be adapted to the space and style of the house.
On the other hand, a winter garden, with its structure of large glass surfaces, both for the walls and the roof, offers magnificent views and allows you to fully enjoy the natural light, but also to create a dedicated and optimized area - both in summer and winter.
In addition, a Conservatory can be made to measure, whatever the space available, with the advantage of being able to choose between a contemporary design or a more classic and traditional one.
A winter garden is in fact ideal for making a declaration of taste and personality. From personal design in a modern style, to the combination of classical architecture and new materials: winter gardens are ideal for creating small places of peace or large personalized spaces.
Assess your choice
If your clients wish to expand their property or are not satisfied with their garden, if they wish to live outside in a different way or if instead they dream of something new and elegant ... A Conservatory is the most appropriate solution.
Its best quality is to be a reversible space that can have multiple uses. Many owners use it as an additional living room, dining room, game room or den, fantastic home cinema or even as indoor pool area.
It is true that gazebos and verandas can usually be built without too much effort, while more ambitious projects generally require building authorization.
However, it is also true that a gazebo or pergola does not have the same impact as a winter garden and cannot be used for so many purposes.
Do not forget to always invest in quality, which will withstand the test of time. Excellent and durable finishes are essential to ensure the continuous enjoyment of the furniture and the Conservatory as a whole.