Outdoor lighting is enjoying its moment in the creative spotlight. Year upon year major companies continue to develop high impact solutions and outdoor lighting projects with great personality.
Attention from some of the most famous designers and companies has greatly improved the available options for creating truly bright choreography in the garden.
Yes, we've chosen the term "choreography" because lighting up a garden space is something that should be approached holistically. We're no longer talking about functional lighting: lighting up outdoor spaces is a real emotional journey.
The garden can take on different forms depending on the time of day. By day it may appear one way, and by night the targeted design of the lighting system can guide people to discover details that they may not have noticed during the day. It's a true sensory journey that offers different lighting notes depending on the style and identity of the outdoor space that is being illuminated.
Key garden features (plants, pools, fountains, natural surfaces, such as stones etc...) are enriched by carefully designed lighting, which enhances their beauty.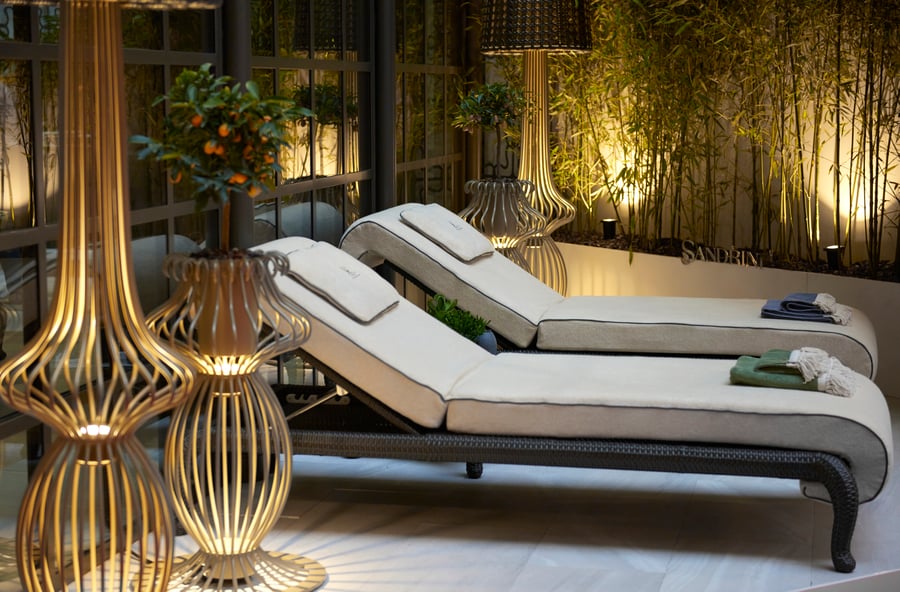 The importance of choosing the lighting system for an outdoor space

Outdoor lighting isn't all about gardens and walkways. Today's trends make use of winter garden, gazebos, and covered patio to feature delightful pieces that impress guests and enhance other elements of decor.

Outdoor chandeliers, for example, are just as magnificent as indoor models and give a unique and elegant touch to the entire space.
Remeber that, with the right balance between space, shine, and style, the outdoor space will become your customers' favourite warm-weather hangout.
Therefore it's essential to put together an outdoor lighting scheme that creates texture in key areas.
Install a series of warm lights to highlight stacked stone or natural bricks or use them along the edge of a grassy lawn. The play of light and shadow against specific textures makes the landscape look more charming.
2018 outdoor lighting trends: let's find out more
Numerous trends are making an appearance in 2018, which can be grouped into categories of trends focused on sustainability, imaginative shapes and the extreme geometry of delightfully contemporary patterns:
Sustainable lighting system
Geometry and minimalism
Underground lighting elements
Creativity and curious shapes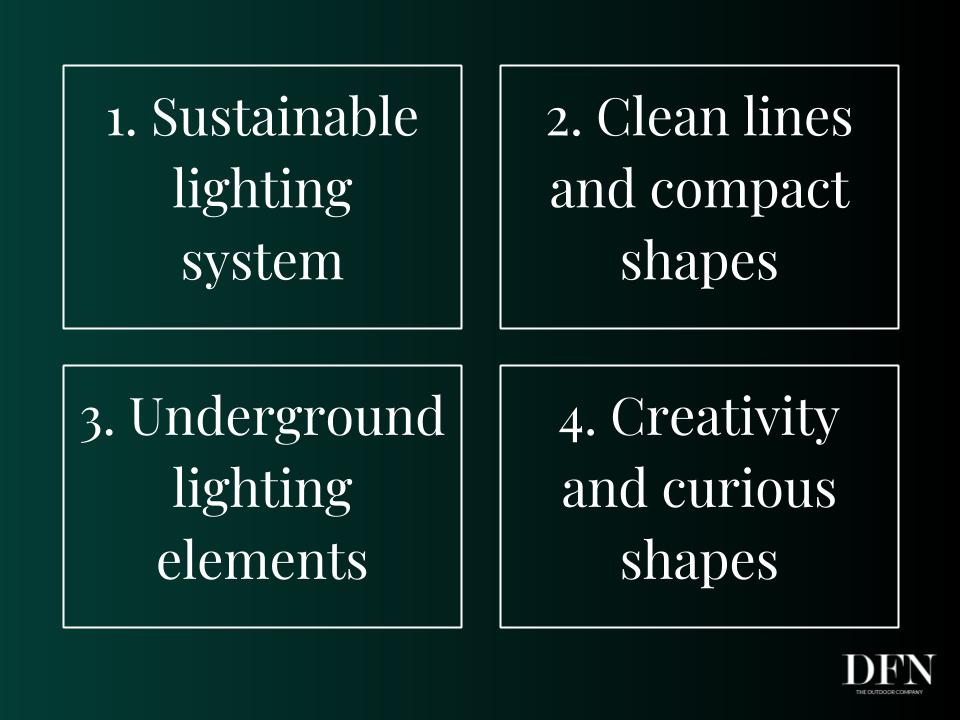 1. Sustainable lighting systems: now one of the hottest trends for outdoor lighting
This phenomenon has been on the rise for many years, but in 2018 it seems to have reached a certain level of maturity and can now be considered a major trend.
Let's reflect: contemporary construction is increasingly focused on ecology and sustainability and the lighting sector is following suit.
It's easy to assume that outdoor lighting for this type of housing might use solar or LED technology as a lighting source, as it has a low energy impact.
In terms of solar energy lighting, we recommend making sure that the solar charger for each element is of a high quality. The demand for these types of products has resulted in a wide range of available lamps, stake lights and solar lights.
However, even the biggest brands recommend supporting solar light paths with LED technology – potentially also programmable – so that lighting can also be provided in the dark and in bad weather, when solar energy elements may not emit as much light.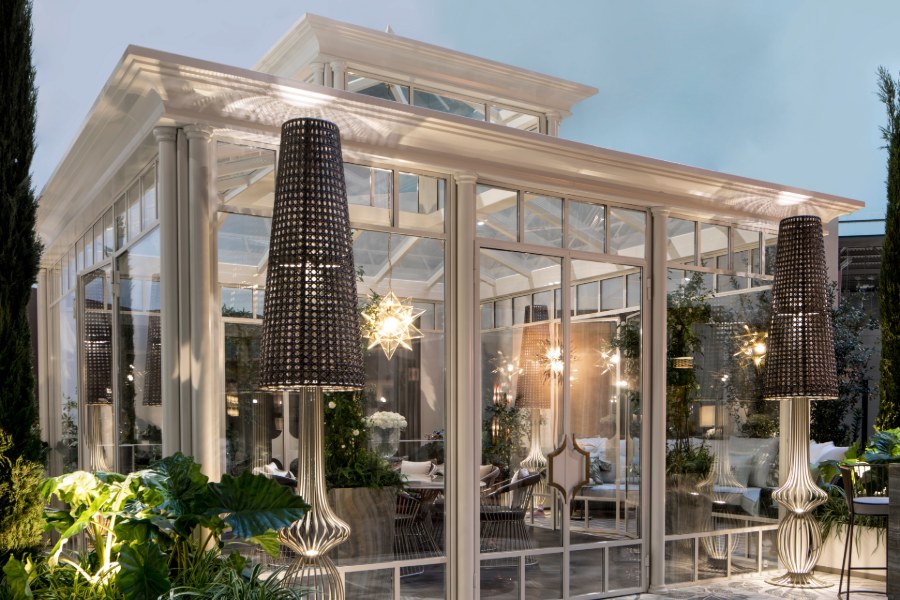 2. Geometry and minimalism in LED lighting
Clean lines, compact shapes, geometry and raw-cut structures are all giving lighting complete freedom of expression: these are the goals for 2018 in LED technology, which continuous to surprise us year on year with its adaptability.
This type of outdoor lighting, with iconic and essential clean-cut lines, is definitely the least invasive from a stylistic point of view and goes hand-in-hand perfectly with almost any furniture concept.
Spotlights, focused beams of light or accent lighting: thanks to the use of lenses in synergy with LED lighting, any type of lighting effect can be produced.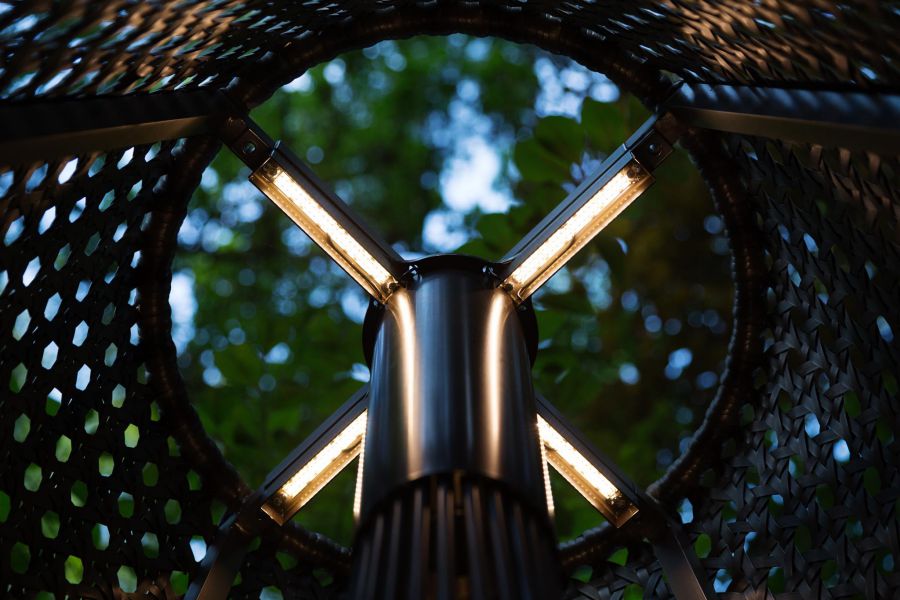 3. Underground elements that can be walked on
This is also a rising trend, which has resulted in the increased availability of models and design proposals.
Perhaps it's an increased desire to enhance natural garden elements that's causing this underground lighting trend?
This type of lighting fixture is in fact the preferred means of lighting trees, ancient olive trees and statement plants. Strange shapes such as semi-circles, rectangles and ellipses are replacing recessed LED spotlights.
Classic step lighting is also becoming a major player in the world of garden lighting. Depending on the chosen effect, soft or accentuated, an etched glass or semi-etched glass look is always a winner.
4. Playful and plant-style designs
This year seems to be the year for creativity and curious shapes in garden lighting. There is a real preference for "living" shapes: buds, lamps in the shape of insects and glass work in the shape of animals embedded like jewels in garden vegetation.
This trend is defined by its links to plant-like shapes that illuminate the garden by using a "surprise" effect. In fact, during the day these elements don't tend to stand out in the garden, but once the sun sets they reveal themselves in all their originality.
Another trend for 2018 involves outdoor lighting systems that can be adjusted and personalised in terms of colour and intensity.
2018 is the year for garden lighting that reflects the flexibility of client tastes and moods.