Samuele Mazza's collection for DFN combines the internationally renowned designer's unmistakable style with DFN's high quality and experience in the creation of luxury outdoor furniture and the design of high-end outdoor spaces.
Luxurious outdoor furniture can truly elevate the style, design, functionality, and quality of the most diverse outdoor environments, and give them added value.
But what elements are in DFN's Samuele Mazza furniture collection? And how can we use them to add value to our outdoor spaces?
Read on to find out all about this exclusive collection and how to mix and match Samuele Mazza's furnishings for your luxury outdoor project.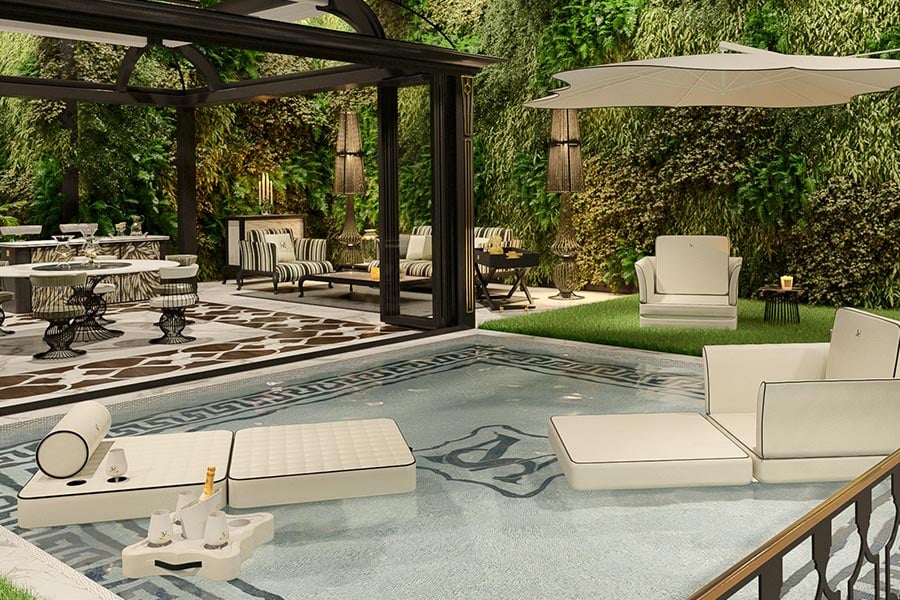 Samuele Mazza for DFN: Italian luxury outdoor furniture
Samuele Mazza is a well-known designer thanks to his brand Visionnaire, an icon of luxury furniture. In his collections, he brings together a timeless and glamorous style with the craftsmanship and qualities typical of his origins.
Born in Palma di Montechiaro in Sicily, Samuele Mazza is an internationally renowned designer who has chosen DFN, an Italian company, to produce his first line of luxurious outdoor furniture.
DFN is a leader in the design, creation, and sale of high-end outdoor furniture, including custom-made furniture, and in the creation of luxury outdoor spaces, from the design to the construction, as well as the environment's decor.
The unity of Samuele Mazza's impeccable taste, love for quality, and handmade products and DFN have given life to a complete collection of outdoor décor, open to the customer's interpretations, taste, and desires.
The collection includes furnishing and lighting elements, textiles, and decorative objects suitable for any outdoor environment, whether private or intended for much sought-after hospitality.
Let's look at how we can combine Samuele Mazza's proposals and in which contexts each element will be able to express itself at its best.
How to mix and match Samuele Mazza's furnishings for your luxury outdoor project
Samuele Mazza's collection for DFN consists of different lines, each with a personality, that you can mix and match or use individually for a simple but captivating, original, elegant, and always glamorous environment.
What all the lines have in common is the elegance of the furnishings and materials, the attention to detail, and in general their exceptional technical characteristics, guaranteed by the production processes used for the Samuele Mazza collection.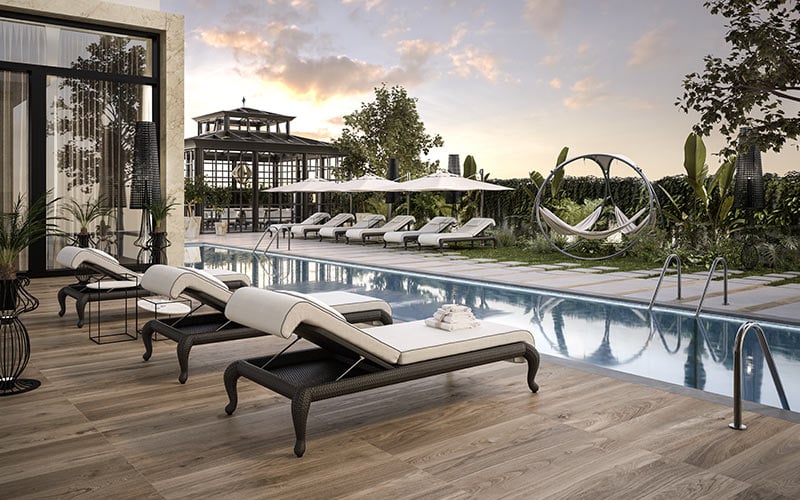 For every outdoor environment: luxurious outdoor furniture from the Demetra line
The mix of materials and finishes that characterize the Demetra furnishings allows you to design suggestive and functional environments.
The Demetra line can be used in all domestic environments, and in their outdoor version, you can find them in the lounge, dining area, the sun deck, and even luxury kitchen areas.
The prominent elements of the collection include the Yucca table and chairs made with iron rods; the elements of the Kenzia line and the Aralia seating, on the other hand, are both in synthetic rattan and have cushions made with UV, chlorinated, and salt water-resistant fabrics.
Their symmetrical and elegant allow this collection to be inserted into the most varied contexts. Demetra furnishings, thanks to their timeless character, are perfect with furnishings from other Samuele Mazza lines, always creating balanced and elegant combinations.
Refined and resistant luxurious outdoor furniture: the Siderale line
This luxurious outdoor furniture is made entirely by hand and designed for use in sophisticated and precious outdoor environments.
There are numerous Siderale furnishings that go well with each other to create coordinated outdoor spaces in every detail. The sidereal line is characterized by its glamorous stylistic features, feline features, and sophisticated shapes that remind us of the furnishings of yesteryear.
Extremely durable, thanks to their materials, the elements of this line promise comfort and the ability to withstand the elements, especially at high temperatures and the effects of UV rays.
For this reason, the Siderale furnishing elements are suitable for outdoor spaces, even without covered areas, for everyday living with family, friends, and on all occasions.
Siderale also includes furnishings with specific purposes, such as the floating elements of the Canopo line, combined with the line of seating and sofas of the same name, usable in and out of the water, therefore, suitable for outdoor spaces that include swimming pools and aquatic areas.
Sole, the Siderale gazebo line, is an additional accessory that can make outdoor spaces more beautiful, functional, and habitable in the hottest months.
In the Siderale line, you can also find luminous solutions to complete your modern luxury outdoor furniture project, and to make your space an exclusive high-end experience full of relaxation and comfort.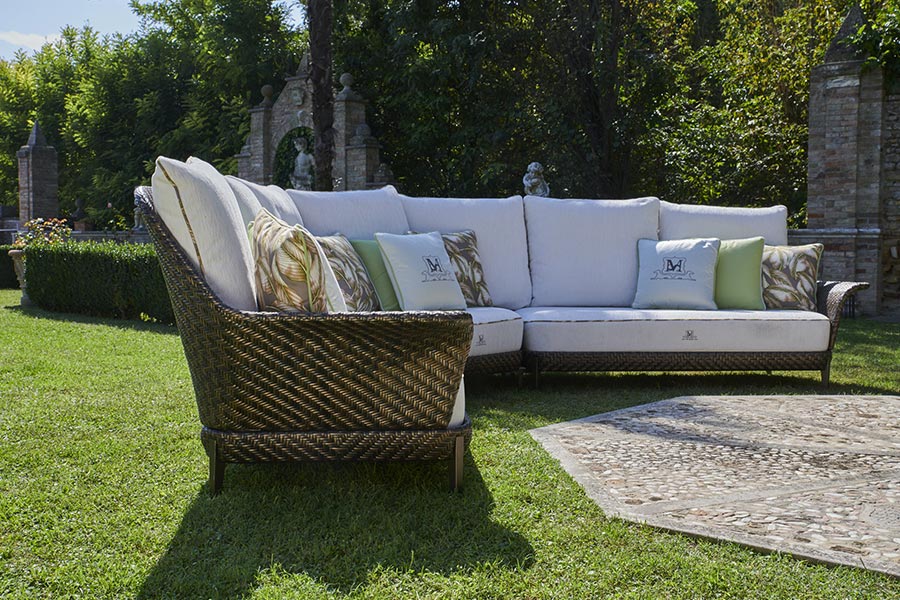 Precious furnishings for verandas, pergolas, and porches: the Orangerie line
The Orangerie line is made up of handmade furniture elements with the highest artisanal standards, using only natural materials such as wicker and rattan, strictly hand-woven.
For this reason, it is advisable to use the furnishings of this line in protected spaces (closed or semi-open), such as verandas, porches, or under pergolas.
In uncovered and weathered areas you can use more resistant furniture and objects designed to cope with all climate-related problems, such as elements from the Demetra line, for example.
The products of the Orangerie line are mainly seating, such as the sophisticated Shaula armchair, the modern Aldebaran armchair, and the Altair chair.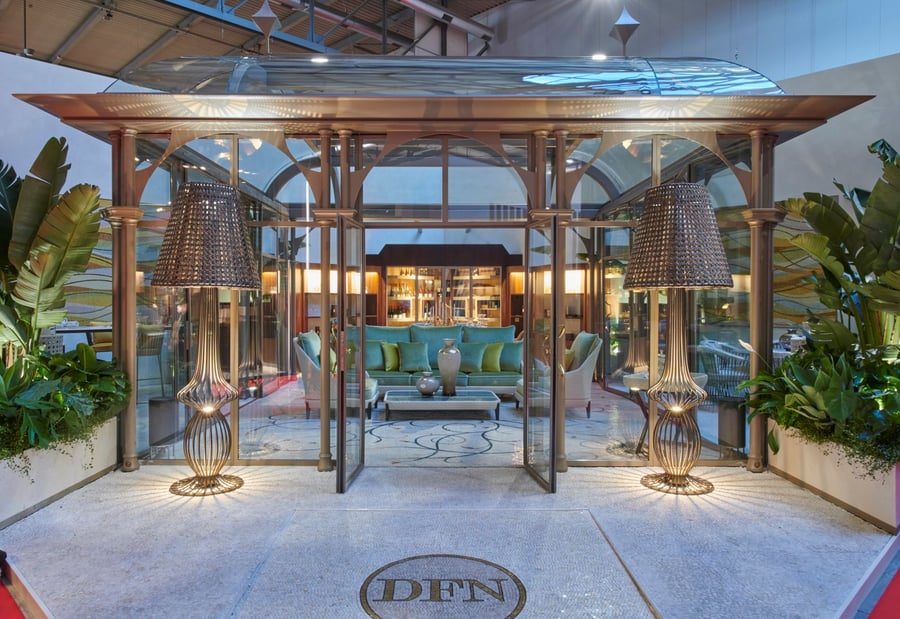 Luci: the lighting solutions suitable for every outdoor environment
To–quite literally–highlight the best luxury outdoor furniture, you need lamps and light points of equal aesthetic and functional value.
Samuele Mazza's line Luci offers high-end pieces, all handmade, designed to effortlessly match the products contained in each of the lines of the Samuele Mazza collection for DFN. These products have a high decorative value and create high-impact lighting scenes.
The products of the Luci line are versatile and capable of adapting to different styles of luxurious outdoor furniture, in any space and of any size, with or without ceilings or semi-ceilings (pergolas, verandas, canopies).
Lamp posts, lanterns, floor and arch lamps, wall lights, and suspensions in different designs: there is an idea for every decorative style and every luxury outdoor project.
Kitchens: high-quality and high-tech luxury outdoor kitchens
Samuele Mazza has designed two different versions of an outdoor kitchen to meet the needs of all their customers who want to add this luxurious element to their outdoor spaces.
Luxury outdoor kitchens constitute a refined, functional, and trendy environment, able to make your outdoor spaces more functional, interesting, and pleasant for all your different social, private, or professional occasions.
Why not include one if your outdoor space allows it?
From drinks with friends to a family dinner, as well as parties and events with colleagues: with a quality outdoor kitchen, organizing outdoor events will be easier than ever.
The two structures designed by Samuele Mazza, a linear kitchen and a curved design, adapt to any environment and style. They are refined and modern, eye-catching, and designed to the highest quality standards in materials and technology, characteristics that determine an excellent quality of use.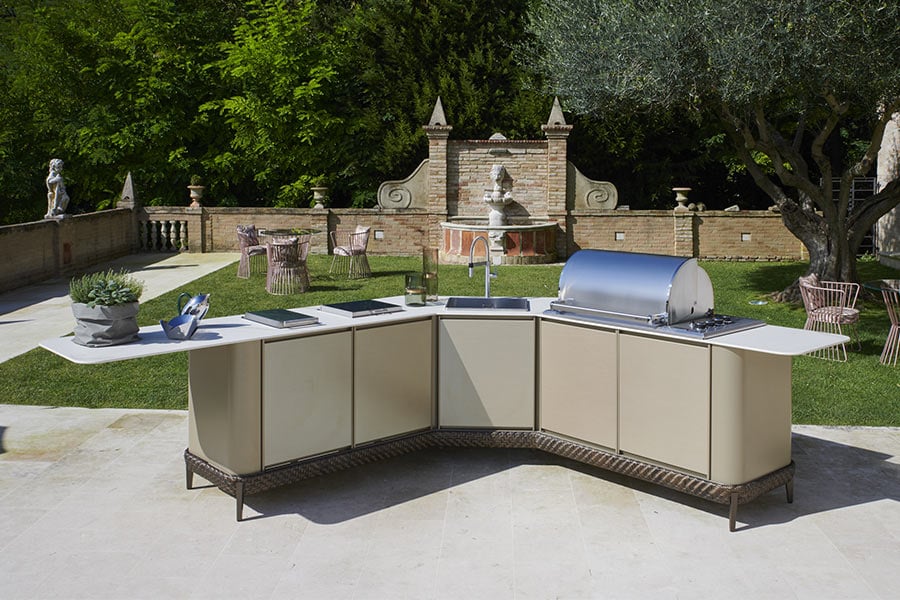 Exceptional materials for your new luxury outdoor space
The lines of Samuele Mazza's outdoor collection are designed to be mixed and combined to create enjoyable spaces that can be used no matter the climatic conditions and the use of each outdoor space.
For this reason, DFN and Samuele Mazza have selected the best materials that nature and new generation technology can offer.
From the most refined and delicate natural materials of the Orangerie line, suitable for protected environments, to the more modern ones used to make the furnishings included in the Siderale line, designed to withstand climatic attacks, sunlight, and more intensive use.
Rattan and wicker, fine porcelain, marble, coated aluminum, synthetic rattan, treated iron, eco-leather, and outdoor fabrics, water-repellent, anti-mold, and designed to retain their vivid and radiant color even after continuous exposure to UV rays.
In the Samuele Mazza collection, quality, usability, and beauty always go hand in hand.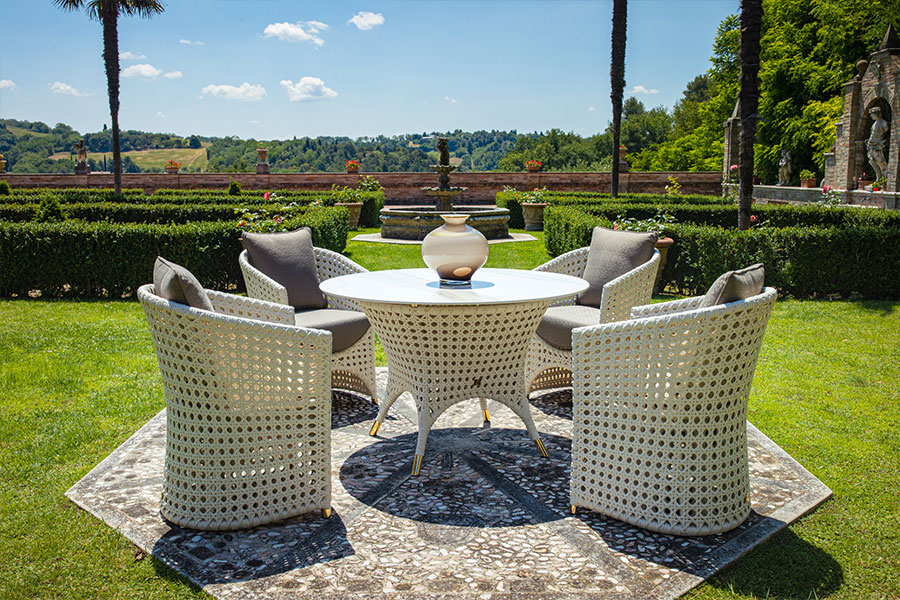 Create the best luxury outdoor space for your needs with DFN
Samuele Mazza and DFN have combined the Italian style with the best materials to bring their customers a collection that does not compromise the technical quality, use, or aesthetics for luxurious, modern, and durable outdoor spaces.
Rely on DFN's specialists to design your outdoor space with Samuele Mazza furnishings. Find the best combination and complete your rooms with all the functional and decorative elements you need.From lighting fixtures, rugs, tables, and chairs to the entire kitchen space, there are many options available, and DFN's experts are ready to create the best luxury outdoor project for you, with you.