Nowadays, designing a free standing outdoor kitchen is ideal for decorating outdoor spaces at elegant villas and luxury homes.
Great technical performance and undoubtedly chic, this type of luxury outdoor kitchen is perfect for outdoor areas, creating a real green oasis where ergonomics, modern aesthetics and functionality meet.
In this article, we will show you the fundamental steps for designing a freestanding outdoor kitchen correctly and creating a perfect outdoor scenario.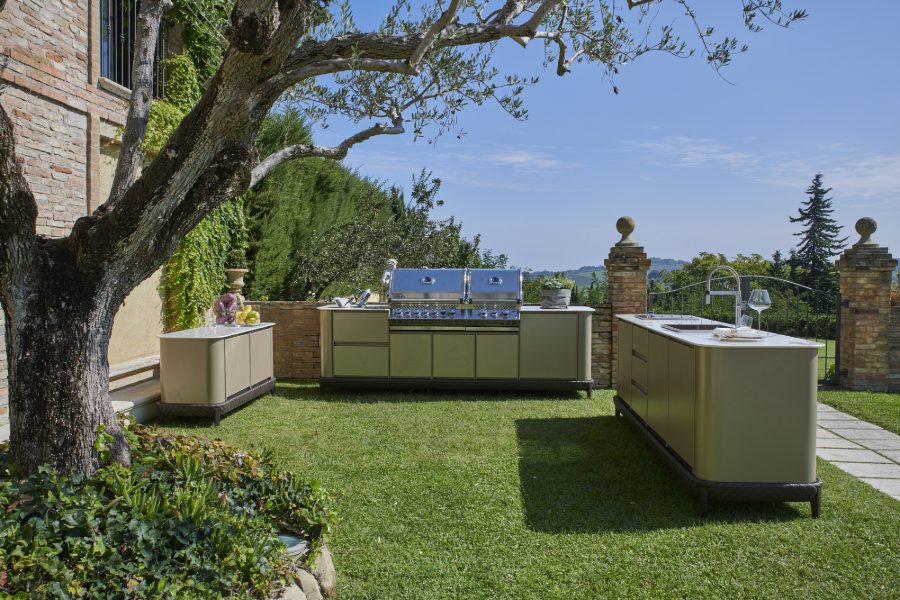 How to create the perfect outdoor space with a freestanding outdoor kitchen
Your main objective is certainly to guarantee your client a functional and well-organised cooking space, clearly without neglecting the aesthetic side.
To do this, we have decided to draw up a list of 3 style and design maxims to make a freestanding outdoor kitchen, a complete solution of everything you need.
In particular:


1. Select the layout that most closely matches the client's customs
To ensure the best solution for your client, it is crucial to choose a kitchen with an ergonomic layout, able to accommodate their customs and accompany them in the various stages of cooking.
Furthermore, the configuration of the kitchen area must comply with the "work triangle" rule, i.e., a functional arrangement of the hob, sink and refrigerator that ensures maximum comfort and fluidity.
Specifically, kitchens characterised by the highest performance layout are:


Corner or L-shaped kitchen
Corner kitchens have a highly functional and well-organised layout of the main task areas, easily adaptable to open spaces with large and medium-sized angular cuts.
Also, the L-shaped configuration allows a wide margin of customisation in the fitting of the food area, with the furnishing accessories that the client prefers the most: tables, chairs, sofas and coffee tables, for example.
In this sense, this type of freestanding outdoor kitchen could combine conviviality and functionality in a single solution.


Linear kitchens, structurally and aesthetically versatile, offer fluidity and comfort during the preparation phases. This type of layout is also ideal for outdoor spaces, as it is intuitive, comfortable and easily adaptable to any outdoor location.


Among the main proposals, the U-shaped kitchen is by far the best solution for freestanding designs, thanks to the highly functional and easy task area configuration.


This type of layout fully respects the principle of the "work triangle", ensuring fluid movements while preparing food and total comfort for guests and diners.
The U-shaped kitchen separates the workstations from areas used for conviviality and eating meals. Furthermore, the space located in the centre of the kitchen area, between the three adjoining floors, can be set up at the discretion of the client.



2. Choose the best performing appliances
The freestanding outdoor kitchen must accompany those who will use it in each preparation phase.
Therefore, it is essential to select the best appliances able to offer high performance and remarkable technical peculiarities. Here are the ideal options for equipping an outdoor kitchen:


A luxury option, designed specifically for all those who love to make their kitchen a liveable environment.
The wine cellar, which we find in the Linear Kitchen with Automatic Cover model, by Samuele Mazza, can also be placed inside a drink cabinet that is equipped with glass-holders and an ice machine, to everything you need on hand to prepare and serve delicious drinks and wine at the right temperature.


The choice between a gas or induction hob is the client's responsibility since it depends above all on their cooking style. On the one hand, the traditional-style gas hob is convenient and allows the instant adjustment of the temperature of the burners.
On the other hand, the induction hob has higher energy efficiency as it minimises dispersion. It also has a more discreet and design aspect.


The oven is certainly another inevitable element in the kitchen.
To select the best solution, focus on the functions of the various models, the types of cooking and control systems and the capacity and resistance to high temperatures.


To give added value to your client's kitchen, equip it with a teppanyaki: a cooking tool of oriental origin with excellent technical performance.


The grill and fryer fully reflect the essence of the outdoor lifestyle. That's why they should never be lacking in an outdoor kitchen.
We find the grill in the Island Kitchen with Sliding Table model: an option that fits elegantly into a kitchen of great stylistic and technical content.


Barbecue with protective stainless steel cover
The barbecue is an ideal cooking tool for outdoor spaces. Opt for a solution with a protective stainless steel cover that can always guarantee maximum protection for the BBQ and different types of cooking.
It is just like the Multi-element curved Kitchen, a kitchen designed to be efficient, equipped with a spacious, easy to clean, high-performance option.


The outdoor kitchen must be equipped with an efficient storage and cooling system.
Equip your client's kitchen with a refrigerator of optimal capacity (visible or hidden behind doors), able to preserve the flavour and freshness of food and drinks.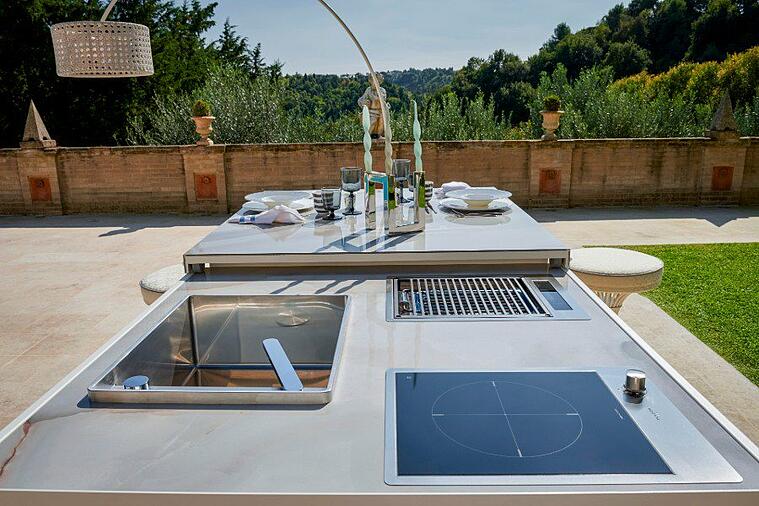 3. Furnish the spaces respecting the kitchen's style
Last essential step: furnish the kitchen's open space with taste. Set up a dining area next to the kitchen, where guests and diners can fully enjoy the sparkling and relaxing atmosphere of the outdoors.
To make the freestanding outdoor kitchen a welcoming and livable environment, furnish free space with tables and chairs and sofas and coffee tables with a glamorous style, in total aesthetic agreement with the concept of the kitchen.
Finally, to give an extra touch of decorum, while ensuring maximum visibility at night, select decorative designer lamps to be placed next to your kitchen or in the food area.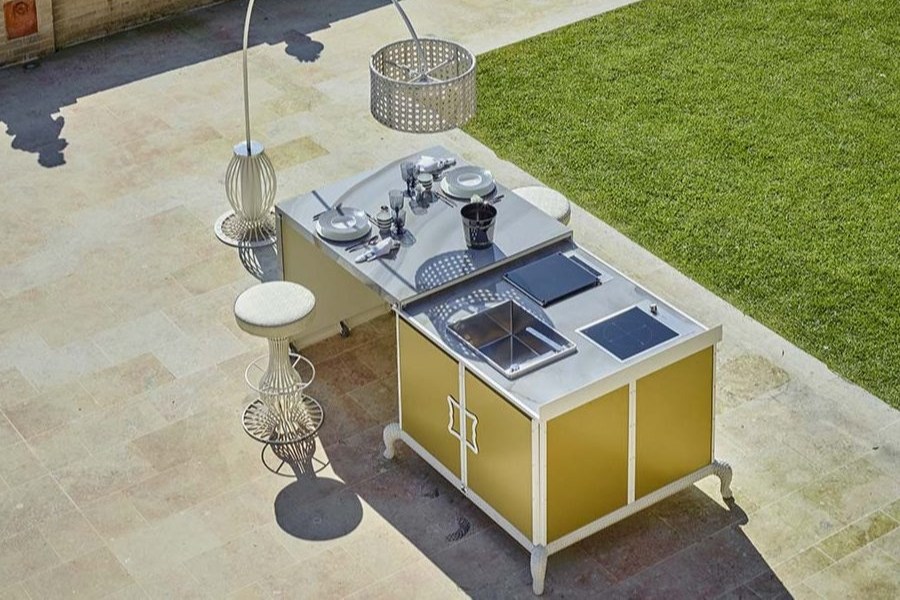 Freestanding outdoor kitchen: the cooking space your clients would love to have
Freestanding outdoor kitchens offer the possibility of creating a unique outdoor cooking space.
An essential kitchen environment in which the aesthetic aspect, given by precious materials and unique finishes, leaves room for the high performance of efficient appliances and unique structural features.
Moreover, unlike traditional masonry kitchens, these kitchens only need a flat and stable base to be set up and can be moved to another location if necessary. The installation times are decidedly reduced without the intervention of masons, and no worries about the deterioration of cement and stones that are generally used in masonry kitchens.
DFN luxury outdoor kitchens are positioned on a solid foundation. No matter the client's preferences, different styles are available for every request. The result is a kitchen that is perceived as a piece of furniture, elegant and functional even when not used.
Follow our advice, and you will get a final result that combines technical and stylistic qualities in a perfect combination.
This collaboration with Dekton and Brown Jordan Outdoor Kitchens was fantastic. I was tired of the same old and boring "friend" barbecues. My number one goal was to introduce a "furnishing touch" in a very useful piece. ASA-D2 is a flexible, light, modular "outdoor kitchen", extremely resistant to the elements and does not neglect the design aspect. My client loves design, having fun outdoors and grilling in a sexy outdoor kitchen while, perhaps, drinking a dirty martini with 3 blue cheese olives.