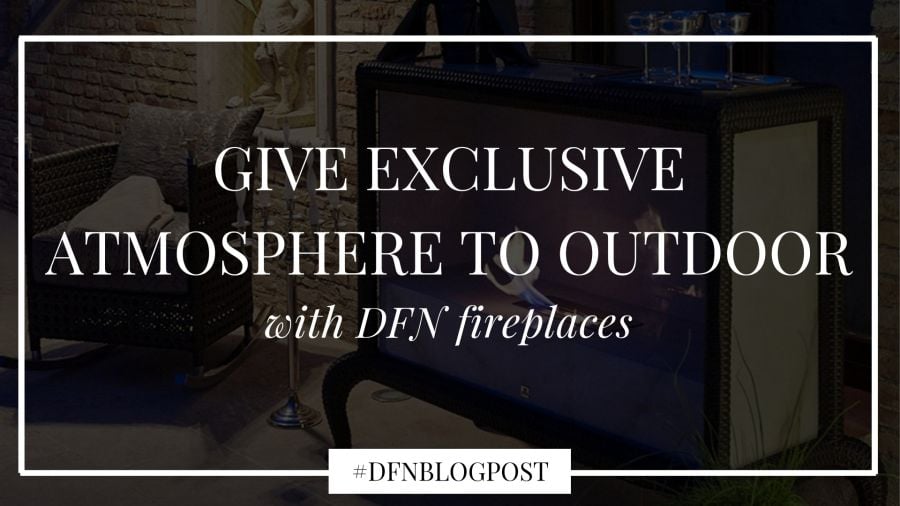 When you want to furnish the outdoors of a hospitality structure or property, it is strongly recommended to create a "focal point" in the design, i.e., the centre of a composition and a point in which to bring guests and owners together. Identifying this focus, choosing the style and meeting the customer's demands, gives character to the whole area, making the space more beautiful, useful and of course, special and unique.
To create focus in an outdoor area, there are a few options available: cooking areas, conservatories, pools, but there is one in particular that is increasingly requested: a fireplace.
Ideal to warm up a chilly summer evening, while creating a luxurious ambience, as well as marvellous and of course, perfect for extending the season for outdoor living. The fireplace we can offer is a brilliant solution if you want to add something unexpected yet useful to your design project.
Furnishing outdoor spaces with a fireplace will make outdoor entertaining for guests possible for longer periods in every season, as well as adding a certain relaxed feel that is both intimate and very much more luxurious.
Outdoor fireplaces are also splendid decorative features when it comes to design, and they can easily become a focal point for any outdoor furnishing project.
Designer biofireplaces: complementary furnishings that are both eye catching and eco friendly
By placing it in the garden rather than on a patio or terrace, a handy, elegant outdoor biofireplace will let you enjoy these areas for longer throughout the year
Biofireplaces have a dual purpose: to create heat and no less importantly, to decorate and create spectacular light effects.
Why should you fit a DFN fireplace outdoors? Biofireplaces are an elegant, tasteful way to decorate a luxury hospitality structure without polluting, and they are also unique, eye-catching design features that will enhance any setting.
An outdoor fireplace is doubtless an added value, creating a cosy atmosphere within the whole area, as well as the ideal setting in which to welcome guests.
It can become a genuine meeting place. This makes it important to fit the outdoor area with seating and sofas that will allow guests to enjoy conversation and happy hours.
A fireplace to create experiences
Warming an area adds a feeling of physical but also mental wellness. Light sources in fact create delicate atmospheres wherever they are placed. From lamps, to fairy lights, candles, and...fireplaces.
Just like candles! In fact the flames from a fireplace create a romantic, luxurious, warm and welcoming place that will make an area even more appealing after the sun goes down. It will definitely attract guests wishing to enjoy a little more of the outdoor experience, any day of the year.
This is why garden fireplaces are increasingly popular furnishing items, chosen by designers to decorate outdoor areas.
An outdoor fireplace is essential for those whose love of design and style needs to be accompanied by a high degree of practical use and comfort, and it will be useful when it comes to warming the atmosphere during those cooler summer evenings, as well as being a design element that is ideal for those seeking taste, ambience and comfort in their outdoor environment.
Design your outdoor spaces with DFN
The bioethanol fireplace from the Canopo di Samuele Mazza collection is an elegant way to furnish an outdoor space and create an enhanced living space outside.
Our fireplaces guarantee easy installation and practical use. Since they produce no ash or other residues, they require no maintenance, and they can be placed anywhere, since they need no flue or power supply.
The flames are incredibly realistic, and, thanks to catalytic combustion, the fireplace emits no gas. This new creation is the result of careful research: design comes together with the possibilities made available through using bioethanol.
As we already mentioned, it is a good idea to furnish the area around the fireplace, since our biofireplace is a perfect match for the outdoor furniture in the Samuele Mazza Outdoor Collection, creating the perfect outdoor living space.
One good tip for making the area even more welcoming is to position the structure and the complementary items in a covered area of the patio or courtyard, such as in one of our conservatories.
The fireplace from the Canopo collection will catch the eye wherever you put it; thanks to its character and flair, it blends into its surroundings, creating a whirlwind of style, adding its class to elegant dinners or important evenings. It also arouses the curiosity of guests and can be adapted to fit any living, working or tourism setting, bringing with it the warmth of a magical atmosphere steeped in mystic tradition.
It is a complementary piece that brings modern and classical styles together, adding comfort to any space, without the need for intrusive installations and all the problems that traditional fireplace maintenance can bring.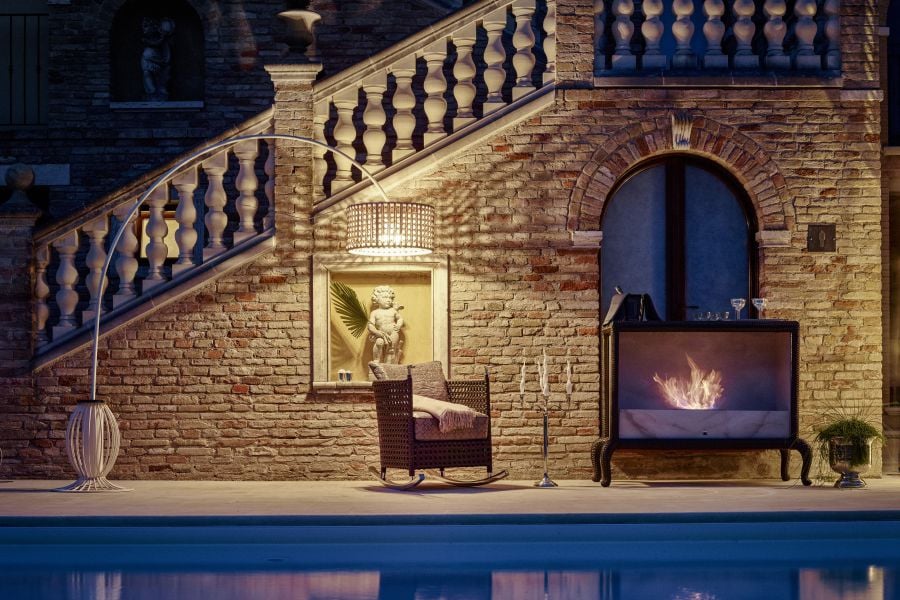 The characteristics of the fireplace from the Canopo Collection
Furnishings from the Canopo range are the result of a dreamlike inspiration, creating items with a bold scenographic impact, which combine bold aesthetics with practical, easy use.
The leg is the standout feature in the design of every piece of furniture in the range. An element that is obviously in classical style, but at the same time, has clearly distinctive features.
This iconic detail combines, in the chairs, with great big, soft cushions that hug the whole framework. This is a very rich collection, created to satisfy every need when it comes to the use and decoration of an outdoor space: sofas, dining tables, chairs, consoles, beds, four-poster beds, food trolleys and bioethanol fireplaces. The case for the fireplace is made in ceramic marble and built to withstand extremely high temperatures, with the addition that it can also reproduce almost any natural marble in a realistic manner.
With the items in the Canopo range, there are no limits to your creation; the sophisticated, complex range for a luxury total look that is coordinated in every detail.
By contrast with the sophisticated, glamorous style, the furnishing items in this range are made in materials designed to withstand lengthy periods of use outside. Aluminium frames covered in handwoven synthetic resin that can withstand bad weather, porcelain stoneware with marble effect, waterproof fabrics and cushions.
Why choose a bioethanol fireplace?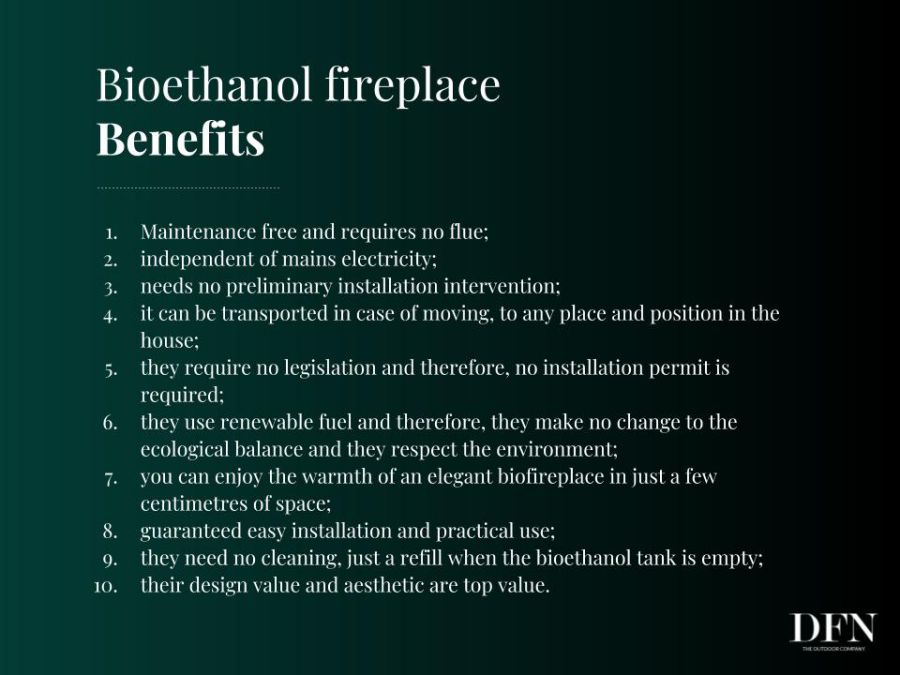 The fireplace has always been the heart of the home, and the scene for everyday living.
Its purpose has not changed, only now there are many available alternatives to the classic wood-burning fireplace.
For lovers of classic, luxury style but without forgetting innovation and contemporary design, the best choice is the bioethanol fireplace that burns eco-friendly fuels made by fermenting plant substances.
Unlike the classic wood burner, the biofireplace does not need a flue and as a result, it furnishes and heats its surroundings without producing ash, smoke or sparks. Its combustion is practically complete and guarantees an almost complete combustion, for guaranteed realistic flame effect.
The benefits of a bioethanol fireplace:
Maintenance free and requires no flue;

independent of mains electricity;
needs no preliminary installation intervention;
it can be transported in case of moving, to any place and position in the house;
they require no legislation and therefore, no installation permit is required;
they use renewable fuel and therefore, they make no change to the ecological balance and they respect the environment;
you can enjoy the warmth of an elegant biofireplace in just a few centimetres of space;
guaranteed easy installation and practical use;
they need no cleaning, just a refill when the bioethanol tank is empty;
their design value and aesthetic are top value.
A bioethanol fireplace is a perfect complementary piece to create great scenographic effects. It can be used in the living room or next to the dining table, or outside, on a patio. It creates the idea of a warm, welcoming atmosphere and a great bold aesthetic.
The beauty and comfort of fireplace from DFN can adapt to any area, outdoors or inside, with its avant-garde design and eco-friendly credentials, thanks to totally biological, renewable fuels and to the toxic-emission-free flames that do not need flues or vents.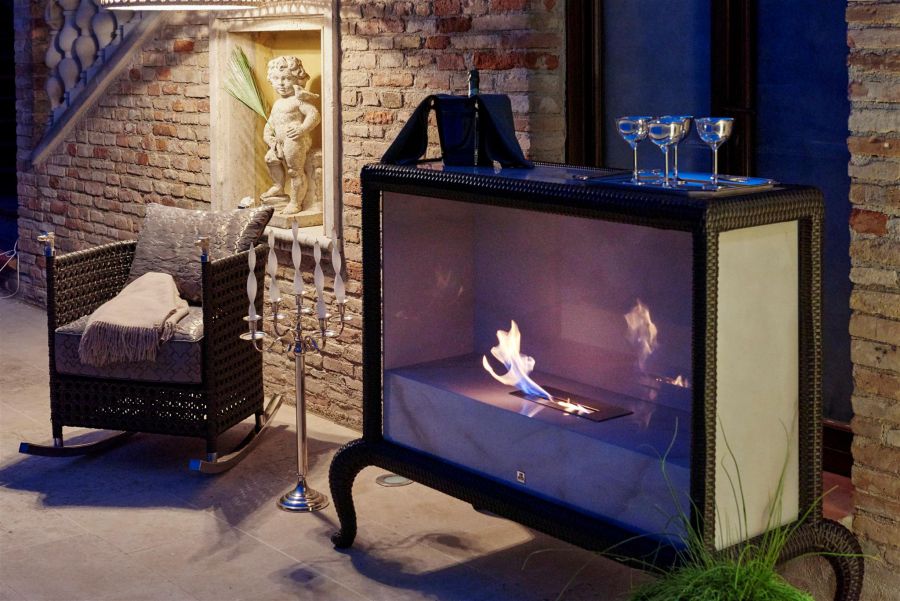 How does a bioethanol fireplace work?
Biofireplaces are an elegant means with which to furnish a home without polluting and can be used as design features to enhance the environment with their rich, charming appeal.
The bioethanol fireplace consists of a steel tank to contain the bioethanol, a kind of plant-based alcohol that emits steam, carbon dioxide and warmth.
To operate the fireplace, pour the liquid into the burner near the tank, which serves to ignite and regulate the flame.
Bioethanol is a completely organic ethyl alcohol and is made by processing biomass from waste or by fermenting plant-based biomass with a high glucose content, such as maize, barley or sugar beet.
Using a natural, eco-friendly fuel means that biofireplaces do not emit toxic or harmful fumes. To put out the fire, there is a flame suppressor provided.
The strong point of the bioethanol fireplace is the actual combustion that takes place in the small exposed chamber: bioethanol fireplaces are able to reproduce the atmosphere of a traditional fireplace, since it has visible flames, and it can be shielded by protection for better safety.
Having a garden fireplace means creating a more welcoming, comfy atmosphere during cooler evenings.
Outdoor areas can be optimised with a DFN fireplace
To conclude, as we said, creating an outdoor furnishing project that includes a fireplace from the Samuele Mazza collection made and sold by DFN, will give the house or facility another occasion to be out in the open air in an intimate, luxurious setting.
If well devised and designed, the area dedicated to the fireplace will be the perfect setting for pleasant moments. It optimises outdoor space by creating an atmosphere with a luxurious, elegant and relaxing feel.