Ever since our inception we have furnished spaces in order to render them both functional and inspiring.
We take advantage of the wealth of experience each of us has matured in the real estate and exterior design field, creating projects with the highest quality materials and workmanship, using the most innovative materials and solutions.
In addition to being leading manufacturers of woven furniture, we offer the possibility of customizing furniture to taste, satisfying all types of requests and needs, providing unmatched exclusivity.
Over time we have improved these important services and today innovation and exclusivity are our strengths.
In fact, good design is defined by:
innovative shapes and functions;
an attractive and appealing aesthetic, made to last with quality materials;
meticulous attention to detail.
As a result we now offer customers a wide range of products: furniture, kitchens, winter gardens ... But don't worry! Our team will accompany you throughout the entire process, from the initial ideas to completion of the project.
The quality of our materials
We take advantage of DFN's strengths in every project, starting with the materials used. In fact, the materials the products are made of are important because they influence the structure, shape, functionality and quality of the articles.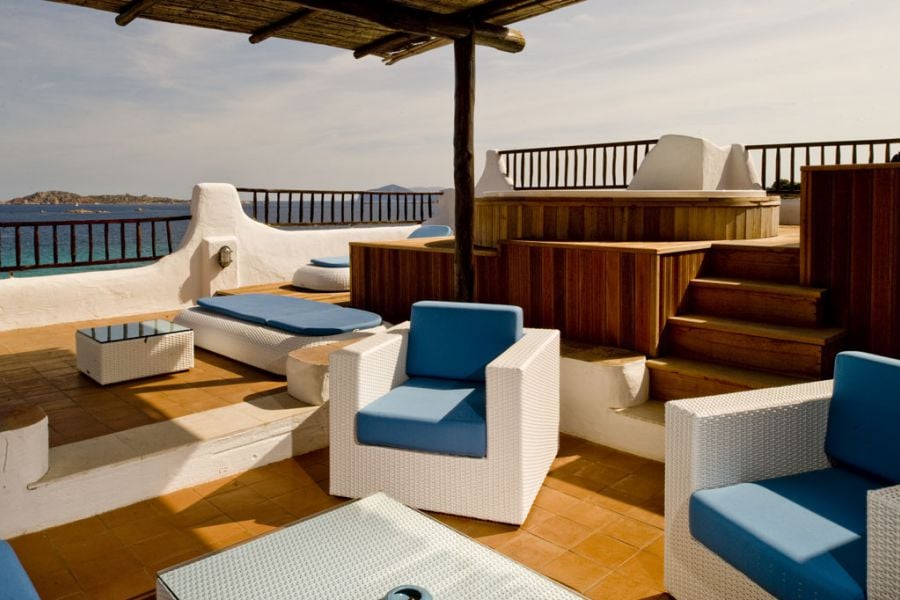 Synthetic rattan
Synthetic rattan is a synthetic resin that mimics the look of natural rattan made from a particular type of palm tree, the processing of which dates back to remote times and is known for being flexible and easily manipulated. The synthetic fibre is woven in the same way to make tables, chairs and other items of furniture.
The strengths of synthetic rattan:
resists UVA and UVB radiation
resists both low and high temperatures
resists sea salt, chlorine from swimming pools, sun creams, mildew and parasites
doesn't fade in the sun
doesn't modify over time
is waterproof
is easy to clean, washable with water and acid-free products
is completely non-toxic, environmentally friendly and
100% recyclable
Synthetic rattan supports one of our strengths: quality. It is the only fibre capable of providing the appropriate guarantees of duration since it is made of HDPE (high-density polyethylene), engineered specifically for prolonged outdoor use and designed to reproduce the appearance and colour of natural rattan as closely as possible.
As already mentioned, synthetic rattan, like natural rattan, can be used to produce woven articles similar to those obtained with wicker.
In fact, the art of weaving is the basis of the design of all our creations, which embody the unique qualities of lengthy production processes and meticulous craftsmanship. Our skilful craftsmen work with synthetic rattan as well as wicker, pelt and other materials with great patience and precision, creating exclusive quality products.
Synthetic rattan's flexibility makes it suitable for large complex structures enclosing well-defined spaces, for example chairs and sofas, especially those intended for outdoors and designed for perfect comfort and the best ergonomics possible, as well as resistance to atmospheric agents.
The fabrics
The fabrics have the qualities necessary for outdoor use: weather resistant and easy to clean. The cushions have removable washable covers. All the fabrics used for coverings are water-repellent, resistant to the weather, sun and moonlight, salt water and chlorine, and stains and mildew, thus combining strength and comfort.
A special breathable water-resistant patented fabric is used to line the rubber cushions for chairs and sofas ensuring the prevention of the formation of mildew.
Iron
We produce items of furniture in iron, such as carefully handmade gazebos or lamps. With specific treatments for iron and special paints with excellent technical characteristics, it is possible to obtain a range of colour solutions that last well.
Marble and ceramic marble
Along with natural marble, we also use porcelain: an interesting stone with a marble finish. Ceramic marble with its eye-catching surfaces, seductive colours and striking nuances is a furnishing element with very suitable characteristics for outdoor use, such as:
resistance to humidity, UV rays
does not absorb liquids
resistance to scratches and stains.
Therefore, ceramic marble is particularly good in kitchens, ideal because it is:
suitable for use with food and drink
resistant to high and low temperatures
UV resistant, no colour alteration
resistant to scratches and abrasions
easy to clean
resistant to cleaning agents and products
resistant to stains, and it has a
hygienic surface
Glass and printed glass
We offer both plain tempered and printed laminated glass. The latter special production process allows for the application of any type of surface texture to glass, reproducing weather-resistant and glass-like natural stone as well as marble effects of all types.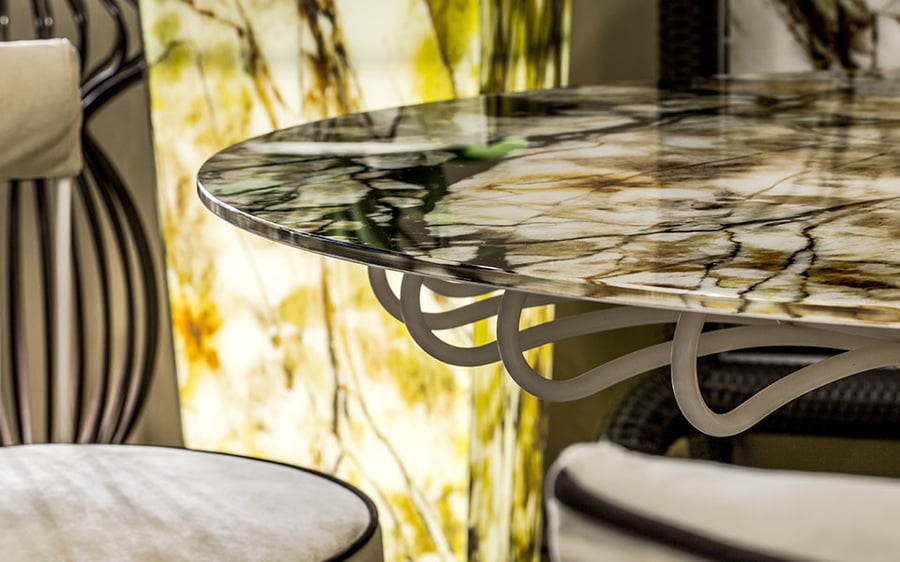 DFN and innovation
In our efforts to always offer the highest quality to our customers, a further equally important DFN strength has come to the fore: innovation
Innovation means introducing new products and services, and thus new methods for producing and making them available to customers. At DFN we love to evolve, keep up with the times and improve. We are constantly looking for solutions and the most innovative materials, aiming for complete customer satisfaction. The search for unusual finishes underlines all our collections.
This research is an important strength that means we are always in the limelight and continuously renewing our relationship with our customers.
As a result DFN is able to deal with requests from the market and respond in the most appropriate and up-to-date way. For us innovation means being aware of circumstances, changes, new requests and methodologies, and observing and providing suitable concrete answers to customer requirements.
In fact, all businesses must face the reality that surrounds them on a daily basis. This entails being attentive to customer needs, the solutions the market offers and possibilities that have not yet been unexplored.
Innovation also means accepting the challenge to change.
Working in an innovative environment is positive for a number of reasons:
it makes for an exciting and interesting environment, rich in ideas and inspiration;
it enables the company to break with routine in order to meet all sorts of needs;
it keeps us devising not only original but better and quicker solutions to various problems.
From innovation to exclusivity…
DFN creates new models or reinterprets models from the main collections, creating products to meet general requirements as well as ad hoc customer specifications for unique solutions.
The ultimate goal is to create a product that reflects the customer's style. Thanks to continuous research and development and constant experimentation with materials we are able to provide a range of ever-changing solutions.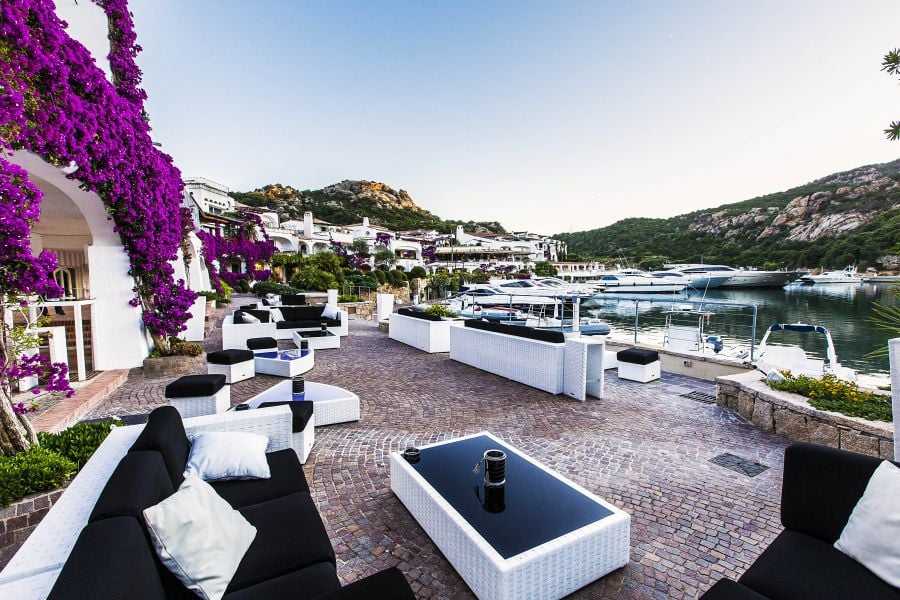 Customization as a strength
Completely satisfying every request for every single customer, without overlooking even the smallest detail is important to DFN. Customization of furniture has become a considerable strength over time enabling us to meet the needs and accommodate the style of our customers and add value to the product we realize.
Our concept of exclusivity is the creation of a detailed, customized exterior design project. Therefore, original details are important when choosing the article.
We customize according to taste and requirements:
size and layout;
accessories;
finishes and styles;
the logo;
the product.
The DFN strengths that lead to excellence
It is very important for us to achieve perfection in every product.
The quality of the materials, the production methods and the tools we use in order to go above and beyond and achieve original results all count. As a result everyone feels like a star and is guaranteed a high quality refined article, which has been made to measure in the most appropriate style.
We consider quality, innovation and exclusivity to be essential qualities, qualities every professional should aim for when realizing a project. At DFN we will help and support you in your choice of furniture, we will provide advice on the most appropriate collections for a project, and look after every last detail.
Together we will make our strengths your strengths, reaching a shared final objective: to furnish spaces and environments that are suitable for everyone, and at the same time personal and intimate, so that our customers can live unique unforgettable moments, surrounded by the quality and exclusivity that they have chosen, supported by our professionalism and commitment.