In the hospitality business, the décor of a structure is for sure one of the most important features of a facility. Of course, decorating well the indoor is essential for the comfort and enjoyment of guests... but what about the outdoor areas?
The outdoors are the first contact guests will have with the facility, and it is of paramount importance to make a good, positive impression on visitors and possible future guests by welcoming them with a landscape design suitable for the style, type, feel of the hotel it belongs to, and that harmonizes well with the surroundings.
To best achieve this, it is of course very important that you help your client invest in high-quality items of furniture that will prove cost-effective in the long run, work properly and last well in their appearance over time.
As far as the design and materials go, choosing well-designed pieces made with top of the line materials that are easier to take care of and that boost a good level of versatility will be a very smart choice.
Making sure you source such items in fact, will ensure your clients will not need to continuously worry about maintenance or engage in frequent changes in the pieces of furniture and complements – both situations would cost them unnecessary extra time and money.
Starting from outdoor furniture materials
The material is possibly the first feature you should be checking when selecting outdoor furniture, as a stronger, longer lasting material is for sure a good start to understand whether or not an item of furniture will withstand the test of time and serve its purpose well over time.
There are plenty of options on the market which all have useful characteristics that make them suitable to be used as outdoor furniture pieces:
iron and metals in general can look very neat, polished and modern;
wreath iron on the other hand, can give off a beautiful cozy, vintage look, just like some woods would, or leather, for example.
All of these materials however, require quite a lot of effort in the field of maintenance – as rust, dullness, splinters, discoloration and other issues may appear even quite early if the items are not taken care of well.

So, what would a luxury yet less demanding material suitable for hotels outdoors be? Have you ever thought of synthetic rattan?
Natural rattan is produced from the palm plant, but going natural is not the only option you have if you want to achieve the look of rattan – and benefit from the same characteristics.
Outdoor rattan furniture for hotels to create a natural oasis
One of the reasons both professionals in the architecture and design industry and their clients love rattan, is that it gives off lush, natural vibes thanks to its exotic roots.
Natural rattan is bent by steaming it so it maintains the desired shape, and although it is one of the strongest woods out there, it does require a decent amount of maintenance to last long and keep looking fresh and new.
For this reason, it can be a very good idea to source items of furniture made out of high-quality synthetic rattan instead. Well made synthetic rattan is designed to look exactly like its natural counterpart, and sometimes even more beautiful, when of high-quality, so it can easily be used for items in the same style and design and look just as elegant and chic as natural rattan furniture does.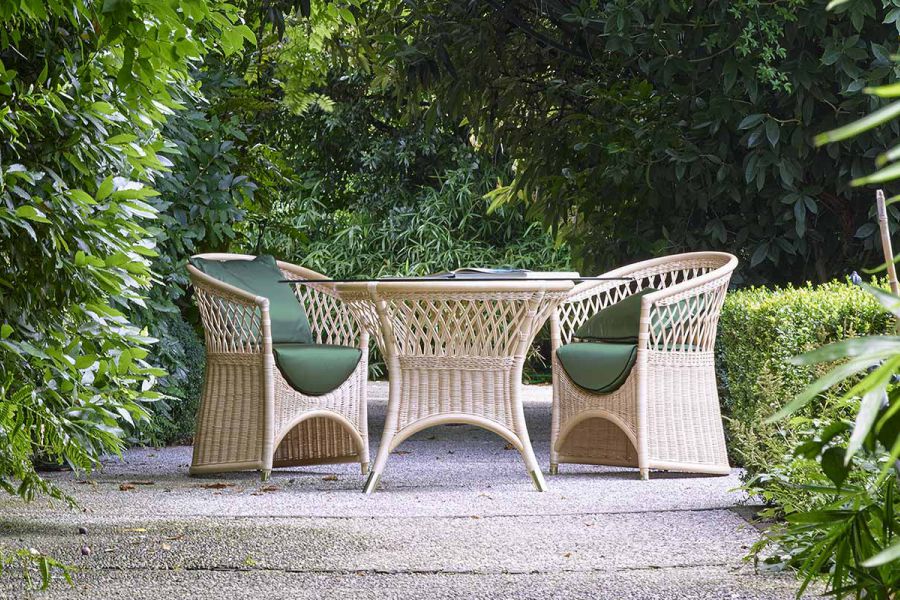 A natural, exotic look can really add to landscape design. For instance, outdoor rattan furniture for hotels will prove to be a wonderful option to beautify and give a stronger personality to gardens and green areas in general that feature some kind of water element: rattan in fact goes wonderfully in proximity of pools, ponds, fountains, that will look more opulent and luxurious than ever when matched to a lovely rattan furniture set.
Also, do not forget that greenery, natural elements and plants are a huge trend for furniture, indoor and outdoor design – so finding yourself top-quality synthetic rattan items will ensure you keep up with the latest fashion while taking advantage of the best technology, which can provide you with strong materials that are beautiful, have a long lifespan and are very easy to take care of.
This way, while still achieving a lush, natural look, you won't have to compromise on the ease of use easy maintenance for your clients and guests of the hotel.
Versatility and comfort with outdoor rattan furniture for hotels
Rattan is made out of (wood) fibres worked in a woven pattern. The same pattern is created for man-made rattan, by using synthetic fibres instead. Said pattern allows for the creation of a strong material, that is very resistant, mechanically and technologically to weather and elements.
Also, it can be formed into a variety of shapes, making it possible to design full furniture sets made out of the very same material. Everything from dining and living sets, loungers, daybeds and hanging chairs can be produced in rattan.
These features mean not only that you can create virtually any kind of personalized set of furniture pieces you might want or desire, but also that each piece, if well designed, will be especially valid ergonomically and very enjoyable and comfortable when used.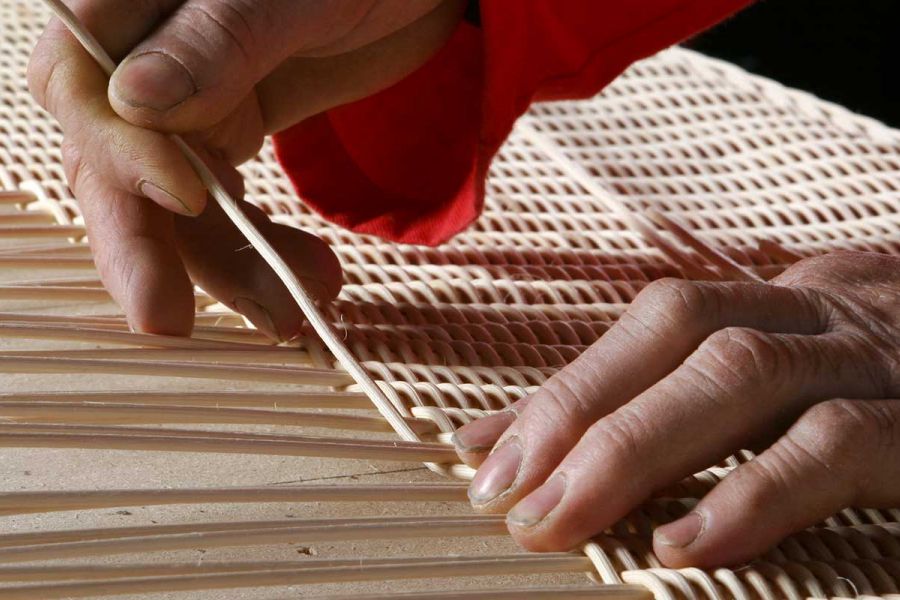 As mentioned earlier, rattan is an extremely resistant material. In fact, it is much more robust than natural wicker! However, this does not translate in a hefty weight as one might think it would. Rattan is in fact very light, which leads to a number of perks that make it one of the best materials to use in garden furniture items.
Being this light, outdoor rattan furniture for hotels is very easy to move around.
This feature can prove extremely helpful. In fact, if you are designing outdoors for a facility, you know it may be required that furniture can be changed position, or moved to the side to make way in case the area must be freed (during parties, events, weddings and so on, for example...). Changing the layout of the landscape design with outdoor rattan furniture for hotels will be that much easier.
As we said before, synthetic rattan needs a lot less maintenance compared to natural wicker. Your clients will not need to invest a lot of effort and time into taking care of their new rattan furniture, and there are a lot less chances that guests will ruin the pieces during use.
This ease of use translates in more enjoyable furniture sets that can serve their purpose keeping the area and the landscape design itself beautiful, clean and polished and always looking band new without weighing on the hotel owners.
For a correct care of synthetic rattan furniture, in fact, it is enough to remove all cushions, pillows and fabric details beforehand, and then spray the furniture with water regularly.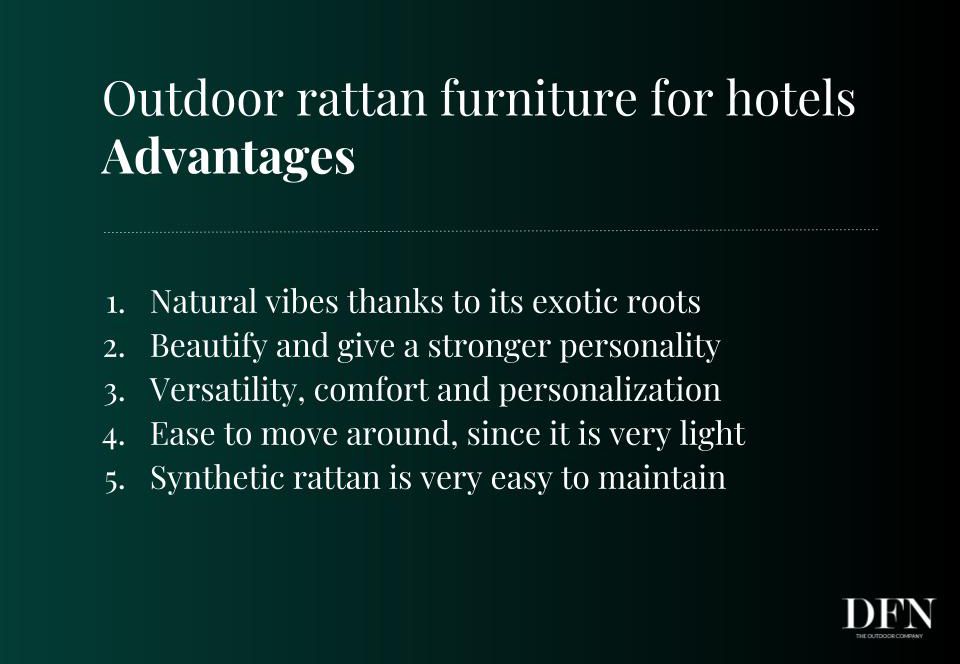 In conclusion
If you believed that that only choosing natural materials you could achieve that gorgeous luxurious, elegant and exotic look that is so timeless and at the same time, so trendy right now, think again!
Finding top-quality synthetic rattan will give you the chance to use a man-made material that can look even better than its natural twin and that is hassle-free during use.
As mentioned, you can find full sets of outdoor rattan furniture for hotels, which include all items that are necessary to create and organize a full environment that is beautiful, enjoyable and extremely versatile.