Installing a conservatory has always been a quick, effective and elegant way to add space to a building.
Whether an existing structure, or one that you're hoping to build completely from scratch, it's important to pay careful attention to your conservatory roof.
Conservatory roofs are often overlooked because they are the least visible part of the building, but they are actually very important.
Roofs influence how we enjoy a space, and the type of roof that best meets a customer's needs will allow them to enjoy the space all year round and in the best way possible.
When exploring the range of conservatory roofing options available, you will find that you can choose between a solid system that provides total shade from light or a glass roof that lets the light in entirely.
Finding the best conservatory roofing option can be a time-consuming task. In fact, there are numerous options to explore, making the decision-making process fairly lengthy.
What are the best conservatory roofing options out there?
The best conservatory roof types obviously depend on the project.
The most frequently used material is glass, as it allows a lot of natural light to enter the conservatory during the daytime, while offering a view of the starry sky at night. This material has also historically and traditionally been used in the construction of conservatories, which are considered an evolution of the greenhouse.
Although covered roofs may not let light into the room, they do provide good insulation by reducing ground overheating problems due to sunlight and can still be equipped with skylights.
Read on to find out more about conservatory roofing options:
Glass roofs

Glass roofs create contact between the outside world and the room inside, allowing natural light and solar radiation into the conservatory. They can be both fixed in place or openable to allow air in.

There are various problems that come with choosing the best glass roof, but the main issue comes down to natural lighting, thermal insulation and solar radiation.
Glass roofs must guarantee contact between the outside world and inside room and maintain a large well-lit surface area while also acting as a controlled barrier against these factors in order to create ideal comfort conditions in the rooms below.

These days, thermal insulation is very important, and it's therefore important not to disperse energy, which means minimising winter thermal dispersions and reducing summer heat loads.

Correctly planning the installation of glass systems is important in order to respect these criteria. Sunlight on glass roofs can now be controlled via the use of various glass products, such as absorbent, reflective or selective glass. Absorbent glass is treated with a paste and absorbs a lot of energy, a large part of which is dispersed into the external environment, reflective glass reflects sunlight and therefore limits its entry with various degrees of reflection.

Selective glass is fairly self-explanatory, it blocks the part of sunlight that generates heat, while allowing visual energy to enter, i.e. the light itself. It works by selecting specific solar energy wavelengths.

Built with using frames that support glass panels, these high-performance roofs are designed to create comfortable environments in a room that can be used all year round.
Glass roofs brighten spaces and are an elegant and functional solution to cover outdoor spaces or to connect the roofs between different buildings.
Roofs with sliding sections can also be designed for a space that opens up to the outdoors, so that customers can enjoy natural ventilation or the warmth of the sun's rays.
Fixed or electric blinds can be added to glass roofs to provide shade for areas below.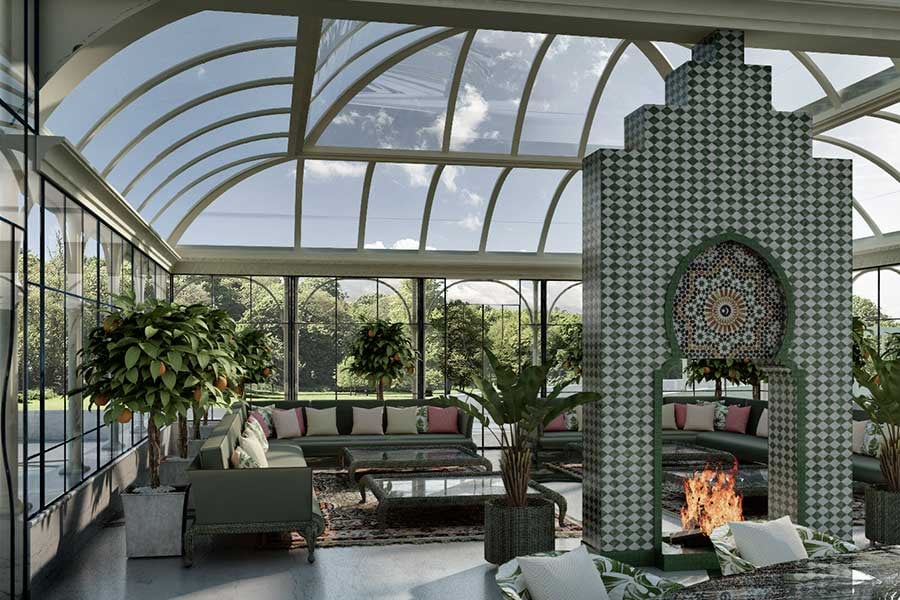 Tiled roofs
Tiled roofs can help solve temperature control issues as they provide effective insulation in winter and reduce the intensity of the sun during the summer months.
Although a fully-covered roof won't create as bright a conservatory as one with a glass roof, you can still add skylights or glass sections to make the room more airy and welcoming.
By combining the colour of the roof tiles with the main building, the two surfaces will also look more coordinated, and the internal ceiling can be plastered and decorated to blend in with the house's interior design.
If you're aiming to create an extension that can be used every day without too much faff in terms of sunlight, a tiled roof is probably the most appropriate choice.
In terms of maintenance, tiled roofs outperform most other options because they require virtually no maintenance.
Polycarbonate roofs
Polycarbonate is probably the most cost-effective conservatory roofing option.
Great for letting in natural light, lightweight and structurally stable, this material requires little or no maintenance and comes in a wide range of different colours.
Modern polycarbonate roofs also contain solar reflecting inserts that can reduce glare and block UV rays.
However, this particular material doesn't quite have the same insulating and technological properties as glass or the same aesthetic look.
Polycarbonate roofs are certainly a cheaper alternative to glass roofs, although they are not as efficient in maintaining a constant temperature nor as beautiful or elegant.
It's also worth considering that their soundproofing and safety features are more limited.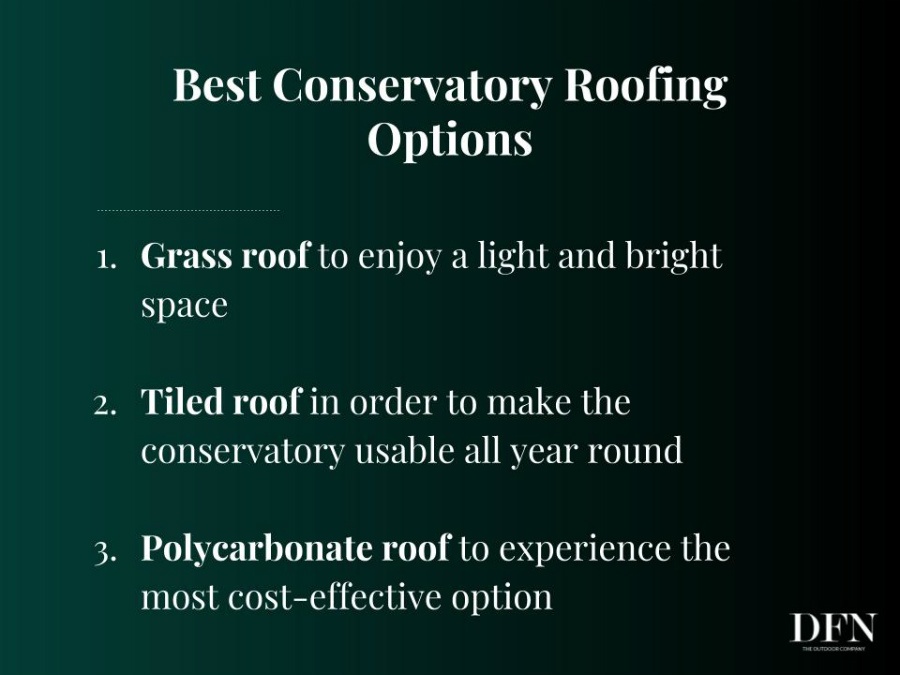 Think about what you're hoping to achieve before making a decision
Deciding on the best conservatory roofing option is an important choice that depends largely on your needs and what you hope to achieve.
This will be determined by factors such as the amount of light you require, the usability of the space, maintenance, how durable the roof is, your budget...
If you want to create a space that is as light and bright as possible, a glass roof is ideal.
To enjoy a combination of heat, light and use throughout the year, a tiled roof with glass areas could be the perfect solution.
The choice of a completely tiled roof means that your conservatory will never get too cold in the winter or too hot during the summer months, making the space usable all year round.
Before making a decision, carefully consider all the options available as this will help you find the best solution, offering maximum performance with regard to your requirements.