Designing a sophisticated extension such as a conservatory requires a lot of effort and experience, as well as an in-depth knowledge of various regulations and laws.
Designing a conservatory differs from any other structure, and it's important to make sure you know everything there is to know before designing a conservatory.
Before getting started, make sure you have a clear idea of what you want in terms of the final look and purpose of the interior space in order to decide which type of project is most suitable.
Once you've done so, it's a good idea to read up on the necessary permits, remembering to pay attention to the little details, which are often forgotten but are vital when building a successful conservatory.
In fact, the little details make all the difference when building a luxury conservatory.
Below are all the main things to know before designing a conservatory.
Collaborate with the right manufacturers
A company that specialises in building conservatories will allow you to predict and take into consideration all the factors that are sometimes forgotten or not taken seriously.
It's also a good idea to ensure that the company's materials are high in quality: the more refined they are, the better they will perform. Leaving you with a more satisfied customer as a result.
Choose a style
A company specialising in the design and construction of conservatories will have a thorough knowledge of potential styles, allowing you to more quickly design a conservatory adapted to your customer's needs, while putting into practice the functional solutions you're hoping to include.
The style and age of the main building should be take into careful consideration. This will ensure that you create a conservatory that perfectly suits its surroundings and will enhance the building as a whole.
Pay attention to the little things
Every little detail requires your attention, from the right choice of profile, to the doors, frames and handles.
All of these elements influence a conservatory's appearance and will contribute to the enjoyment of the conservatory all year round.
The beauty of a conservatory lies in the fact that it can be made from glass surfaces that can be opened, allowing for an even greater connection with the surrounding environment. There are various possibilities, such as sliding, folding or glass surfaces, depending on the desired design.
For example, bi-folding doors, which can be opened towards the inside or outside, should be discussed and defined during the initial planning phase as they cannot be added once the conservatory has been built.
These details are what make the final conservatory so special. The façades and distribution of openings are fundamental when defining the conservatory's final appearance. The conservatory's final look must be the result of a conscious conversation with the customer, in order to ascertain his or her needs to ensure the design is as close as possible to what they have in mind.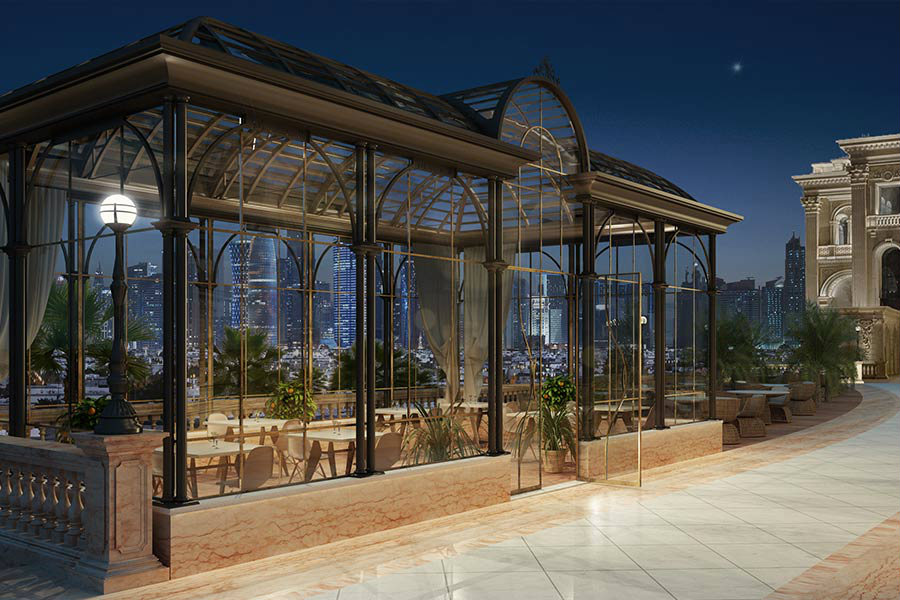 Consider the conservatory's lifetime.
The type and quality of materials used is also decisive in terms of the conservatory's lifespan and the need for maintenance.
Obviously, once work has finished on the conservatory, it needs to be perfect.
By paying due attention to the materials you use and their quality, you can ensure that the look and structure of the extension stands the test of time.
Opt for the best style
To ensure your customers are fully satisfied, some professional companies offer the possibility to create personalised conservatories, with a tailor-made design that suits your needs.
Not only are there infinite options available, the materials also differ: from wood, to aluminium, to "iron window". We recommend using the latter as it is very resistant and durable.
Make sure you have the necessary permits
Depending on the rules and regulations in force in the country where you aim to build your conservatory, you may or may not need to request a building permit.
In some countries, the installation process is quick and easy, while in others it is longer and more complex, due to the need to request special authorisation.
We therefore recommend preliminarily getting in contact with the local authorities to check whether or not the building requires authorisation.
Practical design and construction
Before designing your conservatory, it's important to know how the customer will use the space, as this may influence your design choices.
A bedroom, a games room, a dining area or an extra space, the possibilities are endless but the design must suit the purpose.
One of the most popular design solutions is a dining room or living room. These rooms probably already exist in the property, but take on a completely different look when placed in a conservatory and can be turned into a formal or informal area for entertaining guests and relaxing.
Interior design choices are incredibly personal and linked to the customer's individual tastes, but a specialised company will make sure to guide the customer towards choices that, without limiting their aspirations, are also in line with the rest of the property, in order to create a unique and consistent design.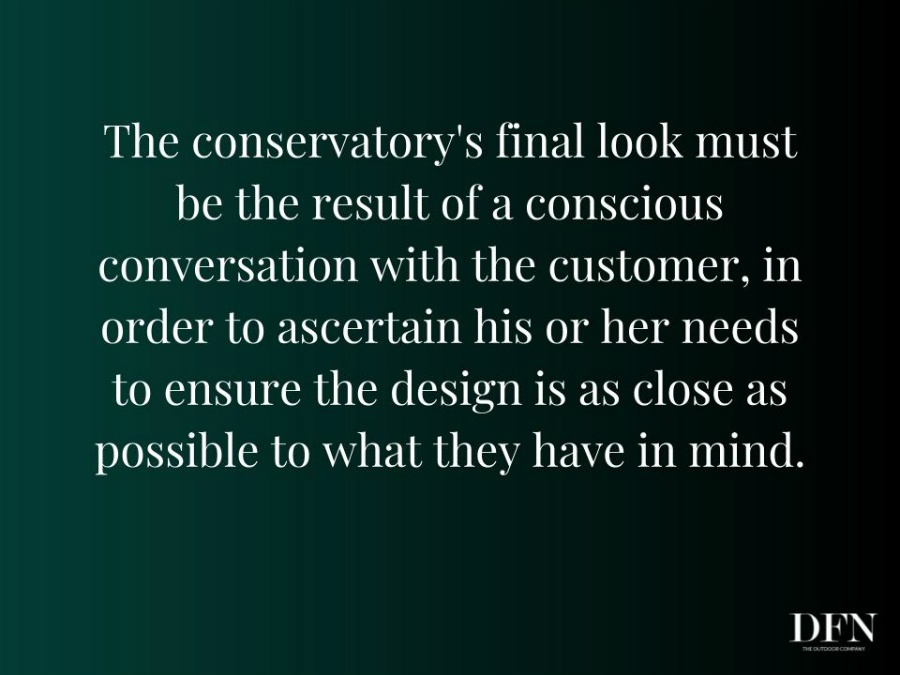 Know the minimum or maximum size restrictions
Attention must be paid to various requests concerning both the size of the conservatory and its layout as these also have an affect on the systems to be designed in line with the size of the structure.
There are no particular restrictions in terms of general size.
The only limit is, of course, put in place by the building regulations, which vary from country to country and establish construction regulations in terms of the health and safety of buildings and their users.
Prepare the installation area
If entrusted to a specialised company, the instructions for preparing the area where you're going to build the conservatory will be provided following an inspection linked to the requested project. Analysis also involves earthquake risks relating to the country in question, as well as other aspects related to environmental factors, such as snow and wind.
For more complex conservatories, the area may require foundations on a concrete bed or on plinths, while for simpler projects, in countries that do not require specific precautions for the presence of particular climatic conditions or earthquake risks, you may just need to prepare the finished floor and make arrangements for the systems to be installed.
Plan which systems you want to include now
As with any construction project, customers can specify everything they need in terms of systems.
When designing a conservatory, together with the architectural project itself, electrical, plumbing, heating, air con and sound systems, etc. can also be designed.
Most conservatories will need adequate air conditioning to ensure their customers and guests remain comfortable.
The amount of air and light in a conservatory also depends on its location.
Think about installing a heating or air con system to make the most of the conservatory all year round.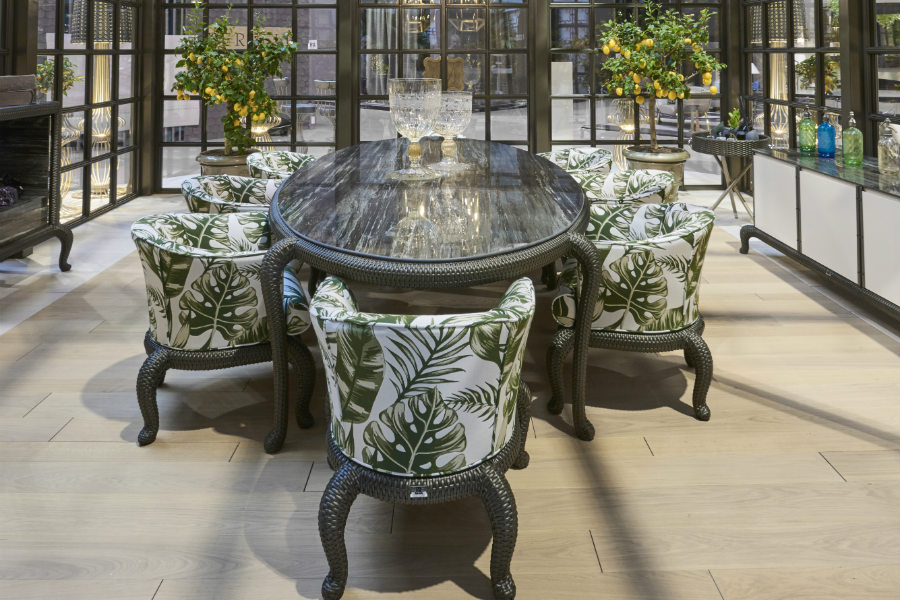 Choose the right design style
The distinguishing elements that define each model in DFN's "La Casa dei Limoni" collection are the eaves, glass walls, capitals and pillars.
For example, for each of these elements, the DFN "La Casa dei Limoni" collection has designed various combinations for different styles: such as classic, modern and glamorous styles.
There are also three types of LED lights that can be applied to the eaves or pillars to flood the conservatory with light and enhance its profile from dusk 'till dawn.
In addition to the combinations that define the collection's models, customers can combine the various elements that characterise each style as they wish in order to create their own personal look.
A conservatory can be designed in harmony with the aesthetics of the existing building, or customers can opt for something entirely different. The final result will be amazing in any case.
The best conservatory suits your needs: and the most suitable option is entirely subjective, which is why it's a good idea to opt for something custom-made, adapting to and immersing it in the surrounding environment.
Your conservatory will blend in perfectly and will look like it belongs to the existing building, which will also look rejuvenated and more luxurious.
Now you can start designing your dream conservatory
Be sure to consider the various important factors listed above before designing your conservatory. By doing so, you can guarantee that your conservatory is a perfect and unique addition to your property, which will be appreciated for years to come.
While embracing the hard work involved in the design and interior planning phases, it's easy to forget some of the more practical considerations.
Therefore, in order to ensure you're always prepared, give yourself a helping hand by consulting this list:
Rules and building permits

What is the terrain like where the conservatory is going to be built?

Does it need a foundation?

Which style best suits your needs?

What is the optimal size, in line with local legislation?

How many windows and doors should you include?

What kind of flooring do you want to install?

How will you use the structure?

What kind of heating do you expect to use?

Which systems do you want to install?

What are your lighting requirements?

How does the conservatory blend in with the existing building and garden?

Are there any connection points with the brick house?
Doing so will ensure that you don't forget anything, allowing you to create your dream conservatory.