It is certain that a well-constructed and furnished conservatory will add significant value to the property in which it will be installed. Therefore, during the design phase, both the external design and the look of the furnishings inside must be taken care of.
Choosing the style of the winter garden according to what fits best with the existing construction and the customer's taste, is the first step.
If you are dealing with an old building, for example, a traditional conservatory, it may be better to work with the architecture. However, even a contemporary style can create a stunning contrast, giving the structure a new and original appearance.
A mix of styles is not always a bad idea, instead, cleverly incorporating some structural details of the property into the new conservatory may turn out to be a winning move. However, such a combination can be complicated, so to avoid any risk or error, it is advisable to rely on companies experienced in winter gardens and listen to their valuable advice.
To create a truly charming design it is necessary to set out some elegant and refined furniture made with quality materials such as rattan, and the conservatory will exude luxury and timeless elegance.
In fact, rattan furniture offers a perfect combination of grandeur and comfort. The interweaving effect can easily be inserted into every style of conservatory, contemporary or traditional.
The two types of rattan
At the base of every rattan creation is the art of weaving, which, through its fascinating wefts, transmits unique emotions and high-class atmospheres.
Before learning about the great benefits of this material, however, it is necessary to distinguish and get acquainted with the two types of rattan that can be used for high-quality furnishings in the Conservatory: natural and synthetic.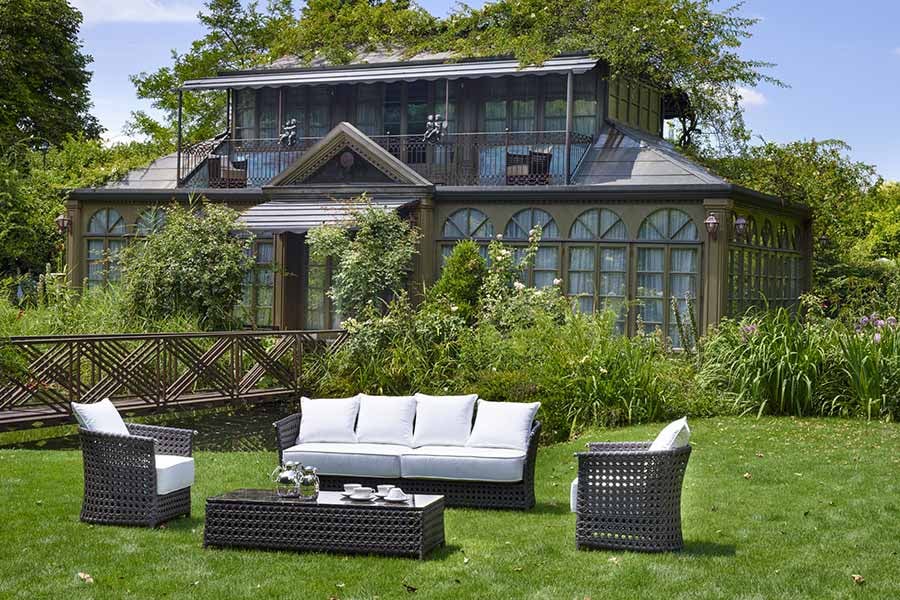 Natural rattan
Rattan is a precious woody material produced by nature, deriving from a species of palm trees. Its characteristics of flexibility and elasticity, as well as ease of handling, make it ideal and widespread for the manufacturing of furniture items.
The production of rattan dates back to remote times: the cane is curved through a heating treatment. Soaked and then intertwined exclusively by hand, the rattan allows us to create textures with the most varied designs. Finally, it is dyed through varnishing processes.
In the Natural Rattan and Orangerie collections, DFN offers entirely handmade rattan furniture, which enhances the wise artisan traditions of the past.
Natural rattan lends itself to a refined and timeless style. Accompanied by fine fabrics, it allows us to make accessories to live a daily life of relaxation.
Synthetic rattan
In the last fifteen year, in the world of furniture, the synthetic version has become popular because of the damage that directs sunlight and the elements inflict on natural rattan over time. It lends itself perfectly to the furnishings of the conservatory as it has the aesthetic characteristics of the natural material plus the peculiarities of fastness to light and resistance to weathering.
Synthetic rattan is suitable for furniture that requires prolonged use in outdoor environments, even where there is direct and continuous exposure to sunlight as it happens inside a conservatory made of an iron and glass roof. Furthermore, these furnishings can, on the whole, be moved outside.
Synthetic rattan is made with a particular and certified artificial fibre, aesthetically similar to natural rattan that is woven by hand to create compact or wide textures.
DFN uses synthetic rattan for the furnishings in the "Siderale by Samuele Mazza and Dolcefarniente outdoor" collections. In these collections, the structure of the furniture is made of aluminium painted in the same colour as the resin tape to avoid any transparency, and the fabrics combine resistance and comfort with the ease of cleaning.
Which type do you choose?
Choosing between the two types of rattan should be based on its intended use in the conservatory that you are designing and your personal taste.
To guarantee the durability and conservation of the accessories made in natural rattan, we recommend placing them in a protected environment, such as a winter garden, where curtains can shield sunlight.
If the style that you choose for the conservatory is highly luxurious and refined, rattan furniture is definitely a good idea. These furnishings blend the research of unique shapes with flexible materials to create unique pieces with a great stage presence.
Timeless furnishings that over time acquire value for the advanced craftsmanship with which they are made.
On the other hand, if you want to combine the stage presence of natural rattan with the high performance of a material capable of withstanding any type of weather, the best choice is synthetic rattan furniture, ideal not only for a conservatory but also a garden.
If you are working for a client who loves or needs to spend some time in the open air, these will definitely do for you.
In fact, when it comes to creating a comfortable, functional and durable open-air living space, the key component is the furniture. Furniture should be not only elegant but also comfortable. Synthetic rattan garden accessories offer both comfort and the ability to withstand weather conditions.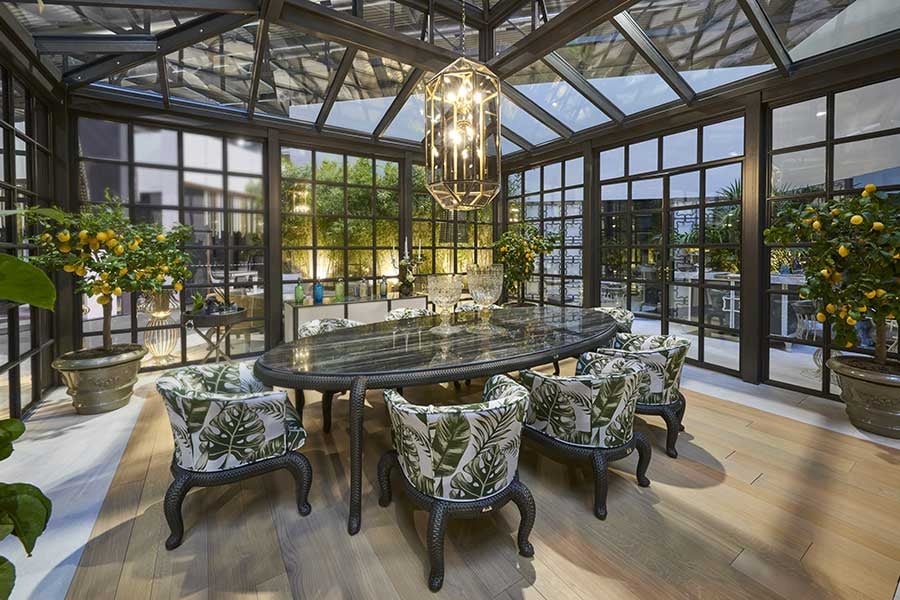 6 reasons to choose rattan quality furnishings for the conservatory
Choosing the perfect furniture for decorating a winter garden can be a difficult task; there are so many options to choose from.
However, a material that should absolutely be considered and that can be an incredibly perfect choice, if not the best, is rattan, thanks to the many positive aspects that it possesses.
Quality rattan furniture for conservatories is available in different types of styles and accessories, from modern corner sofas to traditional tables with curved and delicate lines.
Here are the 6 strengths of rattan, valid for both natural and synthetic.
1. Lightweight
Rattan is an incredibly light material, allowing easy interchangeable placements of furnishings.
2. Easy maintenance
Another great advantage of rattan is its ease of cleaning. To remove the dirt, all you need is hot water and a sponge. Furthermore, rattan is a very resistant material, so it is difficult to cause permanent damage due to its elastic nature.
This product is the ideal choice if you are looking for a material that needs minimum attention.
3. Range versatility
Perhaps one of the most important advantages of high-quality rattan furniture for a conservatory is its versatility. In fact, during the production phase, a variety of accessories in different styles, from sofas, chairs, coffee tables, tables for lamps and even trolleys and trays can be made. This allows you to choose the most suitable element for the conservatory that is being designed.
Depending on the range of furniture you choose, there may be a variety of finishes to choose. The coordination of colour within a space is key to convey a particular look.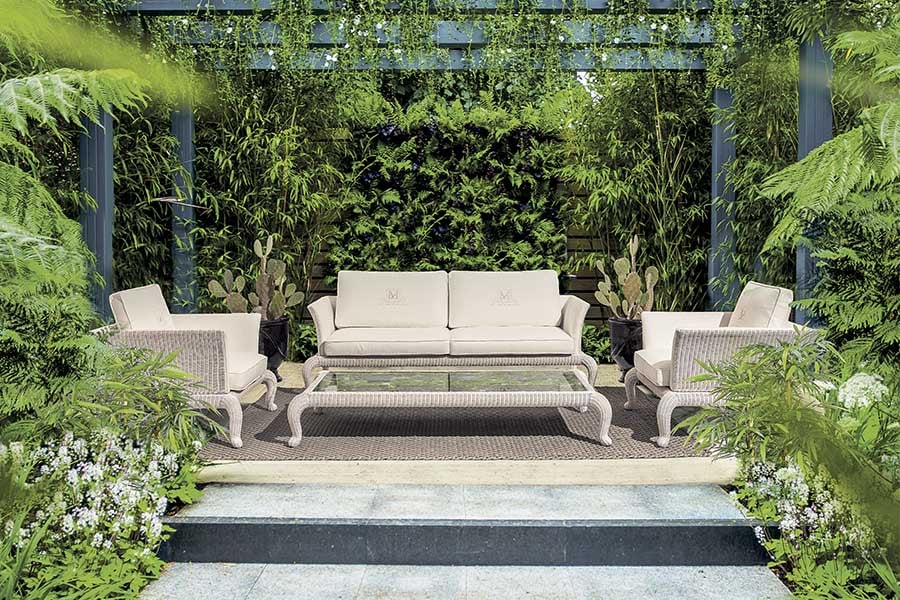 4. Long life
Moreover, rattan has a longer lifespan than any other material.
No need to buy oils or liquids to maintain its high quality.
As a result, the ultimate accessory is comfortable and perfect for prolonged use.
5. Resistance
As already stated, synthetic rattan is an extremely resistant material, even under direct sunlight. In fact, it is a unique material that does not fade under UV rays. It is resistant to both low and high temperatures, salt water, chlorine, mould and parasites. Therefore, it is ideal for furnishing a conservatory that houses a swimming pool, fitness room, dining room or kitchen. Any environment can be decorated with synthetic rattan.
Even natural rattan is a very resistant material, although it must be preserved from prolonged exposure to sunlight. However, this material isn't negatively affected by moisture. Therefore, it can be placed inside swimming pools or indoor wellness areas without worries.
A timeless and refined style
After highlighting the benefits of high-quality rattan furniture, it's easy to understand why their integration into a conservatory can be a perfect choice.
Understanding whether to choose natural rattan or a synthetic resin is a decision that must be made with the client, evaluating their style but above all the use of the environment.
What is certain is that rattan is the highest quality material that one can use in a winter garden, creating dreamlike atmospheres, especially in areas with warmer summer climates since it is very tolerant of heat and moisture.
Add a contemporary or traditional touch to the winter garden with the DFN collection of rattan and synthetic resin garden sets and satisfy the demands of your clients, surprising them with a regal and harmonious atmosphere.