Summer is the best season for living outdoors. It is the time to enjoy the garden, organise barbecues and invite friends over for aperitifs outdoors. The whole house seems to open up to the outdoors, to populate spaces usually admired only from behind a window in the winter.
Outdoor environments have become an extension of the indoor ones and are enriched with furnishings that are functional and harmonious with the natural context of the external areas. The symbolic element of moving everyday life from the indoors to the outdoors is the outdoor kitchen, a great trend that has been increasingly showing up in high-end homes.
A luxury outdoor kitchen must include a series of accessories, features and tools that guarantee comfort and ease of use, along with elegance and consistency of style with the rest of the home.
On the one hand, those who use it should not feel like they are missing out on what an indoor kitchen offers, on the other, the entire environment should be comfortable and pleasant, suitable for welcoming families during meals, as well as entertaining guests at evening parties.
In this post, we will suggest 8 must-haves that should not be missing in the design of a luxury outdoor kitchen. In the final part, we will also add a series of optional accessories, recommended for a space that does not only concern food preparation but the quality of everyday life.

What a luxury outdoor kitchen cannot go without
The first thing that needs to be done when designing an outdoor kitchen is to consider the needs and desires of those who will use it. For each object or component, the most suitable position must be identified, taking into account the time of year, the methods and the times in which it will be used.
An inventory of this type will make the design easier while guaranteeing a pleasant and comfortable outdoor kitchen.
Many aspects can be selected according to preferences or specific needs, in order to make your own luxury outdoor kitchen unique and truly personal. In addition to these details, some essentials that cannot be ignored:


We will now take a closer look at these aspects one by one.


Kitchen units
The kitchen units are the backbone of a luxury outdoor kitchen. No one likes to go back and forth from the indoor kitchen to pick up items or ingredients, so it is important to design the units with enough storage for everything that is needed for cooking and serving
Efficient storage makes the whole kitchen more efficient. It is necessary to provide adequate space for the tablecloths, cutlery and crockery, work tools and those used for cleaning. Concerning interior design, the outdoor storage units allow you to configure your kitchen at will, positioning the elements on the floor or suspended according to your taste.
The materials must be beautiful and robust, suitable for withstanding various weather conditions. There are finishes of any kind, but not all finishes can guarantee the right duration over time.
Today, a wide range of solutions is available on the market for exceptional and reliable finishes, such as powder coatings specific for the outdoors, ultra-resistant and subjected to rigorous tests. The range of solutions is endless, from smooth to embossed up to pearlescent or metallescent options.
Another interesting solution is porcelain stoneware, which can be used both for the tops and the door panels in the reduced thickness of 3 mm. This material is available in endless finishes for very different looks. In fact, it can be the exact reproduction of natural marble as much as simulating a shiny metallic surface.
One of the materials that best combines functionality and aesthetics is stainless steel. Bright and elegant, steel is a recyclable and eco-sustainable material, resistant over time and compatible with most household appliances. Moreover, it keeps bacteria and fungi away since it is biologically neutral.
The stainless steel units are protected by special finishes, which also have the function of further protecting surfaces from atmospheric agents, corrosion, stains and unsightly fingerprints.


The barbecue
In a luxury outdoor kitchen, you can't forget about the barbecue. From classic steaks to grilled vegetables, a barbecue offers a wide range of culinary possibilities, usually as simple as tantalizing.
This is the most characteristic element of an outdoor kitchen. There are various models on the market, for example, a gas BBQ, electric BBQ or coal BBQ, to name a few.
Gas grills are used the most because they light up quickly and easily, are easy to use and offer more temperature control than a charcoal grill. On evenings where there is less time to prepare everything, these features can make the difference. Gas barbecues can be fed from a cylinder or connected to pipes.
Coal grills, on the other hand, do not have an automatic ignition, so it is necessary to prepare the embers traditionally. The heat can be controlled by acting on the airflow and the amount of fuel used. On the other hand, charcoal-grilled food takes on a unique flavour, which is unparalleled in other forms of cooking.
Electric grills are the preferred solution when there is no gas supply, and when the kitchen is positioned on a balcony or terrace; very little smoke, no gas cylinder and fast cooking times for a perfect result every time.
The BBQ's size says a lot about the importance you want to give to this element. In luxury kitchens, there are often two ways you can have a great scenic presence as well as a large cooking surface.
If the outdoor kitchen is not completely outdoors, for example, if it is on a veranda or in a so-called California room, it may be a good idea to get a hood that facilitates ventilation.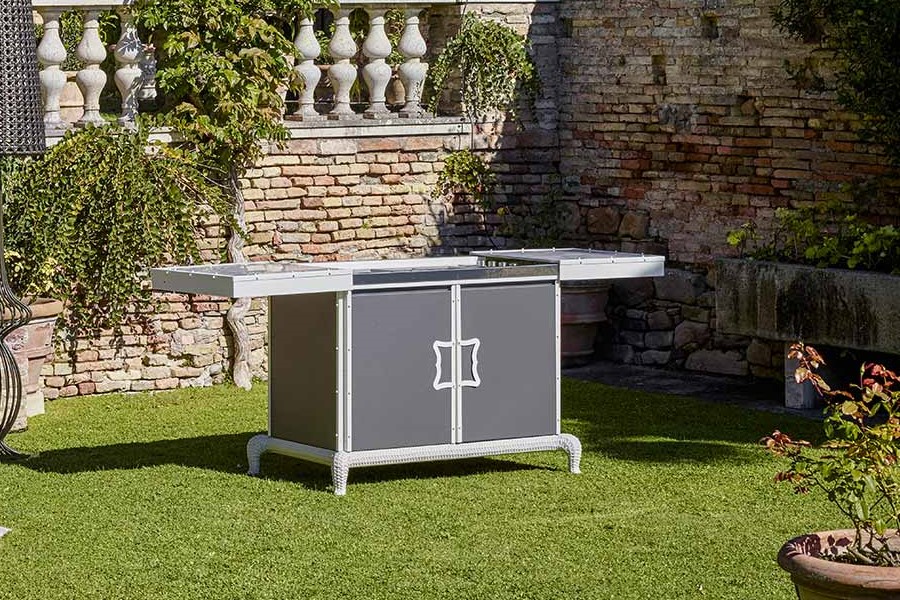 The sink
For those who love parties or invite people to lunch or dinner in their own garden, a sink integrated into the luxury outdoor kitchen is a fundamental strategic element. Instead of missing out on the party to go inside to prepare or wash the food, all these operations can be carried out outside.
In the design phase, it is important to keep in mind that a sink requires an adequate connection to the water pipes. It seems like a trivial detail, but it is better to confirm it.


The worktop
The top of the outdoor kitchen is much more than just a surface where you can install a grill or sink, so it must be thoroughly considered during the design phase. Whether it is an outdoor dinner with family or a summer barbecue with friends, your outdoor kitchen needs adequate space to prepare the food and serve it. If it is large enough, it can also be used to set up small buffets or as a countertop for dishes and glasses.
The ideal materials for the worktop of a luxury outdoor kitchen must be robust and at the same time, very elegant. The top-end brands offer solutions in ceramic marble or ceramic onyx, particularly resistant, easy to clean and suitable for contact with food.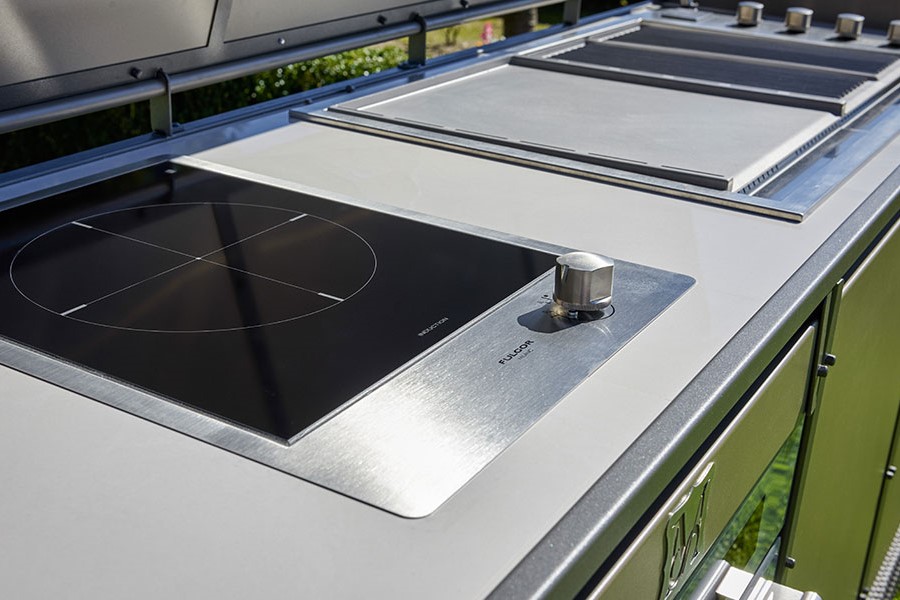 The outdoor fridge
It is not easy to enjoy outdoor dinners or lunches if you often need to go back and forth from the indoor kitchen. This is why the outdoor refrigerator is an accessory of great importance, which allows you to have the ingredients always at hand, ready to be cooked. At the same time, it ensures the freshness for drinks, cold dishes, side dishes and desserts.
The fridge can be small or large, with or without a freezer compartment, but the most commonly used are the built-in refrigerators positioned below the worktop.
A cover from atmospheric agents
Providing a canopy or similar type of covering is essential for preventing the weather from affecting the use of the kitchen. Unlike the most common shading devices, such as umbrellas, sails and sunshades, a cover can defend the kitchen from the sun and rain and define the space for the kitchen's placement.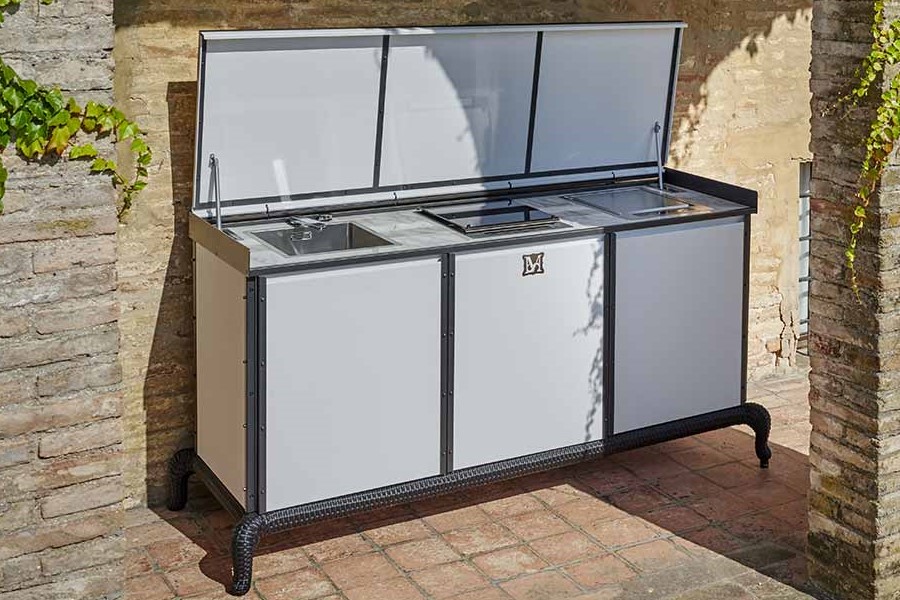 The electrical outlets
The installation of electrical outlets, in the right place, seems like a trivial matter until you need them and you can't find them anywhere. Conveniently located sockets are necessary if you plan to use appliances such as refrigerators or other electrical appliances in your project.
Furthermore, they can be used to ensure proper lighting, power a ventilation system or play music or connect a tablet.
Other accessories for a luxury outdoor kitchen
We have seen what absolutely cannot be missing in your outdoor space dedicated to food preparation. In addition to the indispensable, there are a series of accessories and appliances that can make a difference. Moreover, we are talking about a luxury outdoor kitchen and not just a kitchenette!
Warming drawers: perfect for keeping food warm or for very slow cooking.


Barbecue alternatives: oven, fryer, induction hobs, teppanyaki. A well-equipped kitchen has all the right tools for every type of preparation.


Refrigerator wine cellar: to keep wine and other beverages always at the right temperature.


Coffee machine: for those who love hot drinks and want to feel like they are at the bar.
The luxury outdoor kitchen, a space that must be designed well.
In a world where everything is accelerated and stress is the order of the day, being able to fully enjoy outdoor spaces when you return home is a key factor in maintaining your quality of life.
Having a luxury outdoor kitchen is the perfect excuse to enjoy the garden as much as possible. Eating and drinking outside thus becomes the right occasion to find peace, reconcile with nature and spend time with friends.
To make these moments perfect and absolutely relaxing, everything must be in its place: cold drinks, food on hand, fun preparation and quick and easy cleaning.
All this attention on functionality is the reason why the design of an outdoor kitchen needs special care. Style but also practicality, therefore, a combination that sums up all the secrets of high-level luxury outdoor kitchens.