Conservatories have evolved significantly.
Today's styles and interpretations vary from classic design to modern and contemporary styles. However, conservatory functionality has also evolved, and to a somewhat greater extent.
How to choose the right conservatory for your customers from the numerous options out there.
The obvious solution is to design a personalised conservatory, fully tailored to the buyer and his or her property.
The main points to consider and start from when choosing a conservatory include:
The conservatory's purpose

The aesthetics of the existing building

The conservatory's style
It's also worth bearing in mind that there are numerous other aspects that you need to pay attention to, such as the size and style of the existing building, thermal efficiency and safety and durability standards.
By doing so, you can be safe in the knowledge that building an extension such as a conservatory will add real value to your property, while creating a comfortable and luxurious space.
It's therefore important not to rush into choosing the right conservatory, far from it: careful evaluation, a lot of research and time are vital.
How to choose the right conservatory project
Know the laws
First of all, it's absolutely essential that you check the restrictions and regulations for the country in which you are working on your project, obtaining a building permit if necessary.
All windows and electrical accessories must comply with regulations, as well as any new structural openings.
Measure the available space
If you want to create a dining room, it might be a good idea to opt for a square or rectangular design. This sort of shape will make it easier to arrange a table, which may be placed in the centre of the room.
Don't underestimate the importance of the size of the new conservatory in relation to the property. An oversized design may end up looking out of place next to a modest building, while a larger and more spacious property should be able to deal with a larger structure.
Owning the necessary amount of space to build a conservatory is a decisive factor, as customers may have to give up a large part of their back garden.
The size of the latter, in fact, will inevitably influence the conservatory's style. A large garden will be able to accommodate a more grandiose design, while customer's with a smaller garden should opt for a smaller design.
It's important not to use the entire outdoor area to build the extension. A green open space adds comfort and value to a property, along with the conservatory itself.
Regardless of size, however, the conservatory should be designed to integrate with the surrounding environment

Conservatories don't have to be a regular shape: they are fairly suited to taking on flexible shapes and adapting themselves to their surroundings.
You can use the golden ratio to work out the ideal size conservatory in relation to the space that is available.
Used by artists and architects since ancient times, the golden ratio creates aesthetically pleasing dimensions.
You can therefore work out the perfect size for your conservatory by measuring the length of the side of the property to which it will be attached.
When it comes to depth, it's really up to you, depending on the size of the garden and how you intend to use the space.
It's important to ensure you go for the correct size in relation to the outside space that is available.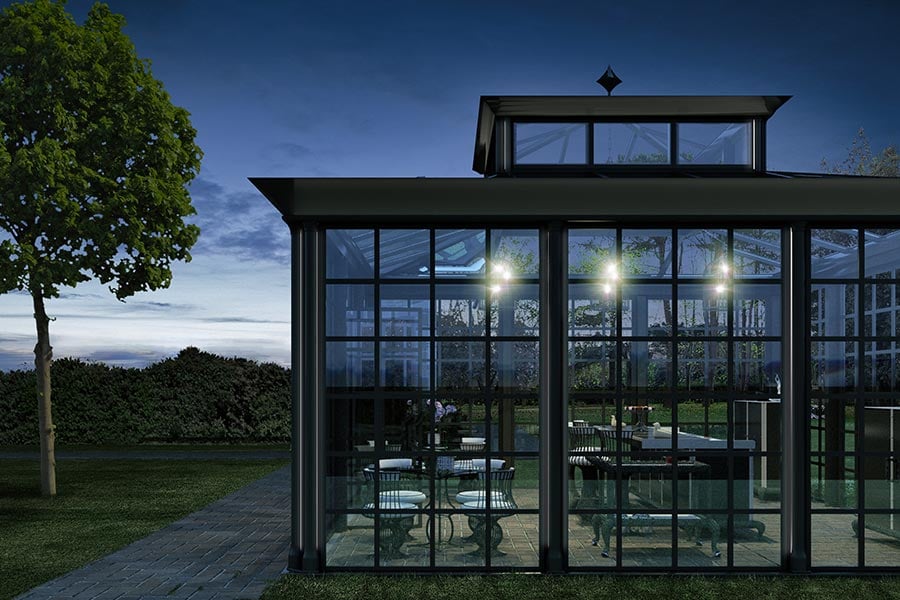 Consider thermal efficiency
The style of the conservatory doesn't matter: be it modern, traditional or glamorous, thermal efficiency is very important in order to ensure that customers and guests are at ease and can fully enjoy the setting.
For example, a conservatory made of glass with a south-facing roof, located in an area that gets a lot of sun, will certainly end up getting too hot to be enjoyed all year round.
In order to choose the right conservatory, you need to consider a few precautions in order to improve your environment, allowing you to make the most of your conservatory all year round:
insulating glass

, for the right balance between sunlight during the day and heat escaping from inside, polarised glass can be used to reduce glare, while self-cleaning glass can be used to reduce the amount of maintenance required

a ventilation system

a conservatory with numerous windows that can be opened

will allow for good air flow

thermal break windows

allow you to minimise heat loss based on the principle of metallic continuity.

your desired system set-up
Opt for the best materials
Choosing the right conservatory also means choosing which building materials to use. There are various possibilities, however the best product is definitely "iron window", which allows you to create very resistant, thin and light profiles, allowing you to maximise your view and the amount of light in your conservatory.
Moreover, this material will allow you create elegant, modern and traditional standard or bespoke designs that don't require a lot of maintenance.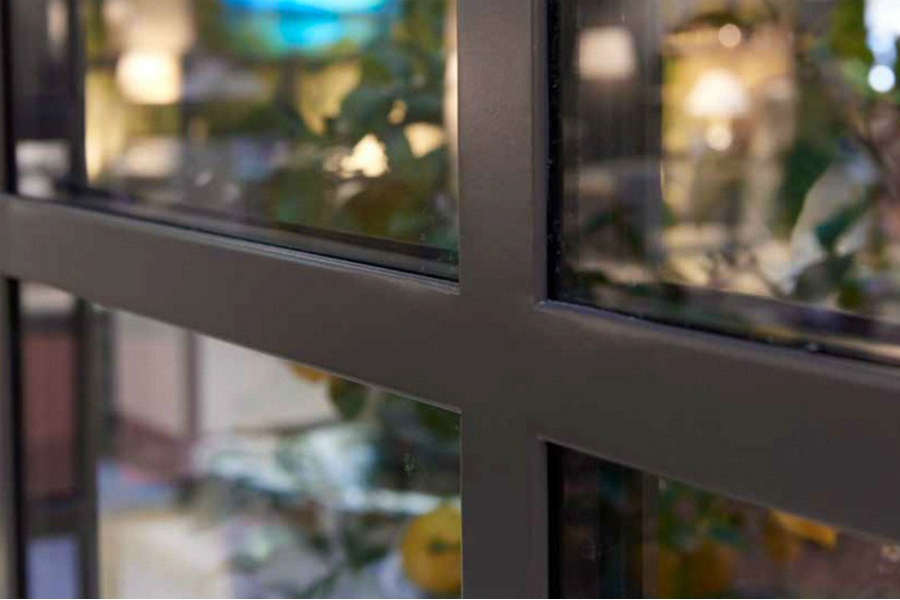 Create a suitable design
A conservatory project should reflect the existing property, so we recommend avoiding mixing different architectural styles.
The style of the rest of the building should determine your choice of conservatory.
For example, if the villa or restaurant/hotel is historic, a more traditional conservatory will have a better impact.
However, these days, conservatories can be designed to adapt to modern buildings as well. To summarise, you can build a conservatory that is more than compatible with the existing property while using innovative and energy-efficient materials.
As for interior design, a light and airy environment may be the perfect solution regardless of the conservatory's purpose: whether it's a dining room, a games room, a study, a fitness area or an indoor swimming pool, opting for neutral and light tones will make it comfortable and usable all year round.
Rely on a professional company
It is important to rely on the right company, which will be able to help and intervene on the project you have in mind. You will also be able to take advantage of excellent and convenient guarantees.
Choose the right conservatory for a small property
A classy extension is the perfect way to improve and increase space in smaller properties. Not only that: smaller buildings have a greater need to underline and highlight the shape and style of their conservatory.
Adding a domed roof to a small conservatory is ideal as it enhances the interior space without dominating the outside space.
There is an unparalleled variety of designs with various shapes and decorative finishes available. You can also choose the number of windows and doors to install.
You can design the layout while taking full advantage of the minimal space available.
Choose the right conservatory for mixed properties
The existing property will not only impose space restrictions on your conservatory, but its style will also influence the most suitable choice of conservatory.
Modern properties are often a source of pride as they contain original features, making glamorous conservatories the ideal accompaniment.
A conservatory can act as a luxurious compromise between tradition and modernity and is a classy and sophisticated structure with all the advantages of modern production.
Choose the right conservatory for modern properties
Modern properties benefit from the choice of almost any type of conservatory, but extensions with large glass windows are always charming, and often make for the best choice. Modern conservatories allow natural light to flood the property.
The supporting frames are made of thin iron-chrome, which constitute the conservatory's structure and allow for a lot of versatility in terms of design.
The conservatory will also slot in perfectly with the living space thanks to its light appearance and transparency.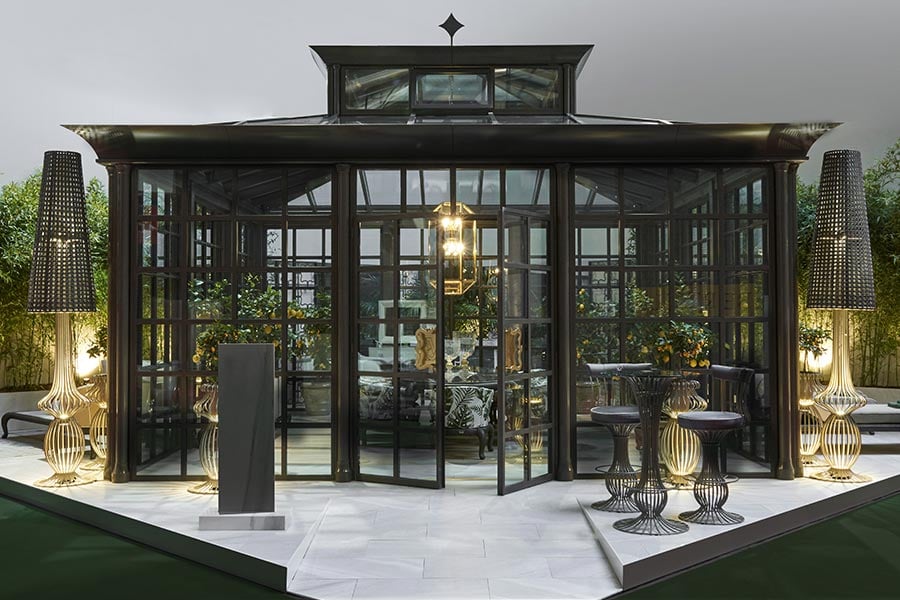 How to make the best choice?
When it comes to building a luxurious extension, you need to look for the right inspiration in terms of design and style.
You should start by thinking about how you're going to use the conservatory.
Will it be an extension of an existing space, like a living room or dining room, or do you want to create a large open-plan kitchen? Conservatories can also be used as luxury rooms par excellence, such as a fitness space, a games room, a swimming pool or a reading room. The space's purpose will help determine the size of the final structure.
The conservatory's purpose will also affect other aspects such as the style of doors and windows, roof lanterns, ventilation, safety, temperature control and UV filters, as well numerous other details, which should be established during the design process.
You should also take the age and style of the existing building into consideration. The style of the new conservatory should be in perfect harmony with the existing property and should influence and determine your final decision when opting for a modern or traditional conservatory.
Furthermore, if you have a nice view outside, or an interesting plant in the garden, why not design the conservatory with this in mind?
Luxury magazines and websites can provide you with a wide range of design ideas for inspiration, thanks to an abundance of projects and case studies.
All that's left to do is to get going.