When designing a new outdoor environment, such as a patio, garden, or terrace, we spend a large part of our energy studying the best way to distribute the space, deciding on the style of the furniture, evaluating its functionality and comfort.
Sometimes we forget to take into consideration a crucial element, which can affect everything else: that of the usual climate of the area in which we are operating. In general, all quality outdoor furniture is designed to withstand time and different climatic conditions.
In fact, some types of outdoor furniture are more suitable for certain climates than others. Taking these differences into account allows you to avoid incorrect choices, which would force you to change all the furnishings. Let's not forget that having to replace outdoor furniture can often irritate homeowners, forcing them to have to reinvest time and energy every time. It is also harmful to the environment.
To guide readers towards a conscious choice from this point of view, we have collected some tips on the best outdoor furniture for your climate, whether it is the austere air of a Nordic area or a sunny beach.
Outdoor furniture for your climate: coastal wetlands
Who wouldn't want to have a house by the sea? Living on the coast is the dream of many, but it is necessary to pay particular attention to the quality of their outdoor furniture.
Coastal areas are characterized by a lot of humidity and saltiness, therefore, a rather aggressive context. It is necessary to choose only resistant and well-manufactured products.
Damp air can cause mold problems in fabrics and rust in structures, while salinity in the atmosphere contributes a lot to corrosion phenomena. Therefore, it is better to avoid wrought iron, wooden and wicker furniture.
Among the most suitable materials, we recommend stainless steel, iron treated for outdoor use, and synthetic resin. These durable materials do not require much maintenance and are suitable for coastal regions.
Outdoor furniture for your climate: rainy areas
Frequent rain and all the consequences they entail can be the ruin of outdoor furniture. If you live in an area where it rains all year round or violent thunderstorms often occur in spring and summer, it is important that the outdoor furniture for your climate is made of materials resistant to water damage such as deformation, mold, rot, rust, and corrosion.
The highest-performance materials in this case are mainly synthetic. Braided resin, for example, is a weatherproof synthetic fiber that is usually applied as a coating to aluminum frames. The final effect is reminiscent of natural wicker, therefore, it allows you to create compact textures with an absolutely glamorous aesthetic result.
For the upholstery, it is necessary to have water-repellent fabrics but also seat rubbers that are well protected by technical fabrics that are both waterproof and breathable.
In any case, in very rainy environments, it is a good rule to keep the furniture indoors during periods of inactivity and to protect them using protective covers. A solution that solves all the problems is to have a covered area such as an orangery. A winter garden, in fact, is the most elegant and comfortable way to enjoy the garden even in the worst climates.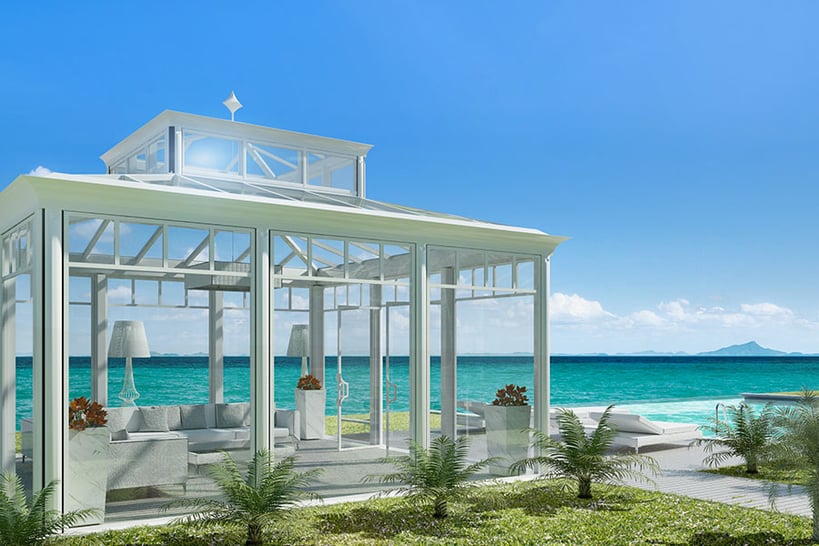 Outdoor furniture for your climate: dry and sunny areas
Those who live in a place where the sun shines most of the year are lucky. In this way, they can enjoy their garden or terrace in all seasons, without running the risk of humidity or rain constantly threatening their outdoor furniture.
Does this mean that any type of outdoor furniture for your climate is fine?
Absolutely not! Prolonged exposure to the sun and very dry air can, in fact, fade the colors or deform the furniture and even break them if the right materials are not used. Therefore, it is necessary to select only outdoor products resistant to UV rays and very dry climates.
Also, in this case, synthetic resin is an excellent material for places characterized by hot and sunny days. However, it is necessary to choose certified fibers such as Viro fiber made with high density polyethylene (HDPE) which guarantees high-quality performance outdoors.
Teak, which is widely used in the nautical environment, is also excellent, but requires a high level of maintenance if you want to prevent the formation of a not very attractive gray patina over time. To maintain a natural color, remember to apply a teak sealant once a year. If the climate in the area is very dry, further maintenance is required.
If pillows are present, the choice must fall on fabric covers that are highly resistant to the sun. In addition, those in charge of the project must provide shading, to make the environment actually enjoyable. Umbrellas, sails, or gazebos are essential elements to ensure a little refreshment from the scorching rays of the sun.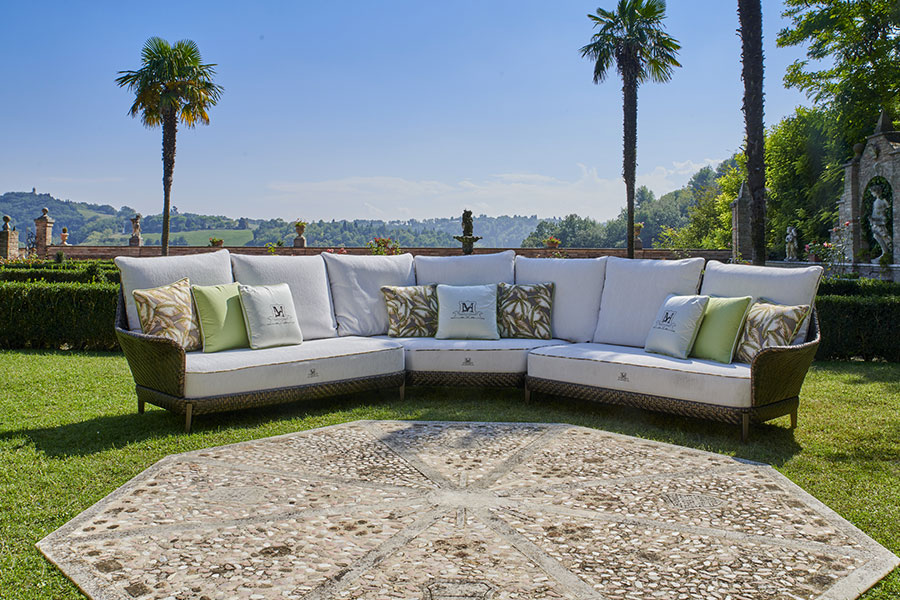 Outdoor furniture for your climate: where it's colder
In some areas, the cold season lasts for most of the year. Therefore, the possibility of using garden furniture significantly reduces, even to a few weeks a year in the most extreme cases.
Those who have a large indoor space, such as a garage or a canopy, can easily store furniture during the cold period. In this case, the choice of materials is not so limited since they will never be exposed to the weather for long periods.
Those who want to spare themselves the trouble of moving furniture from the indoors to the outdoors and vice versa must select materials resistant to snow and ice. Braided synthetic resin, as always, is a good choice, beautiful to look at and resistant to both high and low temperatures.
The situation may require different solutions in the case of very windy areas: any aluminum furniture (or woven synthetic resin, usually used to cover aluminum structures) may be too light and run the risk of moving.
In these situations, it is good to rely on the weight and strength of the iron furniture treated for outdoor use and therefore well protected by a powder coating.
As already mentioned, most of the problems related to wind and cold can be addressed by opting for a bioclimatic pergola or an orangery. These types of external structures recreate real outdoor rooms, which can be furnished more freely and create pleasant experiences in both summer and winter.
Closed off byh insulating glass and made comfortable by heating systems, they represent the maximum synthesis between functionality and design in outdoor environments.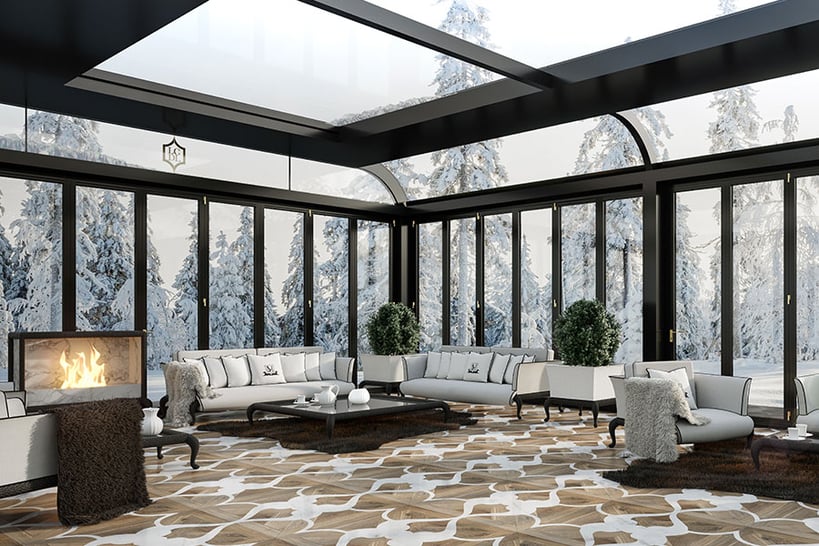 Outdoor furniture for your climate: milder areas
A homeowner who lives in an area with a more pleasant and moderate climate has the greatest number of options available. Stainless steel as well as synthetic materials, aluminum, powder coated wrought iron, and teak wood are good for enduring light wind or occasional light rain.
In such weather conditions, you can also dare to use natural fibers. Rattan furniture, for example, is ideal in outdoor areas with a cover, but it is also good in mild and dry climates.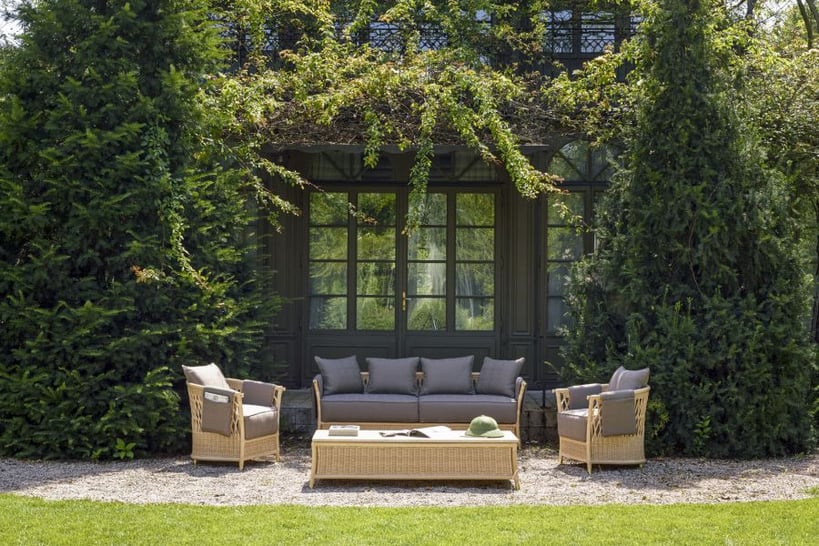 The importance of choosing the best outdoor furniture for your climate
The real added value of owning a well-equipped patio, garden, or terrace is to enjoy your time outdoors as much as possible and relax. For this, the last thing a homeowner would ever want is to worry about the condition of their outdoor furniture, threatened by the elements.
Outdoor furniture is a valuable investment, capable of potentially guaranteeing many years of pleasant days to those who use it. So, it is very important to choose in the wisest way the materials and characteristics of objects that will last for many seasons to come and observe the instructions for use and maintenance that are used to preserve the beauty of the furnishings over time.
The right outdoor furniture for your climate will be able to withstand extreme heat, rain, wind, prolonged sunlight, and any other phenomenon that characterizes the region in which you have chosen to live.